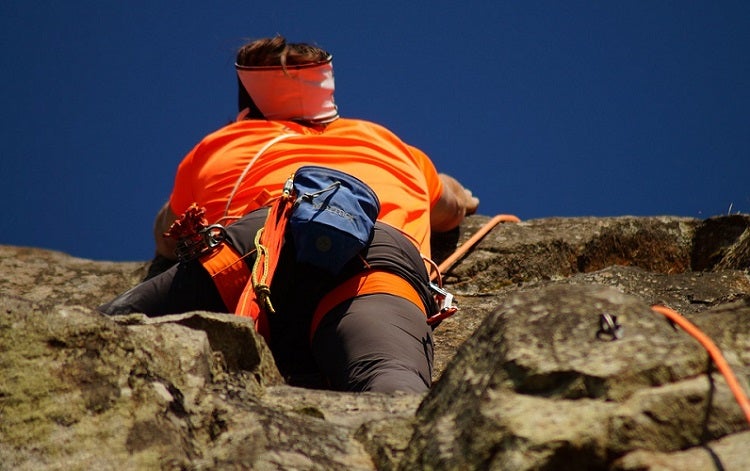 Our Editors independently research, test, and rate what we feel are the best products. We use affiliate links and may receive a small commission on purchases.
Climbing pants are functional, technical clothing worn for practical reasons. A good pair allows you to move your legs and hips freely and comfortably when you're up on the wall while protecting your legs and knees and keeping you warm or cool.
If you're training at the gym, solving your boulder problems or hiking to your mountain crag in your climbing pants, we've selected the best climbing pants for you to choose from.
Most of these are suitable for more than one type of climbing, and we've selected models known for their versatility, durability, and comfort.
Best Climbing Pants
| | prAna Stretch Zion Pants | Ucraft "Xlite" Rock Climbing Pants | Arc'teryx Gamma LT Pants |
| --- | --- | --- | --- |
| | | | |
| | | | |
| Material: | 97% Nylon and 3% Spandex | 92% polyester and 8% Elastane | Elastane,Nylon,Polyester |
| Features: | Abrasion resistant and with ventilated inseam gusset | 4 outer pockets (2 zipped) chalk bag & brush loops | Articulated patterning and gusseted crotch |
| Convertible: | Yes, zip-off legs to convert to shorts | Available as knickers | No |
| | | | |
For more of my climbing gear recommendations, have a look through these popular Outside Pursuits guide links: Harnesses, Shoes, Rope, Helmets.
Quick Answer: The 5 Best Rated Climbing Pants For 2021
After our selection of top rated climbing pants, we'll give you tips on how to pick the right model for you.
---
Climbing Pants Reviews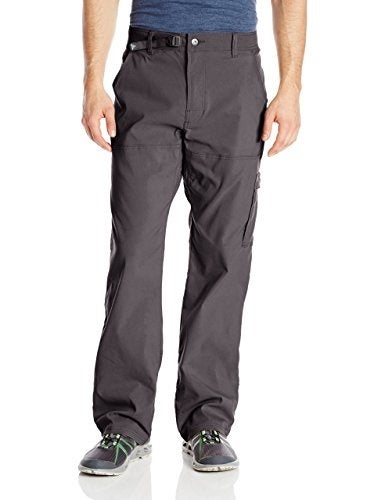 prAna Stretch Zion Climbing Pants at a Glance
:
---
Fabric: 97% Nylon, 3% Spandex
Convertible: No
Gusset: Yes
Other: UPF 50+, abrasion resistant
The prAna Stretch Zion climbing pants are great for rock climbing beginners and professionals alike. They offer excellent functionality at a reasonable price.
They excel at climbing and bouldering, both at the gym and outside, but you can also wear them for hiking, travel, or even casually.
The Stretch Zion climbing pants will take tough demands and last a long time thanks to the resilient fabric that repels abrasions and water.
The ventilated inseam gusset as well as the stretch in the material provide you with a full range of movement with no restrictions.
You'll stay warm in colder climate and cool when it's hot. Roll-up leg snaps provide flexibility in length and the streamlined, lightweight adjustable waistband lets you customize the fit before trying your project.
An angled, dual entry zippered cargo pocket allows you to stow smaller objects or a phone. Come rain or shine, the prAna Stretch Zion are the best rock climbing pants and won't disappoint.
They are also available as climbing shorts, the prAna Stretch Zion Convertible come with zip-off legs and are great for warmer weather, but you lose protection for your shins and knees.

Best Women's Climbing Pants: prAna Halle climbing pants
---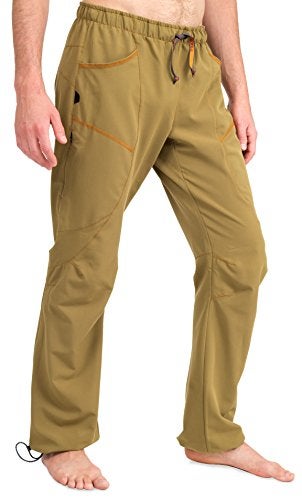 Ucraft Xlite Rock Climbing Pants at a Glance
:
---
Fabric: 92%

Nylon

, 8% Elastane
Convertible: No
Gusset: No
Other: Ankle drawstrings, 4 outer pockets
While stretchy leggings might actually be the most comfortable climbing pants, they're admittedly less technical. The Ucraft Xlite Rock Climbing Pants combine both.
Designed by climbers, they focus on performance with no compromise on comfort. The material is lightweight, stretchable and durable.
The details make them ideal for bouldering pants, yet you can also do yoga, running, gymnastics or athletics in these pants.
A thin, elastic belt at the waist allows you to easily tighten the pants while feeling soft to the body under a harness.
The side stash pocket with zipper is accessible even with a harness, and the large back zippered pocket is good for stowing a phone.
The ankle drawstrings make the pants fit any inseam and the articulated knees are anatomically curved for all kinds of moves. Thanks to the unique fabric, the Ucraft Xlite climbing pants are light and breathable.
Nice extras are the stretching brush loop for easy insertion of a cleaning brush of any size as well as the flat horizontal chalk bag loop.
With their reasonable price, these climbing pants are technical enough to satisfy pros, while the comfort will make climbing beginners happy. Certainly a top contender for the best bouldering pants!
Note: The Ucraft Xlite climbing pants are also available as knickers – a good choice for hot days and at ¾ length still protecting your knees.

---

Arc'teryx Bastion Climbing Pants at a Glance
:
---
Fabric:

Elastane, Nylon

Convertible: No
Gusset: Yes
Other: Articulated knees & seat, 6 pockets
The Arc'teryx Gamma rock climbing pants are geared towards rough days at the crag, yet they're versatile enough to transition easily to the town afterwards.
One of the most important aspects is the durability: thanks to a midweight elastane, nylon fabric, the pants are hardwearing with extended last and natural fiber comfort.
The ergonomic design is non-restrictive and combines articulated patterns with a gusseted construction.
This means you have the maximum freedom of movement when reaching for difficult holds or performing power dynos. Particular stress points are extra riveted.
These Men's climbing pants come with two rear pockets and two hand pockets with one coin pocket as well as an accessory pocket on the leg for a phone.
Although the Arc'teryx Gamma climbing pants are highly durable, they're breathable to let you cool down in the summer and the relaxed fit allows for base or mid layer room.
You can wear these pants in alpine and rock climbing, as well as for hikes or even gym climbing. Overall, the Bastion's are probably the best mountaineering pants.
Women's Model: Arcteryx Gamma AR Pant – Women's rock climbing pants

---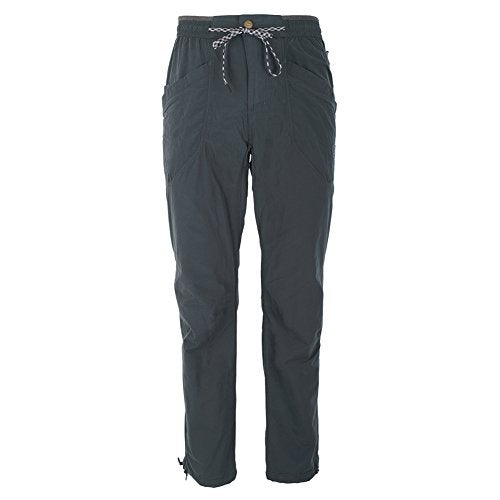 La Sportiva Crimper Rock Climbing Pants at a Glance
:
---
Fabric: 94% Cordura, 6% Spandex
Convertible: No
Gusset: Yes
Other: Articulated knees
The La Sportiva Crimper climbing pants were designed with performance and comfort in mind. The materials are durable yet able to stretch sufficiently to fit your bouldering and climbing needs.
With reinforced and articulated knees as a gusseted crotch you have all the freedom to perform unrestricted movement on the wall while relying on protection for your legs.
Whether you execute high steps or heel hooks, you can trust in flexibility and the full range of motion.
The integrated zippered stash pocket lets you secure small essentials and you can stow a cleaning brush in its own holder.
Adjustable cuffs let you control length and fit of these climbing trousers.
The La Sportiva Crimper pants are lightweight, breathable and water-resistant for performance in varying conditions.
The material is durable to resist hikes and adverse terrain. Yet they're comfortable enough to wear all day for a wide range of activities. They are my overall top pick for the best climbing pants.
Women's Model: La Sportiva Chaxi Womens climbing pants

---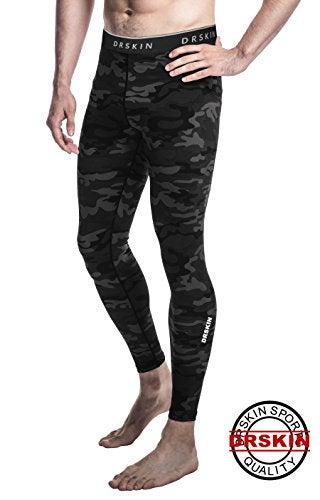 DRSKIN Sports Tights at a Glance
:
---
Fabric:

92% Polyester, 8% Spandex

Convertible: No
Gusset: No
Other:

UPF 50+, moisture wicking fabric
Climbing leggings are a thing from the 70s and 80s, but they've made a comeback in recent years.
They might not be the most technical climbing pants, but stretchy leggings definitely offer the best fit and great comfort for truly unrestricted movement.
The DRSKIN Sports Tights make great climbing pants because they offer excellent elasticity and durability. The fabric is soft and smooth and provides comfort with little weight and hardly any restriction.
These leggings are designed for all seasons with maximum flexibility and breathability. They stay cool in summer, retain heat in winter and can be worn as a base layer if need be.
They can adapt to wide range of activities, not just climbing, such as yoga, winter sports, or weight training.
Moisture is wicked away fromthe body and the material repels odors. The DRSKIN Sports Tights provide excellent freedom with moderate protection and promote recovery after workouts thanks to the slight compression.
They're a great choice for indoor climbing and bouldering as well as sport climbing routes outside, and their price makes them a great budget option.
Women's Model: tasc Performance Nola leggings feature 4-way stretch material of 51% organic cotton, 34% viscose and 15% spandex with moisture wicking and anti-odor properties.
They come with an UPF of 50+ and a waistband pocket and are great for gym and sport climbing or bouldering, especially on hot days.

---
How to Choose the Best Climbing Pants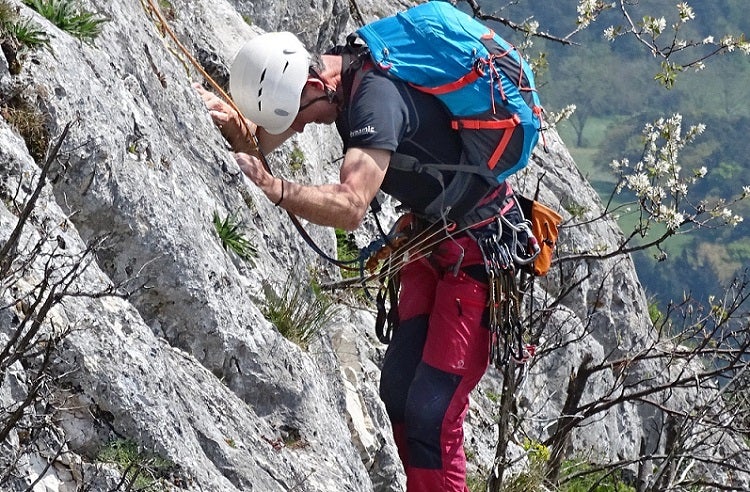 Climbing requires you to execute powerful and acrobatic moves in steep terrain. An ideal pair of climbing pants supports you on your way up by not restricting any movement or leg position.
They also protect you from the elements and the rock wall. Keep the following important points in mind when making your selection.
How do you decide which pants are best for you?
Focus on when and where you'll wear your climbing pants. Are you going to the gym and just need comfort and flexibility, or are you out there multi-pitching in rough conditions?
The more you're in contact with rock, nature and the elements, the more durable your climbing pants need to be. Do you need protection from wind and light rainfall, if so a DWR finish is worth looking for.
If you are climbing in the summer a pair of convertible pants might be worth your while.
Also consider any extras, such as an integrated belt, zippered pockets or quick-dry material for when you're wading through a creek.

Durability
Climbing pants see heavy usage and exposure to lots of stress. They are often worn for the approach hike as well and therefore need to withstand not only scrapes from rock (or gym) walls, but also scrambling up and down slopes and fighting your way through the underbrush.
The durability largely depends on the materials used. Heavier and thicker pants will last longer and protect you more, with the downside of added weight and less flexibility.
Thinner pants offer more comfort, especially in warmer weather. Reinforced material in the knee or seat area can help your pants last longer. Always follow care instructions to help your outdoor clothing last longer.
Movement
Climbers need to rely on their legs and feet to do a lot of work, and the required movements include turning your hip a lot or placing a foot close to the hips, stepping high or stretching your legs widely.
Pants that restrict any of these moves are less than ideal for climbing or bouldering. A stretchy material is great to offer you flexibility, particularly in the knee, as well as the crotch and seat.
Most commonly, climbing pants have some amount of Spandex, Lycra or similar material. Pants are often shaped ergonomically and have articulated knees.
A model without this feature will hinder you when angling your knee, requiring you to hitch up your pants by hand. Elastic leggings offer the most freedom of movement since you wear them like a second skin.
On the downside, they often lack other technical features and are less resistant to abrasion.

Protection
Your pants need to protect you primarily from contact with the rock, but also from exposure to sun, wind and even rain or ice.
Synthetic fibers and the materials used usually offer enough warmth and breathability to keep you cool as well. If you know you'll be climbing in the sun or bouldering in a sweaty gym a lot, a pair of knickers with 3/4 length might be your choice.
Convertible zip-off hiking pants usually separate just around the knee, which leaves your knees exposed when going up the wall.
Climbing pants are also designed so that adjustable features neatly tuck or hide away as you don't want any loop or strap to catch on a protruding rock or twig.
Quick-dry or water repellent material is great for the times when you get caught in a rain shower or need to wade through a stream. Many technical pants also use materials that offer some form of UV protection.

Versatility
What you wear to the gym can differ from climbing pants for scaling a big wall. It's good to have a model that allows you to transition from one activity to the other, such as from sports climbing to bouldering or alpine and trad climbing.
Ultimately, you'll know best what feels comfortable for you. Also, philosophies differ: some climbers spend a lot in a pair of technical pants and then wear them all the time because they want to get the most out of them.
Others want them to last longer and save the expensive clothing for the truly demanding projects.
If you want to wear your pants for both hiking and climbing, a soft shell type model is probably better suited for you, but if you want to do both bouldering and yoga or acrobatics, go with tights or a comfortable, stretchy pair.

Extra Features
Many pockets and zippered stash pockets as well as gear loops are nice to have, but you decide how important they are to you. Your chalk bag can also be strung around your waist and your brush be stowed with your chalk bag, for example.
A zippered pocket is great for some money or a locker key at the gym, but when climbing long routes, you'll note any extra weight. In lead climbing, consider the possibility of a fall – do you really want your smartphone in your pocket when you smash against the wall?

FAQs About Climbing Pants
Q: Are climbing pants different from hiking or any other pants?
A: There really are a few notable differences between climbing pants and hiking type pants. The first being climbing pants are much more abrasion resistant.
Typically being made from nylon for it's toughness to withstand the constant scrapes and rubbing that coming with rock climbing. Secondly, climbing pants have more flex to allow you to move comfortably and safely.
Q: Are Men's and Women's climbing pants the same?
A: The difference is the same with any other type of pants. The fit for women is going to be different where the hips and thighs have more room whereas mens pants will have more room in the crotch are and are slightly narrower in the waist.
Q: Should I have more than one type of climbing pants?
A: It depends on the types of climbing you do. The climbing pants on our list have different characteristics for certain types of climbing.
The Ucraft Xlite are looser and more flexible for bouldering the prAna Zion's are tougher and more abrasion resistance. So if you plan on more than one type of climbing you will need a pair of pants suited for it.
Outside Pursuits Overview
As with any pants, comfort and fit are important aspects when choosing a pair of climbing pants. It's nice to have a pair you can just as well wear to the pub afterwards, but fashion choices should ultimately not guide your decision.
Your fellow climbers will not rate your looks but your climbing performance. Here, comfort begins to blend in, as a great pair of climbing pants does not hinder you in any way yet allows you to stay comfortable in various positions and circumstances.
Most climbers own more than one pair to allow for different types of climbing as well as the fact that you need to wash your pants at some point.
When getting an additional pair, complement your first one. As a beginner, go with our top pick or a mix between comfort and performance that suits your budget. Stay safe and happy climbing adventures!
If your new to climbing be sure to read our "How to Start Rock Climbing" guide.
How We Researched
To come up with the top climbing pants we researched a variety of sources for reviews such as REI, Dicks Sporting Goods and Backcountry along with our own personal experience.
We also consulted online magazines for product research and reviews to get as much unbiased information as we could. To help weed out fake reviews we used Fakespot.com to make sure we only looked at genuine reviews.
With so much quality gear available, we had to narrow it down based on what we felt were the best options for the price. The author, Jakob Straub has extensive experience with rock climbing and bouldering. To help narrow down the selection they used their personal experience along with recommendations from instructors and retailers.
After extensive research, we came up with our list to help you choose the right one for you.
Sources
---
I hope this guide was helpful in picking a good pair of climbing pants to fit your needs. If you want to comment or recommend a pair of pants I didn't include, please use my contact form to get in touch.
Have fun and be safe out there!
Notice:
OutsidePursuits.com is a participant in the Amazon Services LLC Associates Program, an affiliate advertising program. OutsidePursuits.com earns fees from products sold through qualifying purchases by linking to Amazon.com. Amazon offers a commission on products sold through their affiliate links.