Whether you are going to the beach or the mountains you need to have a camera that can handle the elements. In addition to being water proof, these rugged cameras are also freeze, and shock proof.
They also allow you to dive deep under water to take the perfect picture. Most of these waterproof cameras also have Wi-Fi connectivity, GPS and compass features.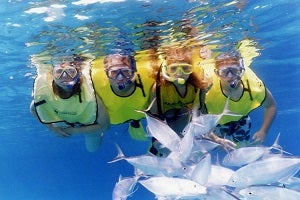 What more do you need in a camera?
When you have one of those moments you really want to capture make sure you have a camera that is up to the task.
To help you capture those special moments we review the best underwater cameras that offer all the features you need.
Take them with you when going to the beach, for swimming or snorkeling and they will not disappoint you. They can even be used for scuba diving, the Nikon COOLPIX AW130 can be taken down over 100 feet.
First lets take a look at the underwater cameras, then we'll talk about how to find the best one for you.

Here is a feature overview of the cameras with our full reviews below.
The 3 Best Underwater Cameras
| Mobile Users Scroll Over => | Nikon COOLPIX AW130 | Fujifilm FinePix XP 80 | Olympus TG-4 16 MP |
| --- | --- | --- | --- |
| | | | |
| | | | |
| Waterproof to: | Waterproof up to 100ft / 30m | Waterproof 50 ft / 15m | Waterproof 50 ft / 15m |
| Zoom: | 16MP and 5x optical zoom | 16.2 MP and 5x optical zoom | 16MP and 4x optical zoom |
| Features: | Wi-Fi for easy transfer, built-in GPS and an electronic compass. | Wi-Fi for easy transfer. | Wi-Fi for easy transfer, built-in GPS and an electronic compass. |
| | 1080p HD / 60 fps | 1080p HD / 60 fps | 1080P HD / video 30 fps |
| | | | |
Underwater Camera Reviews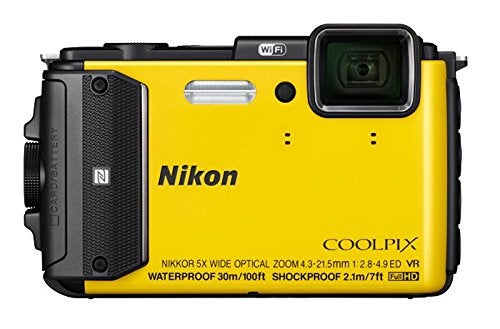 The 16-Megapixel Nikon COOLPIX AW 130 in my opinion is the best diving camera. It is ideal choice for those who want the best possible pictures of underwater life and beauty. With numerous amazing features, the Nikon COOLPIX is the camera that you can literally take anywhere, be it boating, fishing, snorkeling, rafting, scuba diving, hiking, snowboarding or skiing.
In addition to being waterproof, freezeproof and shockproof, it has built in Wi-Fi which allows you to easily and instantly transfer pictures to your phone or computer, a GPS system, an interactive world map, underwater depth gauge, an electronic compass and an altimeter. It also has Near Field Communication technology (NFC) that works with Android 4.0 or higher.
Features of the Nikon COOLPIX AW130:
Waterproof – It is the only camera that is waterproof for up to 100 feet so it is ideal for diving as well as snorkeling.
Freeze-proof – Nikon COOLPIX is freeze-proof up to 14 degrees Fahrenheit.
Shockproof – It has the capability to withstand drops from as high as 7 feet.
Dustproof – Being dustproof, it takes perfect pictures even at the dusty, sandy environments of beaches.
Point of Interest – The built in Points of Interest (POI) feature shows you the nearby photo-ops, such as historical landmarks or picturesque places.
Built in GPS ad Mapping system – When you take a picture with the Nikon COOLPIX, it records the location of the picture as well and allows you to access those locations with a map button.
High Resolution and Wide Angle – A 5x optical zoom NIKKOR glass lens that comes with a wide angle OLED display of about 24mm that provides a wide field of view.
Fine Zoom – It also has a fine zoom feature which enhances the zoom up to a 10x magnification.
Vibration Reduction – Fiddly control features of this amazing camera can offset camera shakes and ensures that you get sharp and steady photos and videos.
Create Action Sequence – Take as much as 5 shots per second, just by holding down the shutter button.
Make HD videos – Only a single click turns it into a video camera. Make HD videos of you adventures with the Nikon COOLPIX AW130 without the fear of ending up with a shaky one as its Hybrid Vibration Reduction gets automatically activated as soon as you start recording.
Image Sensor -The 16-megapixel image sensor is highly sensitive and makes sure that you get clear and detailed pictures with as low noise as possible, even in low light, under water conditions.
Log Function – Turn on the log function and adjust it to your liking to track even the fine details of your movements.
Depth Gauge and Altimeter – The Nikon COOLPIX AW130 has a built in pressure sensor that measures your depth or altitude and show it on the camera screen.
Automatic Target Finding AF – Getting clear focus in any condition is no more a problem with the Nikon COOLPIX AW130. Its precise and fast AF identifies the main subject and focuses automatically on it, even in low light or underwater conditions.
Add Special or Quick Effects to your Pictures – Choose from 8 quick effects, such as choosing a white or a black background to make your subject stand out, or add special effects to your photos, such as vividness, just by single touch as you shoot.
The Nikon COOLPIX AW130 comes with a rechargeable lithium ion battery, a USB cable, charger, a strap, cleaning brush and a user's manual. This is the best underwater camera for scuba diving, it takes amazing pictures up to 100 feet underwater.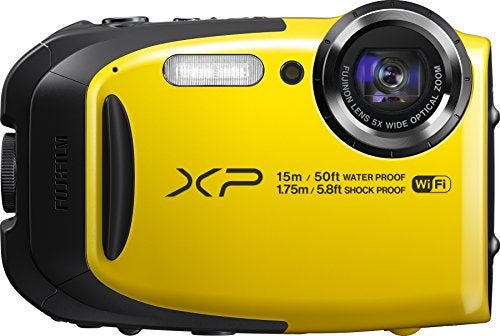 The Fujifilm FinePix XP 80 is a point- and-shoot camera that comes with a 2.7-inch LCD16 GB SDHC card and built in Wi-Fi connectivity. It is also waterproof, shockproof and has numerous other features as well, making it excellent value for money.
Features of the Fujifilm FinePix XP 80:
2.7-inch LCD Display – The 2.7 inch, 460 k-dot LCD of the Fujifilm FinePix XP 80 has an anti-reflective coating that makes working in the bright and sunny conditions a lot easier.
Waterproof – You can take this Fujifilm camera up to 50 feet underwater and it will give you really sharp and clear images.
Freezeproof – Record your skiing/snowboarding with the Fujifilm FinePix XP 80 because it can withstand temperatures as low as 14 degrees Fahrenheit (-10 degrees Centigrade).
Shockproof – If you own a Fujifilm FinePix XP80, you do not need to worry about the camera if it accidentally drop it because it can absorb shocks without causing any hiccups from as high as 5.8 feet.
Dustproof – The camera does not allow the dust to ruin its internal components with its adherence to IP 68 standards.
High Resolution – It has a 16.4 Megapixel, 1/2.3 inch BSI CMOS sensor that produces high resolution images and videos. You can make full HD videos at 60 fps and at 240 fps for slow motion output. A high speed processor allows full resolution burst shooting at the following rates:
10 fps for 10 frames
60 fps for 70 frames
In Camera Editing – Fujifilm FinePix XP80 has an amazing feature of in camera editing for videos. Now, you do not need to transfer the video to your laptop in order to do the editing and can do it right away.
Built-in Microphone – There is a built in mono microphone with a wind filter incorporated in it that records sounds during video recording.
Optical Lens – Fujifilm's FinePix XP 80 has a 5x optical zoom lens with sensor shift image stabilization which makes sure that you get a sharp and clear image without any signs of camera shake. The high resolution and zoom also make it possible to take pictures in low lighting conditions. The 5x optical zoom gives it a focal length range of 24-1200 mm.
Intelligent Digital Zoom – Intelligent Double Zoom is an added feature that increases the zooming capability up to 10x without the degradation of the image.
Wi-Fi Connectivity – Sharing photos and videos has now become a quick process with cameras that have built in Wi-Fi connectivity. Fujifilm's FinePix XP 80 makes it much easier by adding the wireless connectivity feature, which makes content transfer as simple as pressing a button.
Additionally, by installing the Fujifilm Camera Remote app on your mobile or tablet, you can use the camera's remote shooting feature by controlling it through your phone/ tablet from a distant location.
Action Camera Mode – Action Camera Mode permits you to record all your adventures, be it skiing, paragliding, snorkeling or any other such activity, and that too, in HD. What more can one want? The plus point of Fujifilm's FinePix XP 80 is that when you are using this feature with an optional mounting device, its LCD screen automatically switches off as soon as the recording starts in order to extend battery life and recording times.
Additional Features – Fujifilm's FinePix XP 80 has 11 advanced digital filters with a live preview feature and 7 sensitivity settings that are available at full resolution, 2 JPEJ compression options (normal or fine), a built-in flash that can be used in 4 modes (auto, slow synchronization, suppressed flash and forced flash). It also has a red eye removal feature which can be switched on or off from the main menu.
Fujifilm's FinePix XP 80 also has a motion panorama feature that captures the pictures at 120, 180 or 360 degree pans automatically as you move the camera. The Fuji does not have some of the advanced features of the other cameras like GPS but it does what it supposed to do well and that is take great photos. In my opinion this is the best snorkeling camera, it takes amazing pictures for a bargain price.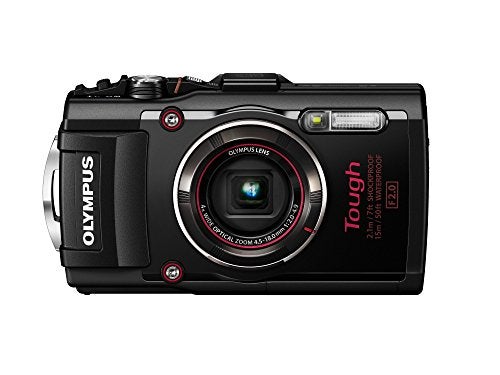 As the name suggests, the Olympus Tough TG 4 is strong and rugged with a long battery life, making it the perfect camera to use on your adventure trips. It is also packed with numerous modern, yet easy to use features, such as an built electronic compass, GPS, depth and altitude gauges plus Wi-Fi.
Features of the Olympus TG 4 include:
High Resolution Image – Olympus TG 4 has a 16-megapixel BSI CMOS sensor with bright f/2.0 4x optical zoom and TruePic VII image processor, which ensure that you get a high resolution image even in extremely low light. It also has a removable front ring that allows the user to add different accessories to it.
Waterproof – The Olympus TG 4 allows you to take pictures as deep as 50 feet.
Shockproof – It can withstand shocks and falls from as high as 7 feet
Dustproof – The Olympus TG 4 is completely dustproof, thus, allowing you to take high quality pictures even at the most sandy places.
Freezeproof – Taking pictures in freezing cold weather is not a problem with the Olympus Tough TG 4, as its freeze-proof feature allows you capture your life's memories in as low a temperature as 14 degrees Fahrenheit.
Crushproof – This tough camera by Olympus can withstand up to 220 lbs of pressure
HD Video Recording – Record HD videos at 1080p or 720p and at a good frame rate of 240 fps or 120 fps, to capture your adventures.
Capture Raw Image – The Olympus TG 4 has an added feature that enables you to capture the raw image alongside the JPEG version of the image.
Microscope Mode – Capture the finest details of the object with any of the 4 available modes in the TG 4.
Microscope mode allows you to capture the image from as close as 1 cm.
Microscope Control allows you to choose different display magnifications in microscope mode in order to achieve the desired focus. This feature allows you to magnify the image up to 44.5x.
Focus Bracketing allows you to capture different images with different focus.
Focus Stacking is the feature that captures different objects with different levels of focus and then automatically combines them to form a single frame.
Built in GPS, Electronic Compass and Wi-Fi – Built in GPS not only helps you in identifying and locating various places, but also allows landmark tagging and geo tagging. The electronic compass provides information such as the longitude and latitude, altitude and depth, time, date, water and atmospheric pressure.
The Wi-Fi connectivity feature allows you to share your pictures and videos without delay. The camera can be linked to your smart phone or computer to make instant sharing possible. Additionally, installing the Olympus Image Share app on your phone or tablet will allow you to control your camera from a distant location.
The features that can be remotely controlled include adjusting focus and exposure, zoom control and releasing the shutter. A fully charged battery of the TG 4 lasts for around 300 pictures.
Additional Features – In addition to the aforementioned amazing features, the Olympus TG 4 camera also has multiple scene modes, art filters and picture modes which allow you to make lapse movies as well.
The Olympus TG 4 is highly recommended and one of the best waterproof cameras with all the features you want while taking just about any abuse you can throw at it.
Any of these cameras are going to take some great pictures of your underwater adventures. If you are looking to get a snorkel mask to take with you, check out my snorkel mask reviews, and my snorkeling fin reviews here.
Notice: Outside Pursuits is a participant in the Amazon Services LLC Associates Program, an affiliate advertising program to provide a means for sites to earn advertising fees sold through by advertising and linking to Amazon.com. Amazon offers a small commission on products sold through their affiliate links. Each of your purchases via our Amazon affiliate links supports our efforts to bring you the best possible product reviews at no additional cost to you. We appreciate your support here at OutsidePursuits.com
Review Overview
Summary : The Nikon COOLPIX AW130 Waterproof Digital Camera was our favorite camera overall. It had all the features you could ever want well being able to handle all the elements and abuse.