As a backpacking guide with collegiate experience in the wilderness survival techniques niche, I can tell you there's an awful lot of hype and misinformation surrounding fire starting. I've spent years sifting through the BS and sorting out what works for me.
Of course, there are unlimited ways to start fires for survival or backpacking needs but honestly some of them just make more sense than others in most situations.
I'm going to walk you through my top five picks for fire starting tools and how to choose your own.

Here is a overview of the fire starters with full reviews and our buying guide below.
Best Fire Starters
Lightning Strike Fire Starter
Campfirepiston Hickory Fire Piston
SE FS374 Fire Starter & Magnesium Fuel Bar
Fire Starting Method:
Ferro rod and striker
Compressed gas and charcloth
Magnesium with flint striker
Features:
Waterproof & weatherproof
Waterproof & weatherproof
Waterproof & weatherproof
Size:
7.5" x 1" inches for standard
5.5" long by 1" for mini
4-1/2 x 7/8 inches
3" x 1" inches
FireStarter Reviews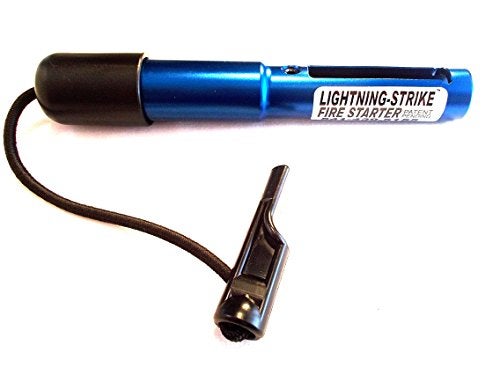 The Lightning Strike may be the best survival fire starter ever made. That's a pretty bold claim I know and it is more money that other fire starters but in my opinion is worth every penny.
It is well made from a machined aluminum tube. It pulls apart where one end of the Firestarter houses your tinder and is kept completely dry inside of it.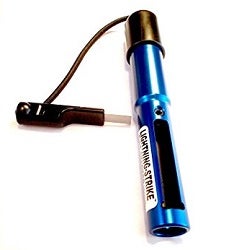 The other end is a hollow tube with the ferro rod attached to the bottom of the tube. There is a then a slot to take the striker and slide it along the rod keeping it aligned and with the ferro rod for maximum contact and sparks.
What is so amazing about this design is the fact that the ferro rod being housed inside the tube CONCENTRATES the sparks like a rifle shot into a narrow area that almost guarantees to ignite your tinder on the first try every time. One other thing to know is it is 100% made here in the USA, so you know its quality made.
The Lightning Strike is the emergency fire starter you will find and highly recommended. Don't go into the woods or camping without one!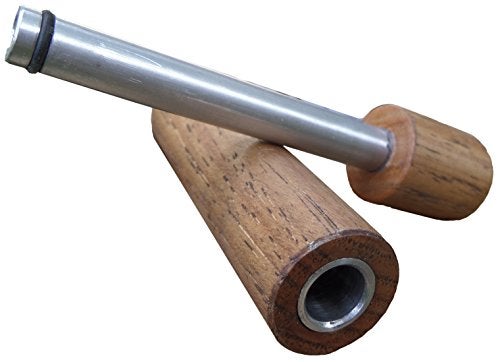 These are tools of extremely ancient origin and their simplicity is based on very basic concepts of physics you probably learned in science class. If your new to backpacking you may not have heard of a firepiston but let me assure you these devices work very well.
Trap some gasses in an immovable space and then compress those gasses extremely rapidly under massive pressure and they'll heat up – a lot – enough to ignite combustible material inside.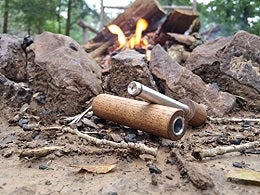 Fire pistons can be used indefinitely as long as you maintain the rubber or leather seal on the piston and you only need to feed it a small piece of tinder such as char cloth, cotton balls, or a small bit of fabric.
Put the piston into the cylinder, slam your hand down on piston, and then dump out the now-ignited piece of tinder in to your fire-starting bundle.
The Campfire Hickory FirePiston comes with plenty of char-cloth and several spare o-rings, enough to last many years of starting fires.
It's truly an inspiring example of beautiful efficiency and it operates a lot like a diesel engine. The Campfire piston is quality made here in the USA.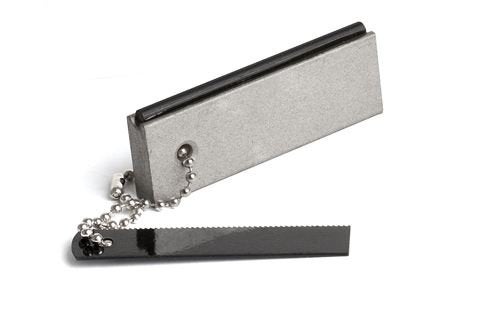 Magnesium is a shiny grey elemental substance which, when excited, will burn with extreme intensity. Magnesium is used in things like sparklers, welding train tracks, and other applications requiring absolute loads of heat and energy.
Magnesium is extremely flammable in powder or shavings though quite difficult to light in mass. For those reasons a ferro rod and magnesium stick combo is an excellent fire starting basic for several reasons.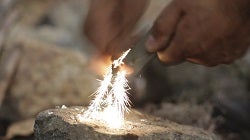 Magnesium is inherently waterproof – as is ferrocerium – and both will do their jobs when wet. These devices work by scraping (scrape, don't cut or shave) the magnesium block until you've accumulated a pile of fine magnesium shavings.
Then, simply use the ferro rod to strike a shower of hot sparks down on the magnesium to create an intense flame which will burn at about… 5,600 degrees Fahrenheit.
The SE FS374 Magnesium and Ferro Rod Combo is cheap, compact, light, and nearly indestructible. The SE FS374 is in my opinion the best magnesium fire starter you can find. It will light a fire in any weather and is nearly fool proof. Can't ask for much more.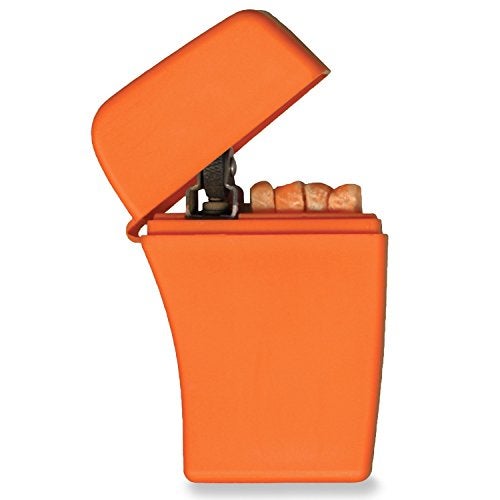 Before you start laughing let me explain why this one made the list of choices. Often when people ask me, "What's your favorite fire starter?" I simply respond with this answer.
They're dead simple, they work when wet (if you know how), and they last for ages if you are starting your fires properly. Even when the fuel runs out you can take off the guard and light fires using the sparks.
They're cheap, compact, and you can carry enough of them to get fires started reliably for years even in a small survival kit.
The only time Zippo lighters aren't the most sensible choice is when you're choosing a fire starter for extremely long-term use. For a well-rounded survival kit, I'd probably pack a few Bic lighters, a fire piston (leather seal), and some rope of choice.
Zippo lighters will get you started for the first weeks or months, fire piston will last an entire life time if used properly, and rope can be used for a bow drill if all else fails.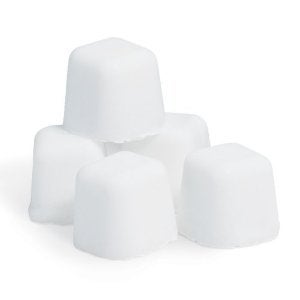 There are many options out there for solid-fuel fire starters such as Hexamine or other solid chemical tabs. This one, however, is a great and inexpensive option which should cover many of the basics of a great fire starter.
Keep in mind that this is NOT an ignitor – to ignite this you'll need one of the other methods we've talked about.
These are lightweight solid fuel tabs which are waterproof, compact, and slow burning. Build a great tinder bundle and fire progression and nestle this solid fuel tab at the bottom to ignite the pile.
A single shower of sparks from the ferro rod (no magnesium needed), or application of a good fire piston tinder and tinder bundle, should get this fuel source burning.
Don't be fooled, though, you'll still need to build your fire bundle carefully and intelligently to avoid a failed attempt.
Vaseline and Cotton Balls
This might be my all-time favorite choice of fire starting material for survival or camping. There's not much to it and it's insanely effective and efficient. Here's the idea.
Buy some petroleum jelly and cotton balls in bulk to save cash
Melt the petroleum jelly in a double boiler
Hold cotton balls by a corner and dip half of the ball into the petroleum jelly
Set aside on wax paper to cool
Repeat until you have an apocalypse-proof pile of petroleum jelly-infused cotton balls
These little guys are inherently waterproof due to the petroleum jelly (though the non-soaked end of the cotton ball can get wet, it will still ignite fairly easily due to its fibrous nature).
Keep a few in an old medicine bottle or other container to avoid getting petroleum jelly on everything. They also burn like a candle and will burn with a steady, even flame for several minutes.
How to use Vaseline and cotton balls:
Place cotton ball under your tinder bundle or pile
Pull apart the fibers of the cotton ball to help spread them out – this will help with easy ignition
Light the non-petroleum jelly side of the cotton ball with a shower of sparks, or a quick light from your Bic
The cotton will burn like a candle wick and melt and ignite the petroleum jelly which will steadily burn for minutes
These little fire starters are cheap, and nearly fool proof.

How to Choose a Fire Starting Tool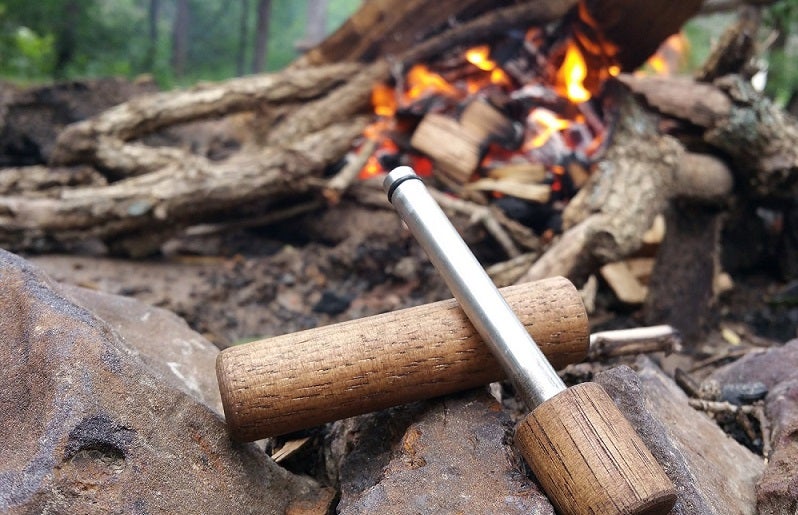 There are plenty of factors which will help make or break your decision on which fire starting method to use.
Weight
If you're backpacking or creating a small and practical survival kit, then weight will be a factor in your choice. Sure, a 20-pound propane cylinder with a weed burner attachment is a great fire starter, but it just doesn't make sense. They are cool, though… Most fire starters for backpacking and survival, however, are quite light.
Bulk
Again, for backpacking and survival portability is usually tantamount. Fire starters come in all shapes and sizes but carrying around a pre-made bow drill is usually just not an option. Consider what you're going to be using the firestarter for and how you plan to pack or carry it.
Waterproof
Many fire starters are inherently waterproof such as gasoline soaked cotton balls, wax cloth, or ferro rods. Some, however, are not such as shredded cedar bark, char cloth, and other various tinder components. Consider choosing an inherently waterproof firestarter or keeping your fire-starting components inside a watertight container.
Consumption
No, not alcohol, consumption as in how fast will you use up the fire starter? Ferro rods last practically forever although they can be eventually worn out. Other methods such as mini Bic lighters will be consumed much faster.
Then there are methods like a fire piston which will never be worn out (assuming you maintain them). For survival, you may want to think about a non-consumable fire starter.
Ease of Use
If you're going to just carry around a knife and some string or rope with the intention of making a fire bow every time you want to start a fire, then you're going to need to practice until you're a master so you can be certain your skills won't let you down.
Other methods are insanely simple such as the old Zippo/Bic lighter. Some things, like the hand drill, require very few materials but extremely high levels of knowledge and skill. What fire starting method makes the most sense for what you want to do?
Compatibility
If your goal is to light your backpacking stove with your chosen fire starter, then a fire piston or bow drill would be awful choices. You'd have to bow drill some embers, light some tinder, build a small fire, and then light your stove using a burning stick.
That's simply just not practical and a mini Bic lighter would make much more sense. On the inverse, if you're building an end-of-the-world survival kit, then you'll probably want some Zippo/Bic lighters as well as a few non-consumable fire-starting methods like a fire piston and some rope for a bow drill.
Conclusion
There are lots of factors to consider when choosing the best possible fire starting method for your needs. If you're backpacking and simply need to light a backpacking stove or a camping stove, then a simple lighter will do the trick better than anything.
If you want a fire starter that will last as long as you do and never let you down, then make or purchase a fire piston and learn to use it and care for it well.
Ferro rods and magnesium sticks are simple, effective, cheap, and easy to use so you can never really go wrong with that choice. Just make sure to practice before you need to use them!
Be sure to see my favorite hiking shoes and trekking poles. A hiking watch is a great option to have, along with a good backpacking sleeping bag,  backpacking tent and a hiking backpack to carry everything in.
Notice: Outside Pursuits is a participant in the Amazon Services LLC Associates Program, an affiliate advertising program to provide a means for sites to earn advertising fees sold through by advertising and linking to Amazon.com. Amazon offers a small commission on products sold through their affiliate links. Each of your purchases via our Amazon affiliate links supports our efforts to bring you the best possible product reviews at no additional cost to you. We appreciate your support here at OutsidePursuits.com