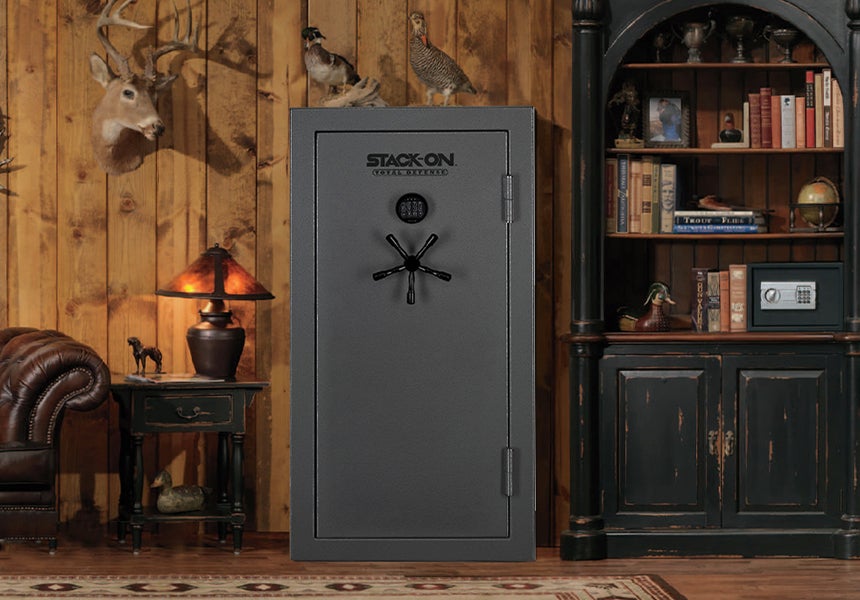 Our Editors independently research, test, and rate what we feel are the best products. We use affiliate links and may receive a small commission on purchases.
If you own firearms, security is a big priority for you. You want to keep your firearms safe and secure, while still accessible when you need them. A gun safe is a solid investment in your home security and offers a great way to store your firearms, as well as important documents, other valuables and anything else you want. The best gun safes offer protection from fire, water and theft. The biggest concern with gun safes is – they aren't cheap. Have no fear, as we are here for you with the best gun safe deals on the internet.
---
Best Gun Safes
| | Redfield 64-Gun Safe | Liberty Safe Company Revere 64 Gun Safe | Cannon 48-Gun Safe |
| --- | --- | --- | --- |
| | | | |
| | | | |
| Capacity | 64-gun capacity | 64-gun total capacity | 55-gun total capacity |
| Fire Ratings | 1,400-degree protection for 30 minutes | 1,200-degree protection for 60 minutes | 1,200-degree protection for 45 minutes |
| Lock Security | Waterproof to two feet | Multiple Locking Bars | Seven locking bolts |
| | | | |
---
Redfield 64-Gun Safe – $799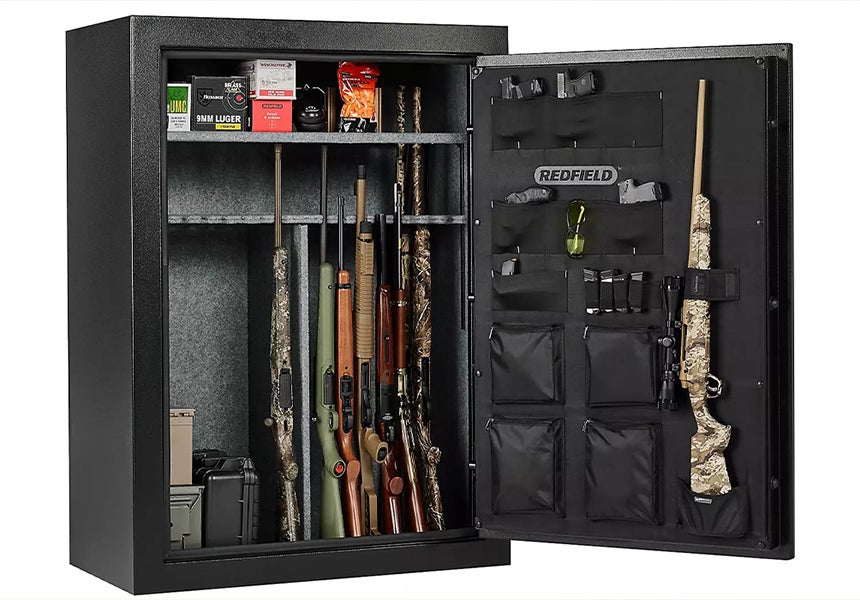 64-gun capacity
1,400-degree protection for 30 minutes
Waterproof to two feet
Academy Sports + More went out and acquired the Redfield brand not long ago and has really done well with the optics and now, some sweet gun safes. The best deal you'll likely find right now on a big gun safe is the Redfield 64-gun model that they are selling for less than $800! This is a $1,200+ gun safe that you can save a bundle on. It is made from heavy-gauge steel and has three locking bolts, a three-spoke handle, adjustable shelving, door storage for six pistols, one long gun and four zipped pockets. This safe is rated for 1,400 degrees for 30 minutes and is waterproof up to two feet for  seven days. If you have a lot to store, or are looking for room to grow your collection, this is a great option.
Liberty Safe Company Revere 64 Gun Safe – $1,399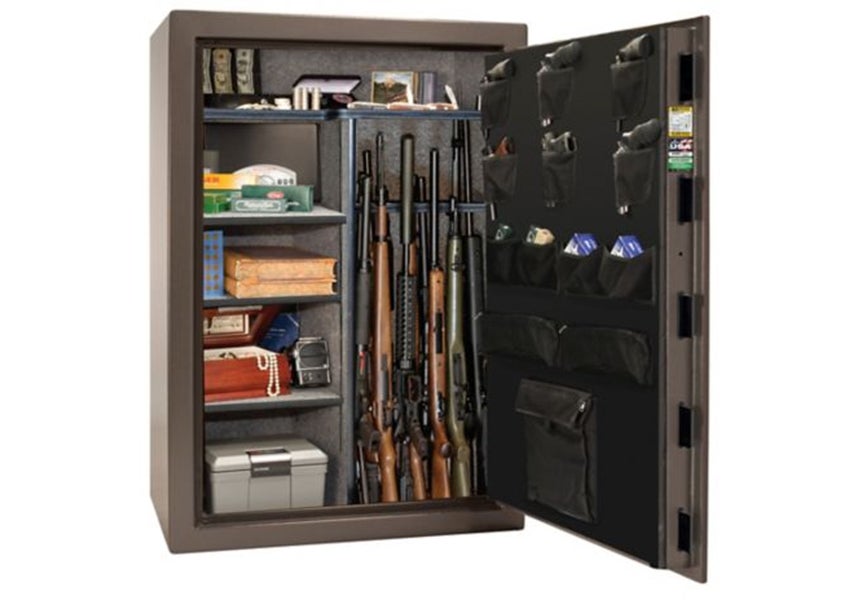 64-gun total capacity
1,200-degree protection for 60 minutes
Multiple Locking Bars
Liberty Safe Co. is pretty much at the top of the list when it comes to who makes the most secure safes on the market. These American-made safes feature military-grade locking bars that can withstand an amazing amount of abuse. There are three hardened plates that protect the lock mechanism from drilling attacks, too, which is why most criminals lose all interest as soon as they see the Liberty logo.
This big safe will hold up to 64 firearms, as well as other important stuff. It has a full 60 minutes of fire protection at 1,200 degrees thanks to the Palusol heat-activated door seal and will last under water as well. This safe has an EMP-hardened, digital lock and has internal LED lights so you can see what's inside and find just what you need. If you want a serious safe, this is about as serious as it gets, and you can save a serious chunk right now, too.
Cannon 48-Gun Safe – $799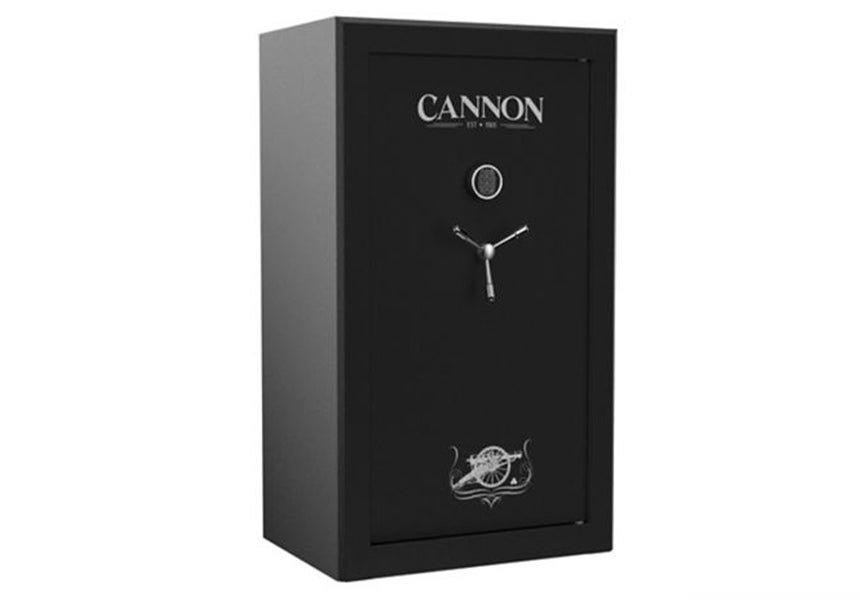 55-gun total capacity
1,200-degree protection for 45 minutes
Seven locking bolts
Tractor Supply Co. always brings the heat in the holidays with sweet deals on gun safes. This Cannon Safe provides maximum peace of mind for what matters most to you. Fire rated for 45 minutes at 1,200 degrees and made of solid steel, this safe contains a customizable interior that can hold up to 48 long guns, 6 pistols, and a shotgun on the door, for a total capacity of 55 firearms! Add in any valuables you wish to secure, too. Equipped with 8 1.25-in. diameter locking bolts and a triple hard locking plate, the Cannon was designed to prevent pry and drill attacks. Backed by Cannon's Lifetime Replacement Promise, you can rest assured that your firearms and valuables are protected.
Redfield 30-Gun Safe – $499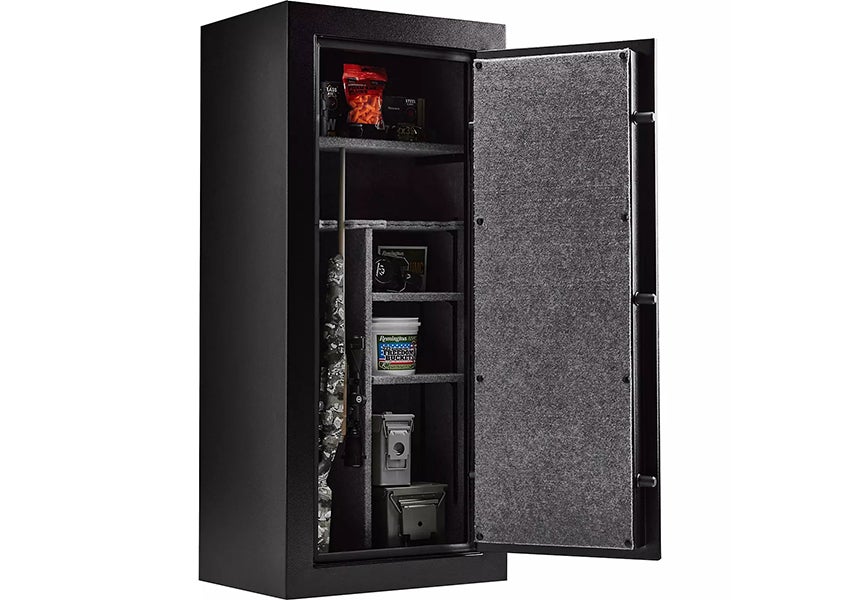 30-gun total capacity
1,400-degree protection for 30 minutes
Five locking bolts
Looking for a smaller version of the Redfield safe? This 30-gun capacity safe available from Academy Sports hold 30 long guns and handguns, with room for extras and valuables. The Redfield 30-Gun safe is waterproof for a week at a two-foot depth and will withstand 30 minutes of 1,4000-degree heat from a fire. It is made from 16-gauge steel, is pre-drilled for mounting to the floor and has five locking lugs. This gun safe comes with a digital mechanism and a three-spoke turning knob. Save some extra by using an Academy Sports credit card, too.
Winchester 20-Gun Safe – $349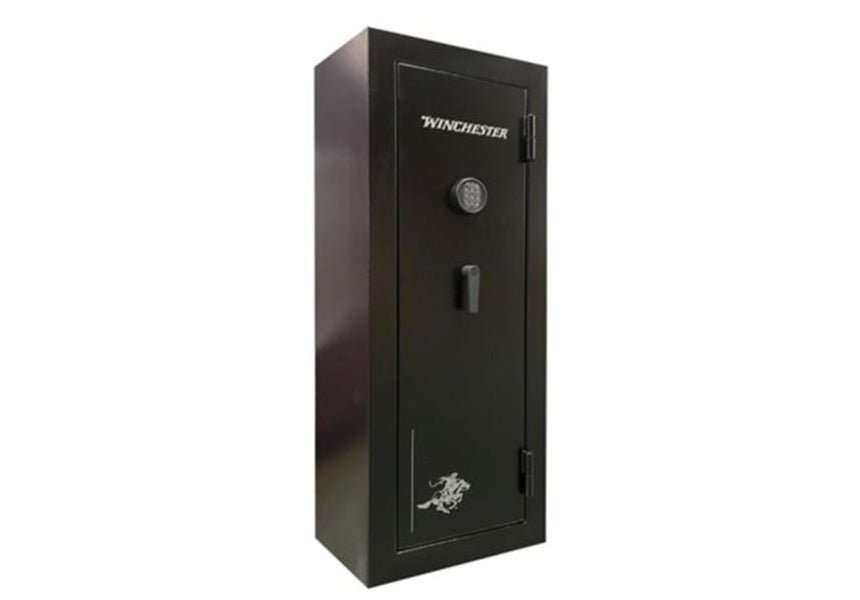 20-gun total capacity
1,400-degree protection for 30 minutes
Six locking bolts
On the smaller side, this Winchester gun safe has room for 20 long guns and additional storage for valuables and other materials. It has 14=gauge steel construction and comes pre-drilled for mounting into the floor. Six, one-inch locking bolts secure the door and a digital lock mechanism will befuddle would-be thieves.
Cabela's 18-Gun Electronic Safe – $499.97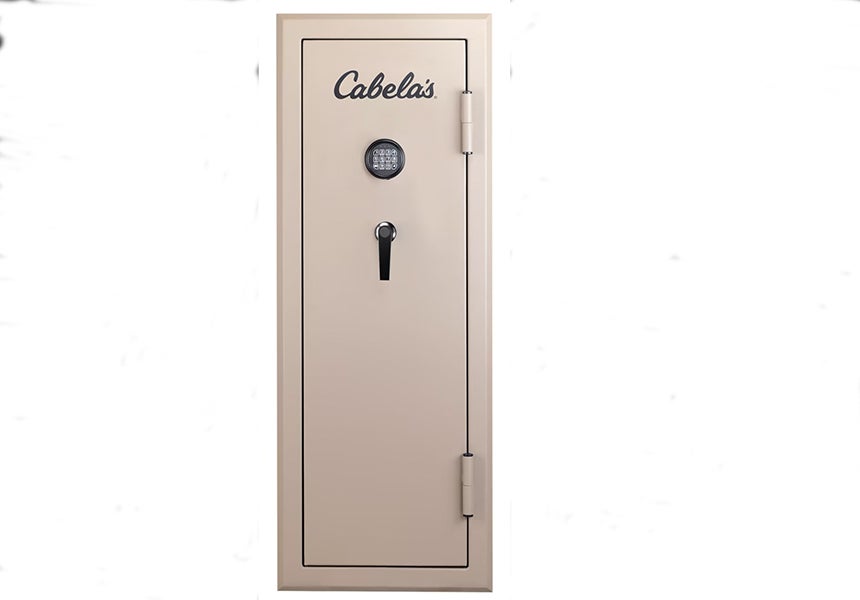 18-gun total capacity
1,400-degree protection for 45 minutes
Three locking bolts
Cabela's is well known for quality and if you need a sweet, yet smaller safe, this one is definitely worthy of a look. It's compact size makes it perfect for security in areas where you need to have things close at hand, yet away from unwanted hands. It has a digital locking system with a tamper-proof alarm system that helps foil would-by thieves. You can configure the fully-carpeted interior to fit your needs and it comes with handgun pouches for the door.
Best Gun Safes Comparison Table
---
---
Best Gun Safes Buyer's Guide: What you need to know
Capacity
Gun safe capacity is very subjective. If a safe says it will hold 30 long guns, that means it will hold rifles and shotguns – without optics. Scopes and other sights take up additional space and decrease the amount of firearms a safe will actually hold. This begs the question – How big of a gun safe do you need? My suggestion is to err on the side of caution and get a safe that has a greater capacity than you think you need.
Say, for example, that you have 17 long guns and seven of them are scoped rifles. Already from this, you would likely need a gun safe that can hold up to 24 guns to have room for the optics, and add in more if you're talking about rifles with night vision scopes atop them. A 24-gun safe is fine, but what if you buy a new gun? Or, let's say you have some other valuables you'd like to store in the safe? I would suggest going to a bigger safe, like a 30 gun or bigger. Just so you have the room to expand.
Fire ratings
Gun safes differ from cabinets in that they are thicker and have a seal that can withstand the heat from a fire. There are several things to consider. A gun safe has a steel outer and inner body, with a liner that is made of a fire proof material. This helps to insulate and protect the contents. It also makes the safe so heavy that once you have it placed, it usually doesn't move.
Then there is the seal on the door. This is the part that is going to fail on a gun safe when a fire breaks out. When a safe says it can withstand 45 minutes at 1,400 degrees Fahrenheit, if the fire is hotter than that, or if the length of time exceeds what the safe is rated for, the seal on the door will be the point of failure. The goal, of course, is in the event of a fire, the fire can be extinguished before it sets too long on the safe.
My neighbor had a house fire and it was brutal. He had a gun safe that was rated for 30 minutes at 1,200 degrees. Unfortunately for him, the fire broke out near where he kept the safe, and the safe sat in the hot zone for almost an hour, as the fire department struggled to contain the blaze. The guns as well as some jewelry in the safe were damaged, but not completely destroyed. Even with high temperatures and prolonged exposure, the safe still held.
Gun Safe Frequently Asked Questions
Q: How big of a gun safe do I need?
A: Keep in mind that gun safe capacity is based on long guns without an optic attached, so a 30-gun gun safe can hold 30 long guns without scopes. For every scope, subtract one from the overall capacity. I always err on the side of caution and buy a safe that has more capacity than you think you need.
Q: Where is the best place to put my gun safe?
A: While it would be handy to have the gun safe in your bedroom or home office, and these are good places if you have a single-level home, the best room in the house for your gun safe is usually the basement. If someone wants to steal your entire safe, they will likely think twice if they have to drag it up a set of stairs.
Q: Will a gun safe protect my guns from rust?
A: The best gun safes are waterproof. However, humidity in the air can still allow rust to form on your firearms. It is a good idea to clean and oil your firearms on a regular basis, and a safe dehumidifier is always a good investment, especially if you live in a humid climate.
Q: What do I do if my gun safe's batteries die in the electric lock?
A: Every digital gun safe has a backup system for just such an occasion. Don't worry. You can replace the battery, and your entry code will still work. There is often a secondary way to engage the lock, too. This is dependent upon your specific model and manufacturer, so do your research before you buy.
Notice:
OutsidePursuits.com is a participant in the Amazon Services LLC Associates Program, an affiliate advertising program. OutsidePursuits.com earns fees from products sold through qualifying purchases by linking to Amazon.com. Amazon offers a commission on products sold through their affiliate links.