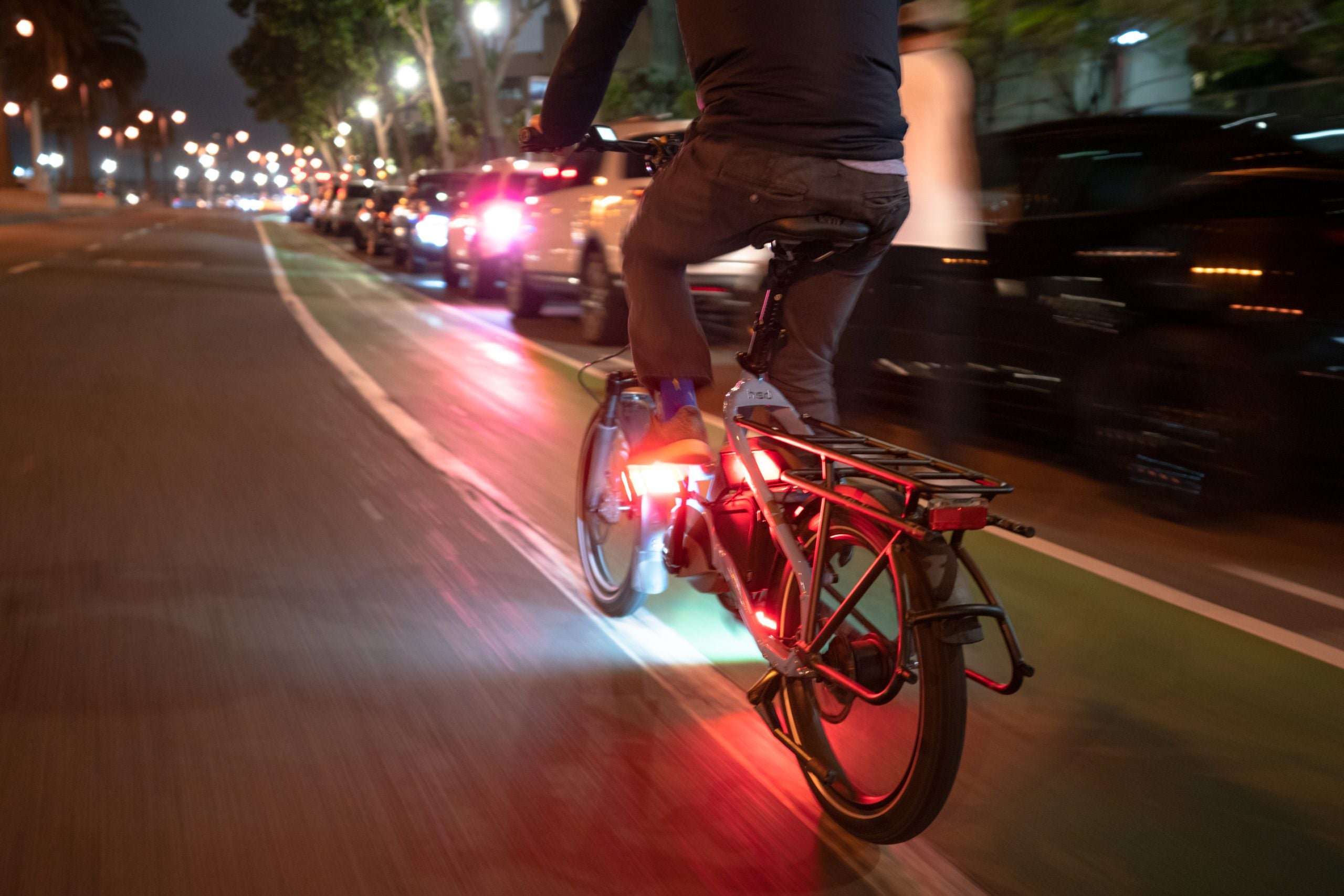 Our Editors independently research, test, and rate what we feel are the best products. We use affiliate links and may receive a small commission on purchases.
Redshift is best known for its vibration-damping Shockstop stems and seatposts. The brand is officially launching a smart pedal with integrated LEDs to improve rider visibility. Read on for details and our review of the new Redshift Arclight pedals.
The Redshift Arclight pedals retail for $139.99 and feature front and rear-facing LED lights. These lights cast a 360-degree field of light around the rider, enhancing rider visibility from all angles. It's well established that reflective accents, bright colors, and lights in positions of motion, such as on the rider's shoes, socks, or pedals, do a better job of alerting motorists to the presence of a cyclist than static lights on a seatpost or handlebar.
Studies conducted by Clemson University have concluded that vulnerable road users (VRUs) benefit significantly from lights that identify them specifically as cyclists and pedestrians. According to one such study, lights that highlight the natural movement of the body in various methods of locomotion, known as bio-motion, are associated with up to a 57% increase in visibility compared to standard front and rear lights.
A New Spin on Pedals
Lights and reflectors integrated into bike pedals are nothing new. What makes the Arclight pedals stand out, and what makes them "smart" pedals, is the use of rechargeable LED lights that know their orientation to emit white (front) or red (rear) light. Motion sensors detect movement and automatically turn the lights on and off.
Button's on the side of each LED pod allow the user to select between steady, flash, and eco flash modes. Run times are 3, 11, and 36 hours, respectively. Redshift also makes magnetic brackets for the Arclight light modules that allow them to function as headlights and taillights.
Magnets hold the LED light in the pedal body. These light modules are easy to remove for charging. Redshift includes a four-port USB charging station with each set of pedals.
Redshift Arclight Pedal Review
I spent several weeks testing the Arclight pedals on my e-cargo bike. The Arclight pedals weigh in at 700-grams per pair with the lights installed. This is approximately 210 grams heavier than the Shimano XT flat pedals they replaced. The Arclight pedals aren't light, but they're not intended for performance road and gravel bikes. Though I would love to see this technology integrated into such pedals in the future.
The aluminum pedal bodies are sturdy, and the magnetic light modules are easy to install and remove for charging. The pedals worked as advertised. It took a few pedal strokes to wake the pedals before the lights kicked on. Once they lit up, no matter how many times I flipped the pedals around, they always knew which way was up and, thus, which side was facing front or rear. The ability to easily remove the light modules from the pedal bodies to change them at the office or overnight makes them incredibly convenient.
My only complaint about these pedals is the lack of grip on the pedal body itself. It's adequate for most excursions, but I'd prefer taller pins for wet and snowy commutes. I may add grip tape strips to the pedal body's center to improve traction.
Redshift Arclight Pedal Bottom Line
I can't say if the bio-motion created by these pedals improved my visibility by 57-percent, as some studies claim. The biggest compliment I can give the Arclight pedals is that during testing, I came away with the distinct impression that motorists gave me more space while passing. The Arclight pedals aren't cheap and the lights built into the pedals don't negate the need for a steady headlight when navigating dark streets. Still, this is a worthy upgrade for any cyclist who wants to improve their visibility—during the day and especially at night.
Notice:
OutsidePursuits.com is a participant in the Amazon Services LLC Associates Program, an affiliate advertising program. OutsidePursuits.com earns fees from products sold through qualifying purchases by linking to Amazon.com. Amazon offers a commission on products sold through their affiliate links.