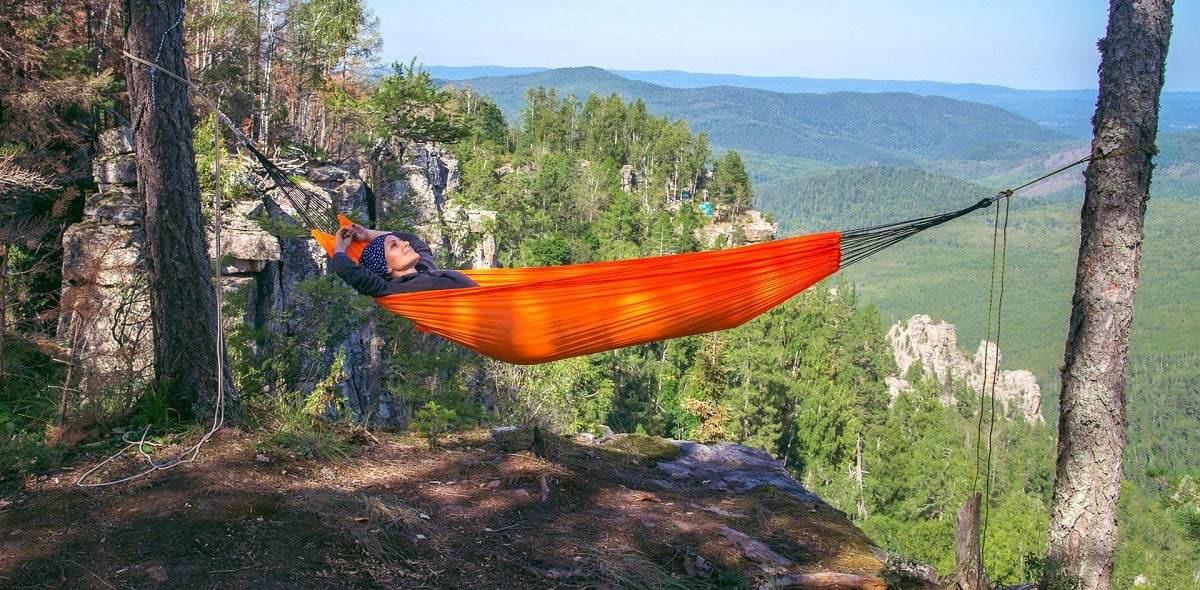 Our Editors independently research, test, and rate what we feel are the best products. We use affiliate links and may receive a small commission on purchases.
Hammock camping is often dismissed as being a gimmick, but in certain situations it is a very viable option and can even be a brilliant way to enjoy the great outdoors.
Tents are so ingrained in the culture of camping that we often don't consider anything else as being an option, but those who have embraced the idea that the tent might be more of a hindrance than a help have started to embrace hammocks as being an option.
If you haven't used a hammock for camping before, you might be thinking of the type we often see on beaches or in backyards. These are hammocks made out of rope, the type we might see in a cartoon!
The types of hammocks being used by hardcore campers are not this variety. Instead, they are usually made of tightly woven nylon and other high-tech materials.
People don't usually think of camping as being a high-tech business, but you only have to browse through the website of an online camping retailer like MO Tackle & Outdoors to realise that camping has come a long way since the days of the boy scout A-frame tent.
How Does Hammock Camping Work?
Put very simply, instead of taking a tent, you take a hammock. Most hammocks can fit within your bag and cause little to no inconvenience when being carried around all day.
They're lighter in weight that pretty much any tent can possibly be, and there is very little setup required. When the time comes to rest for the night, simply attach the hammock to two sturdy structures such as trees and you are ready to settle in for the night.
Just as easily as being put up, hammocks can be taken down in the morning and slung in your camping bag with minimal fuss, meaning you can continue exploring much earlier than you could if having to pack up a tent.
With hammock camping, you aren't bound to a campsite and you can move around incredibly easily, especially in wilderness areas.
It sounds like it isn't as appealing for two or more people, but if you can find a decent spot where there is space for multiple hammocks, there's no reason you can't camp in a group with hammocks. Two can even attach to the same tree if you want to be close to your camping partner.
It is true that it isn't as easy to do communal activities in hammocks, but that's one of the trade-offs for the benefits that hammock camping provides. If you have a campfire set up, then that can be an effective way to spend time together before retreating to your hammocks.
What about protection?
With nothing between you and nature, it can be easy to think that there is no protection at all offered by these hammocks. If it is sunny, are you exposed to the direct sunlight? If it is raining, will your hammock simply fill with rain?
The rain dilemma is usually solved with attachments. Simple tarpaulin-style rain fly covers can be set up which can give you coverage and direct rain away from the sleeping area. Even if you aren't keen to invest in a rain fly, you can do a similar job with just a tarpaulin.
Just like the hammock, these can be set up by attaching to trees. Some people actually prefer sleeping in a hammock when it gets rainy. If you are in an area where a lot of rain can fall quite quickly it is easy for it to start to accumulate under the tent or even start to get in the tent or make things muddy. Being suspended from a tree means this isn't an issue!
Just like the protection from the rain, a net can be set up over the top of the hammock if you are worried about bugs getting in. You can effectively turn the hammock into a suspended cocoon. And there are also types of camping hammocks that are fully enclosed using a breathable mesh material and are designed for use in regions where mosquitoes may be a problem during the night.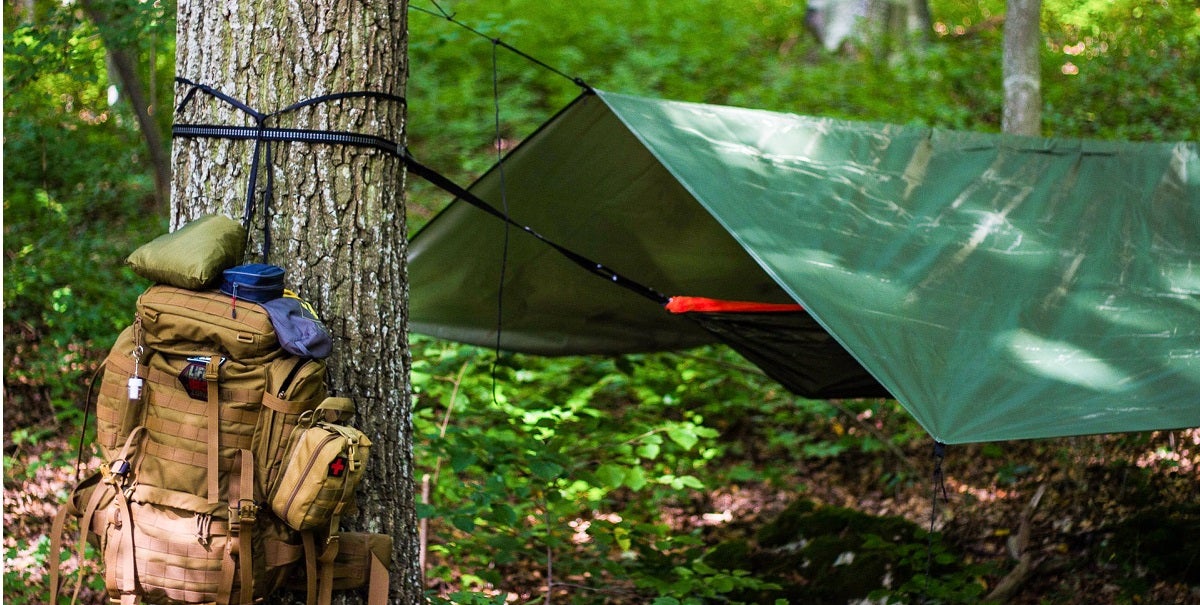 Benefits of Hammock Camping
There wouldn't even be any sort of debate to be had if camping in a hammock were in no way practical. Luckily, it has a lot of benefits! Some people swear by sleeping in a hammock when on their trips, and even take hammocks as an accompaniment to their tents.
Here are some of the benefits of hammocks for camping:
They're comfortable. There is a reason why we sleep on a nice comfy surface at home. A mattress is ideal for avoiding bumps and uncomfortable spots, but hammocks are a comfy way to avoid uneven and unforgiving ground surfaces when you're on a camping trip. Plus, they're more practical than taking a mattress.
Be out in nature. This is why we go camping anyway, right? Hammock camping is a wonderful way to make sure you can enjoy your evenings beneath the stars and don't have to worry about being cooped up inside a tent. The sounds of nature and fresh air can be hugely beneficial.
They're incredibly lightweight. Some camping hammocks are made out of very smart materials which means they have a lot of strength but still weigh a tiny amount. This means they can be added to your bag and weigh less than a bottle of water. If you're going on long hikes, that weight saved can be a big plus point.
Things to Consider
A few extra things to think about if you are going to go hammock camping:
Never set up on a dying tree, this can shorten the life of the tree and it can make it more likely that it falls in the night.
Attach the hammock with materials which won't damage the tree in any way. The goal isn't to damage nature.
Make sure the hammock has a capacity which is big enough for your needs.
Follow the instructions for setup to ensure it is sturdy and can support your weight through the night. Otherwise, you could be set for a nasty fall and a wake up call you really don't want!
Check with any park rangers that hammock camping is permitted. Not every park is happy with it.
Set up somewhere that will still be shady when the sun comes up. This will avoid waking up and being burned by the sun.
Notice:
OutsidePursuits.com is a participant in the Amazon Services LLC Associates Program, an affiliate advertising program. OutsidePursuits.com earns fees from products sold through qualifying purchases by linking to Amazon.com. Amazon offers a commission on products sold through their affiliate links.