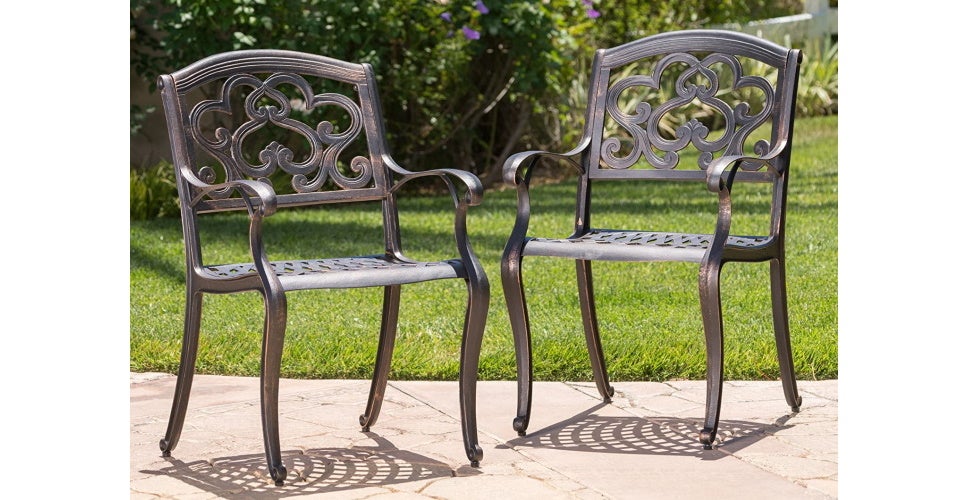 Our Editors independently research, test, and rate what we feel are the best products. We use affiliate links and may receive a small commission on purchases.
Having a comfortable outdoor space to hangout or even entertain family and friends has so many benefits. It can add real value to your home and will almost certainly increase your time spent outdoors, which is known to be good for your health and even overall happiness. One of the most important things to have in a good outdoor space is good seating!
That is where the best outdoor chairs come into play! Of course, with the basically endless options available, you want to be sure to choose the right chairs for your space. Below, we have provided you with reviews of the top 5 best patio chair brands! You can even check out some excellent examples of the chairs available from these brands.
Whether you are looking for the best lawn chair, the best folding chairs, the best garden chairs, or the best porch chairs, we have some excellent picks for you. Don't forget to also read through our guide on Choosing the Best Patio Chairs to help you understand just what you should be considering as you shop to find the best outdoor chairs for your space.
Best Outdoor & Patio Chair Brands
| | Most Versatile Patio Chairs | Best Value Patio Chairs | Best Modern Patio Chairs |
| --- | --- | --- | --- |
| | Christopher Knight Patio Chairs | Devoko Patio Chairs | Wisteria Lane Patio Chairs |
| | | | |
| | | | |
| No. of chairs | Set of 2 chairs | Set of 2 chairs | Set of 2 chairs |
| Style | Club chair style | Zero-gravity design | Armless sofa chairs |
| Special Features | Steel frame | Steel tubing frame | Tight-weave wicker rattan |
| Customer Ratings | 4.6 / 5.0 Stars | 4.3 / 5.0 Stars | 4.2 / 5.0 Stars |
| | | | |
Also see: Outdoor & Patio Chairs Comparison Table
---
Quick Answer: The 5 Best-Rated Outdoor & Patio Chair Brands
---
Best Outdoor & Patio Chair Brands Reviews
---
Most Versatile Patio Chairs
A greater selection of options gives a brand better appeal to a wide base of customers. When you can choose practically any style, shape, size, or color, you are almost guaranteed to find something you love. Christopher Knight has a nearly endless selection of expertly designed patio chairs.
From the simplest wooden chairs with natural finishes to modern rattan rockers, this brand has a bit of everything.
They make almost all styles with a huge variety of chair types – armless, low back, dining, rocking, gliding, and even swiveling options. It would be hard to not find something you love within this amazingly versatile product line.
Company Highlights
With an inspiring vision to transform online furniture shopping, a man named Christopher Knight started the Christopher Knight furniture company.
He wanted to make shopping online for beautiful furniture straightforward and easy. There are so many questions that you may have when shopping for online outdoor furniture.
The Christopher Knight company aims to answer those questions effectively without you having to first see the pieces in person.
With a myriad of visual aids, technical specifications, and detailed descriptions, the company works hard to help ensure that you know exactly what you are buying with no room for unmet expectations upon delivery.
Mr. Knight brought together a dream team of long-time furniture experts as well as some of the most incredible designers out there. This helped him ensure tons of beautiful pieces with just the right combination of unique design and familiar style. The wide range of options has created an impressively versatile brand of furniture for indoors and outdoors.
Christopher Knight Lydia Outdoor Wicker Club Chairs
Christopher Knight Patio Chairs at a Glance
:
---
Set of 2 chairs
Club chair style
Steel frame
Wicker cross stitch design
Water-resistant seat cushion
One of our favorite patio chair sets from Christopher Knight is this incredibly stylish pair of Lydia Wicker Club Chairs. These club chairs are styled beautifully with soft grey and white wicker weaved in a cross-stitch pattern at the back and sides of the chairs.
A cozy grey cushion sits in the seat of the chair for additional comfort. It is even made from water-resistant material making it durable as an outdoor piece. As far as cost goes, these chairs are on the higher end, but not too bad considering the incredible quality and stunning design.

---
Best Value Patio Chairs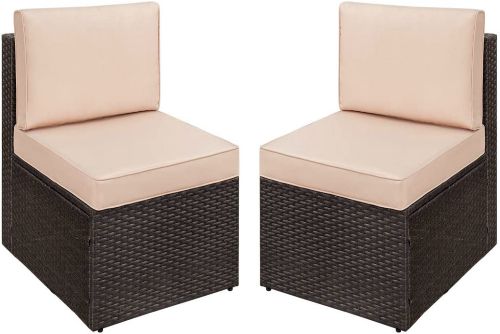 Not everyone is able to spend hundreds of dollars on patio chairs. If you have a tighter budget, but still want to enjoy some lovely outdoor seating, a brand with affordable prices and high value is perfect.
Brands that aim to keep the cost to the consumer affordable open up the market to a wider range of customers. This is wonderful because it allows more people to enjoy comfortable outdoor spaces.
Company Highlights
The Devoko company is one that truly values their customers. One of their goals has been to provide affordable pricing to everyday families. Even with the lower prices, this is not a company that lacks quality.
Their pieces are well-made and durable. The designs tend to be simple, yet highly functional and, of course, comfortable.
Devoko Zero-Gravity Folding Chairs
Devoko Patio Chairs at a Glance
:
---
2 chair set
Steel tubing frame
Breathable textile fabric
UV-resistance
Adjustable recline
Non-slip footrest
Zero-gravity design
2 color options
Built-in headrest
This set from Devoko could easily be called the best folding chairs for outdoor use. They are highly functional, have a nice aesthetic to them compared to most folding patio chairs, and are quite comfy as well. They have durable steel tube frames and an incredible zero-gravity design.
The fabric that makes up the seat of the chairs is suspended by strong elastics connecting back and forth between the frame and the material all the way around the length of the seat. This creates an interesting look and an amazing weightless feeling.
You can sit, recline, or lay down in these chairs thanks to adjustable recline features. The built-in headrest adds even more comfort for you while the UV-resistance keeps the fabric looking great for years down the road. You can even choose between beige and grey for your chairs.

---
Best Modern Patio Chairs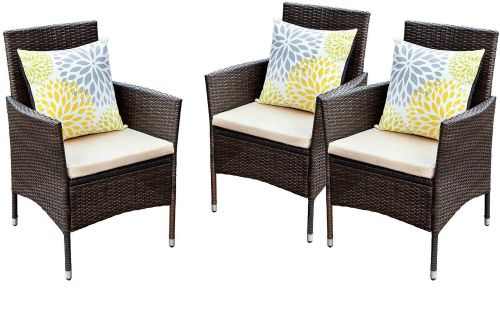 One of the most sought after styles for any furniture today, including patio chairs, is modern. It has a refreshing feel with simple clean lines that so many people adore.
The modern style has gained more and more traction overtime. It goes very well in a variety of settings making it perfect for a versatile group of customers. Wisteria Lane has created some lovely high-quality modern patio chairs for you to choose from.
Company Highlights
A balanced combination of simple designs and careful attention to details has allowed the Wisteria Lane company to roll out a stunning line of furniture with refreshing modern styling.
They use mostly wicker rattan for their outdoor patio chairs and furniture. This makes it super easy to mix and match pieces from this brand for a complete beautiful outdoor area.
They also focus hard on quality, durability, and longevity to bring an excellent value to your purchases.
Wisteria Lane 2-Piece Armless Sofa Chair Set
Wisteria Lane Patio Chairs at a Glance
:
---
2-piece set
Armless sofa chairs
Tight-weave wicker rattan
Weather-resistant
Lightweight
Grey-blue 4" thick cushions
Zippered cushion covers
This set of sturdy armless sofa chairs creates a lovely look for your outdoor area. They are styled with clean modern lines to go well in almost any setting.
The bases feature durable steel frames with tightly woven wicker rattan. The entire thing is weather-resistant. The seat and back cushions are nice and thick at 4" for superior comfort.
The covers zipper easily right off the cushions for quick machine washing. Even though these seats are durable with a nice full look to them, they are impressively lightweight.
This makes moving them around into different positions and even configuring them with other pieces of Wisteria Lane patio furniture couldn't be easier.

---
Best Simple Patio Chairs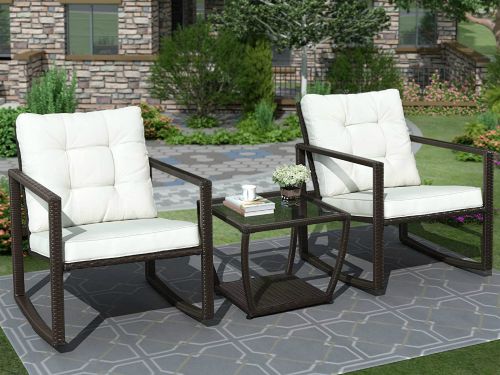 If you aren't one for looking through tons of options and narrowing down your choices, a simpler brand may be the way to go. Some people just prefer to keep it simple and Leisure Zone fits perfectly with these people. They focus on a few designs and get them just perfect.
This provides high-quality beautiful designs without an overwhelming number of choices. Even with fewer choices, Leisure Zone's simple patio chairs have enough variety that most people have no problem finding a good match for them.
Company Highlights
Leisure Zone is a wonderful furniture company that makes both indoor and outdoor furniture. Their indoor furnishing offerings are more comprehensive whereas the outdoor furniture is refreshingly simple. They use high-quality rattan for their pieces and have a few types of pieces available giving just the right amount of easy-to-navigate variety.
Leisure Zone 3-Piece Rocker Bistro Set
Leisure Zone Patio Chairs at a Glance
:
---
2 outdoor rocking chairs
Small 18" x 18" coffee table
Rust-resistant steel frames
Weather-resistant rattan material
Beige seat and back cushions
Clear glass table top
Easy-to-assemble
This charming little bistro set consists of 2 outdoor rocking chairs and a small convenient coffee table. The simple design creates a very nice overall look to the set.
An exposed rust-resistant frame goes great with the weather-resistant wicker rattan that creates the back and seats of the chairs.
The base of the steel frames are curved to create a perfectly balanced rocking surface. On the seats and backs of the chairs, there are thick comfy cushions in a neutral beige color. The matching table measures at 18" high with an 18" x 18" sqaure clear glass top.

---
Best Sustainable Patio Furniture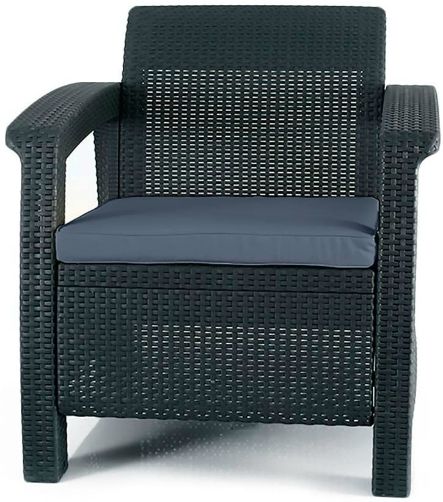 The global movement to a more sustainable future continues to grow and grow. As more people aim to lead a greener lifestyle, the demand for environmentally friendly products has grown. Of course, Keter is a company that has valued this concept for a long time.
To ensure they have a positive rather than negative impact on the planet, Keter has chosen to use 100% recycled material for their huge selection of resin-based products. This allows customers to have greater peace of mind in purchasing their outdoor furniture including their wide variety of patio chairs!
Company Highlights
It was in 1948 that the Keter company was originally founded. The company has grown immensely over the years to now be operating in 90 countries around the world. For the last more than 70 years, Keter has focused on using the latest most innovative technology to benefit their customers the most.
This has kept them cutting edge and now they are able to produce large amounts of high-quality furniture with amazing designs and greater functionality. They do all this while keeping their efforts sustainable and relatively affordable for customers.
Keter 2-Piece Pacific Sun Lounge Chairs
Keter Patio Chairs at a Glance
:
---
Set of 2 outdoor lounge chairs
Resin construction
Wicker rattan style finish
100% recycled materials
UV-protected
4 reclining positions
No assembly required
If you are looking for an excellent high-end set of outdoor lounge chairs, look no further. Keter hit the nail right on the head with this one.
These chairs are of excellent quality with a stunning design. They are highly functional with 4 reclining positions that are easy to switch between for maximum comfort anytime.
Gentle curving of the chairs provides additional comfort and an incredible aesthetic to the chairs. The resin construction is durable, affordable, and 100% recycled.
It is styled to look just like wicker rattan for a classic touch. It is even UV-protected to increase longevity and prevent fading.

---
Outdoor & Patio Chairs Comparison Table
---
Choosing the Best Patio Chairs
There are tons of benefits to having some nice outdoor chairs. Just having a comfortable space to enjoy outdoors almost guarantees that you will be getting more time outdoors breathing in fresh air. This is even shown to have health benefits.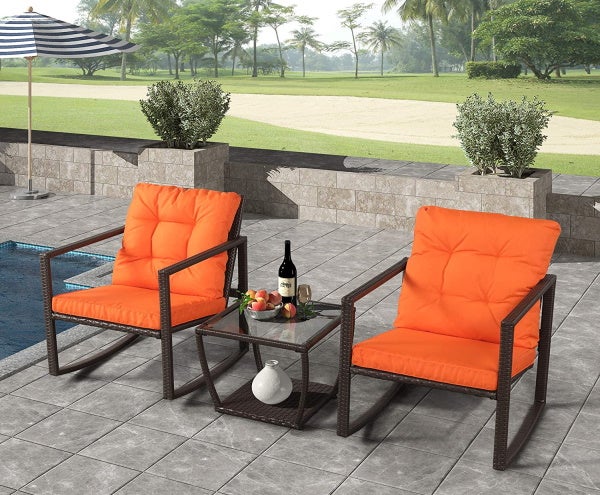 When you will be using something as often as you are likely to use your outdoor patio chairs, you want to make sure to make the right choice for your needs.
To help you narrow down the options and get the perfect chairs for your outdoor space, please read through the following considerations!
Materials
One important thing to think about is what the outdoor chairs you are considering are made of. To be good for outdoor use, you need weather-resistant materials.
Rattan is one of the best and most common choices for good outdoor furniture including patio chairs. It is weather-resistant, easy to work with, affordable, and has a great classic look as well!
The use of resin materials, however, is growing and possibly even better than rattan. Resin is often used to create a wicker rattan style look but can be done even faster and easier.
It also is highly affordable and impressively durable. The frame is also important for your patio chairs. Always look for something strong and weather-resistant like rust-resistant steel.
The Size of Your Outdoor Chairs
The last thing you want to do is purchase patio chairs that aren't a good fit for your available space. It is always important to know how much area you have when choosing pieces for an outdoor entertainment or hangout area.
Once you know just how much space you have, you can easily compare your available space to the dimensions of the various patio chairs you look at.
Best Folding Chairs Designs
Something else important to consider when choosing outdoor chairs is if you want folding chairs or not. Folding chairs are great because they can be easily put away when prefered and can oftentimes be easier to transport from one location to another if you ever need to.
They tend to be lightweight, convenient, and highly affordable. The downfall comes into play that they often lack that really nice high-end look that many consumers are after for their outdoor spaces.
Best Outdoor Table and Chairs
Whether or not your chairs come in a set including a table can also be something to think about prior to your purchase. A table can be a very convenient piece to have in an outdoor space.
It can provide you somewhere to place drinks, snacks, your phone, or even some nice decor.
A table can easily be the piece that brings your entire outdoor area together in terms of looks and functionality. When a set of chairs includes the table, you can guarantee they match well and you only have to make the one purchase.
Functionality of Your Patio Chairs
While most chairs are simply meant to be sat in, there are some patio chairs with a greater range of versatility. Some patio chairs are good for lounging and may even have a reclining functionality to them.
This could let you choose between sitting up, leaning back, or even laying down. Alternatively, outdoor rocking chairs are a great choice for many.
You can even find patio chairs that swivel and/or function as gliders. The options are wide open in terms of what functions you want to get from your patio chairs.
Patio Chair Styles
As you create your outdoor space, functionality and size are very important. However, style takes no backseat. You need a space that makes you feel good when you see it.
You want something attractive that matches your personal style well. Choose a set of chairs that you love the look of and then match other pieces for your outdoor space with it for the best look possible.
Patio Chair Budget
One more vital thing to consider when purchasing patio chairs is what your budget is. The cost of outdoor chairs can vary wildly, so it is important to think about what you are comfortable spending ahead of time.
Spending just a little more can often get you higher-end pieces built to last many years, but there are definitely some excellent brands that offer high-quality pieces at affordable prices.
Outdoor & Patio Chairs FAQ
What are the best garden chairs?
The best chairs for a garden area may vary from other outdoor spaces. It can also depend on the size you have available. Keeping it simple lets the focus stay on your garden while also providing a comfortable place to enjoy it.
What is the best place to buy patio chairs?
With so many options available on where to purchase patio chairs, it can be hard to make a good choice. Some people may be concerned about shopping for a product like patio chairs and furniture online.
However, with good pictures and detailed product descriptions, there are some great benefits of choosing an online retailer.
One of the major benefits is that the chairs can be delivered directly to you. The best online retailers even offer free shipping. Amazon is a great example of this and also has top-notch customer service to help if any issues do arise.
Buyer's Tips for the Best Patio Chairs
So, you're ready to create or upgrade your outdoor living area and hopefully you now know just what patio chairs are perfect for you. The brands above area all high-quality reliable options.
Just remember that you should always consider the space you have available ahead of time and that different functionalities like rockers or loungers may add more value to many outdoor spaces.
Choose a great retailer like Amazon for the best customer service and overall reliability. We hope that you will soon be enjoying some great quality outdoor time right outside your own home!
How We Researched
To come up with the top patio chairs, we researched a variety of sources for reviews such as Home Depot, Lowes, Target and Wayfair  along with our own personal experience.
We also consulted online magazines for product research and reviews to get as much unbiased information as we could. To help weed out fake reviews we used Fakespot.com to make sure we only looked at genuine reviews.
With so much quality gear available, we had to narrow it down based on what we felt were the best options were for the price. The staff authors have a wide and varied background in yard design and home repairs.
The authors have decades of experience and are eager to share their knowledge with readers.
To help narrow down the selection we used personal experiences along with recommendations from landscapers, bloggers and contractors.
After extensive research, we came up with our list to help you choose the right one for you.
Sources
Notice:
OutsidePursuits.com is a participant in the Amazon Services LLC Associates Program, an affiliate advertising program. OutsidePursuits.com earns fees from products sold through qualifying purchases by linking to Amazon.com. Amazon offers a commission on products sold through their affiliate links.