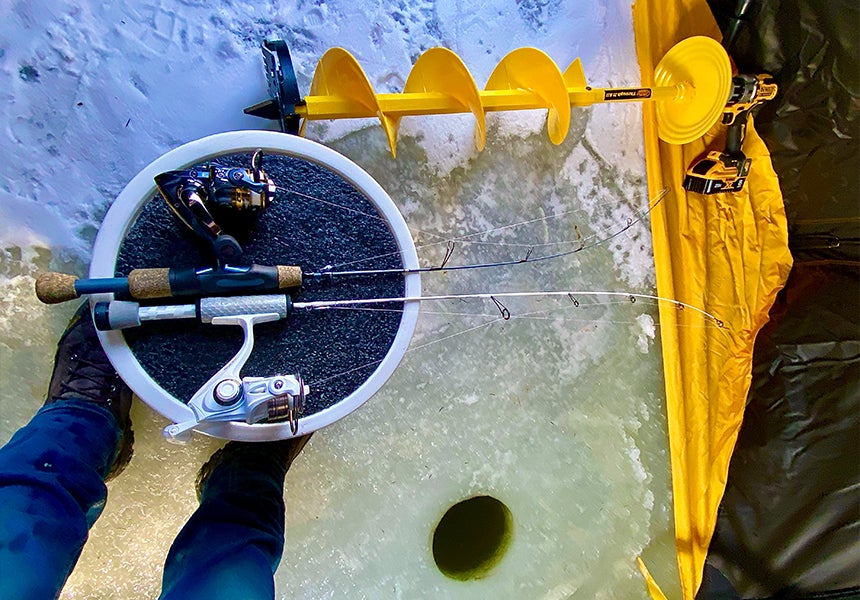 Our Editors independently research, test, and rate what we feel are the best products. We use affiliate links and may receive a small commission on purchases.
For many of us, the shift to winter weather means that our lakes freeze over with a thick layer of ice. If you're into fishing at all, you know that this means it is time to venture out onto the ice, drill some holes and start trying to catch some panfish, perch, walleye, trout and pike (or whatever else bites). Ice fishing takes specialized equipment, and this includes ice fishing rods. The best ice fishing rods fit your style of fishing, whether you're a jig angler, deadsticker or some other style of hard-water angler. There are a lot of really good choices out there, and unlike open-water rods, which can cost hundreds of dollars, the best ice fishing rods are all priced pretty reasonably for the average angler.
Cover image by Derrek Sigler
Selecting the Best Ice Fishing Rod
| | Fenwick Elite Tech Ice | Abu Garcia Veritas Ice Rod | Frabill Bro Series Rod |
| --- | --- | --- | --- |
| | | | |
| | | | |
| Handle materialk: | Cork | Winn Dri-Tac | Solid Cork |
| Handle type: | Clamp | Rubber 0-ring | Clamp |
| Blank Material: | Carbon | 24 Ton graphite blanks | Graphite |
| | | | |
Table of Contents
If you want to take a look at how all fishing rods are designed, take a look at our guide to fishing poles.
Fenwick Elite Tech Ice – Editor's Choice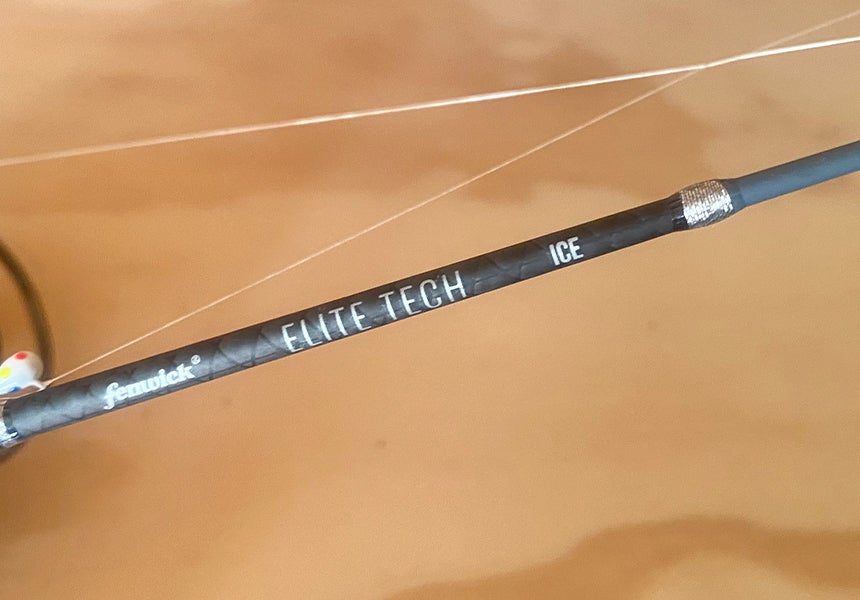 Handle material: Cork
Handle type: Clamp
Blank Material: Carbon
It was honestly neck and neck between this rod and the Abu Garcia Veritas Ice Rod for my top pick in best ice fishing rods. Both have excellent blanks and great feel when fishing. It ultimately came down to the handles and how the reels attach. The Fenwick has a traditional reel seat and clamp, and the reel is very secure on the rod. This makes it a very set-and-forget type rod, meaning that once it is in place, it seldom comes loose. The Abu Garcia rod uses rubber O-rings to keep the reel in place, and I'll be honest, I lost them. In fact, I wound up securing the reel with a couple strips of clear T-Rex tape. Granted, the tape does an outstanding job keeping the reel where I want it. However, not needing to modify the rod in the first place pushed the Fenwick to the top by a hair.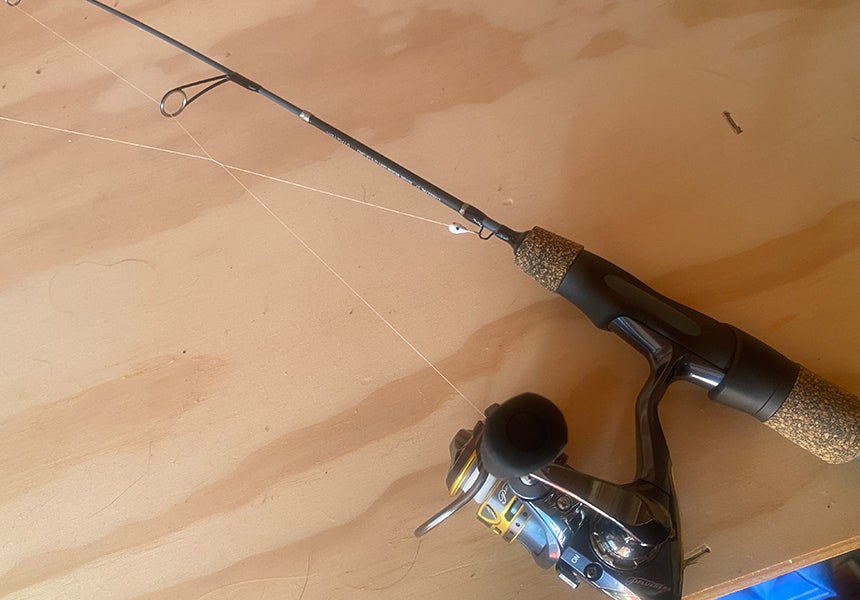 Feel with the Fenwick is superb. It has a solid carbon blank and a Fuji reel seat with an exposed blank that transmits more feel to your hand. My personal Fenwick is paired with a Pflueger President reel, and it is a great combo for walleye fishing.
Abu Garcia Veritas Ice Rod – Runner Up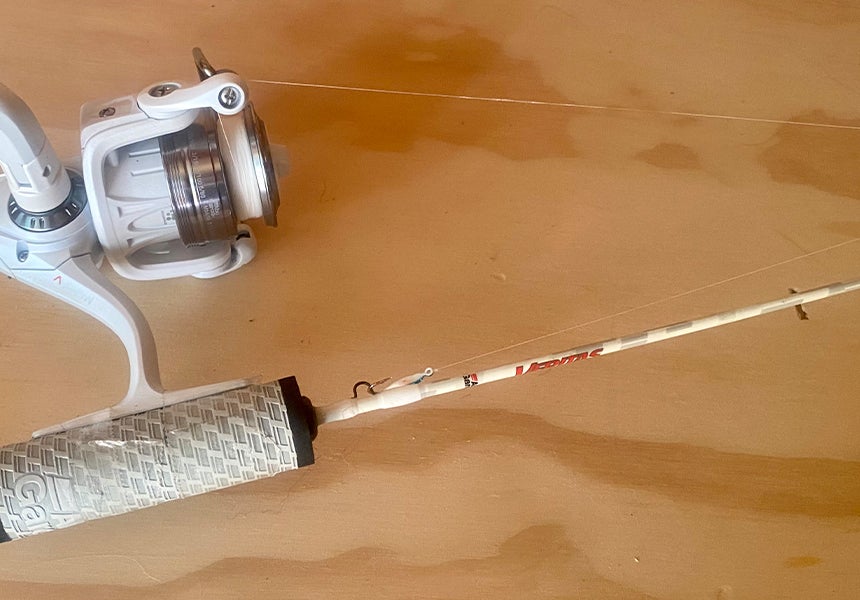 Handle material: Winn Dri-Tac
Handle type: Rubber 0-ring
Blank Material: 24 Ton graphite blanks
The Abu Garcia Veritas was so close to being the top pick for my list of best ice fishing rods. The actual action of the rod itself is outstanding and is a great rod for perch and panfish. The Winn Dri-Tac grip is really sensitive, and actually helps with bite detection. Honestly, If the handle was set up a little differently and held the reel a little better, it would probably propel the Veritas LTD rod into my top pick. The Tennessee-style grip itself is very tacky feeling, meaning it has grip (no pun intended), so it stays put in your hand.With gloves on, like when I'm fishing outside of the shanty, the Abu Garcia Veritas LTD rod jumps ahead, as the grip with gloves on is better than that of the Fenwick.
The rod material is very sensitive, yet has the backbone to help with bigger fish. I love using mine for perch and panfish, but it can pull double duty for walleyes and even smallies should they take the bait. Paired with an Abu Garcia reel, and you've got a potent ice fishing rod.
Frabill Bro Series Rod – Best for Inline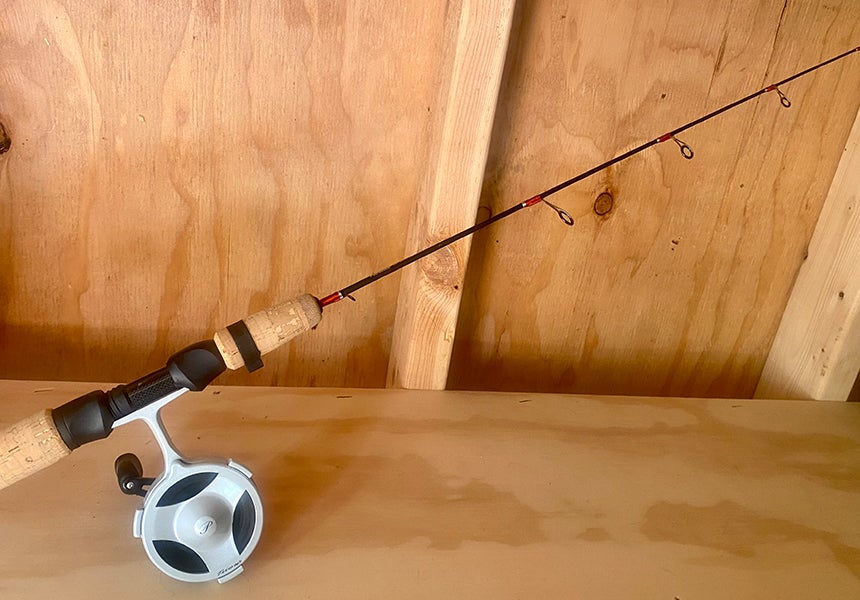 Handle material: Solid Cork
Handle type: Clamp
Blank Material: Graphite
I have been fishing with one of these rods for some time now, first using one on a trip to South Dakota in search of monster walleyes, which I found. These rods are tough and multi-purpose, and while they aren't quite as sensitive as some of the others on this list, they are pretty darn good. What is special about these rods is, they work outstanding with inline reels. In fact, they are now labeled as an inline, or noodle rod, which is a fancy way of saying that they work best with inline reels. I have mine paired with a Pflueger inline reel and it is a great combo.
These rods have an adaptable hook keeper for transport and a comfortable grip made of solid cork, with a blank-through construction. I sat in an ice house on a small, secluded SD lake and pulled keeper walleye after walleye out while fishing a Swedish Pimple tipped with a minnow. I was fishing with a guide who has stepped out to check some tip ups and when he came back in, he saw me slip another fish back into the hole. "How many of those have you caught," he asked. When he learned that it had been the 15th fish I had released in less than 20 minutes, he laughed and said that he should leave me on my own more often.
St. Croix Rods Mojo Ice Fishing Rod – Big Fish Rod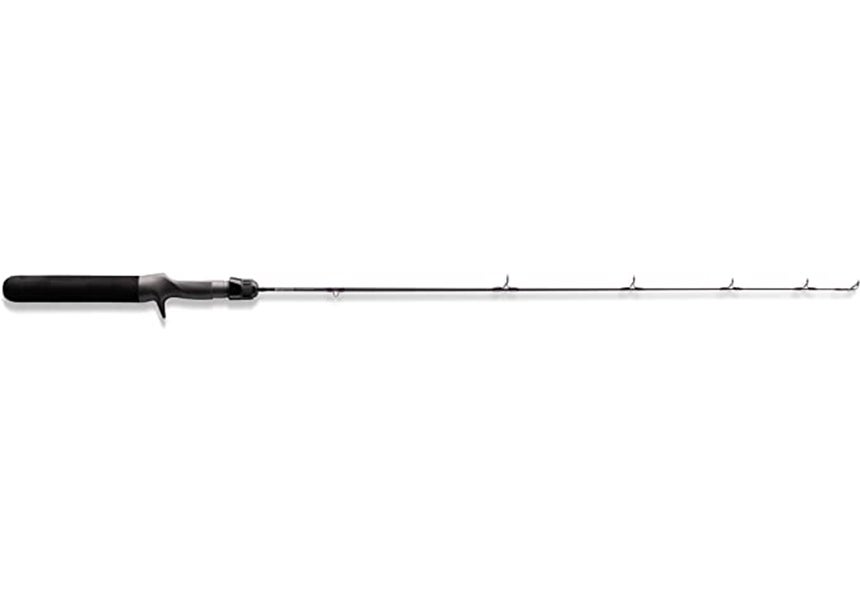 Handle material: Split-grip cork/EVA handle
Handle type: Clamp
Blank Material: Precision-taper solid carbon blank
I have handled these rods, but will admit that I haven't fished with one yet. I say yet, because cause I have one on order for this season. I do, however, have a friend and fishing guide who uses them for his big-fish rods and trust his opinion that these are the go-to rods for taking on bigger fish like pike, musky, trout like lakers and browns, and more. He loves to use his for fishing for BIG browns in frozen over Great Lakes marinas. Let me tell you, when you get a call from a buddy while he's catching big brown trout and steelhead through the ice and you're sitting at your desk working… That isn't any fun.
These rods are flexible in how you fish them. Coming in both spinning and casting configurations, there is the option to run a casting reel with higher line capacity and reduced line twist, something you would consider if you were chasing big, hard-fighting fish through the ice. St. Croix rods are legendary for their quality, sensitivity and ability to put big fish through the ice. If you are a big-fish kind of angler, this is the one to get.
Clam Jason Mitchell Meat Stick Rod – Best Glass Rod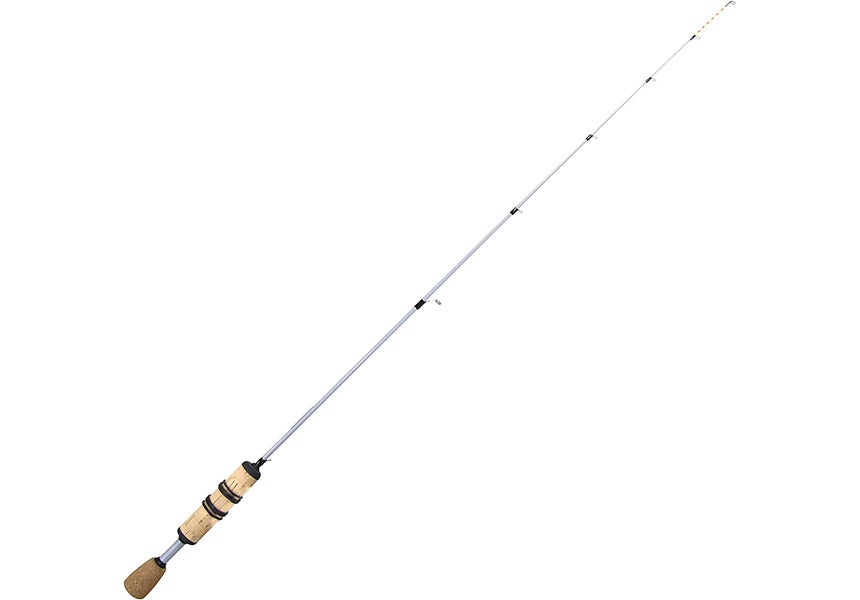 Handle material: Cork
Handle type: Band
Blank Material: Fiberglass
This is a cool rod from the guys at Clam Outdoors. It is part of their Jason Mitchell series, and if you don't know who Jason Mitchell is, then you should. He's one of the the best anglers to ever hit the hard water, and if there are fish to be found, he's the guy to find them. I have had the privilege of fishing with him and can attest to his ability to get fish to bite. The Meat Stick is a fiberglass rod that has a very sensitive time for light bites, yet a tough backbone for grit. It is an outstanding rod for deadsticking, or jigging alike, especially when you have to get active to find fish that will be coaxed into biting.
13 FISHING White Noise Ice Fishing Rods – Budget Pick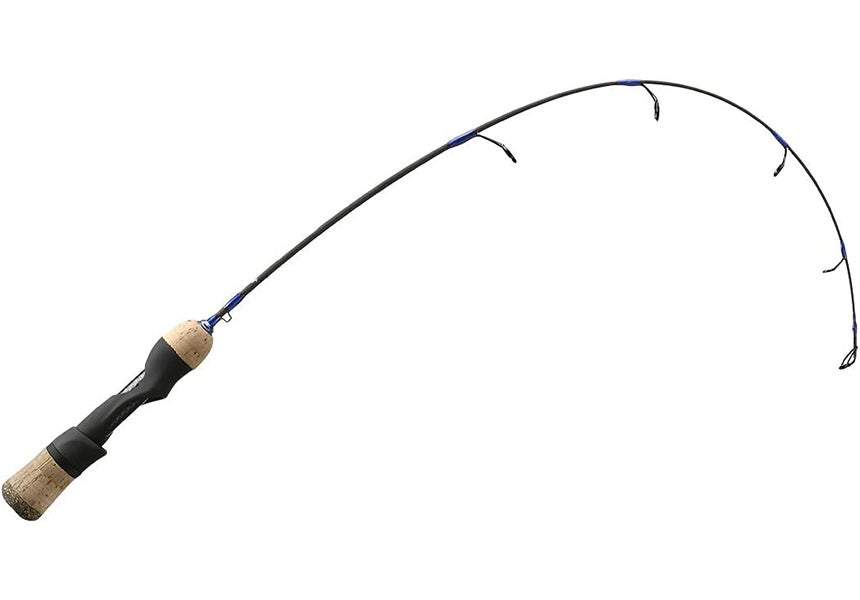 Handle material: Cork
Handle type: Evolve Reel Seat
Blank Material: Solid Toray Graphite Blank
13 fishing is the newest player in town and if you haven't used their stuff yet, you should. In fact, I have several 13 Fishing rods, including a couple of their Thermo Ice combos, which are perfect for a back-up or beginner combo. The White Noise is the best budget ice fishing rod you can get. There, I said it. It has a sweet, responsive blank that does well with multiple fishing types, and is very sensitive, yet with enough backbone for good-sized fish. The handle is solid, responsive and comfortable, too. This rod has everything you could want in a basic ice fishing rod. Period. And the price is smoking!
Selecting the Best Ice Fishing Rod Comparison
Picking the right ice fishing rod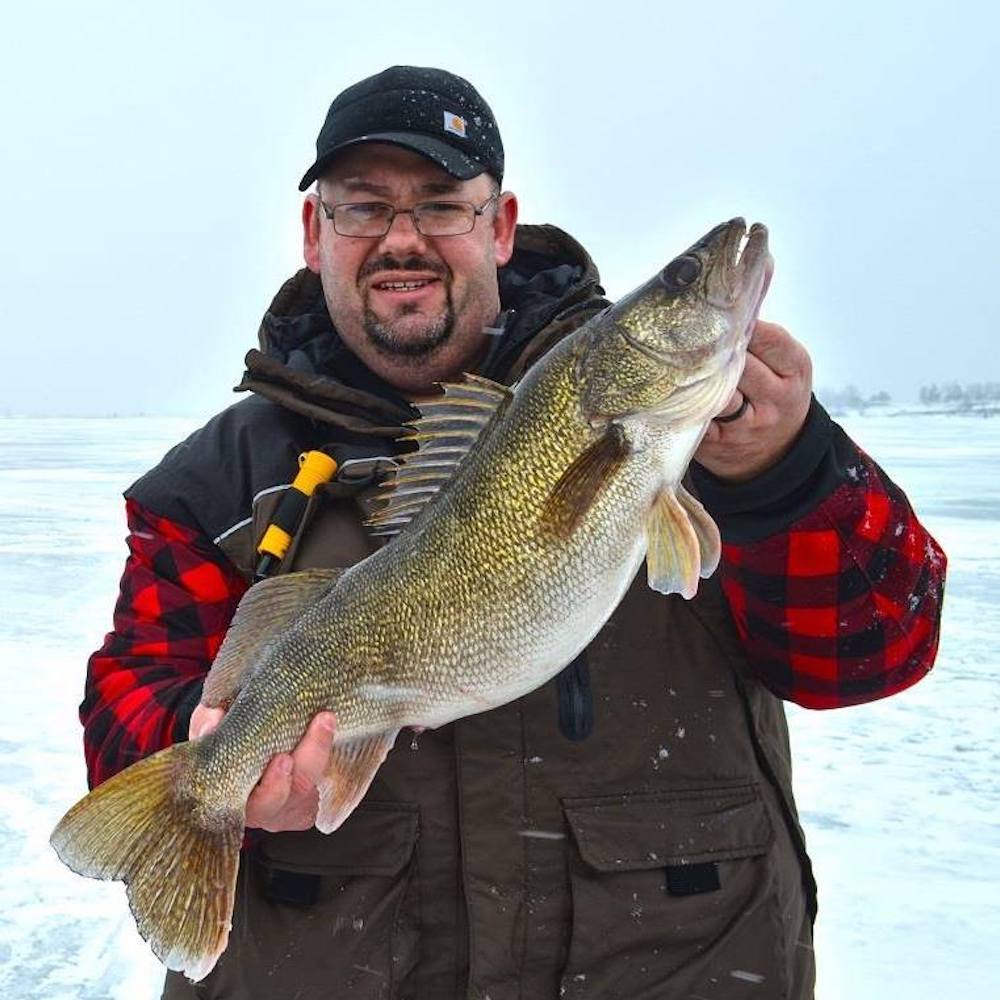 There are a lot of rods out there, but finding the best ice fishing rods for you is a matter of knowing how you plan to fish. There are several techniques and some anglers are very particular in how they fish. Me, I like to have a rod set up for several different styles of fishing and I let the fish dictate how I'm going to try to coax a bit.
Picking the best ice fishing rod for you is very similar to what we discussed in my guide to fishing rods. It comes down to a matter of personal preference and what you want to do. If you like to fish deadstick, for example, then choose a rod that fits that style of fishing. If you are an active angler, who wants to do a lot of jigging, then look for rods that are best suited to jigging. Truth be told, you can make an ice fishing rod do just about anything you'd like, as they aren't as specialized as open-water rods simply because you're not casting the line.
Light and Ultra-Light rods
A light, or ultra-light power rod won't have as much backbone and will offer more flexibility. These are great for fishing smaller, aggressive fish, like panfish. These rods can be anywhere from slow to fast action, depending upon the manufacturer and the lure choice. Most ice fishing rods actually fall into this class.
Medium-light
As you would expect, these rods are right between light and medium rods.
Medium rods
Medium, or commonly referred to as "medium action," rods sit right in the sweet spot between the two ends of the power spectrum and you'll see that there are more medium power/moderate action rods sold/produced than any other just because they can be used in such a wide range of conditions.
Medium-Heavy
These rods fit that sweet spot between a medium rod and a heavyweight, and give you extra oomph for aggressive fish.
Heavyweight rods
Heavyweight rods tend to be moderate or fast and have a lot of backbone, but this is not always the case. It is all based upon the application. These are considered ideal for big, aggressive fish for ice fishing, like Pike, Musky and some of the trout species. It is hard to find a true heavy-weight ice fishing rod, although they are made ( see St. Croix above).
Don't forget to check out my picks for best ice fishing reel, too.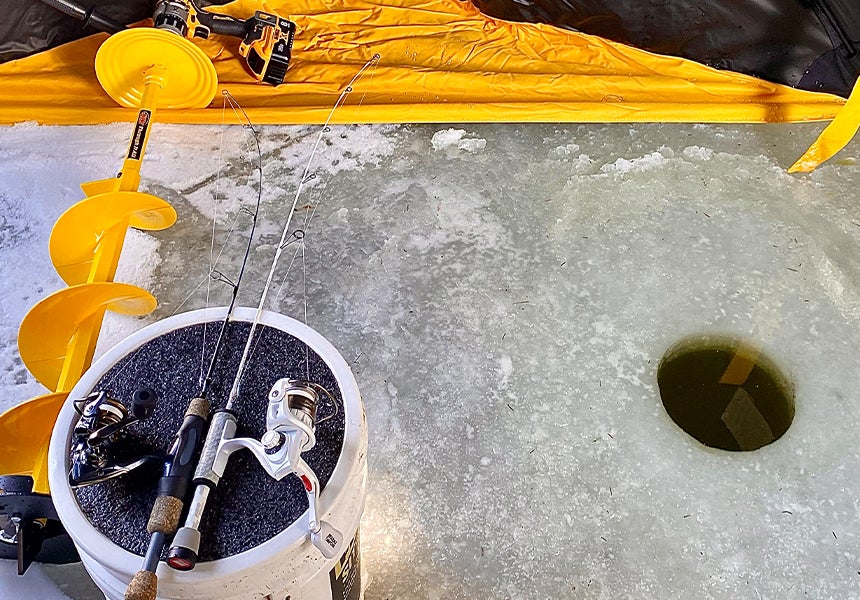 Ice Fishing Rod Frequently Asked Questions
Q: How long should an ice fishing rod be?
A: Most Ice fishing rods are between 28 and 36 inches long. You wouldn't want much longer as it makes it harder to maneuver the rod inside of an ice fishing shanty. You want the rod to be long enough to give you proper action when fighting the fish you are trying to catch. Some rods can be as long as 48 inches, but that is really pushing it in my opinion. I try to stick in the 30- to 36-inch range.
Q: How do I pick an ice fishing rod?
A: If you are experienced at ice fishing, then you pick out the rod based upon how you fish and the technique you plan to use it for. If you are a beginner, look for a decent, medium-action rod, preferably in a combo so you have a reel that works with that rod, and go that route. You can also include budget as a concern.
Q: What is the best ice fishing rod for a beginner?
A: I would suggest starting out by buying a combo ice fishing rod with a reel for a beginner, and those can be found for around $30-$40 without much trouble. Get something with a decent reel and from a brand you know, or have heard good information about. A bad rod/reel combo can lead to a bad ice fishing experience and ruin what otherwise can be a very fun wintertime angling adventure for you.

How I researched
I started my research when I was around 8 years old. My mom and uncle took me out ice fishing for the first time. I remember vividly when a big school of panfish came under my hole and I was catching fish about as fast as I could drop a line down the hole. It got so fast and furious that I was just doing the fishing using two rods while my mom was busy taking fishing off the hook and reseting the bait for me. I was hooked ever since. I have traveled across much of North America ice fishing (along with other fun activities) and have tried to learn every technique I can find, as it is just more fun to try new ways to catch fish.
I also have friends and family members who fish for a living. Their depth of knowledge is highly valuable when it comes time to research which products work the best. Whether we're talking to some of my buddies who fish tournaments on the Great Lakes, or my cousins who guide across cool places like Alaska, I have connections that always give me the straight scoop on what works.
Notice:
OutsidePursuits.com is a participant in the Amazon Services LLC Associates Program, an affiliate advertising program. OutsidePursuits.com earns fees from products sold through qualifying purchases by linking to Amazon.com. Amazon offers a commission on products sold through their affiliate links.