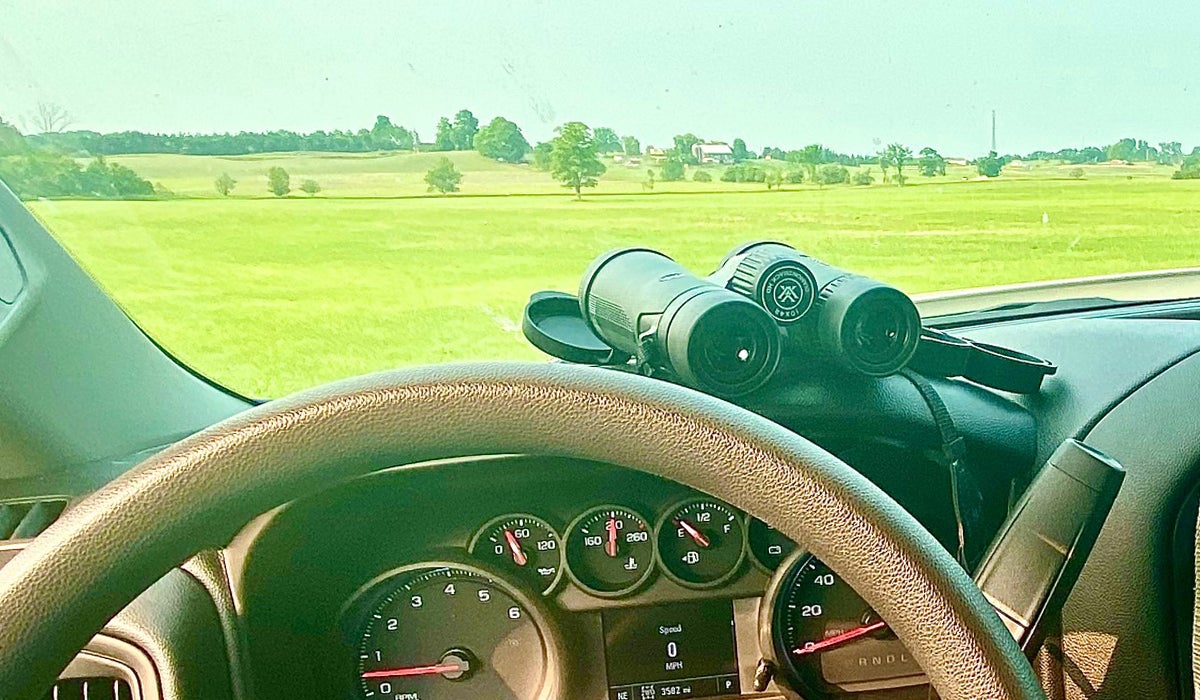 Our Editors independently research, test, and rate what we feel are the best products. We use affiliate links and may receive a small commission on purchases.
Binoculars are a great way to bring things from a distance up close and personal. They are the go-to tool for bird watchers, hunters, outdoor enthusiasts and just about anyone who needs to get a better view of something far in the distance. Not all binoculars are created equal and when it comes to compact, easy-to-carry binoculars, there is a wide range of models and price points you can find.
Cover Image by Derrek Sigler
Best Compact Binoculars
---
---
Quick Answer: The Best Rated Compact Binoculars
---
Compact Binocular Reviews
#1 Editor's Pick – Hawke Optics Frontier ED-X 8-42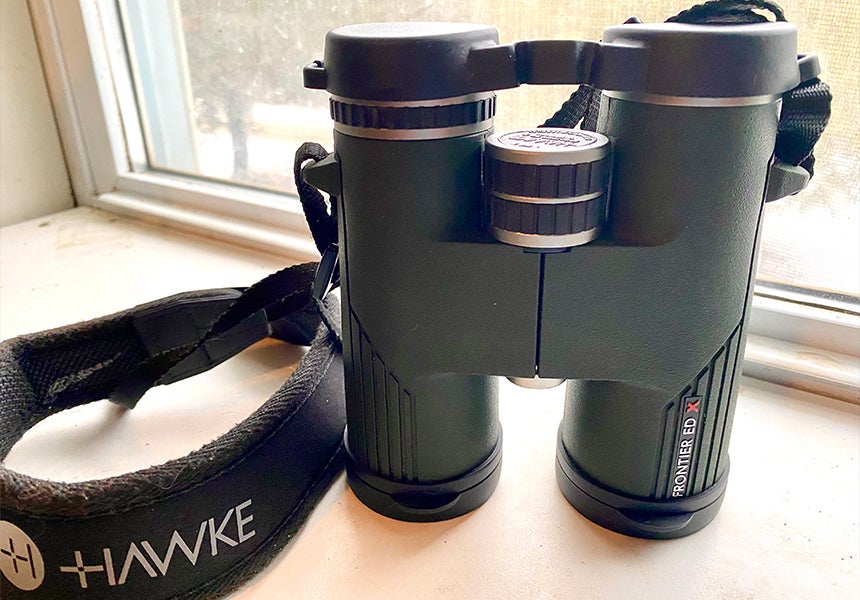 Hawke Optics Frontier ED-X Binoculars at a Glance:
---
Magnification: 8X
Objective Lens: 42mm
FOV @ 1000 Yards: 426 ft
Weight: 725g / 25.6 oz
Other: System H7 ED-X glass
I've tried several high-end binoculars in my time, and when I got my hands on the new Frontier ED-X 8x42 binos from Hawke Optics, I swear I had some binoculars that were far more expensive in my hands. And that's not saying that the Hawke binoculars are cheap, not by any means. I've found them for around the $500 mark, which is lower than the suggested MSRP on their website, but still nothing to sneeze at. What I'm getting at is, they performed as well as some other binoculars that cost twice that, and that's no exaggeration. I spent an entire season using the Hawke binos to look for deer, waterfowl and other game while hunting, as well as just doing other stuff like birdwatching and generally looking at other cool stuff. They shocked me with just how clear they are.
The Hawke platform starts out with extra low dispersion glass, or ED glass. Not all glass is created equal. The glass for your windows is not nearly as clear as you think it is. There is an art and a process to making glass that has fewer impurities in it and is as clear as you can get. The clearer the glass, the better the field of view at distances, as the colors and light transmission is better. The Hawke Frontier ED-X binos start with ED glass and then add layers of dielectric coats that further enhance the light transmission and optical clarity. What you get is a really clear image AND amazing light transmission, meaning you get a clearer, brighter image in low-light conditions. I was seeing deer crossing my field at dusk with the binoculars that I could not see with a naked eye, and I could determine if they were bucks or does. That is cool! The clarity also results in less eye strain, which if you're spending a lot of time looking through them, that's a big deal. Less eye strain means you're actually spending less effort and don't have to worry about things like headaches, or just general added fatigue.
Oh, and did I mention the lifetime warranty?
Pros: Exceptional clarity and lower price
Cons: Honestly can't find one
Buy if: You want binoculars that are as clear and durable as ones costing much more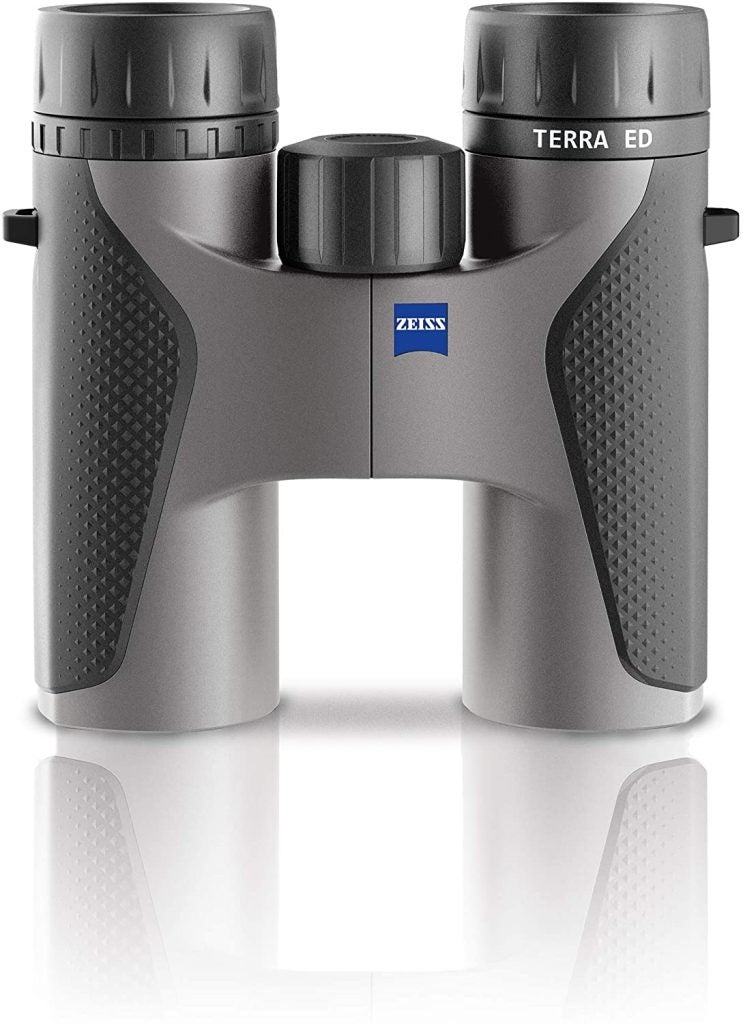 Zeiss Terra ED Compact Binoculars at a Glance
:
---
Magnification: 8X
Objective Lens: 25mm
FOV @ 1000 Yards: 357 ft
Weight: 309g / 10.9 oz
Other: Schott ED glass
A fiberglass reinforced body, waterproof casing and sturdy design means that Carl Zeiss is delivering the perfect hiking binocular. The multi-coated lenses are hydrophobic and repel fog and water for both clarity and precision in any conditions. With all these features, it's hard to see how Zeiss packed it all into a 10.9oz package, and it's among the lightest compact binoculars in our lineup.
For this model, Zeiss focused specifically on an easy-to-use and smooth focus adjustment wheel, which makes objects easy to find and focus on quickly. These binoculars are centered around a lightweight, compact design meant to withstand nasty conditions and function at top performance in any weather. With an impressive 10-year warranty, I think the Zeiss 8x25 ED's are some of the best compact binoculars for hiking. They're also available in the 10x25 size if you need some extra magnification.
Pros: Exceptional clarity
Cons: Pricier option
Buy if: You want binoculars that are as clear, and can be carried in your coat pocket, these are the best
---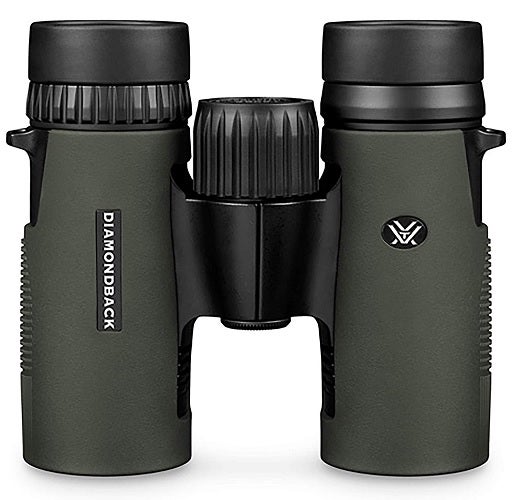 Vortex Optics Viper HD Roof Prism Binocular at a Glance
:
---
Magnification: 10X
Objective Lens: 42mm
FOV @ 1000 Yards: 340 ft
Weight: 607g / 21

oz

Other: XR anti-reflective lens coating
Vortex makes several great models of binoculars equipped to deal with the rigors of hiking and outdoor use. These 10x magnification binoculars are equipped with 42mm objective lenses for low light viewing and a lifetime warranty. Be careful when choosing a high zoom binocular at 10x or above, as the magnification can exacerbate any small movements in an unsteady hand. These are a great choice for hunting, and for someone with a rock-solid grip and steady hand. With a padded neck strap, rain guard, and included lens covers, they're ready to be used in rough field conditions right out of the box.
Fogproof inert gas and water repellent lens coatings make them robust enough to handle use in any weather. Vortex even made them waterproof, so there's nothing to worry about if you're taking them on a trip when rainy conditions are expected.
Pros: Clear and durable at a low price
Cons: AT this price, there isn't one. Not as clear as others, but tougher
Buy if: You want tough, knock-around binoculars that are pretty clear, especially for the price
---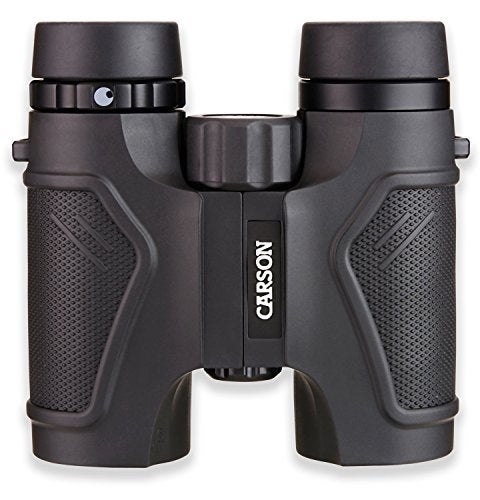 Carson 3D Series HD Waterproof Binoculars at a Glance
:
---
Magnification: 8X
Objective Lens: 32mm
FOV @ 1000 Yards:

392

ft
Weight: 513g / 18

oz

Other: Fully

waterproof with ED glass
These binoculars are an excellent choice for hiking, and they're also great for birdwatching. The Carson HD compact binoculars include tons of high-end features like ED Glass (Extra-low Dispersion) and Phase-Corrected Prisms, so you're guaranteed excellent resolution and contrast. If you want to use them for birding or wildlife viewing, they're tripod-mountable. And if you wear glasses, you'll also appreciate the extra-long eye relief. These binoculars are fully waterproof, though Carson doesn't tell us what the IPX rating is. They've been ergonomically designed to be comfortable to hold for hours with texturing and thumb grooves.
The Carson 3D Series comes with a convenient neck strap and shoulder harness, giving you options on how to carry them and making them a perfect choice for hiking. The padded carry case keeps them secure when traveling with your binoculars in the car or in your backpack. In my opinion, the durability and lightweight construction of the Carson 3D Series makes them the best travel binoculars. They come with a No Fault Warranty where Carson will repair or replace the product free of charge, for any reason. These binoculars are also available in 10x42, 10x50 and 8x42 sizes.
Pros: Good and cheap
Cons: Not as clear or as durable
Buy if: You want decent binoculars that if they get damaged, you won't cry too much
---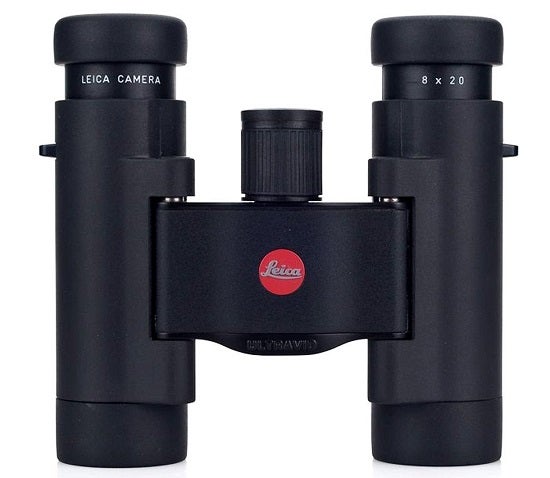 Leica Ultravid BR Compact Binocular at a Glance
:
---
Magnification: 8X
Objective Lens: 20mm
FOV @ 1000 Yards: 341 ft
Weight: 240g /

8.5oz

Other: HDC multicoating
You'll be hard-pressed to find a compact binocular sporting as many high-end features as the Leica Ultravid BR Compact Binocular. With adjustable eye cups, quick focus wheel and right eye diopter, you'll be able to adjust for the perfect comfort and view, even if your vision in one eye is slightly different than the other. A waterproof, sealed case and inert gas internal filling mean that you won't have to worry about them fogging up from the inside. The AquaDura lens coating on the outside also prevents water from impeding your view by repelling water droplets. If you're looking for a compact binocular that's been engineered to give you the highest quality image, this is one of your best choices.
They've even gone out of the way to design the lenses for maximum crispness using an asymmetrical pattern. These binoculars also include a 10-year Passport Protection Plan, plus a 30-year manufacturer's warranty. Also available in the 10x25 size, if you're into birdwatching the Leica Ultravids might be the best small binoculars for this activity.
Pros: Exceptional clarity and compact size
Cons: Pricey
Buy if: You want the best ultra-compact binoculars for  birdwatching
---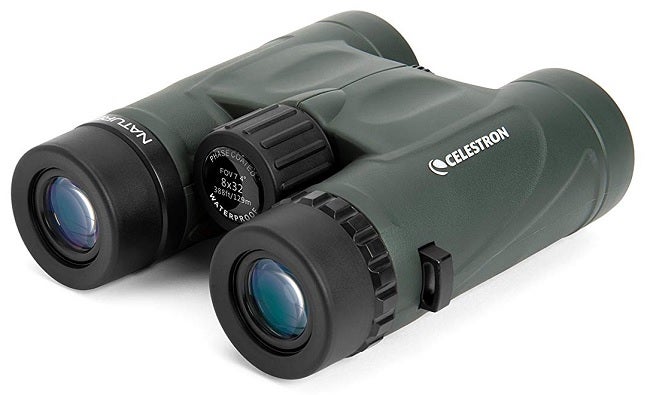 Celestron 71330 Nature DX Compact Binoculars at a Glance
:
---
Magnification: 8X
Objective Lens: 32mm
FOV @ 1000 Yards:

388

ft
Weight: 510g /

18oz

Other: Fully

waterproof
Celestron is perhaps best known for their telescopes, and they've applied their optics technology to the Nature DX compact binoculars. Even at this low price, you'll get fully coated optics for a bright and glare-free image. Weighing in at only 18 ounces, these are a seriously lightweight and compact pair of binoculars. They're rubber-coated to be waterproof, so they won't get ruined if you're caught in a rain storm while you're out hiking. The Nature DX's are also nitrogen-purged and fog proof, which is surprising at this price point. If you wear glasses, you'll appreciate the twist-up eyecups for comfortable viewing.
This particular model has a 8x power magnification, but they're also available in 10X32 to 8X42 options, so you have a wide range to choose from. With a quality construction, Limited Lifetime Warranty and lots of accessories included, the Celestron Nature DX's are among the best pocket binoculars on the market.
Pros: Clear and low cost
Cons: Not as clear as other options. I had issues focusing with glasses on
Buy if: You want to not spend a lot for good binoculars
---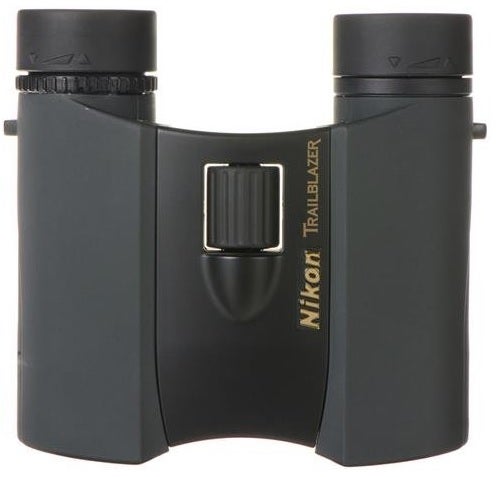 Nikon Trailblazer ATB Waterproof Compact Binoculars at a Glance
:
---
Magnification: 8X
Objective Lens: 25mm
FOV @ 1000 Yards: 

429

ft
Weight: 280g /

9.9oz

Other: Fully

waterproof with rubber armor coating
With a 25mm objective lens and 8x magnification, these Nikon Trailblazers are perfect for day hiking at the local park or nature preserve. The nitrogen-filled inert gas binoculars will deliver clear images in bright or low light conditions, so they're great for birdwatching or general wildlife viewing. Phase correcting prisms, multi-layer coated prisms and lenses, as well as rubberized armor coating make these an awesome choice for a crystal-clear image in a durable package.
Nikon has a great name in performance optics, and they've held up the deal by using premium materials such as extra-low dispersion glass for the lenses to create one of the best lightweight binoculars on the market. That means a more crisp image for your eyes to feast upon as you're hiking and enjoying the beautiful scenery. Your purchase will also include a lifetime warranty for optical components, 7 year warranty for non-optical parts, as well as a 1 year warranty for electronics. These binoculars are 100% waterproof, and with a sub $100 price tag, they're hard to pass up.
Pros: Nikon clarity at a low cost
Cons: Harder to focus than others in this size range
Buy if: You want compact binoculars that are really clear but not as much money as the top picks
---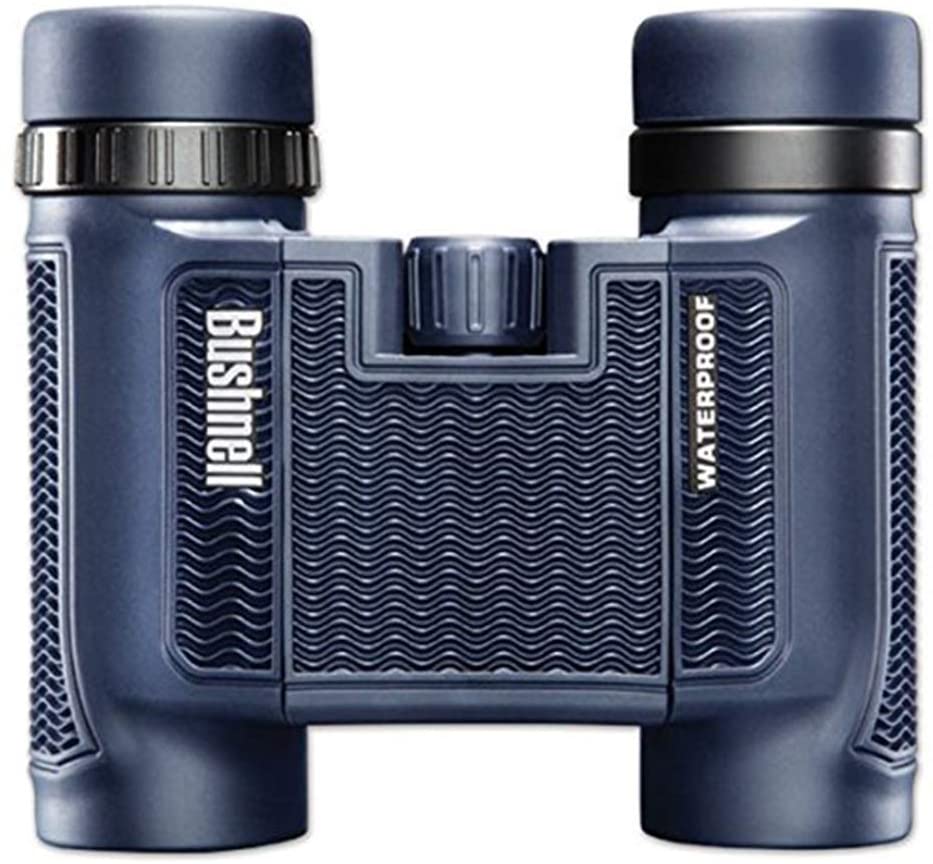 Bushnell H2O Compact Roof Prism Binocular at a Glance
:
---
Magnification: 8X
Objective Lens: 25mm
FOV @ 1000 Yards: N/A
Weight: 340g / 11.9oz
Other: Fully waterproof
The Bushnell's are another great choice for a budget pair of compact binoculars. With features that are found in binoculars costing upwards of $1,000, these have BaK-4 roof prism optics with multi-coated optics for glare-free viewing. Small and lightweight, these binoculars are perfect for hiking, traveling and birdwatching, weighing only 11.9 ounces and measuring 5 inches in length, another 4 in width by 2.75 inches high. These are nitrogen-purged, fog proof and 100% waterproof with a rubber coating, which will also give you a good grip. The easy and fast-focus wheel will have you locked onto your target in no time.
It doesn't mention including a carrying case, but it is covered by a limited-time warranty. If you're interested in a bit more power, this model also offers a 10x25mm model, as well as two other models.
Pros: Waterproof and well-rated
Cons: Not as tough as the Vortex
Buy if: You want binoculars will work in bad weather, and not wanting ones that cost a ton
What we learned from testing
I've spent a lot of time over the years with binoculars in my hands. I really got into knowing some of the differences when I worked for Cabela's out in Sidney, Nebraska. You get a definite feel and appreciation for quality optics when you're out in the wide-open terrain. The biggest issue you're find with optics is the quality of the glass. Not all glass is created equal. It starts with the quality of the materials they use to form the glass itself. Fewer impurities and just how it is made affects the clarity. The word that gets thrown around is dispersion. In glass dispersion refers to the way light is bent as it passes through the glass. There are multiple ways dispersion is measured, but the thing you need to pay most attention to is whether or not the glass is low dispersion or not. The highest quality binoculars have ED glass, or extra low dispersion glass. From there, the glass is coated with dielectric coatings that further enhance the glass' ability to represent the magnified image to your eyes. These coatings help with light gathering and the more light, the better the image. ED glass is more labor intensive, which results in higher costs of the binoculars. Is it worth it? That's for you to decide.
---
Compact Binoculars Comparison Table
---
How to Choose the Best Compact Binoculars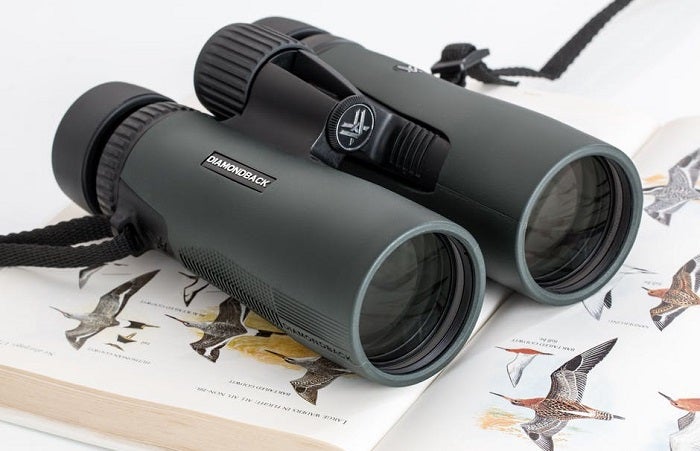 Understanding the basics of binocular design, including lens definitions, what types of binoculars are available, and how this impacts your vision is critical to making the best decision. Let's take a look at the brief criteria you'll be choosing from to make your choice of the best compact binoculars:

Magnification Power Rating
All binoculars will be rated by two numbers separated by an "X". For example, you might see, "8x25". Luckily, these numbers are easier to decipher than you might think. The first number represents the overall magnification power. The above example, then, would feature an 8-times magnification power.
The second number represents the diameter of the objective (outer) lens in millimeters. In this case, our example above would have an objective lens measuring 25mm in diameter. Lens diameter is much more important than you might think, as larger objective lenses are able to gather larger amounts of light more easily. This means a brighter, more crisp and accurate view of your target, especially in low-light conditions such as dawn and dusk.
Video: Guide to magnification and optics size.
A buyer's guide to compact binoculars (Interactive)
Field of View
Most binoculars will specify a field of view, rated at 1,000 yards. This can sometimes be rated differently, but usually manufacturers follow this standard. A wider field of view is great for birdwatching when you're looking for birds on the move. A narrow field of view is usually better for viewing stationary objects with high detail. Unfortunately, this is always a tradeoff. Narrow field of view is more crisp, but harder to find targets, whereas a wider field of view is less focused, but easier to view larger areas and spot things, especially movement.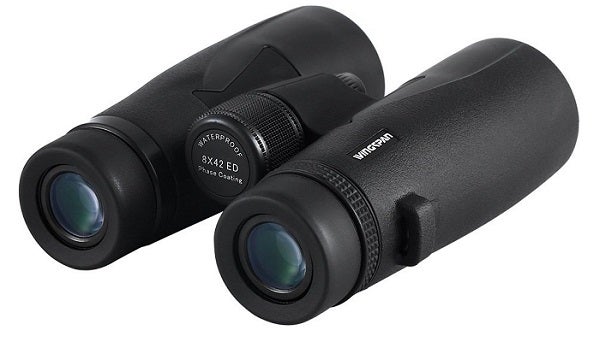 Lens Coatings
Binoculars pretty much all have "fully multi coating" lenses. What does this mean? In order to maximize the amount of light that passes through each lens, a special coating is applied to reduce reflection. By reducing the amount of light that reflects off the glass in the binocular, a clearer and brighter image is left.

Waterproofing
There is no way to keep binoculars perfectly dry when out in wet conditions. Because of this, you will want to ensure that your binoculars have a waterproof-rated construction. This is referred to as an IPX standard and is rated as such: IPX0 means that your equipment is not at all waterproof. IPX8 means that you can submerge your equipment in up to 3-feet of water. There are ratings in between these numbers, but for our purpose, a rating of IPX4+ will give you a decently dry pair of binoculars. In my opinion, binoculars that don't meet the standard for being waterproof are not worthy of purchase.

Types Glass Used in Lenses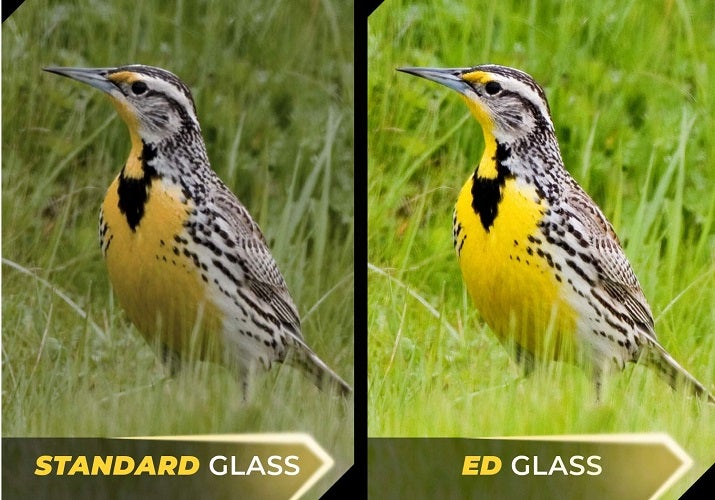 BK7 Glass – This is a low end glass used to make prisms and found only on cheap binoculars. It suffers from chromatic aberration, resulting in blurry images even when in focus.

BAK-4 Glass – A very common glass used in quality prisms for binoculars. It has a low refractive index and resistance to chemical and environmental damage.
ED Glass – Extra-Low Dispersion is widely used in optics in high-end binoculars to provide clarity and crisp images. This is especially important at higher magnifications to reduce chromatic aberration.
Schott ED Glass – This is a proprietary glass created by Schott Optics that has the lowest chromatic aberration of any glass, and is found in the Zeiss ED Binoculars.
Fog-proof Inert Gas
Some extremely high-end binoculars will be fog-proof. How do manufacturers achieve this? They usually use two methods:
First, manufacturers may apply fog-resistant coatings to lens exteriors or interiors. This is an inexpensive way for them to create fog-resistant binocular lenses. Second, and slightly more expensive, is the inert gas option. Some manufacturers will fill the inside of the binocular with a special gas. Instead of atmospheric gas which may contain moisture, binocular makers can choose to fill the binocular with inert gas and seal the binocular to outside air. This means that the binoculars can't fog up, unless air leaks in.

Prism Types – Porro Prism vs Roof Prism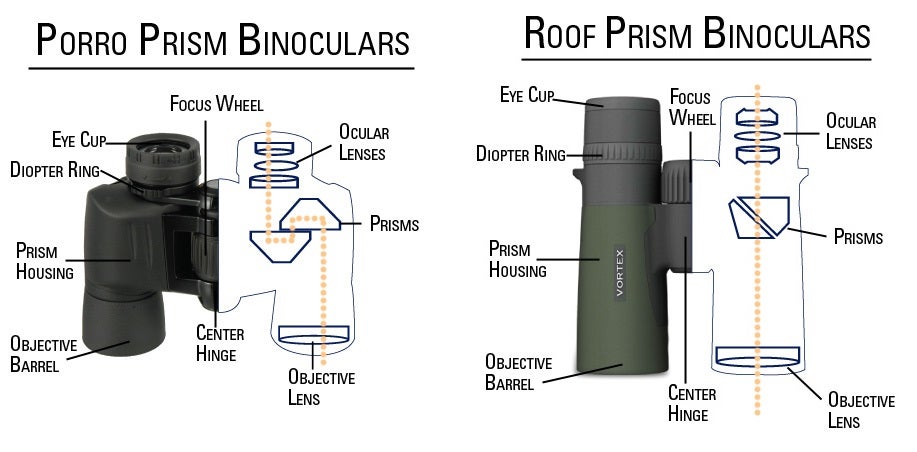 Porro Prism
Porro Prism binoculars were the standard design for binoculars and are easily recognized by their bulky, wide size. They're normally only found on inexpensive binoculars where size isn't an issue. While the design isn't as widely used anymore, it doesn't mean they don't work well.
Roof Prisms
Roof Prism binoculars were created by Zeiss and have a "straight through" design for a streamlined pair of binoculars. Because of the more complex design and better optics needed, it's typically found only on higher end binoculars, but this is changing as the cost comes down.
Recent Updates
January 19, 2023:  Added new models and updated reviews from hands-on testing
May 2, 2022: 

Assigned awards to each product, and revised FAQs to address most popular consumer queries.

December 10, 2021: 

Verified availability of all products.
FAQs
Are compact binoculars any good?
When you're looking for something lightweight or don't have a lot of space for carrying full-size binoculars, a pair of compact binoculars is the perfect solution. They won't have the same light gathering capability as full size binoculars, so the quality of the optics is even more important.
What are the best compact binoculars for your money?
The Nikon Trailblazer ATB Waterproof Binoculars are a great compromise between price and quality. They feature excellent optics, are waterproof, lightweight and have a non-slip grip.
How much are good compact binoculars?
There is a huge range in prices for binoculars. You can spend less than $50, or up to several thousands of dollars. To get a quality pair of compact binoculars, plan on spending at least $200. You can find some for less, but you won't get the same quality of lens or prisms.
What do the numbers on binoculars mean?
A pair of binoculars will list a set of numbers, such as 8×32. These stand for the magnification power (8) and the objective size of the binoculars in millimeters (32). Magnification signifies how much closer or larger an object will appear. As the size of the objective lens will determine how much light the lens can gather, a larger lens is able to gather more light, resulting in more clarity and brightness. This becomes more noticeable when you're at a greater distance from your target.
What is a good magnification for compact binoculars?
Some common magnification powers for binoculars are 7x, 8x, or 10x. With a high magnification, you can get a closer and more detailed look, but you'll be reducing your field of view (FOV). A narrow field of view makes it more difficult to track a moving object.
What is FOV?
FOV stands for Field of View and refers to the width of an image when seen through optics. It's commonly specified as width at a distance, such as 300 feet at 1,000 yards, which means a width of 300 feet while being 1,000 yards away from your target.
Notice:
OutsidePursuits.com is a participant in the Amazon Services LLC Associates Program, an affiliate advertising program. OutsidePursuits.com earns fees from products sold through qualifying purchases by linking to Amazon.com. Amazon offers a commission on products sold through their affiliate links.