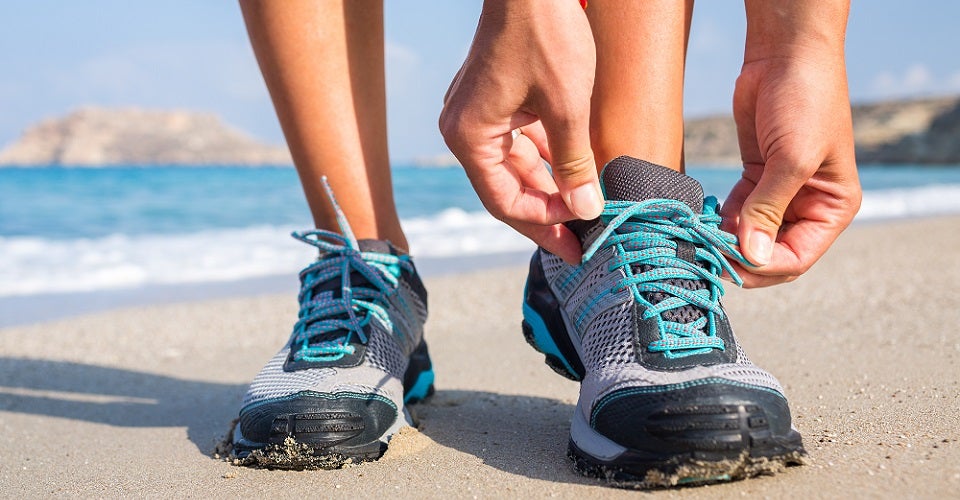 Our Editors independently research, test, and rate what we feel are the best products. We use affiliate links and may receive a small commission on purchases.
The beach is all fun, except for when you need to walk on hot sand or pavement, super cold water that chills your toes, and sharp rocks.
So what do you need? A pair of the best beach shoes of course!
We've done the research and testing so you don't have to. We havethe top beach shoes for both men and women, so all you have to worry about is which bathing suit you're going to be wearing!
Let's get started!
Best Beach Shoes
| | ALEADER Aqua Water Shoes | Speedo Wake Athletic Shoe | Sand Socks Vincere Sprite |
| --- | --- | --- | --- |
| | | | |
| | | | |
| Upper: | Textile/Mesh | Textile/Mesh | Lycra |
| Sole: | Synthetic | Synthetic | Neoprene |
| Closure: | Laces | Laces | Slip-On |
| For: | Women | Women | Women |
| Rating: | 4.4 / 5.0 | 4.1 / 5.0 | 4.3 / 5.0 |
| | | | |
---
For more of my beach gear recommendations, have a look through these popular Outside Pursuits guide links: Beach Chairs, Beach Tents, Beach Umbrellas.
Quick Answer: The 10 Best Beach Shoes For 2021
Best Women's Beach Shoes
Best Men's Beach Shoes
Our reviews of the top rated beach shoes with a comparison table and our buyers guide below will help you choose the pair of shoes for you.
Best Beach Shoes For Women
---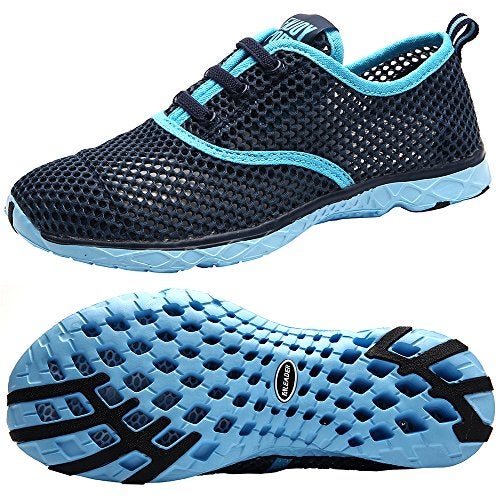 ALEADER Women's Aqua Water Shoes at a Glance
:
---
Upper: Textile/Mesh
Sole: Synthetic
Closure: Laces
M/W: Women's
Sizes: 6 US – 11 US
The ALEADER Quick Drying Aqua Water Shoes have consistently been rated as some of the best women's water shoes on the market, so we couldn't pass up trying them out for ourselves.
We're pleased to report back with anything but a disappointment. The shoe is comfortable, durable, and comes in a ton of trendy colors and designs – perfect for the whole family!
The Hydrophobic Engineered Mesh upper makes sure that the shoes dry ultra-fast, while the FluidFlow Technology makes sure all water is drained without letting in any unwanted materials.
The rubber pods on the bottoms of the shoes are perfectly located to increase traction where you need them.
Comfort isn't even a question here as they're easy to wear: light and stretchy with great breathability. The included ComforDry sockliner adds a bit of extra cushion while making sure your feet are as dry as possible.
In fact, we felt these provided some of the best arch support that we found in beach shoes, so if you have flat feet, give these a spin.
While the shoes are some of the most stylish we've seen, they're also vegan, which means just about anybody can use them without worry.

---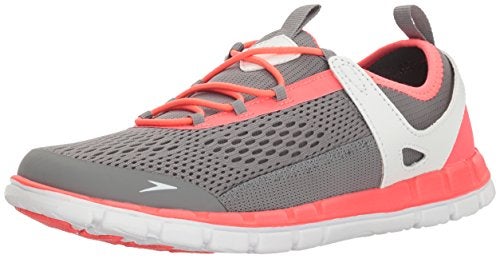 Speedo The Wake Athletic Water Shoe at a Glance
:
---
Upper: Textile/Mesh
Sole: Synthetic
Closure: Laces
M/W: Women's
Sizes: 5 US – 10 US
We're back again with another excellent water shoe from Speedo. This time, we're covering the Wake Athletic Water Shoe for women, which are some of the most well-made we've come across.
If you're looking for a good multifunctional beach shoe that you can wear in the water, hiking, or to workout, then this is a great option.
This model is probably one of the most attractive on the market, coming in the following trendy color options: Grey/Neon Pink, White/Blue, and Black/White.
These are some of the best women's beach shoes for drainage options. The FluidFlow Technology lets water freely drain through both the upper and outsole.
In contrast, most other beach walking shoes either have drainage through the outsole or upper; not both. The hydrophobic shoe does both, which also makes it lightweight and breathable.
The no-slip traction comes from perfectly-placed rubber pods so you keep your footing anywhere you go. They also serve to absorb shock and provide cushioning with high-impact activities.
The lacing system only increases comfort and improves reliability, with bungee cord closures. This also makes them easy to take off and put on at a moment's notice so you're always the first one in the water!

---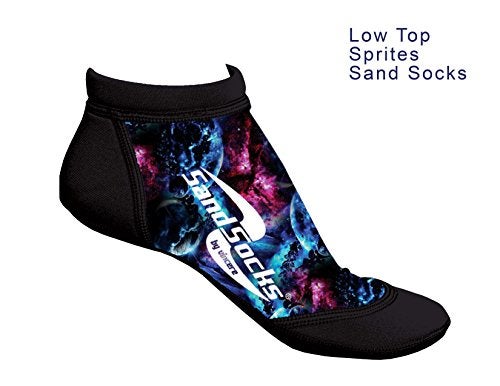 Sand Socks Vincere Sprite Low-Top at a Glance
:
---
Upper: Lycra
Sole: Neoprene
Closure: Slip-On
M/W: Women's
Sizes: XX-Small to X-Large
If you're looking for something a bit more minimal or just need a pair that's just going to be used in the water and on sand, then give the Sand Socks Vincere Sprite Low-Top a look. They're great on the wallet, too, if you want to keep it as padded as possible.
They come in all kinds of colors and designs: Black, Camo, Blue Lightning, Sand Pirate, Orange Sunset, and many more. Whatever you select, know that there's something for every taste and style!
The Lycra upper is nice and smooth, which makes sure there's no chafing or excess restraint on your feet. Your toes can splay naturally, which will give you better balance and an athletic edge.
In addition, they're super easy to put on and take off, as it's just like a sock. The snug elastic cuff makes sure to keep all sand, plants, and rocks out.
The Neoprene sole is nice and sturdy, and will keep you protected from hot sand, sunburns, and cold water. Use them for beach volleyball, snorkeling, beach soccer, or making your way to the taco stand from one end of the beach to the other.
The downside with these?
They're obviously not as heavy-duty as most of the other models on our guide. They're not going to be able to hold up against extensive exposure to sharp rocks, and can't be used to go hiking and whatnot.

---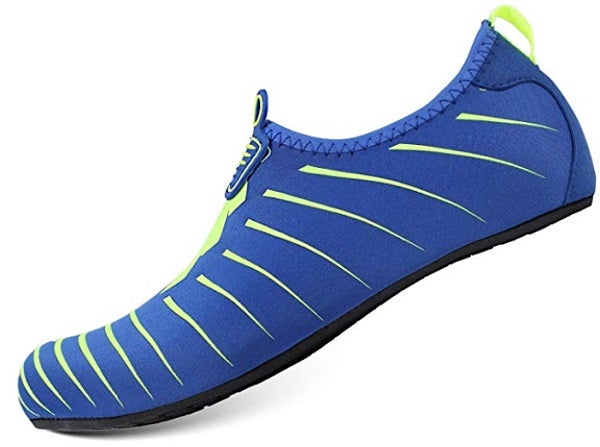 HEETA Water Sports Shoes at a Glance
:
---
Upper: Textile
Sole: Rubber
Closure: Slip-On
M/W: Women's
Sizes: 4.5 US – 13 US
We have to admit; when we saw the crazy affordable price on these, we were a bit apprehensive of the level of quality they'd deliver.
Once we tried them out a few times, we were convinced they were some of the best shoes for beach walking we'd tried. The HEETA Water Sports Shoes are low-profile booties that protect your feet from hot sand, cold water, and everything in-between.
These probably have the most colorway/pattern options of any we've tried, too. Choose between futuristic whites, blues, and reds, or opt for something tropical like the leaf or flower patterns.
You'll have to check them out for yourself, because there's a lot to choose from.
If you're worried about being bogged down, these weigh in at just 0.57 pounds. Made of a soft fabric upper, they ensure you get great air circulation, and a quick-dry experience once you get out of the water.
The fabric stretches with ease, so you don't have to struggle to take them off even when wet. They work with just about any foot shape or size.
The rubber sole is also minimal in design, but big in comfort. It provides a bit of cushion, and protection against rocky surfaces or pavement on the way down to the beach.
As it's so thin, these can easily be folded up and stored for easy transportation.

---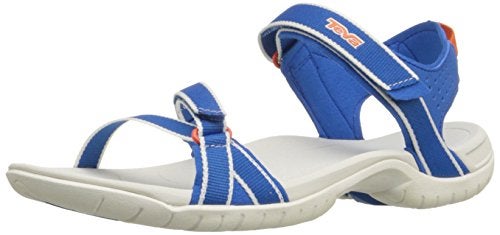 Teva Verra Sandal at a Glance
:
---
Upper: Textile/Polyester
Sole: Synthetic
Closure: Straps
M/W: Women's
Sizes: 5 US – 11 US
Teva has long been a favorite among beachgoers thanks to their solid construction and high level of comfort. The Tirra's are the best beach sandals on our list that have an easy-to-wear design.
With multiple Velcro straps, you can have them on in just seconds with a secure, custom fit. They're so durable, that you can even wear them hiking after you're done in the water!
The open-toe/top of foot design feels liberating, keeping a good amount of airflow while obvious drainage benefits.
You don't have to deal with water hanging around in your shoes, but you still get protection from sharp/hard surfaces.
The upper is made from a polyester webbing, which is extremely durable and great for very salty water that could easily disintegrate other shoes. They're quick to dry, due to the minimal amount of fabric, so your feet will by nice and comfortable.
The included Shoc Pad has great energy transfer, traveling away from your heel and down the footbed. This is perfect with rougher/uneven environments, leaving your knees and feet in peace. The EVA foam midsole is lightweight but provides additional comfort.
The Microban zinc-based antimicrobial treatment makes sure you're always smelling your best, and you know that there are a lot of unpleasant smells at the beach!

---
Best Beach Shoes For Men
---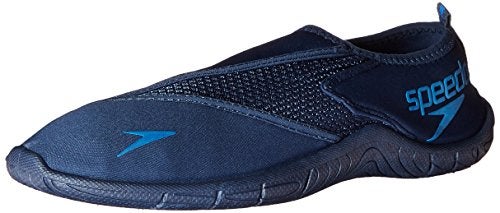 Speedo Men's Surfwalker 3.0 Water Shoe at a Glance
:
---
Upper: Textile
Sole: Synthetic
Closure: Slip-On
M/W: Men's
Sizes: 7 US – 14 US
Speedo is without-a-doubt one of the most reputable companies as far as swimwear goes. This translates over to their beach shoes, too.
Coming in seven different color schemes, you have a good amount of options to choose from that will surely go with your swim trunks.
These versatile water shoes are the best pool shoes on our list but great for the beach as well.
Made with a lightweight, four-way stretch textile upper, they won't bog down your feet – especially when they get wet. The fabric comes with mesh panels, perfect for ventilation.
The Airmesh insert also helps the shoes dry quicker, while ensuring your feet stay dry and comfortable. As the upper is nice and stretchy, they're easy to put on when you're ready to hit the waves, and easy to take off when you're done for the day.
The S-Trac outsole is not only durable enough to cushion your feet against hard and hot surfaces, they also work to disperse water. This makes sure you get the best surface contact possible on slippery surfaces.
In regards to comfort, the seaweed massage footbed makes them one of the most relaxing to wear. We did discover that some small rocks were able to make their way into the shoes, but this didn't happen all that often.

---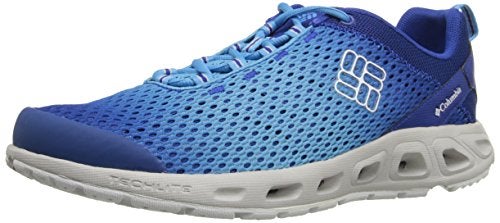 Columbia Men's Drainmaker III Water Shoe at a Glance
:
---
Upper: Mesh
Sole: Rubber
Closure: Single-Pull Lacing
M/W: Men's
Sizes: 7 US – 12 US
Columbia is another well-reputed brand, known for creating products that hold up well in harsh environments. We chose their Men's Drainmaker III Water Shoe for this reason, and many more.
This particular model is great if you're planning on doing some climbing on rocks/rocky shores or under water. They essentially operate like regular sneakers that can be used well on land or water.
Designed with traction and protection in mind, they're comfortable yet very durable.
The open mesh upper not only makes for a very lightweight shoe, but very breathable, too. It features a sturdy TPU toe cap to keep your feet protected against cement and other hard surfaces.
The Techlite midsole features integrated drainage ports at the rear and forefoot to make sure water doesn't hand out in your shoes.
The downside to the ports?
They were big enough to get clogged with seaweed at times. This wasn't a deal-breaker, as it didn't happen often, but we felt it was important to mention.
The Omni-Grip non-marking rubber outsold along with the siped/rugged style provides supreme traction – quite possibly the best traction we experienced.
Not only that, but the entire shoe dries incredibly fast which makes them perfect men's beach shoes for all-around adventures.

---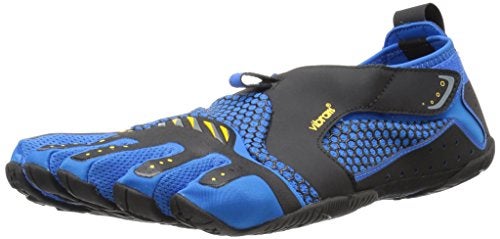 Vibram Men's Five Fingers V-Aqua Water Shoe at a Glance
:
---
Upper: Textile/Polyester Mesh
Sole: Rubber
Closure: Strap
M/W: Men's
Sizes: 8.5 US – 11 US
Vibrams, they're unique and quirky, but do they work? Yes. Very well, in fact. So much so, that we had to toss their Signa Athletic Boating Shoes on board.
As the company is associated with barefoot running, it's no surprise that you have a more natural feel with this pair.
Coming in either Black/Yellow, or Blue/Black, you don't have a ton of options as far as style goes, but black goes well with just about everything.
The individual toe design is great for adding extra traction and the natural flex of the human foot. However, we did notice that these were lacking the padding that other models provided.
For this reason, we'd say that if you actually want to feel the water and ground around you while getting just enough support and protection, this is the one for you.
The abrasion-resistant polyester mesh upper will keep your feet scratch-free, while also allowing you to get in and out of the shoe with ease. The Vibram Wave Grip compound only adds to the grip on slippery situations, so you can walk with confidence.
Overall, the thin beach shoe is lightweight and great if you're a surfer or explorer who values a natural connection to your environment.

---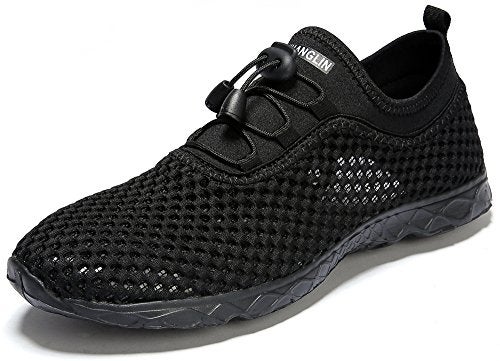 Zhuanglin Aqua Water Shoes at a Glance
:
---
Upper: Fabric
Sole: Rubber
Closure: Single-Pull Lacing
M/W: Men's
Sizes: 7 US – 14 US
If you're on the search for one of the best beach slippers but don't want to spend a lot of money, you'll probably want to check out the Zhuanglin Quick Drying Water Shoes.
They may not be the most attractive out there, but they do the job well. We did like that the model came in so many colorful designs to choose from, too.
Featuring a smooth mesh upper, it is almost completely seamless which means that you don't have to worry about any chafing or blisters.
As it is mesh, you can imagine it's quite lightweight, also letting out water as it comes in. They also dry quite fast, due to the design.
The rubber outsole is notably bouncy and resistant to all kinds of rough objects, so you can easily use them on ground or water.
The Solyte midsole is not only lighteweight, but also absorbs shock quite well, providing excellent bounce-back. The ComforDry sockliner was very much appreciated, and just added to the comfortability without any chafing or excess moisture.

---
Crocs Swiftwater Mesh Sandal at a Glance
:
---
Upper: Textile
Sole: Synthetic
Closure: Strap
M/W: Men's
Sizes: 7 US – 15 US
They may receive a lot of flak, but there's a reason why the Crocs are still alive and doing well. They may be a bit funny to look at, but there's no denying how comfortable and functional they are.
Their Swiftwater Mesh Sandal is also notably more inconspicuous than their signature model so you'll only be turning heads in a positive way.
We can confidently say that this pair is perfect for any kind of water sports or beach adventuring you're going to be doing.
One of the biggest reasons for this are the hook-and-loop closures which gives you a custom fit.
The mesh upper is comfortable, fast-drying, and lightweight enough that they won't weigh you down or keep you from doing what you want.
Despite being so light, they're surprisingly heavy-duty and made to last. The perforations around the shoes provide excellent ventilation and drainage, so you don't have water taking up residence with your feet.
So, what were our complaints?
To be honest, we really can't think of any other than the fact that we wouldn't recommend them for prolonged use for activities like hiking.

---
Beach Shoe Comparison Table
How to Choose the Best Beach Shoes – Buying Guide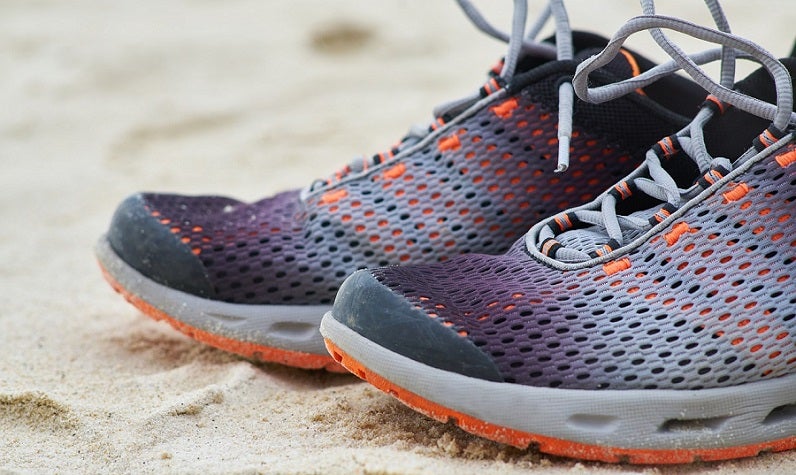 So now that we have reviewed some good beach shoes, do you know which shoes are right for you? If not, that's completely okay. We know that there's a lot that goes in to buying a product make for durability, comfort, and style.
That's why we've decided to create the user-friendly buying guide below. It covers each aspect of the shoes, to make sure you're completely happy with your decision.
Style
First, you'll want to think about what kind of style you want. This will depend on the purpose you're using these shoes for. Okay, we already know you'll be using them in and around the water. But, what kind of beach are you going to be on?
A white sandy beach right outside your hotel room is going to be a different experience than a hidden beach that you can only get to by traversing a jungle and a side of a mountain, right?
If you're going to be using it on the smooth, sandy beach and in the water, then you can probably get away with a more minimal model like the Sand Socks or Speedo Surfwalker 3.0's. These are lightweight, but protect you from the heat of the sand, the chilly water, and other minor "threats".
Just about any other model can hold up to the task of walking on rocky/rough terrain. You'll want shoes that can take a beating, and will still provide a bit of cushion so your feet don't feel this hard impact.
Comfort
As with any type of shoe, if it's not comfortable you're not too likely to wear them. This goes double if it's a shoe you're going to be using in the elements, like windiness, and the waves of the ocean. It's a lot easier to experience discomfort and irritation when you're around sand and water, so make sure yours are ideal for your situation and your feet.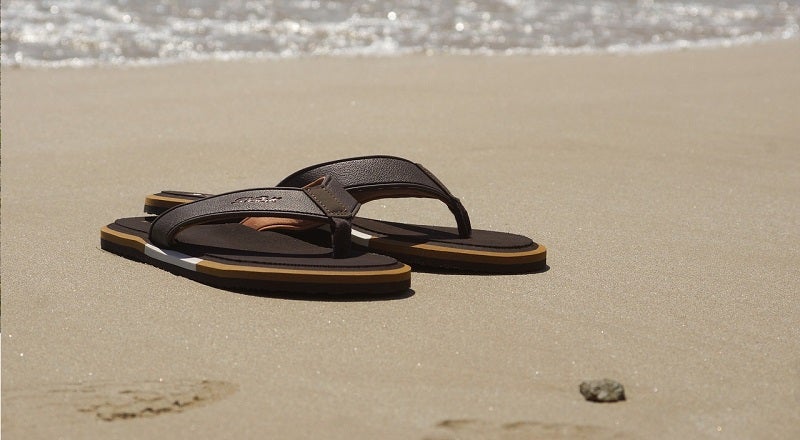 Breathability
Is this important when you're going to be in the water anyway? Of course! You're going to get out of the water at some point, and you're not going to be happy with soggy feet. Most of the beach shoes on our guide feature a mesh upper, which is going to give a great amount of breathability with all the perforations.
These also work well as drainage holes. They let water freely go in and out, which means they're not going to weigh your feet down or retain water.
Drainage Holes
This brings us to our next point. It may not be enough to rely solely on mesh material to adequately drain the water from your shoes. Drainage holes provide an additional exit for water, which is important.
You don't want that weird squelchy feeling when you get out of the ocean, do you? On top of that, ocean water is going to be salty, and can seriously dry out your feet if you leave them in there too long.
Ideally, the shoes will have drainage in the upper and the soles. However, if there are holes on the bottoms, this is a good indicator that you'll have pretty dry feet once you get back on land. Depending on the size and location of these holes, you may get some sand and dirt in, however.
Weight
Shoes that hold more water are obviously going to be heavier than those with proper drainage systems. Also look at how heavy the shoe is itself, when it's dry.
Some are very lightweight, while others are almost as heavy as your regular street shoes. You're going to need very lightweight shoes, so you're not dragged down. This is not only regarding convenience at this point, but safety, too.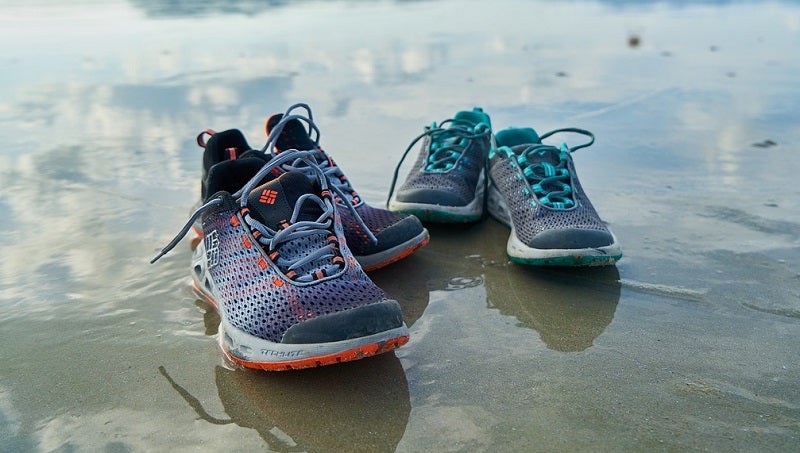 Sock Liner
This is a removable liner that's surprisingly not found in every beach shoe. The liner adds a new level of comfort to your shoe by providing extra cushioning. As they're removable, you can slip in a different insert or even orthotics to make you as comfortable as possible.
Cushioning
Tying in to the last point, if you're going to be on rougher terrain, definitely think about opting for a pair with a good amount of cushion to them. Look for those with thick soles that give you a good amount of space from the ground. These also aid in absorbing impact and will make your day at the beach much more pleasant.
Grip
This isn't quite as important if you're just planning on casual walks on the beach, but if you're going to be around rocks, or will be using these to do sports, start thinking about the kind of grip the shoes offer.
The best models are those which provide excellent traction so even while wet, you can still grip on like an amphibian. Slipping on wet rocks is not only unsafe, but quite dangerous.
Closure
While slip-ons seem to be the most logical choice for water shoes, they're not always ideal in theory. Slip-ons are great if they fit you properly.
However, are there isn't any option for customization or adjustment, this may not be the case for you. If you're going for slip-ons, make sure they have a good amount of stretch to them so no rocks or sand get in, and so they're not too tight.
Laces sound like they'd be a hassle, but the ones on our guide aren't just free laces. You never have to worry about them becoming untied, because they'll have some type of closure, or are bungees. These offer you the ability to change up the tightness which can also make them easier to put on.
There are a couple on here that have hook-and-loop styles with straps. These are also great, as you don't have to worry about laces, but can still change them to fit your feet perfectly. They're probably the easiest to take on and off.
FAQs About Beach Shoes
Q: How should my shoes fit?
This is going to depend greatly on what you're planning on doing. If you're just going to be hanging out and drinking a cool beverage with friends, then it's really not going to matter as much.
If you're going to be hiking on your way to/from the beach or performing beach sports, then this starts to become more essential. You should have a snug fit, but never so tight that it causes discomfort. Also, look into the type of support they provide.
Q: Can I also use these for the pool?
It's going to depend quite a bit on the materials your beach shoes are made out of. The Speedo models we can say with confidence can be worn in chlorine pools, too. Chlorine, however, is very harsh on most materials and will break them down quicker.
Q: What else can I use my beach shoes for?
Some are made specifically for beach sports and even hiking on rocks. The Vibrams, for example, can even be used to adventure around rivers and mountains.
Q: Can I toss my shoes into the washing machine?
To determine this, go ahead and look at what the manufacturer says. Some will say it's okay, however, we really recommend against it. The shoes are going to be more quickly damaged in the washing machine, but if you absolutely have to, try tossing in something like towels to try and protect them from bouncing around as much.
Tips For Your Beach Shoes
#1: Make sure to always wash your beach shoes after using them
If you can, wash them before leaving the beach. Soak them in fresh water, and leave them out in the open air until all of the salt water has come out. If they're holding dirt, then add some to the water, let it sit for a couple minutes, then wash.
#2: If you're in-between sizes, go a size down for slip-ons
Why? Because these models are typically made of materials that will eventually stretch out after being in the water repeatedly.
#3: Walk on a solid surface before walking on the sand
This will warm your muscles up. As the sand on the beach is not going to be even, you don't want to pull a muscle because you weren't prepared.
Final Thoughts
Now that you know pretty much everything you could ever want to know about them, have you found the best beach shoes for you? We want to thank you for tuning in, and hope that our guide has helped you find the perfect pair for you and your adventuring needs. We'll see you again shortly!
How We Researched
To come up with the top beach shoes, we researched a variety of sources for reviews such as Target, Lowes, Bed Bath & Beyond and Walmart along with our own personal experience.
We also consulted online magazines for product research and reviews to get as much unbiased information as we could. To help weed out fake reviews we used Fakespot.com to make sure we only looked at genuine reviews.
With so much quality gear available, we had to narrow it down based on what we felt were the best options for the price. The staff authors have a wide and varied background in adventure travel, hiking and backpacking.
The authors have decades of experience and are eager to share their knowledge with readers.
To help narrow down the selection we used personal experiences along with recommendations from fellow travelers and tour guides.
After extensive research, we came up with our list to help you choose the right one for you.
Sources
---
Notice:
OutsidePursuits.com is a participant in the Amazon Services LLC Associates Program, an affiliate advertising program. OutsidePursuits.com earns fees from products sold through qualifying purchases by linking to Amazon.com. Amazon offers a commission on products sold through their affiliate links.