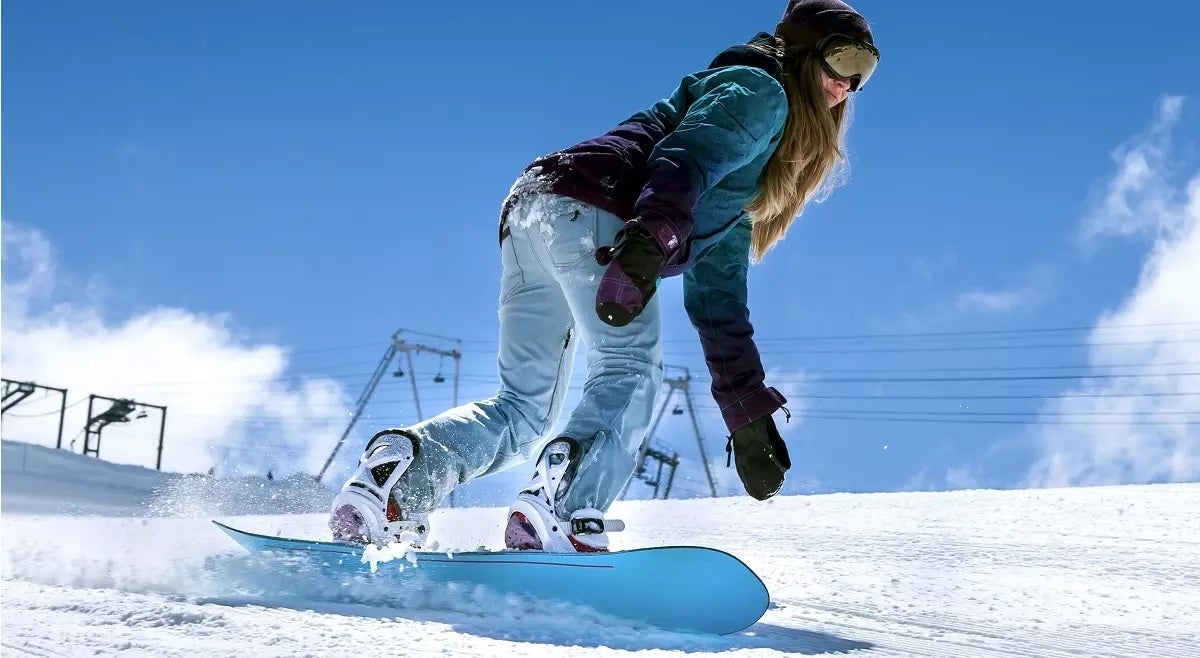 Our Editors independently research, test, and rate what we feel are the best products. We use affiliate links and may receive a small commission on purchases.
So, you've decided you're going to learn how to snowboard – how exciting! Snowboarding is a thrilling experience for both the mind and body, but you'll need some tips to know how to get off on the right foot and make the most of your time.
We've decided to use our own experience along with tips that have helped others to compile a detailed guide for you. By the time you're finished reading, you'll know exactly what your next steps will be to be a confident snowboarder in no time!
1. Clothing
First things first, you have to have clothing that will keep you warm, dry, and comfortable. Let's take a look at the main articles of clothing that you'll need before you head up to the resort for the first time.
Jacket
This is an absolute necessity – you cannot go snowboarding without it. A good snowboarding jacket is more valuable than any other piece of clothing you're going to need so pay attention here. You need something that will work with your body type so if you're a female you may want to also check women's snowboard jackets as well. These are designed for the wider hips and narrower waist and shoulders that the female figure features.
These are waterproof and windproof to keep out any moisture and cold temperatures/wind from getting inside while being breathable enough to let our excess heat and moisture from the inside. They're durable enough to resist against ripping or holes, while still being flexible enough to allow for a complete range of motion in your upper body which is essential for all types of snowboarding.
Snowboarding Pants
Next up, you also need snowboarding pants. Don't even think of going up to the mountain in a pair of jeans, leggings, or anything else except for actual snowboarding pants. These pants are made to be able to take the beating you're undoubtedly going to give it from the countless falls you're undoubtedly going to make.
Snowboarding pants hold extra pockets to keep your lift passes, cards, IDs, and more handy. Not only that but they're made of almost the same materials as snowboarding jackets so you can expect them to keep moisture and the cold out. Some are insulated but most are not, so you may choose to wear thermal leggings underneath. That's all up to your personal preferences and the specific weather conditions of your ski resort.
Gloves
We never recommend going out in the snow for more than 10 minutes without gloves, let alone an entire day speeding and falling down a snowy mountainside without them! These gloves will keep your fingers warm, dry, and protected against hard objects like ice, rocks, trees, and your board.
Trust us when we say that it'll only take you one time of hitting your ice-cold finger on the edge of your board or scraping them on your bindings to learn your lesson. Not only that, but gloves offer an incredible grip you won't have when your hands are cold and wet.
2. Snowboard Gear
Next up, is the gear you need for snowboarding aside from clothing.
Snowboard
First things first, you're going to need a board to actually snowboard! A beginner board is what you need. These are easier to ride fakie or regular, meaning that the nose and the tail are identical and just as easy as the other end to ride down the mountain.
Just remember that a beginner board doesn't mean a low-quality or amateur board. These are actually made by the best snowboard brands in the world, so you can rest assured you're receiving a quality piece that will help you improve your skills rapidly and effectively.
Now let's dig into how to choose the right size snowboard:
Weight
Shorter boards are easier to lose control of, particularly at higher speeds. If you're a heavier rider, then the risk of losing control is even greater. Not only that, but a board which is too short for your height and not rigid enough can cause it to flex too much which will likely result in crashing.
However, the opposite is often true, too. If you're lighter in weight but get a board which is too long for your body, it's going to be very difficult to maneuver and likely much too rigid.
Boot Size
That's right, it's not only your height and weight that will determine what length of board you need; it's your snowboarding boot size, too! This is mainly relating to the width of the board rather than the length though there is a direct correlation between the two.
Generally speaking, if you have a size 11 boot or larger, you should opt for a wide board. The width of a board is measured in the space between the snowboard bindings which is narrower than the rest of the board.
While the length is measured in centimeters, the width is measured in millimeters. If the width is greater than 255mm in the middle, it's considered to be "wide". Of course, if you like freeriding, carving, and floating on that incredible powder, then a larger wider board is more desirable. Wider boards will help keep you "afloat" instead of sinking down into it.
Experience Level
Last but not least, we must reference your experience level to know which board will suit you best.
Beginner
If you're still learning the basics like how to turn, stop, get on the ski lift, etc. then you're considered a beginner. Beginner snowboards are actually the easiest to pick out as all you have to do is go off of the standard weight, length, and width recommendations for boarding.
You may even want to take a look at the softer, shorter boards for your height and weight. These can help make it easier for you to maneuver the board as it's softer and allows for easier turning and flexing.
When you gain strength and muscle memory from these "practice" sessions, you'll be able to better manage stiffer boards which require more strength. Shorter boards make linking turns easier and can make the ride a slower one to help give you the chance to get a hang of different movements before crashing.
Intermediate
Okay, so now you've been riding for a season or two. You have the basics down, you can probably take on small moguls, and know how to hop onto a ski lift or at least hold onto the tow rope and keep your balance. You're now considered to be an intermediate boarder – congratulations!
This is the moment where you can kind of branch into your own individual riding style. Of course, you'll still need to reference the general weight and height size ranges, though you can be a bit more specific now.
All-Mountain: These boards do what they say: they're appropriate for use on the entire mountain. From groomed runs to off piste powder to the park, all mountain snowboards are good for it all.
Freestyle: These are a load of fun and will be on the shorter end of your length range to make it easier to catch air with, do spins, and just have excellent control over it.
Freeride: Don't let these get confused with freestyle boards. Freeride boards are actually the opposite of them, and come in at the longer end of your length range. These are perfect for keeping afloat in deep powder.
Advanced: Okay, so now you're practically a pro rider. You know your way around the mountain and your favorite riding style. You probably already know what you like, but you should still pay attention to other things like the sidecut, profile, carbon/Kevlar bars, and so on.
Now let's cover the types of snowboards:
Freestyle
When it comes to skateboarding, you use longboards for carving down hills and for longer rides, while short and springy boards are used to do tricks at skateparks or ride vert on half-pipes and quarter-pipes. This is essentially the same deal here with snowboards. Freestyle boards are made to be used with freestyle riding. That is, park riding with rails, gaps, ramps, staircases, spins, grabs, and so on.
These boards are shorter and offer more of a "pop" or springiness to them than other types of snowboards. They are solid for beginners to learn on, and at this level are more than good enough for carving turns or cruising at faster speeds. However, we don't recommend them for more advanced alpine use as they're simply not designed for it.
The vast majority feature either a twin tip or directional twin. The former features a centered stance, where the nose and tail are identical – same dimensions means that you can ride the board backward and forward. This means the sidecut and flex is also the same any way you ride. It's also an awesome choice if you ride both regular and goofy throughout the day. Directional twins are very similar, though the tail will not be as flexible as the nose.
Carving/Alpine/Race Board
You'll see these boards referred to as any of the above terms, depending on the person and area. These boards can be most easily compared to longboards, where they are long, narrow, and stiff as they're designed to take you to very high speeds and offer a pristine carving experience. They're pretty much the exact opposite of freestyle boards in feel, shape, and purpose.
These are not ideal for beginners.
Why?
Because if you're just learning how to alpine snowboard, you'll be better off starting with a freestyle board that will let you ride goofy or regular. For example, there will be times when you're bombing down a hill and you try carving and end up with your opposite stance. A carving board will make this hard to do as they're made to be ridden in only one direction.
Moreover, these boards offer a significantly higher level of performance. As they are so stiff, it will be more challenging for you to turn and control your board. That doesn't mean you won't get to a point where you can eventually ride race boards instead, but you'll want to build up your skills to that point with a freestyle board.
When riding in powder, there's nothing better than an alpine board, as they're essentially designed for cutting through it like butter.
Freeride/All Mountain Board
The last of the 3 main types of boards is the freeride or all mountain snowboard. Lying somewhere in the middle of the other two designs, it's no surprise that the freeride makes up about half of snowboard sales. As they offer the best of both worlds, you get to carve, pull off tricks at the terrain park, and even take on halfpipe runs!
However, we also recommend this board for slightly more experienced riders as they are made to be ridden solely in one direction. As the tail is narrower and flatter than the nose, you could ride it fakie but it all depends on the specific brand and model.
Regarding stiffness, it also lies in the middle of the two others. It's just soft enough to work in parks and on half-pipes, but stiff enough that you can carve fast down runs. Ultimately, if you're not serious about either park riding or alpine riding but rather like it all, then these are perfect. Groomed runs, the backcountry, park – you can do it all!
Split Boards
What's that, a 4th type of snowboard? Well, these are completely different from the others and many don't even include them as part of the others anyway. However, just to ensure you're well-informed we'll cover these too.
These split boards are made for backcountry boarding and are insanely innovative. They split in half to make two separate skis to be used for climbing hills, traversing long distances, and essentially cover untouched slopes. Once you've reached your destination where you want to start riding downhill, you simply reattach the two halves and you have your board! Just remember that with splits you'll need climbing skins and a split kit which aren't often sold with the board.
Now let's cover some of the brands to choose from:
Burton
If you're learning how to snowboard, we can't recommend getting a Burton board enough. Burton is a legendary brand, and easily the most well-known around the world. Founded back in 1977, they've been the leader right out of the gate but have had plenty of time to further perfect their engineering.
No matter what your age, gender, or experience, there's something for you from Burton. They're a brand that really pushes innovation and technology in regard to both boards and bindings, along with clothing and accessories.
The Vermont-based company may be beginner-friendly, but they also sponsor some of the world's most skilled athletes such as Shaun White, Kelly Clark, and Terje Haakonsen.
Salomon
Okay, okay, we know that Salomon didn't technically start out as a snowboarding brand, but we admire their willingness to go with the flow and expand into this incredible sport. Originally a skiing company, they are able to hold their own against Burton, mainly because they simply offer much different products.
When it comes to split boards, no other brand can compete. What are split boards? Just like it sounds, these are boards which can split into two separate pieces. In fact, you may even see some insane boards from them that are able to separate into 4! These are great for using them as skis for traveling uphill or touring.
The France-based company prides itself on its excellent craftsmanship and technical boards with simple but aesthetic graphics. They also have excellent snowboard boots, bindings and a large array of winter clothing!
Lib Tech
With over 30 years of experience under its belt, Lib Tech has learned how to make some high-quality boards and gear. Known all over for their Magne-Traction edges and signature Banana Technology rocker shape that shocked the boarding world, Lib Tech is new and special in every way, shape, and form. It's easy to ride, while carving easily through icy snow and slicing through powder like butter.
The US-based company keeps quality in mind while also ensuring their products are made using eco-friendly, sustainable materials throughout the entire process. Their graphics are loud, but if you're a boarder then that's probably all the reason more to grab one!
If you're looking to get some park riding in, then definitely check Lib Tech.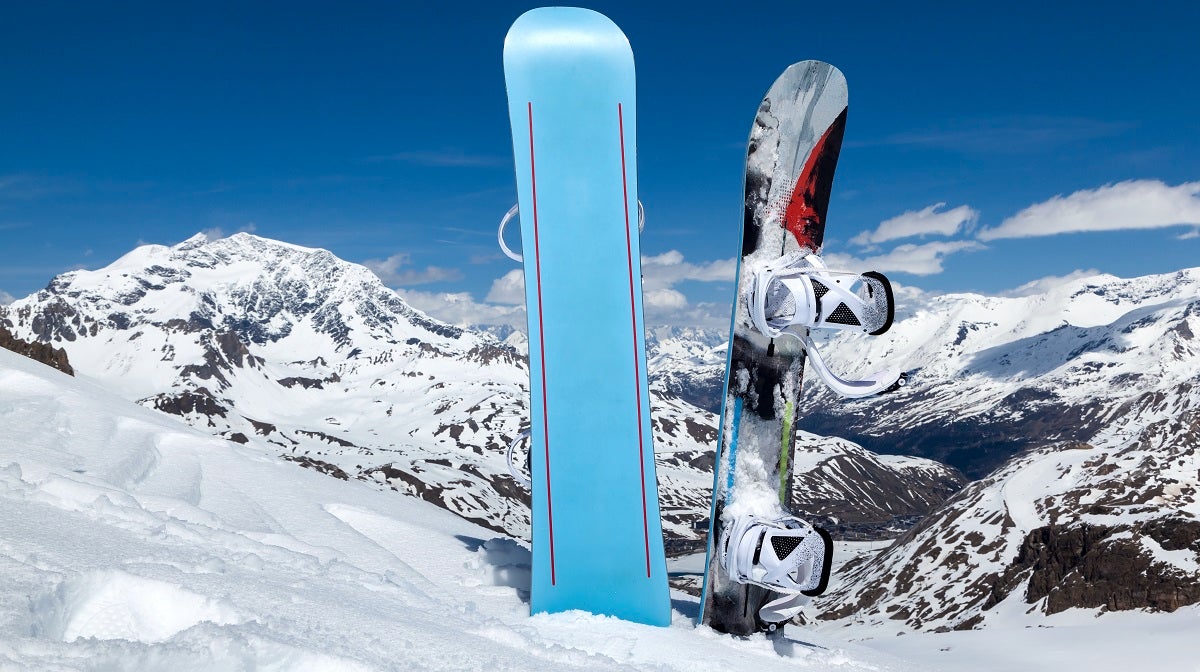 Ride
If we were to pick just one brand as the best snowboard brand for women, it would hands-down be Ride. Created back in 1992, it's one of the younger brands out there but we love how they consider a woman's lower center of gravity and wider hips to make their designs.
Sure, just about every quality brand out there makes at least one board specifically for female bodies, but Ride offers a whopping 9. These 9 cover an array of price points, shapes, features, and more. Their SuperPig is quite possibly their most popular design, made for aggressive riders with a short/wide shape and carbon-infused glass to offer incredible pop. They also make excellent complete snowboard packages for beginner snowboarders taking away the complexity and guesswork from assembling it yourself.
Their snowboarding jackets are some of our favorites, with more somber tones and unique styles. Not to mention they'll keep you warm and dry like few others can!
Arbor Collective
If you believe in caring about this planet just as much as getting a quality board, then Arbor Collective definitely needs to be on your radar. Selling both snowboards and skateboards, these guys have a lot invested in board sports as well as the environment.
Each one they produce is done with environmentally sustainable processes. On top of that, they regularly donate to eco-friendly groups and charities, such as focusing on preserving the Koa Hawaiian forests.
Famous for their Power Ply Technology, their wood or bamboo is sustainably sourced. It's their Sequoia Bindings that are our favorites though, offering an even better way to feel at one with your board and move with incredible control.
Public
Public creates some of the most incredible artwork we've ever seen, but they're also named because they place a special focus on working with the public to decide how to create their boards. Through taking into consideration the feedback of shop owners and riders of every skill level, they've been able to offer incredible products at a much more affordable product.
They're still a much smaller brand than the others we've covered so far, but it's clear they focus more on quality than quality.
GNU
Founded back in 1977, they've definitely been around for a while and have been able to use their experience to bring the public and pro riders some serious boards. With headquarters in Washington state, they make their all mountain boards based on the intense mountains and varied that the area offers. Expect deep, carving sidecuts and beautiful, hand-carved designs.
Bindings
Bindings are what connect your body to the board, so needless to say they're pretty important! These are where you strap your feet in, or in some cases "snap" your feet in. The most common and reliable types of bindings are the traditional kind with two or more straps to secure your boots.
There are other "step-in" kinds that require a special boot that locks into the binding. These do not have highbacks which are crucial for butter and control, no matter what level of snowboarder you are.
With that being said, we recommend the standard bindings. They're simply more functional and secure, and when you're dealing with barreling down a mountain at full speed, you need both.
Let's dig into how to choose your boots:
That brings us to our next piece of necessary gear: boots. Snowboarding boots are what keep your feet protected – not only against the cold snow and wind, but against them rubbing on your bindings. They are nice and thick, and perfectly insulated. If you've ever gone skiing before, you'll also find they're much more natural and easy to walk in than ski boots.
You'll almost always find that they close with laces so you can get a snug fit that will support your ankles and lower legs to offer more control while buttering, doing tricks, etc.
Note: If you don't want to worry about buying all of them separately, you can make it easier on yourself and simply purchase an entire snowboard package which includes the board, bindings, and boots already!
How Should Boots Fit?
The first thing we should know is how snowboard boots fit if we're going to get the right pair, right? Even the most expensive, highly rated pair aren't going to work well if they are the wrong fit. Unlike ski boots which are very tight at times, snowboard boots should fit snugly.
By snugly, I mean that you should feel a good amount of compression when you have your socks on, but they should never cause discomfort or pain. However, your first few days riding in them will by a fairly tight fit over the top of your foot and around the upper ankle until you start breaking them in.
Your toes should never be curled or scrunched up inside – this could negatively affect your boarding performance anyway (make turning and maintaining balance more difficult, etc). Instead, select a size where your toes will just barely touch the toecap while you're standing up.
You should be able to freely wiggle your toes while wearing them. As you continue to use them, the boot padding will pack out up to half a size so they won't feel as snug eventually.
Your heels, however, should not be sliding about the boot while wearing them. When your knees are bent, make sure your heels stay put right where they are. If they are sliding around, it can cause chafing, blisters, and also make it harder to board properly.
Going back to socks for a second, one pair of thin to medium wool or synthetic socks will be perfect. Make sure they wick moisture away from the skin and that they rise above the top of the boot to avoid chafing your lower leg/calf.
Boot Sizing
The good news is that boarding boots use your traditional US number sizing, though a 10 in one brand may vary quite a bit from a 10 in another. Moreover, some boots are made specifically with a low profile, making them ideal for more narrow snowboards.
If you know which bindings you'll be using, check out their ramp angle which will also have an influence on how big of a boot will be compatible with them.
Snowboard Boot Flex and Riding Style
If you've already been boarding for a while, then the goal here is to find a pair that will suit your riding style and the places where you usually board. You'll often see boots referred to as "soft", "medium", or "stiff", referring to how flexible they are.
Some manufacturers will give a number rating from 1-10, with 1 being softest and 10 the hardest. The flex you choose will come down to your personal preferences along with the kind of boarding you partake in.
Soft – Soft boots are extremely comfortable and luxurious feeling to ensure you feel great all day on the mountain. Despite their softness, they are still comprised of durable materials to last you for years to come. These are typically the go-to for park and beginner riders.
Medium – These are a nice meet in the middle for many riders, offering a nice blend of freedom of movement and support.
Stiff – These are usually the preferred feel for all mountain riders and free riders, offering max support for incredible control and edge power when traveling at fast speeds and in tough environments or weather conditions.
Riding Style
If you're a beginner, then I'm going to recommend you start out with a relatively soft boot as you're going to need comfort and minimal support at this time. So, if you're not yet unsure of your riding style, then this is a good place to start.
If you're already an experienced boarder, what's your riding style? Let's take a look at each to help you figure it out if you're not already aware of your style's classification.
All-Mountain – If you're someone who loves riding all over the place and at high speeds, then you need a very responsive model, which is likely to be a stiffer one. All mountain riding covers groomed runs, untracked powder, most backcountry split boarding, and a bit of park riding. The majority of boarders fall under this category.
Freeride – Freeriders, like all-mountain riders, are going to need some stiff boots as they'll need a great amount of control to handle high speeds and precision control. This category covers off-piste environments and some groomed runs. If you're a park or pipe rider then look into the next category.
Freestyle – This category covers the really fun, lighthearted stuff like pipes, rails, jumps, etc. If you're a park or pipe rider this is you. Here, you need a lot of mobility and quick response time which warrants softer, flexible boots.
Lacing Systems
This is an aspect of selecting a pair of snowboarding boots that often goes overlooked. However, it still plays a crucial aspect in fit, convenience, and overall experience. Your boots should be laced up tightly but not so much that they cause you any pain or discomfort. The goal here is to keep the heels in place with very little heel-lift.
There are 3 different lacing systems you can currently choose from: Traditional, Quick-Pull, or Boa. Some even have a blend of a couple. Just like with boot stiffness, there's no "better" option – it's all about your preferences.
Traditional Lacing – Dating back quite a while, traditional laces just work for your average rider. They're easy to use, seeing as how most of us use similar lacing for our gym shoes and hiking boots. The tightness of the fit is easy to adjust, depending on how tight you pull the laces.
However, they tend to loosen up throughout the day so a bit of maintenance is required to keep that ideal fit. Fixing laces normally wouldn't be too difficult, but when you have gloves on or when your fingers feel frozen, it's much harder.
Despite this, the fact that they're so affordable and easy to find replacements make them the reason why most boarders stick with traditional lacing.
Quick-Pull Lacing – As you can probably guess from the name, this type of lacing is much quicker than traditional systems. The corset-like system offers zonal tightening, meaning that you can adjust the lacing on your forefoot and lacing on your ankle/lower leg independently from one another.
On top of that, you can adjust rapidly and with precision, even with gloves on. Another benefit they have over traditional lacing is that they neatly tuck away so you don't have to worry about them coming loose and flapping around in the wind.
The downside to quick-pulls is that it's not quite as simple to create as tight of a fit as you could with traditional lacing systems and if a lace happens to break, you're likely done for the day.
Boa – Boa lacing may look complicated at first, but once you use them a few times I'm sure you'll love them as much as I do. I've tried other lacing systems, but as I like the uniform, precise adjustment Boas offer, I keep going back to them.
Using small-diameter cables connected to 1-2 wheels or dials, this is the way snugless is customized. If you select a pair with 2 dials, you'll be able to adjust the boot tongue area and the ankle, offering a custom fit all around.
Not only can you adjust while wearing gloves, but you can even do it with one hand! If you're sick of getting grit in your laces, these are great at eliminating that too. Just like with quick-pulls, if you happen to break your lace you'll likely have to head home until you get a new pair.
Boot Liners
The liner of a boot is essentially the whole inner part. They're almost always comprised of EVA, making the boots lightweight and cushy while still offering adequate insulation and support. Some are removable, making them easy to take out once you get done from a day of riding which will prevent the growth of bacteria as they dry easier.
Non-Moldable – These are what you'll typically get by default. While they may not be the supreme in comfort initially, they'll eventually start to form to your individual foot shape. This means that the more you wear them, the comfier they'll be.
Thermoformable – These you're the heat generated from your feet and lower leg to create a completely customized fit. This makes them ultra-comfortable, and seeing as they only take a day or so to break in, everyone loves them.
Custom Moldable – Instead of using the heat from your body, these use an artificial heat source to create a custom fit. While you can absolutely mold them at your home, I recommend just taking them to your local ski shop and having them do it for you. Just make sure that the shop you choose is known for fitting boots well.
Balaclava
Moving on to the head, face, and neck, we have a balaclava. These are to be worn over the head and face, extending to cover the neck which is quite vulnerable to the cold. Most are made of materials like your base-layer (Merino Wool, fleece, etc.).
Helmets
Helmets, in my opinion, are essential. Our heads weigh quite a bit compared to the rest of our body, and are very vulnerable to injury due to this and other factors. In some cases, even a relatively unthreatening fall or slip can result in a concussion or worse. An easy way to avoid this from happening is by getting yourself a helmet. Snowboarding helmets will also keep your head and ears warm, so it's a double whammy for you.
Goggles
While all of the aforementioned snowboarding gear is crucial to have and wear on each trip, none of it is going to matter much if you can't see. These, in my opinion, are just as important as wearing a helmet as far as safety and comfort goes. It's not really a smart idea to go up on a mountain – let alone speed down one on a board – without being able to see well.
Snowboarding goggles are an excellent piece of gear. They not only are very comfortable with a foam edge, but the create a seal that will completely keep the snow and cold air out. On top of that, they will keep your goggles from fogging up or creating a glare and obstructing your vision. Not to mention they just look cool and come in an array of different colors and lenses.
Notice:
OutsidePursuits.com is a participant in the Amazon Services LLC Associates Program, an affiliate advertising program. OutsidePursuits.com earns fees from products sold through qualifying purchases by linking to Amazon.com. Amazon offers a commission on products sold through their affiliate links.