If your in the market for a backpacking tent you will quickly realize there are quite a few to choose from. Spending the time to find the right tent will make your trip into the backcountry much more enjoyable.
To help you make that decision we evaluated many of the top brands of tents based on weather resistance, ease of setup, weight, packed size, livability and of course cost.
First lets take a look at the best backpacking tents, then we'll talk about how to choose the right one for your needs.
Here is a feature overview of the tents with full reviews and our buying guide below.
The 3 Best Backpacking Tents
| | ALPS Mountaineering Meramac 2 Person Tent | Mountainsmith Morrison 2 Person Tent | Winterial 2-Person Light Weight Backpacking Tent |
| --- | --- | --- | --- |
| | | | |
| | | | |
| Material: | Rugged polyester taffeta | 185T polyester with polyurethane coating | Nylon |
| Doors and Windows: | 2 Doors and 2 Windows | 2 Doors and 2 Windows | 2 Doors and 2 Windows |
| Weight: | 6.8 Pounds | 4.5 Pounds | 5.1 Pounds |
| Setup Dimensions: | 7.5 feet deep x 5-Feet wide x 48 inches tall | 7.5 feet deep x 4.7 feet wide x 43 inches tall | 6.3 feet deep x 5 feet wide x 42 inches tall |
| Packed Dimensions: | 6 x 6 x 24.25 inches | 5 x 7.5 x 18 inches | 4 x 4 x 23.5 inches |
| Price: | ~ $70 | ~ $150 | ~ $75 |
| | | | |
Backpacking Tent Reviews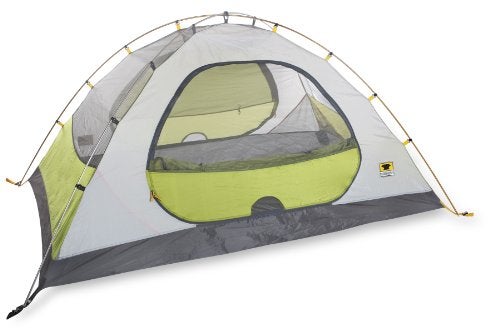 While backpacking all day, the last thing you want is the burden of a heavy load. If you are hiking, camping, canoeing, or just spending a night or two in the great outdoors—finding the right tent is essential. When you are looking for the best backpacking tent, you want something lightweight, yet durable enough to handle whatever Mother Nature throws your way.
The Mountainsmith Morrison 2 person 3 season tent is a freestanding tent that weighs about five pounds and measures 7.5 by 18 inches (W x D) when it is packed in its stuff bag. You will have plenty of room to include all your other important gear in your pack. If you dread the thought of erecting a tent, you will love the color-coded pieces, providing easy assembly.
This tent is generally ready to go in five minutes or less. This citron green color is relaxing, as it blends well with nature.
Design and Features
14 square feet of vestibule space plus 35 square feet of main floor space
Measures 56 by 43 by 92 inches (W x H x D) when set up
190T polyester floor with 5,000-millimeter rated polyurethane coating and tapered seams to keep interior dry
185T polyester rain fly with 2,000-millimeter rated polyurethane coating and color coded rainfly attachment system
185T polyester tent material
Color coded aluminum two-pole design with instructions printed on stuff sack for quick reference
30-denier 244T nylon storage sack
Limited lifetime manufacturer's warranty
Performance
The Mountainsmith Morrison 2 person 3 season tent will withstand wind, rain, and light snowfall. It is a freestanding two-person tent with two doors and a vestibule at each door, to assist in blocking the wind and rain.
The vestibule doubles as a storage area for any extra gear and boots so that it isn't taking up room in the main part of the tent or getting anything wet or muddy.
The tent is easy to pitch because of the color-coded fly attachment system and has a quick setup guide printed on the stuff bag. This is an asset when there is a possibility that your camping trip may turn wet without warning. The clip-pole attachments give this tent better breathability and make it a lighter weight.
The Mountainsmith Morrison has vented windows on the rainfly for ventilation as well as keeping out the mosquitoes, gnats, and other "no-see-ums" that like to bite at night. The tent is fairly roomy for a two-person tent and the second door is a great asset to prevent you from crawling over, in order to reach the door.
Is It Worth It
For the value, this is an excellent deal for any looking for a roomy, lightweight, backpacking tent. Mountainsmith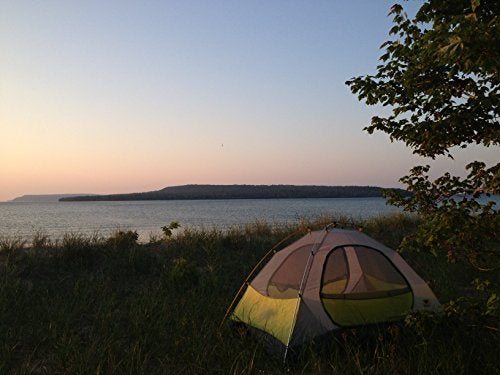 Morrison proudly makes this tent in the USA, in Golden, Colorado. You will also appreciate the peace of mind, knowing that it is guaranteed for life!
The Bottom Line
The Mountainsmith Morrison is not the cheapest tent on the market but for the quality you get it is the best value on the market.
The two door feature and color-coded system makes this tent nice for a novice or the seasoned expert. This tent can even be assembled in the dark. The Mountain Morrison is our top pick for the best lightweight backpacking tent.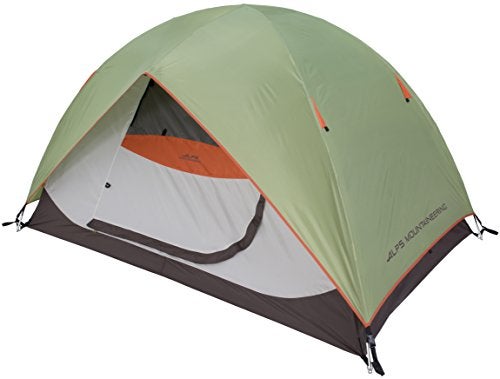 This two-pole designed, two-man tent is an excellent buy. Its reliable features, such as the shock corded fiberglass poles, a weatherproofed fly, and a limited lifetime warranty make it worth looking into. It is designed for high durability combined with a sleek look, and it achieves both with ease.
Design and Features
This polyester, taffeta tent has several eye-catching features. Its freestanding pole design utilizes just two shock corded fiberglass poles, and each door (one on each side) features a zippered window. The weatherproof rain fly, has its own ridgepole to create the awning. Since the rain fly is factory sealed, along with the floor seams, this tent is great for braving the rain or any unexpected elements that come your way. The tent set includes:
Carry bags
Two shock corded fiberglass poles
Ropes
Polyester taffeta tent
Polyester rain fly with ridgepole
Stakes
Performance
The Alps Mountaineering Meramac 2 is an awesome two-man tent. Its roomy interior of 38 square feet is perfect for two people or one person with a dog. The door and two windows seem to add the illusion of additional volume in the space. The mesh walls are a nice compliment to the mesh interior of the zippered doors and windows, creating the perfect flow of ventilation.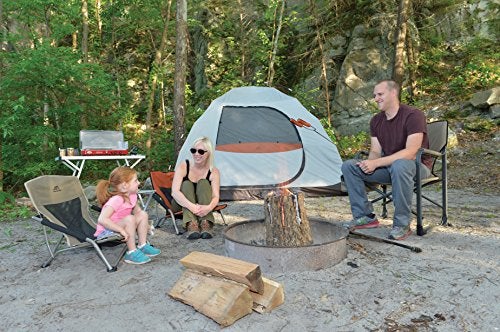 The weatherproof rain fly comes with its own ridgepole and provides a small awning over each door, so that you can experience a little bit of extra protection from the elements.
The single zip operation with large #8 zippers makes getting in and out of this tent easy, too. The fly also safeguards the door zippers, further protecting the tent, zipper system, and giving you extra protection while you rest in the great outdoors.
One thing this tent has that other tents in its class typically do not have is external guy-out loops, which stabilize the tent in windy weather. These features make the Alp Mountaineering Meramac 2 perfect for all weather types. Although, it is highly recommended that you make the extra investment and purchase a tarp to keep the floor protected in all terrain types. An inexpensive tarp is a small price to pay for the longevity and comfort it adds to the tent.
Is It Worth It
The Alps Mountaineer Meramac 2 comes in at a lower price point than other tents in its class, while still providing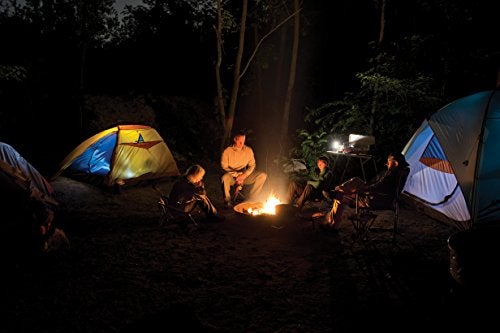 high quality. It is offers excellent weather resistance, which is always a plus, since a surprise storm can always pop up.
Having an unreliable tent can completely ruin your trip. This tent will last a long time if you take care of it, and with a limited lifetime warranty, it is worth it.
In my opinion it is one of the best backpacking tents under $100.
The Bottom Line
This tent has many great features packed in a small price: it is tough against rain, it has added stability through guy-out loops, and it has a great low price with a warranty. It is the best backpacking tent for the money.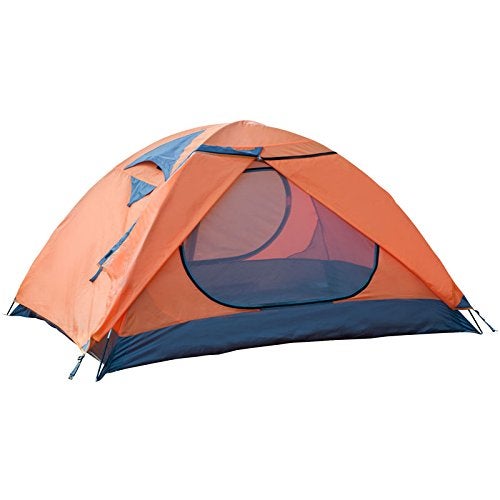 This basic two-person backpacking tent is an excellent choice for most any occasion. It is spacious, waterproof, has two doors, and sets up and breaks down easily. Its compact size and low weight (5.1 pounds shipping weight) make it a good addition to your backpacking ensemble.
Design and Features
This two-person tent fits easily onto any backpack. It has a rain fly with a vented roof and a system of just two metal-tipped poles, making for easy for quick setup and tear down. The included four metal stakes are easy to hammer down. The tent packs up at 4x4x23.5 inches. This lightweight tent features a few essentials right out of the bag:
The tent
A carry bag
Two metal-tipped poles
Four tent stakes
A thirty-day 100% satisfaction guarantee
Performance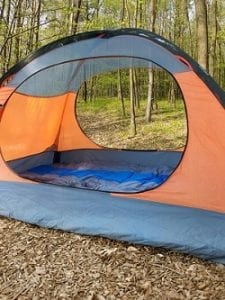 This tent is a great value for the price, and it does an excellent job of keeping out the weather. The floor space provides plenty of room for two people. The tent itself rolls up and stores back in the storage bag easily, a feature any camper knows is worth its weight in gold.
The fly is designed well, angling away from the tent so that water flows away from the two entrances, which are on either side.
The fly also has flaps you can prop open, creating comfortable airflow. Both doors are zippered for easy access and the double layers work well to keep out the rain.
Drawbacks include poor stake design, probably ensuring that you'll need to purchase higher quality stakes elsewhere to get your performance out of this tent.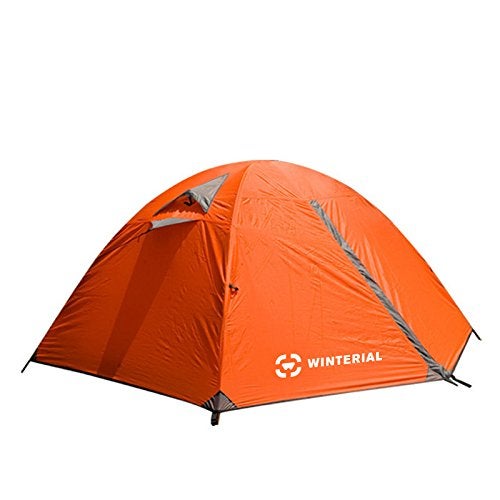 The pole system isn't designed with durability in mind: the poles are fed through a mesh track, which is easily ripped. A snapping system would have made more sense for easy setup. It's basically a cheap tent, but it does its job for the money.
Is It Worth It
The low cost on this tent is suitable for what the tent does. Not a huge value, but if you are on a budget and do not need a tent to stand up to a ton of wear and tear, this tent will do the trick.
The Bottom Line
This tent is a great fit for first-timers or occasional backpackers. It is inexpensive and not meant for longevity or severe weather.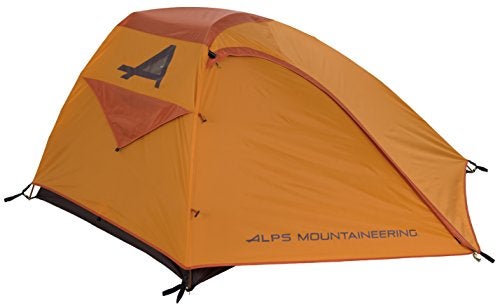 We decided we couldn't leave this tent out, so this is our 4th best tent. The Zephr 2 fits its name (zephyr means "a soft gentle breeze") with its lightweight fabric and smooth zipping system: it's a breeze to carry and set up. However, the best part of the Zephr 2 is its durability against rain and its roomy size.
This two-person tent comfortably fits into a backpacking system with a 5.9-pound weight inside its compression sack. The fly stretches to create a roomy vestibule in front of both doors (one on each side) perfect for stashing shoes and extra gear. Looking for a tent that performs as it promises? You might have just found it.
Design and Features
The Alps Mountaineering Zephyr 2 is a polyester-backpacking tent that measures thirty-one square feet inside, enough space to accommodate two adults with ease and room. This freestanding tent has two vestibule square footage areas, and has a roomy peak height. It comes with a 75D 185T taffeta floor with a 2000mm coating, and a 75D 185T polyester rain fly that stays tight and does not absorb UV rays. You should be ready for whatever elements Mother Nature throws your way! Out of the box, this handy tent set includes:
Two freestanding poles made of 7000 series aluminum with their own bag for safe storage, when not in use
Convenient pole clips that easily snap over tent poles
Sturdy polyester rain fly
Tent with two doors and mesh walls
Compression sack measuring eighteen inches in length with seven inch circumference
Stakes
Spare ties and stakes
Performance
This tent is true to its claim of standing up to UV rays and rainy weather. The fly stays tight, and the factory sealed fly and floor seams battle excess water like a champ. The extra square footage outside the tent provided by the pair of vestibules on each side adds a little luxury when you are out camping on the trail.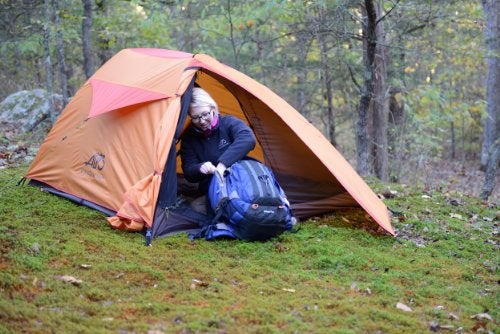 If you are going to use this as your 'go to' backpacking tent for the long term, it is best to purchase a tarp, or the manufacturer floor saver for an extra $20, to protect the floor, as this tent struggles to stay dry on uneven surfaces.
We all know finding an even surface can be quite the challenge out in nature. Large #8 zippers on the single-zipper system make it a breeze to open and close, and the mesh walls provide good ventilation, a must for any backpacking trip.
Besides the need for added floor protection, the Zephyr 2 is a great little backpacking tent. In fact, for a lightweight tent with a floor, this is a great, economical buy. Keep in mind that many backpacking tents forego floors to save on weight.
The floor setup on the Zephyr 2 only takes two or three minutes thanks to the two-pole design. One thing to be aware of is the possibility of the back plastic window leaking after a few trips, but Alps Mountaineering customer service will get out a replacement in the mail immediately if this happens to you.
Is It Worth It
On the upper end of lightweight 2-person backpacking tents, the Zephyr 2 is still a good buy. Its reliable weatherproofing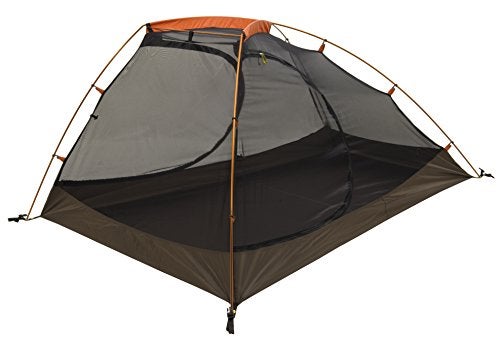 system and quality design, not to mention easy two-pole storage and setup, make it a solid investment for your adventures. To top it all off, the tent comes with a limited lifetime manufacturer's warranty.
The Bottom Line
Overall, the Zephyr 2 is a great combination of quality and convenience for an inexpensive backpacking tent. The weatherproofing is sound and the added floor is a bonus. Though the floor is not the best of quality, it is still an added special feature for this type of tent.
A small investment of a tarp will greatly increase the longevity of the flooring and appreciation of the tent floor, while adding a little extra comfort. The Zephyr 2 might be the best 2 person tent for the money.
How To Choose a Backpacking Tent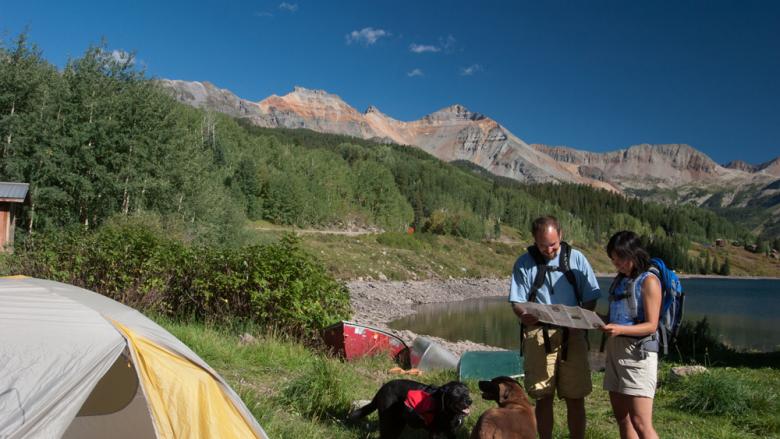 Backpacking requires some good forethought, planning and equipment. The tent you choose may save your life. Your tent will not only provide you shelter in the woods; it will also protect you from the elements. The backpacker that is going to call their tent home for a period of time must consider several things.
Perhaps the most important issue is the number of people that will be sleeping in the tent during your backpacking trip. Knowing the amount of people will be sleeping in the tent will help you choose the proper size. Another important consideration is the time of year and the weather. Always choose a tent that will withstand the absolute worst weather that you could possibly encounter.
Concerning size, there a few additional things to consider when evaluating what size is best for your preferences. Will you be sleeping in a sleeping bag or on a bulky air mattress? How much gear you will be holding inside your tent? Are you comfortable sleeping in close quarters or do typically like a little extra room?
For example, if a tent specifies that it sleeps two people, it typically means that has reasonable space to accommodate two people for sleep, not enough to turn it into a "mobile home," though some people are simply not comfortable staying in a close quarters.
Today's tents are manufactured at weights that are generally less than ten pounds. The different components of backpacking tents are made in a wide range of materials; choosing the right materials for you depends on the factors mentioned above. The backpacker should understand that backpacking tents, while may lack in size and comfort make up for it in weight, safety and transportability.
New to camping? I created a guide for beginners: Essential Camping Gear. Also remember what you carry the tent in, your backpack is a critical, here is my guide to the best backpacks and backpacking stoves.
And of course what you have on your feet, might be the most important gear of all. I review my favorite hiking shoes here.
Notice: Outside Pursuits is a participant in the Amazon Services LLC Associates Program, an affiliate advertising program to provide a means for sites to earn advertising fees sold through by advertising and linking to Amazon.com. Amazon offers a small commission on products sold through their affiliate links. Each of your purchases via our Amazon affiliate links supports our efforts to bring you the best possible product reviews at no additional cost to you. We appreciate your support here at OutsidePursuits.com
Review Overview
Summary : The best rated backpacking tent in our opinion is the Mountainsmith Morrison tent. It excels in all categories of durability, light weight, weather resistance and ease of setup.