Finding the best kayak paddle for your paddling style is almost as important as finding the right kayak. If you pick a paddle that is not the right length, uncomfortable to hold or too heavy, you will have a difficult time maneuvering your kayak.
There are several considerations when selecting your kayak paddle, so to help with your decision we created this guide on how to choose a kayak paddle and evaluated the most popular paddles and give you our top 5 picks.
Here is a feature overview of the kayak paddles with full reviews and our buying guide below.
The Best Kayak Paddles
Seattle Sports Sea-Whisper Carbon Paddle
Cannon Kayak Paddle with Black Fiberglass
SeaSense X-1 Kayak Paddle
Construction:
2-Piece, strong and light carbon fiber shaft with glass reinforced nylon blades.
2 piece, anodized aircraft grade aluminum shaft with fiberglass-reinforced black nylon blades.
2 piece, aluminum construction with lightweight, black molded plastic blades.
Features:
Quick-Adjust Cam-Lock with Indexed Shaft so you can make quick and precise adjustments.

Dorsal-Blade design allows paddle to shed water efficiently, retrieve overboard items, and grab fishing lines.
Three blade offset angle settings (60 Degree Right or Left Hand Control and Unfeathered), adjustable drip guards
Adjustable drip guards and foam rubber grips.
Length:
Lengths available:
90 Inches/ 230cm
95Inches / 240cm
Lengths available:
86 Inches/ 220cm
90 Inches/ 230cm
95Inches / 240cm
84-Inches / 213 Centimeters
Weight:
38 Oz
39 Oz
43 Oz
Kayak Paddle Reviews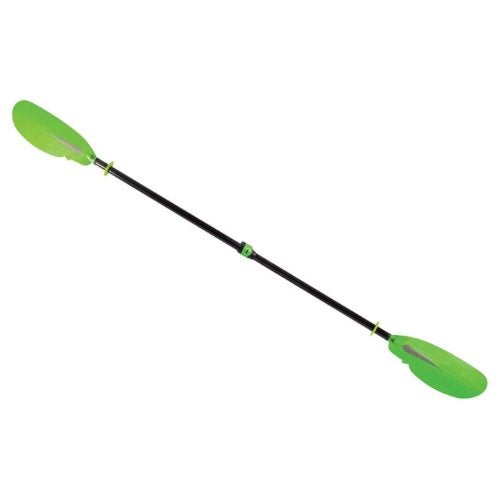 The Seattle Sports paddle is a higher-end paddle that features a carbon fiber shaft for the ultimate in strength and making it a very lightweight kayak paddle. It is incredibly durable that will stand up the harshest of abuse. The blades are of an advanced design that are made of impact resistant glass and nylon for durability and efficient paddling.
The paddles have unique design that allows you to retrieve items that fell overboard, grab your fishing line and position yourself while docking. If you are a fishermen, you will definitely appreciate this design. The cam-locking design for adjusting your blade angle allows for quick and precise adjustments.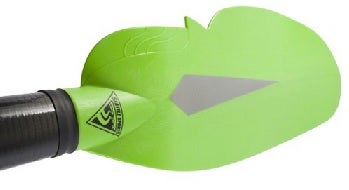 For those kayakers who are willing to spend a little more money, the Seattle Sports is an excellent carbon fiber kayak paddle.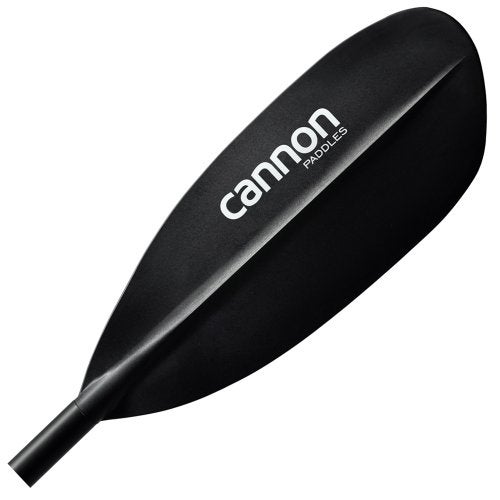 The Cannon paddle is probably the perfect entry level kayak paddle. It features an aircraft grade, anodized shaft that is extremely lightweight and durable. The shaft has 3 offset angles so you can adjust it to your desired paddle angle.
The grips are ergonomically designed for comfort, so all day paddling is not a problem. The shafts have heavy-duty drip rings to keep the water from running down the shaft to keep your hands dry. They are also made in the USA, so you know you are getting a quality paddle that will last you a long time.
It is by far the best kayak paddle for the money and is solid choice.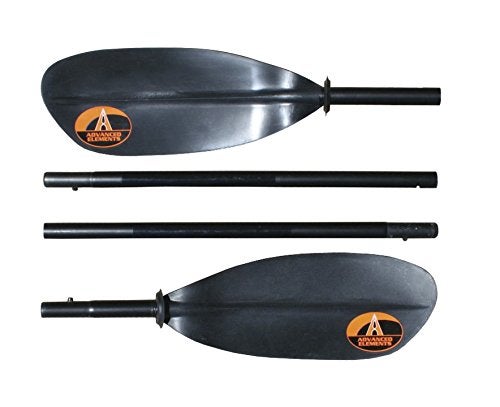 After using my Advanced Elements inflatable kayak for a while I wanted to upgrade to a better paddle and figured I would give their paddle a try. This is a very lightweight paddle (2.7 Pounds) with an aircraft grade aluminum shaft and blades made from nylon that are reinforced with glass fibers.
This is paddle comes apart into 4 sections and packs down to 25 inches, for the ultimate in portability. This makes a great complement to my inflatable kayak because it all fits easily in the trunk of my car. The blades as you can see are Asymmetrical for more thrust at low paddle angles.
The paddle is medium length of 91 inches or 231 cm, that's probably its only downside is that is available in only one size. This should not be a problem unless you have a very wide kayak. This is a good paddle at a good price, can't go wrong here.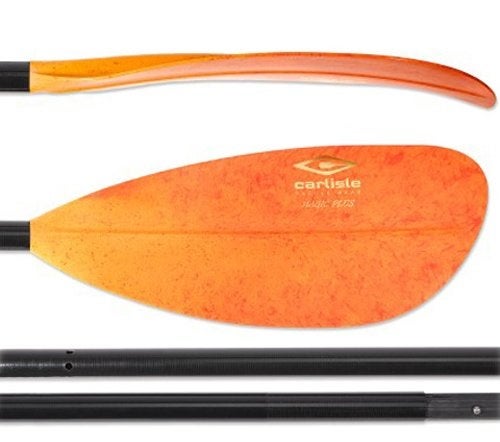 The Magic Plus paddle is a solid choice for touring paddle. It has a durable, lightweight fiberglass shaft and polypropylene blades reinforced with glass fibers. These blades are very tough and can take a beating from hitting rocks and other obstacles or pushing off when you get stuck.
The blades are offered in high visibility orange and blue giving you a little more visibility for safety if your around boats. It is offered in 3 lengths, 220, 230 and 240 cm and weighs in at only 2.5 pounds. Magic Plus comes apart into 2 pieces for portability.
Carlisle makes quality water recreation gear and the Magic Plus is a good choice for a kayak paddle and at a reasonable price.

The SeaSense is our most inexpensive paddle recommendation. Just because it is inexpensive doesn't mean its not a great paddle. It features a 2 piece, aluminum shaft that is both lightweight and strong with molded, lightweight plastic blades. The grips are made of a comfortable foam that makes it a good choice for an all day paddle.
The SeaSense paddle comes with rubber drip guards to keep your hands dry and the blades can be adjusted to 3 different positions so that it will fit your paddling style. With its bargain price and solid performance, the SeaSense is the best kayak paddle for beginners.
It is a good entry level paddle that makes a great spare.
How to Choose a Kayak Paddle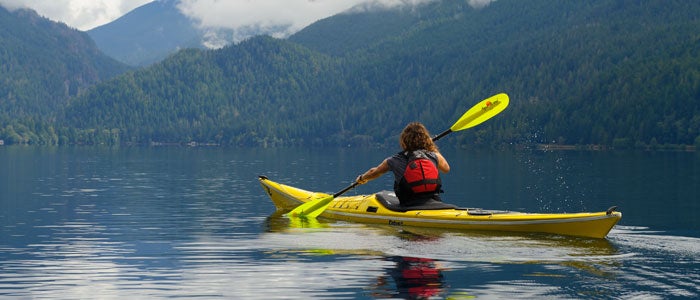 Paddle Length
Kayak paddles come in a variety lengths ranging from 210 centimeters to 260 centimeters. Finding the right length for you and your kayak depends on a multitude of factors including your height, paddling style, and the width and height of your kayak.
A general rule to consider is that the taller you are, the longer paddle a paddle you will need.
How Wide Is Your Your Kayak
Here is a quick reference with typical kayak widths:
Recreational Kayak: These kayaks are usually from 26″ to 30″ inches wide. They are normally short and wide.
Performance Kayak: Are typically from 19″ to 22″ inches wide. Performance kayaks are normally longer and narrower.
Whitewater Kayak: With a whitewater kayak the paddlers height is the most important factor.
Touring Kayak: A touring kayak have a width from 22″ to 25″ inches. Touring kayaks are similar to performance kayaks but with more storage capacity.

If you're a beginner recreational kayaker then the width of your kayak is the most important factor for selecting a paddle. If on the other hand you are into touring or sea kayaking, then your paddling style and physical fitness will be a more important factor in your decision.
A wider kayak will require a longer paddle. So measure your kayak's width at its widest point before buying a paddle.There is one other important factor we will cover next.
Your Torso Length And How Fit You Are
The length of your torso is another critical factor for choosing the correct paddle length. Here is a quick way to determine your torso length: Sit up straight on a chair, then measure how far it is from the chair, starting between your legs to the tip of your nose. Then use this chart as a reference: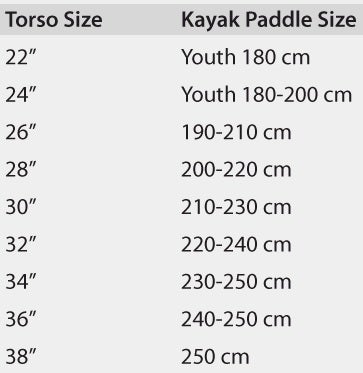 Your height, weight and fitness level is also an important consideration for choosing a paddle.
A more athletic kayaker will in general want a shorter paddle that has a wider blade for the extra power you get.
A heavier or taller kayaker will want a longer paddle that has a wide blade to provide a  slower efficient stroke.
A shorter or smaller kayaker or someone who is not concerned about speed should choose a smaller blade with less surface area.
In general if you want more power and speed get a paddle with a blade with a lot of surface area.
One last thing, if you have small hands, your better off with a paddle that has a thinner shaft.
Paddling Style
Paddle styles vary based on the type of kayaking. After determining what type of kayak adventure you are embarking on, you can easily determine which style is the best fit.
Low-angled paddles are excellent for leisure kayaking through calm waters. The horizontal thin blades are longer in length, offering more productivity and less fatigue for those intending to take long distance trips.
High-angled paddles are great for adventurous kayakers, taking on water that is more challenging and less predictable. The paddles are most useful in spots with quick flowing waters that require the kayaker to swiftly move through with moderate to strong force. Many people who choose to kayak for fitness prefer this type of paddle as well.
Blade Materials
There are three factors to consider in choosing paddle blade material including strength, weight, and affordability. Ideally you will find the right paddle for your needs, one that provides a perfect blend of these three features.

If you are looking for a colorful paddle blade falling within the medium price range, built for strength and semi-light weight, fiberglass paddles may be the best fit for you. This is typically the paddle of choice for recreational kayakers and tourist rentals.
This top of the line blade in extremely lightweight and built for power. Though it is the most costly of the blade materials, it is worth it for the serious kayaker or for someone taking a long trip.
Nylon, Plastic, or Aluminum
Though the paddles are considerably heavier than their counterparts, they are strong and inexpensive. Plus, they require little upkeep, thus are perfect for the recreational paddler or someone taking their first kayaking adventure.
Blade Shape
In the past, symmetrical blades were the popular choice among kayakers; however, asymmetrical dihedral-designed blades are becoming a preferred design. The shape requires the paddler to exert less energy in comparison with the previous design. They resemble the wing of an aircraft, allowing water to effortless flow along each side of the blade.
Shafts
Finding the right shaft mostly comes down to determining what feels right. Both shafts are equal in quality though one or the other may be preferable depending on the type of kayaker.
The straight shaft is perfect for the advanced or more adventurous kayaker. It allows for more flexibility in maneuvering the paddle in various situations.
The bent shaft is ideal for beginner or leisurely paddlers. The angle in the shaft takes unpleasant pressure off the kayakers' wrists. More advanced paddlers can reduce the inflammation by adjusting their strokes, through practice.
Don't forget the Spare!
A wise man once said, "Be careful not to find yourself up the Creek without a paddle". This timeless advice applies to kayakers of all levels. Paddles break, float away, or get lost in ferocious current, etc. Though no one thinks it will happen to them but, it is better to be safe than sorry! Carry a cheap paddle or even a portable fold up paddle, in case of emergency, so you will not be caught, "Up the creek without a paddle"!
Looking for a guide on how to buy a kayak? Here is our ultimate guide on finding the perfect kayak. I personally use a inflatable kayak, you can't beat them for portability, here is a buyers guide.
If your new to kayaking, I created a beginners guide to kayaking covering all aspects of the sport.
Notice: Outside Pursuits is a participant in the Amazon Services LLC Associates Program, an affiliate advertising program to provide a means for sites to earn advertising fees sold through by advertising and linking to Amazon.com. Amazon offers a small commission on products sold through their affiliate links. Each of your purchases via our Amazon affiliate links supports our efforts to bring you the best possible product reviews at no additional cost to you. We appreciate your support here at OutsidePursuits.com
Review Overview
Summary : The Cannon Kayak Paddle is our top pick for a kayak paddle. It offers and a unbeatable combination of weight, features, quality of construction and value.