Our Editors independently research, test, and rate what we feel are the best products. We use affiliate links and may receive a small commission on purchases.
Imagine yourself basking in the warmth of the Mediterranean sun after an incredible lunch of Maltese delicacies with unique flavors, which was preceded by a surreal tour of ineffably gorgeous underwater attractions with some of the island's best snorkeling guides.
This is just a snippet of what you can expect to enjoy on a Maltese holiday, where you will experience a delightful combination of sun, sea, sand, adventure, history and culture.
That said, choosing a place to stay while you're in Malta won't be an easy choice, because there are just so many options on offer, and each provides a unique perspective and experience of the island. Luckily, we've condensed your selection into the following guide, which is meant to help you find the perfect spot for you to perfectly enjoy all that Malta has to offer.
Mellieha Bay
Life in Mellieha is best described as active and exciting, and that's because it's filled with all sorts of cultural hotspots and elegant cafes that really give you a sense of what Malta is all about. However, that doesn't mean you can't have some downtime while you're in Mellieha, otherwise why are you on holiday in the first place?
Mellieha Bay-a small oasis of peace and calm just outside the city center- is one of the best places to retreat to when the barrage of tourists and locals in the city center gets too much.
And there's no better place to stay while you're in Mellieha than the incomparable Radisson Blu Resort &Spa. Overlooking the sea, this massive five-star establishment boasts four glorious swimming pools, both inside and out, as well as a magnificent limestone terrace that's flanked by towering palm trees.
Guests here get to enjoy the hotel's own private beach, an internationally renowned spa, water activities like jet skiing, snorkeling, diving and paragliding, as well as panoramic sea views from each room.
Another notable resort that's set on the banks of Mellieha is the Seabank Resort &Spa. Apart from having the most massive hotel swimming pool in Malta, this resort will bowl you over with its wide range of family-friendly activities, from Ping-Pong to bocci, summer entertainment shows, archery and even access to the hotel's exclusive bowling alley. If that doesn't sound like the place to be for a fun-filled holiday, we don't know what does.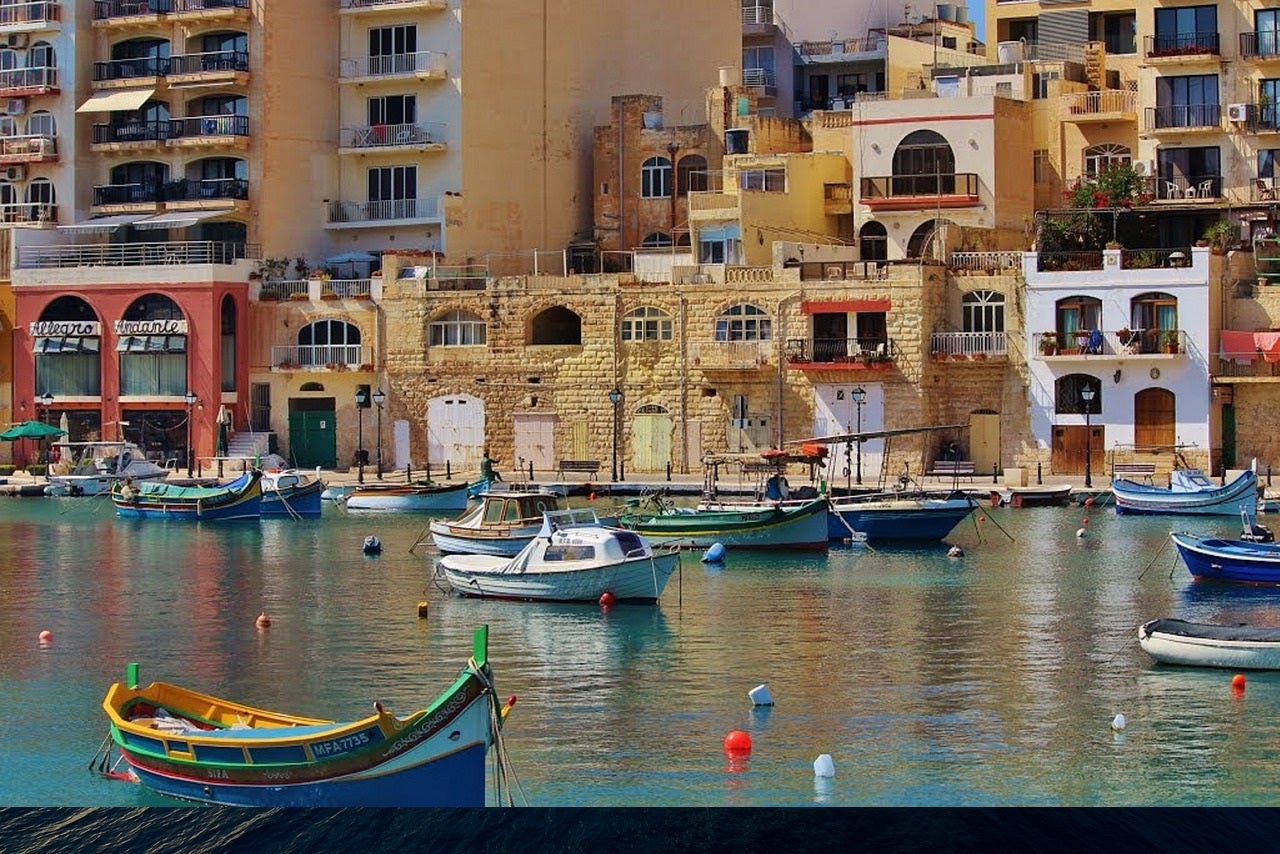 St. Julian's
Understandably, St. Julian's is one of the most well-known locations in Malta, thanks to its widely popular beach where the snorkeling, diving and swimming is simply spectacular. Then, there are the lively restaurants and bars that offer some of the best nightlife experiences in Malta.
However, if you want comfortable, welcoming and peaceful lodgings to retreat to after a long day and night of exploration, look no further than Corinthia Hotel St George's Bay. Old-fashioned glamour and all-out opulence is the order of the day here, with soaring columns, marble finishes everywhere you turn, and lavish amenities to take care of your every need. There are also seven swimming pools, a beautiful terrace lined with sunbeds and the picturesque gym is all the motivation you'll need to keep fit during your vacation.
Another accommodation option for you in St. Julian's is The Westin Dragonara Resort, which boasts a five-star rating, a family friendly environment and a generously sized gym. The two sea facing pools overlook the clear blue ocean water, where you can enjoy many of the resort's selection of adventure sports, including paragliding, diving snorkeling etc.
If you feel like you've overindulged a little and are in need of some R 'n' R, the in-hose beauty salon is on hand with relaxing and rejuvenating spa treatments, a whirlpool bath and indoor pool. Plus, all of the rooms within the resort are well-appointed, comfortable and feature panoramic sea views.
Sliema
Sliema is the largest resort in all of Malta, and has a little bit of everything for everyone. On the one hand you've got all the charming little churches dotted around, as well as historical sites that are some of the oldest in the world, alongside a selection of exclusive designer boutiques for you to do some shopping in between bites at the exclusive restaurants.
For a comfortable and relaxing stay in Sliema, we recommend the Fortina Spa Resort, which is ideally located on the beachfront, with a great palm-fringed courtyard garden to keep out the hustle and bustle. The strikingly beautiful garden is perfect for evening walks, as it features stunning swimming pools that light up at night.
During your stay at the Fortina Spa Resort, you'll have access to seven indoor and outdoor pools, restaurants, a waterfront terrace overlooking the sea, a large gym and spa with a wide selection of treatments from all over the world, as well as a private beach exclusively reserved for the resort's patrons.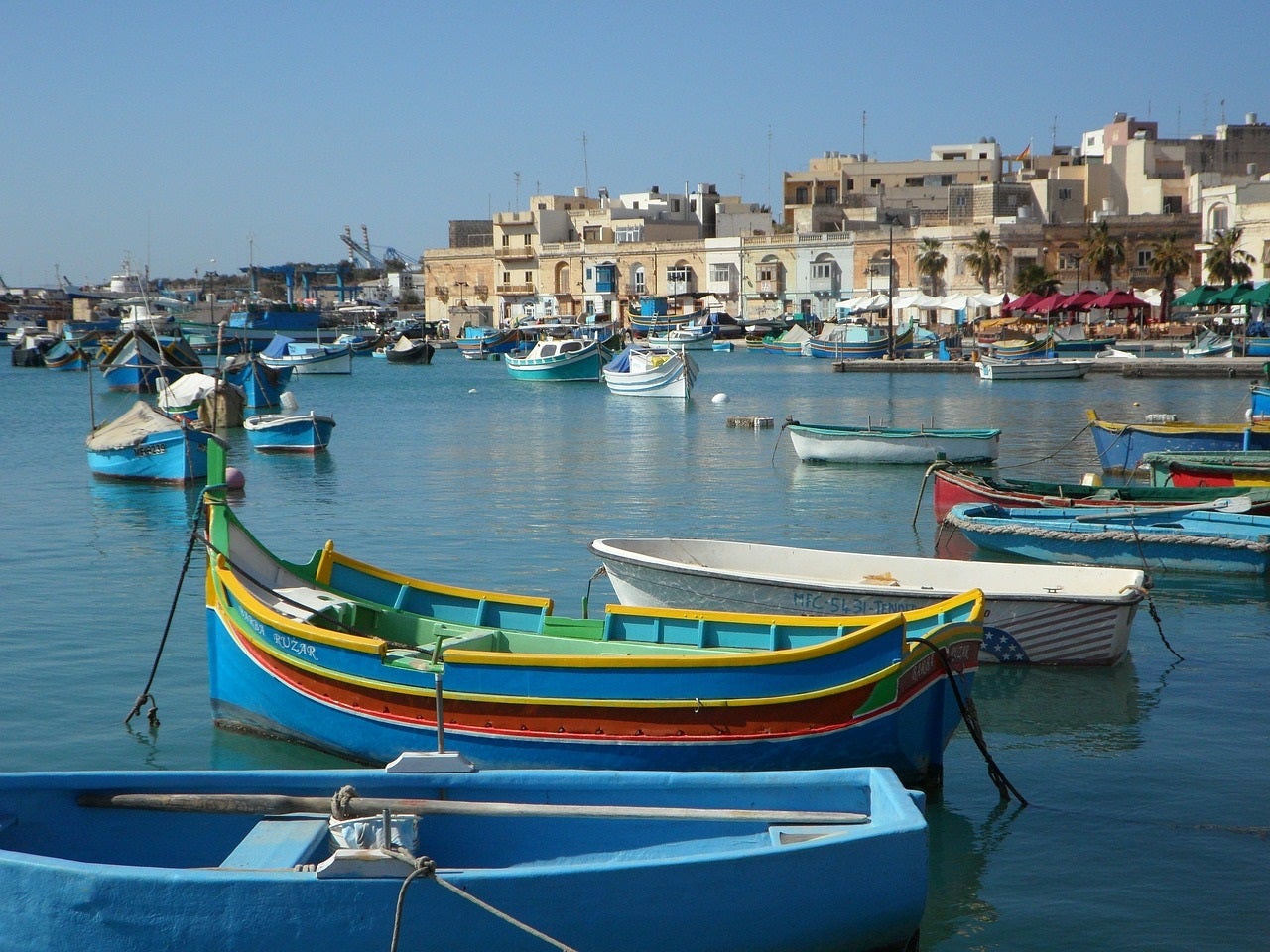 Valletta
As the capital city of Malta, Valletta was recently acknowledged as the European Capital of Culture for 2018, and is also a UNESCO World Heritage Site. Granted, it's a small city that you can probably explore within a day, but it's an ideal base from which to discover the rest of the island.
Our favorite place to stay when in Valletta is the Grand Hotel Excelsior, which is one of the best hotels in Malta. The Excelsior is full of amazingly thoughtful facilities that include a private marina for the hotel's guests, substantial indoor and outdoor swimming pools, a spa, gym and arguably the best hotel breakfast in the entire island! In fact, the breakfast buffet menu is so extensive that you'll probably end up skipping lunch thanks to all the overindulging at breakfast.
However, what we like the most about this hotel are the rooms. Each is a mini-palace will well-appointed and luxurious finishes and amenities that make your stay as comfortable as it is memorable.
Qawra
The family-friendly Qawra has plenty of attractions for every member of your family, from picture-perfect beaches with unbelievable sunrise and sunset views, as well as an assortment of restaurants, shops and interesting attractions to keep you intrigued and excited for the rest of your trip.
Plus, you can get two holiday destinations for the price of one when you take a boat ride from Qawra to Gozo, where you'll find fascinating and one-of-a-kind underwater attractions alongside historic buildings and charming cobbled streets.
Qawra is well-known for its luxurious villas, of which the most famous has to be the db San Antonio Hotel + Spa, which is set right on the glistening blue Mediterranean sea. The furnishings and décor are refreshingly modern, with clean lines, polished floors and pastel colors. On the other hand, the amenities are wide ranging to satisfy your every whim, including four outdoor pools, a well-equipped gym, steam room, sauna, treatment room, sunbeds and more.
Notice:
OutsidePursuits.com is a participant in the Amazon Services LLC Associates Program, an affiliate advertising program. OutsidePursuits.com earns fees from products sold through qualifying purchases by linking to Amazon.com. Amazon offers a commission on products sold through their affiliate links.