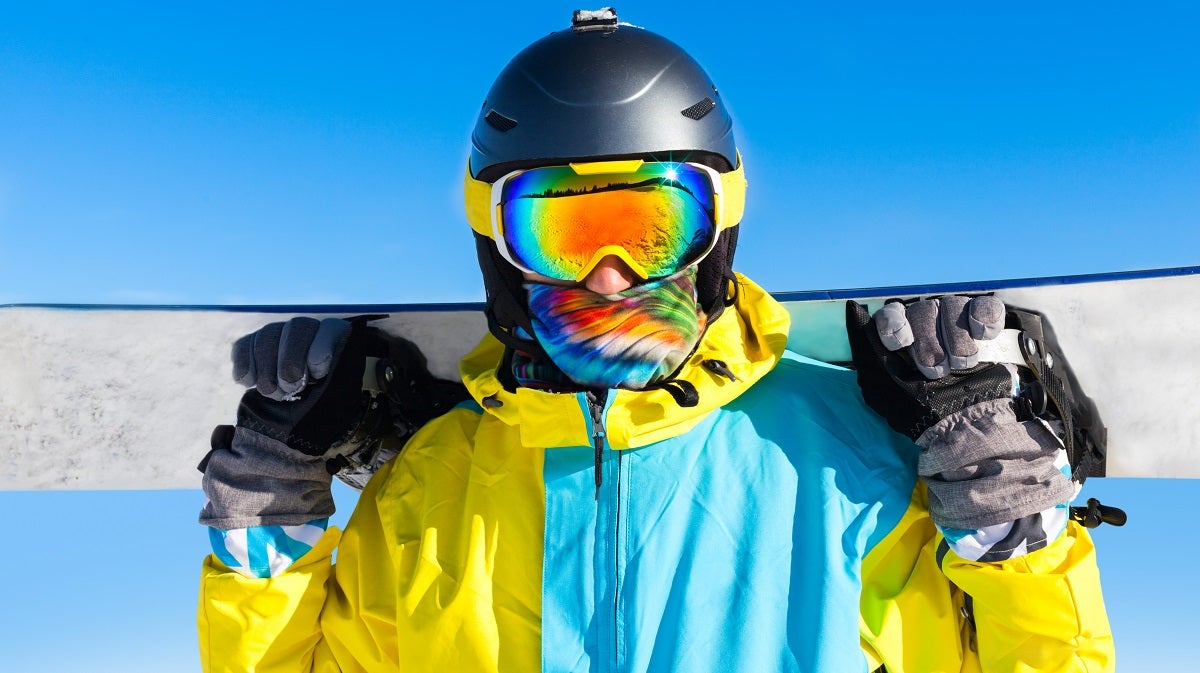 Our Editors independently research, test, and rate what we feel are the best products. We use affiliate links and may receive a small commission on purchases.
So, you've decided you would like to take up snowboarding. This is a wonderful idea, seeing as snowboarding is one of the most thrilling sports you can partake in. I remember when I first started snowboarding as a child, and how awesome it made me feel – sure, I spent half the day sitting on the side of a mountain but that didn't matter.
However, I'm grateful that my mom made sure I had the appropriate clothing on because I don't know if I'd have stuck with it otherwise. That's why we are here to tell you what to wear snowboarding – so you don't miss out on having a great time!
Snowboard Jacket
First off, you have to have a snowboarding jacket. Sure, you may see snowboarders in the magazines or at the terrain parks with just hoodies on, but believe me when I say that this is oftentimes just for photos or for a moment and they absolutely have a jacket back at the lodge or with their backpack.
Why is a hoodie unacceptable?
First off, I'm not saying that you can't wear a hoodie at all. They look cool and they feel nice and stretchy and allow for a full range of motion in the upper body. However, if you're going to wear one you need to have a snowboard jacket over the top.
The jackets are what is going to keep the moisture and wind out. If you're wearing a cotton hoodie that thing is going to soak up moisture like crazy. You're basically going to be a wet, cold cotton ball barreling down the mountain.
Not only that, but snowboarding jackets are specifically made for the purpose. They'll come with a convenient place to securely keep your lift pass, your cash, IDs, gloves, and more. Not to mention, if you're a woman and find men's jackets to be too bulky, you can even get a women's jacket specially made for your body type.
Snowboard Pants
This is kind of the same logic behind snowboard jackets. You shouldn't even think of snowboarding in anything other than pants made specifically for the snow. Jeans, sweats, joggers, gym pants – those are all unacceptable and will not protect you against the cold and moisture associated with this type of weather. As the muscles in our legs are the biggest muscle group in our body, they lose heat incredibly fast if you don't protect them properly.
These thick snowboard pants will keep you safeguarded against any twigs, ice, and obviously the wind and snow. They even offer a bit of padding for the countless times you're going to fall! However, they're still loose enough that you'll be able to move freely and will likely be able to use them for many years or seasons to come if taken care of well.
Snowboard Gloves
You may think that in snowboarding you won't be using your hands much. No matter which level of snowboarder you are, this is not very accurate at all. Whether you're transporting your board or trying to push yourself back up on your feet after a fall, your hands are going to be in the snow and cold a lot.
Gloves are not an option, and snowboard gloves offer enough protection from the elements and insulation to keep your heat with your wrists, hands, and fingers to avoid discomfort or injury. They have a grippy side on the palms fingers so you can have a solid grip on your board, bindings, rails, and ski lift while riding.
Balaclava
Moving on to the head, face, and neck, we have a balaclava. These are to be worn over the head and face, extending to cover the neck which is quite vulnerable to the cold. Most are made of materials like your base-layer (Merino Wool, fleece, etc.).
Helmets
Helmets, in my opinion, are essential. Our heads weigh quite a bit compared to the rest of our body, and are very vulnerable to injury due to this and other factors. In some cases, even a relatively unthreatening fall or slip can result in a concussion or worse. An easy way to avoid this from happening is by getting yourself a helmet. Snowboarding helmets will also keep your head and ears warm, so it's a double whammy for you.
Goggles
While all of the aforementioned snowboarding gear is crucial to have and wear on each trip, none of it is going to matter much if you can't see. These, in my opinion, are just as important as wearing a helmet as far as safety and comfort goes. It's not really a smart idea to go up on a mountain – let alone speed down one on a board – without being able to see well.
Snowboarding goggles are an excellent piece of gear. They not only are very comfortable with a foam edge, but the create a seal that will completely keep the snow and cold air out. On top of that, they will keep your goggles from fogging up or creating a glare and obstructing your vision. Not to mention they just look cool and come in an array of different colors and lenses.
Summary
Now that you know exactly what you should wear snowboarding, are you more excited to get started? New snowboarding clothing and gear is always motivating to do better and to stay up on the mountain longer, as you'll just feel more comfortable and protected. We hope that our guide has helped you to figure out exactly what you'll be wearing.
Notice:
OutsidePursuits.com is a participant in the Amazon Services LLC Associates Program, an affiliate advertising program. OutsidePursuits.com earns fees from products sold through qualifying purchases by linking to Amazon.com. Amazon offers a commission on products sold through their affiliate links.