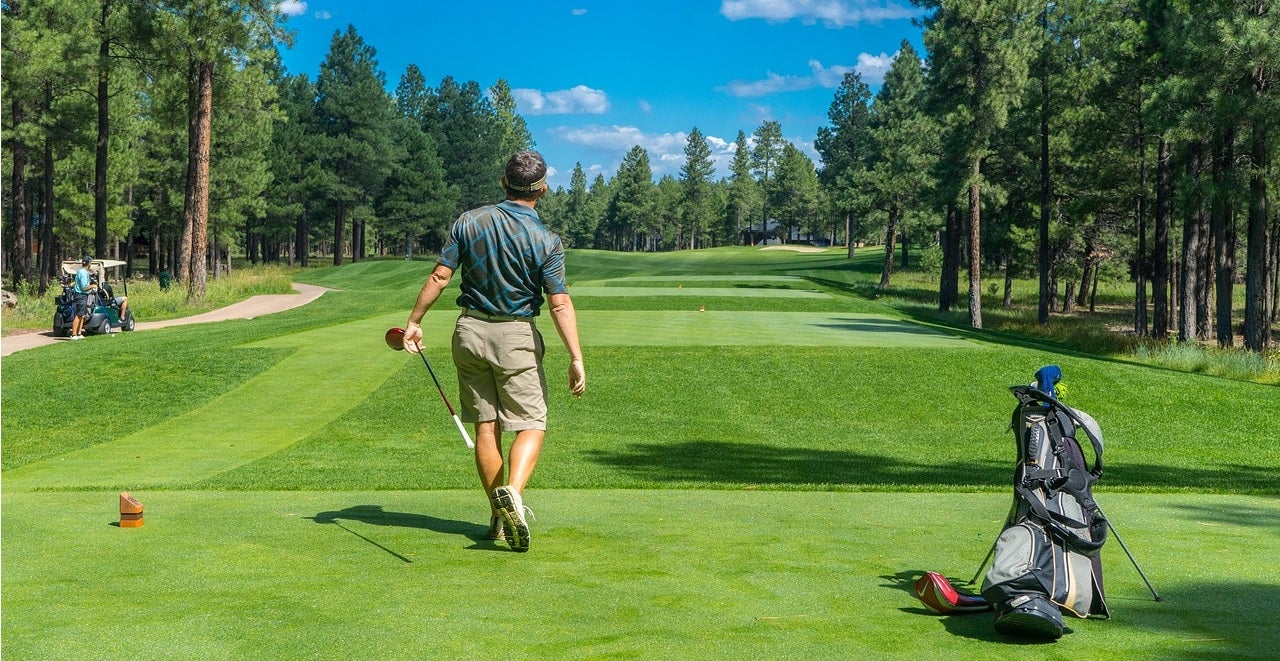 Our Editors independently research, test, and rate what we feel are the best products. We use affiliate links and may receive a small commission on purchases.
Golf is famously the sport of retired Presidents and Fortune 500 CEOs, so it can be an expensive hobby. However, it doesn't need to be. Armed with a little knowledge and common sense, you can equip yourself with great clubs and all the accessories you require without breaking the bank.
If you're thinking of buying golf equipment, you've probably already tried your hand at golf, mini-golf, crazy golf, or disc golf. Now you're getting serious and want your own equipment, but you're not sure where to begin.
Let me take you through the basic ins and outs of clubs, clothes, bags, and other equipment. After reading this brief guide, you'll be confident you're buying the right equipment to play with your friends, family, and boss at your local golf course.
Clubs
The good news is you don't have to buy the most expensive set of clubs to enjoy a round of golf. As a beginner, you shouldn't buy the most expensive clubs on the market. You don't even have to buy new ones. And there are sets designed especially for novice golfers.
Players are allowed up to 14 clubs in their golf bag, but that doesn't mean you have to carry 14. To start playing, you only need a driver, a fairway wood, a sand wedge, a pitching wedge, and a putter. If you wish, you can supplement these with an 8-iron and a 6-iron. You don't need anything more.
Yes, I know. You're bewildered by those unfamiliar names. Relax. It's not as complicated as it sounds. You'll quickly get the hang of calling out the various clubs by name after just a few rounds.
Keep in mind that a beginner set of golf clubs is a good idea for starting out. You can spend literally thousands of dollars on a set of clubs just to find out the sport isn't for you. So here's the type of clubs explained:
What are they for?
A driver is a club you tee off with, i.e., the club you use for your first shot.
A putter has a flat-faced head and is used on the green for the final shots to trickle the ball into the hole.
A fairway wood is for use between the driver and the putter.
A sand wedge is used to dig your ball out of the sand bunker.
A pitching wedge is used on the fairway when you're really close to the green. It's angled to produce great loft with the aim of dropping the ball close to the hole.
Woods were originally made using wood but now are manufactured from various metal alloys. You use woods for long-distance shots. The driver and the fairway wood are both kinds of woods. Woods are numbered 1 to 9, the lower the number the lower the loft angle and range. Woods have long shafts and large heads.
Irons were originally made from iron but are now steel or graphite. These are the clubs for the later part of each hole, getting the ball from fairway to green. Like woods, they are numbered 1 to 9. As the number increases, the shaft grows shorter, the club heavier, and the loft angle higher.
Shafts
Clubs come with a regular-flex shaft or a stiff-flex shaft. If you have a fast and aggressive swing, you'll find it easier to control a stiff shaft.
The best way to find out which style of shaft is best for you is to take test swings with both a stiff-flex shaft club and a regular-flex. One or the other will feel easier for you to control, and that's the kind of shaft you'll want on all your clubs.
Beginners' Clubs
With normal golf clubs, only a small area on the head contacts the ball. Beginners' clubs provide a more generous contact area, known as the sole, and have shorter shafts. The effect of these two changes means your swing doesn't have to be perfect to achieve a great shot.
For your first set of golf clubs, choose clubs with more "loft". This is the angle of the club, and more loft means more height on the ball when you hit. You'll want drivers with at least 10 degrees of loft and fairway woods with 17 degrees or more.
Choose golf clubs that suit you. To start with, you'd benefit most from a set of clubs manufactured especially for beginners. Or, if you're a mature player, consider a set especially designed for seniors.
Golf Clothes
Dress codes vary from club to club. While some golf clubs might be happy to see you wearing a T-shirt and jeans on the fairway, others won't allow you onto the course until you follow a specific dress code.
Tops
Typically, men are required to wear a collared polo shirt. Often, ladies are merely required to wear smart clothes, but they may also need to have collars. Shirts made especially for golfers are either cotton or synthetic fabrics designed to wick moisture.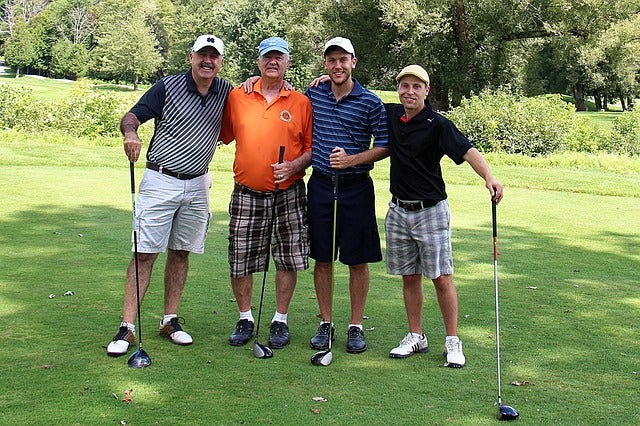 Bottoms
Khaki pants are the most common legwear, though many golf courses allow shorts. While some golf courses will allow jeans, you'll probably find them uncomfortable for golf when compared with khaki pants.
Extreme weather
A dedicated golfer will play in all kinds of weather. If it gets too sunny, and the glare is disturbing your concentration, you'll benefit from a pair of golf sunglasses and a baseball cap. Sunscreen is also important on sunny days as you'll be exposed for long periods on the fairway.
In case it rains, it's a good idea to take along some waterproof golf clothes, an umbrella, and a cloth to wipe your clubs.
Gloves
A glove on your left hand (or your right hand if you're left-handed) benefits your grip. Traditionally, a leather glove is worn. However, an all-weather glove is better for a beginner as it copes with all conditions. Ensure your fingers bend comfortably in the glove.
Footwear
Good quality golf shoes have waterproof leather uppers but are breathable so your feet don't sweat. Golf shoes usually have replaceable spikes or molded grips to provide extra traction while you swing your club.
The key question when buying golf shoes is—are they comfortable? If your feet feel fine after walking around the course for 3-5 hours, you've found perfect shoes. However, when you first start out playing golf, you don't really need the extra features of golf shoes. You'd benefit most from a high-quality pair of men's walking shoes.
Bags
Okay, you're probably thinking of buying a fancy-looking golf bag so you look good out on the fairway. But if your bag is uncomfortable to carry, it will affect your game. Choose one with padded straps that you find comfortable to carry.
An ideal golf bag features a dual strap on both shoulders and 5 or 6 pockets. You'll need pockets for your balls, any valuables, your water bottle, and your sweater.
A golf push cart is a great investment. Wheeling around your golf bag won't give you a stiff shoulder or tire you out. However, before you buy one, make sure they're allowed on the course where you plan to play.
Once you're feeling more confident in your game, you can travel to other towns to play in competitions. Maybe you can play while on holiday abroad. But if you plan to transport your golf bag over any great distance, and especially if you're going to fly, you'll need a golf travel case to protect your bag and your clubs while traveling.
Miscellaneous items
Clubs, clothes, and bags aren't the only important pieces of equipment. Here are a few other items to think about.
Balls
The difference between popular varieties of golf balls isn't only the brand name. When beginning in the sport, it's best to use a 2-part ball with a Surlyn cover and solid rubber center. These balls are less controllable than the 3-part balls used by professionals, but they fly farther and are more durable.
As a beginner, you'll lose a few balls, so don't spend too much. Aim to spend less than $20 for a dozen. But as you grow in confidence and lose fewer balls, spend a little more to buy better-performing balls.
If you find you lose too many balls, consider buying them second hand from the kids who hang around the golf course retrieving lost balls.
Rangefinders
If you get really serious about your game, you'll benefit from a good quality rangefinder. These laser gadgets are excellent for learning the exact distance to your target so you can select the best club.

Golf simulators
Sometimes the weather is too bad to play golf, even with your new golf rain jacket and umbrella. That's when you'll find a golf simulator useful. You'll also love your golf simulator when you're too busy to get to the golf course and want to practice at home.
Golf simulators are divided into three common types: nets, swing trainers, and immersive simulators.
Nets simply catch your ball, so you can take as many practice swings as you like. Swing trainers are great when you want to focus on the accuracy of your swing. Immersive simulators can give you the full, golf-course experience, but they're expensive.
Fun alternatives
Sometimes you don't have time to go to the golf course, but you want to play a quick round with your friends or kids. And sometimes you just want a change from the usual game. That's when you can play a round of disc golf.
Disc golf is a popular sport that uses throwing disks instead of balls and target baskets instead of holes. There are even accessories you can buy to help you with this fun activity, like disc golf bags.
Practice makes perfect
Once you've got all the right equipment, the rest is up to you. If you want to improve your game, you must put in the hours and take your practice sessions seriously.
But, whatever you do, have fun on the fairway. There's a good reason why 1 in 3 Americans love golf, and you're about to discover this for yourself!
Notice:
OutsidePursuits.com is a participant in the Amazon Services LLC Associates Program, an affiliate advertising program. OutsidePursuits.com earns fees from products sold through qualifying purchases by linking to Amazon.com. Amazon offers a commission on products sold through their affiliate links.