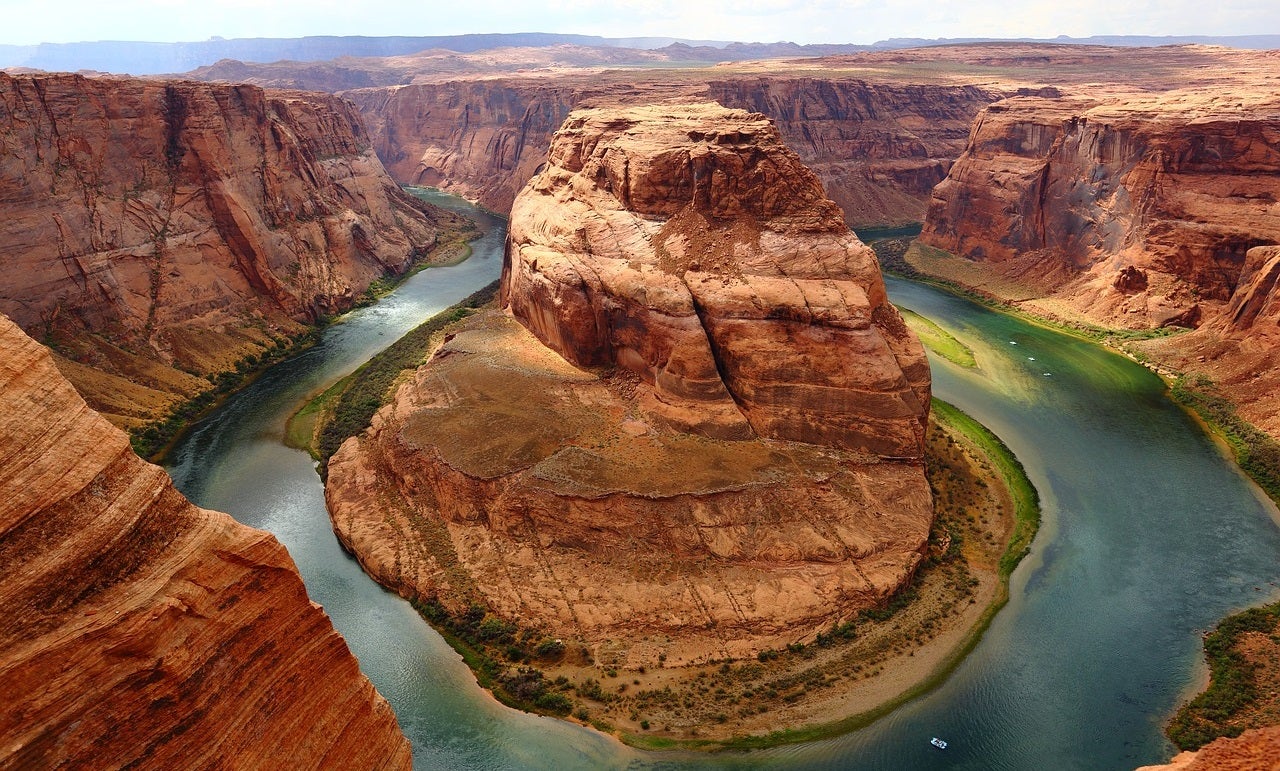 Our Editors independently research, test, and rate what we feel are the best products. We use affiliate links and may receive a small commission on purchases.
The Grand Canyon is certainly the most majestic place in the entire continental United Space. Visitors flock to this natural wonder at all times of the year, and the balmy Southwest weather makes it an ideal place to visit!
If you and your family are looking into Grand Canyon tours, you are sure to have a great time! We've compiled a list of the best tips and places to see in the Grand Canyon, as well as a few don'ts!
Do's and Dont's for Visiting the Grand Canyon
Don't forget to watch your children at the Grand Canyon. The rim is closer than you think. Always practice caution.
Do plan ahead and make reservations early if you're wanting to stay there. There are all types of lodging available within the park.
Don't wear the wrong shoes. Remember, you'll be doing a lot walking!
Do bring your own food and drinks. There are plenty of restaurants and cafes to eat within the area but if you want to get the most out of your experience, try having a picnic along the rim while taking in the views. You're not there every day so get the most out of it.
Do plan on seasonal changes and busy times. The Grand Canyon can get steamy, especially during the summer months.
Don't forget to reserve your accommodations well in advance.
Always keep in mind that The Grand Canyon is a big tourist destination. Depending on the times you go, there will be lines. Please be patient.
Don't put all your attention on your camera. Put it down, take in the sights and enjoy the moment. You don't need 200 photos of the Grand Canyon.

Things to Do at The Grand Canyon
Check Out The Skywalk
This next one is a little controversial, with some people who saying that the skywalk ruins the natural beauty of the Grand Canyon. Others love the feeling of being suspended above this amazing natural wonder! We will let you be the judge of whether the skywalk is a win or a loss. Either way, you should definitely look into getting Grand Canyon Skywalk tickets.
Marvel At Havasu Falls
If you are a nature lover, you should not miss Havasu Falls. Noted for its astounding natural beauty, this oasis in the middle of the Grand Canyon is full of clear blue water and amazing falls that will make your jaw drop with amazement.
You have to hike ten miles to get to the falls, but it is totally worth every step. Once you arrive there you can relax in the beauty of nature. Why not bring a picnic lunch and make the most out of your day? The sky's the limit.
Go Hiking
Lace up your boots and hit the trails with a hike down into the Grand Canyon. Be warned; you need a certain level of physical fitness to be able to make the journey, but it really is a once-in-a-lifetime experience.
There are two major trails; Bright Angel Trail and South Kaibab Trail. South Kaibab Trail is 7.3 miles long and Bright Angel Trail is 10.3 miles long. It bears repeating that you need to make sure that you have enough water for your journey.
You do not want to mess around with sun poisoning or roll the dice with your health. Make sure you wear plenty of sunblock, a hat and good hiking shoes. Remember, going up is a little tougher than going down. It pays to be prepared.
Camp Out
The Grand Canyon is the best place for people who love the great outdoors, so you know that the camping is going to be excellent! There are plenty of places to stay and each is suited for every taste and style.
Whatever your budget is, the Grand Canyon can accommodate you although certain months might be more expensive than others. Know what you and your family are looking for and make sure you get an option that makes everyone happy. No matter where you stay, remember to book ahead because spots fill up fast!
Bike the Trail
There is nothing that screams family fun quite like hitting the trails. Bicycling is a great way to get a lot of exercise in and also see large portions of the Grand Canyon. Cruise along the Rim Trail or Greenway.
The only thing that you really need to keep in mind is that the Grand Canyon is higher in elevation. If you suffer from any heart conditions or fatigue, you should take it easy.
Check Out A Talk By An Expert
Who knows more about the Grand Canyon than the National Park Service Rangers? Why not learn about this incredible natural feature from the true experts, with a hike or talk by one of the rangers. You can check out the whole schedule here.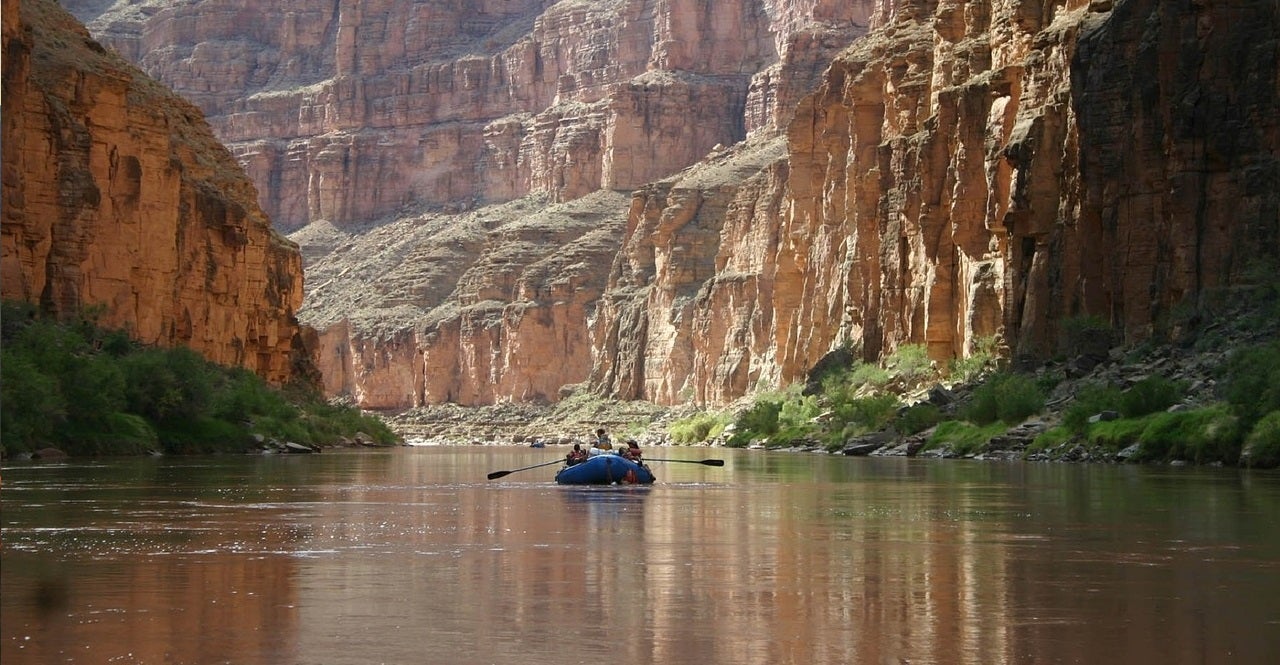 Enjoy The Water
Feeling adventurous? Get into the water! White water rafting is huge in the Grand Canyon. It is exciting enough for everyone but safe for kids also. Make sure you wear a life jacket. The rapids are nothing to play around with. For heart pounding fun in the great outdoors, go white water rafting.
Take A Scenic Train Trip
The Grand Canyon has a nostalgic popular train that weaves its way through the national park. Ride in style aboard the train and enjoy a fresh new view of the Grand Canyon. There are even musicians on board that entertain and delight you as you cruise along. Fantastic! Get your tickets in advance because they go quickly. For a tranquil and amazing experience like no other, get aboard the train.
Go on a Mule Ride
If bikes, trains or hiking aren't your thing there is always another option that has been delighting families for decades. You can ride a mule down into the canyon. These rides are extremely popular and people who want to go on them usually have to book well over a year in advance, but if you can get aboard one it is totally worth it.
There are some restrictions. Guests must be 4 feet 9 inches tall and weigh less than 225 pounds. This keeps the animals comfortable as you are enjoying your descent into one of the greatest natural wonders in the world.
Don't Miss The History
As you might imagine, the Grand Canyon is steeped in tons of history. Make sure you don't miss out on a single piece of it by checking out the Historic Village on the South Rim.
Also, make sure you see Verkamp's Visitor Center and the 1905 Hopi House where you can see some exquisite Native American jewelry and art, as well as learn about the history in the region. Plus, the area is full of restaurants and shops, so you can grab a bite to eat as you learn about history.
Final Thoughts
Visiting the Grand Canyon is on everyone's bucket list. You can join the millions of people who flock to this incredible natural wonder every single year. By following some of the tips and tricks that we have outlined here, you will be sure to have a fantastic time.
Above all, it always pays to be prepared. It is better to overpack water, snacks and sunscreen than to not have enough. You should also prepare to encounter booked hotels and excursions during the busier season. Make sure that you book ahead and exercise patience while trying to find a place. You will find one that is right for you.
Patience is also important when it comes to interacting with other visitors at the park. Expect long lines and try to understand that everyone is here for the same experience. Do not hog the viewing points by taking multiple selfies.
Overall, be respectful and have fun!
Notice:
OutsidePursuits.com is a participant in the Amazon Services LLC Associates Program, an affiliate advertising program. OutsidePursuits.com earns fees from products sold through qualifying purchases by linking to Amazon.com. Amazon offers a commission on products sold through their affiliate links.