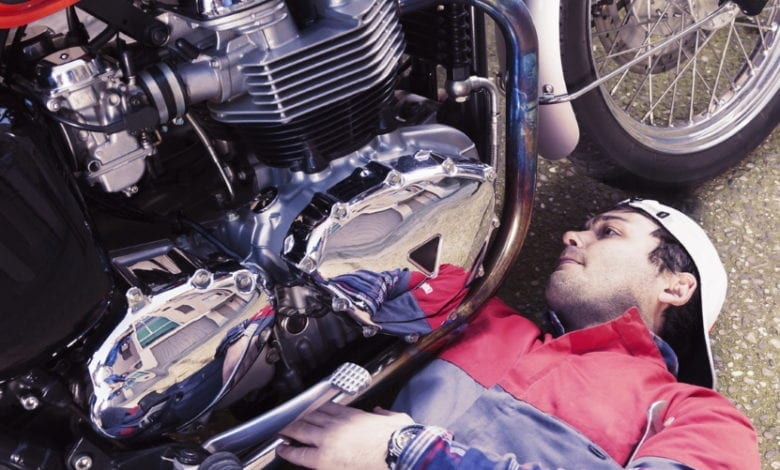 Our Editors independently research, test, and rate what we feel are the best products. We use affiliate links and may receive a small commission on purchases.
If your used motorcycle is beginning to look shabby, there are ways you can upgrade your ride without breaking the bank. Here are 5 easy upgrades for your used bike.
#1. Seat
A new seat can transform the look of your motorcycle, especially if you go for a different style of seat or add a backrest. Swapping out the seat can also provide you with a smoother and more comfortable ride.
When thinking about changing your bike's seat, you must first establish your goal. Do you want to replace a shabby saddle with a neat new seat?
Are you looking to transform your ride into something special? Or do you simply want a more comfortable riding experience?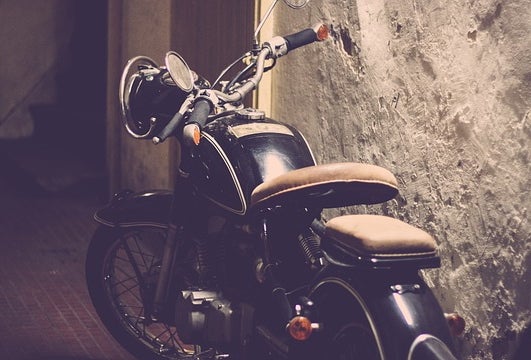 If your stock seat works fine but looks shabby, why replace it? You can simply swap out the seat cover to make it look like you've got a new seat.
Alternatively, if your seat is uncomfortable, but you don't want to lay out the cash for a new seat, think about buying a seat pad to lay over your stock seat.
Aftermarket bike seats come in a wide range of shapes and styles, so there's something to suit everyone. If you would benefit from the support of a wider seat than your stock seat, you can choose a replacement motorcycle seat that provides that.
Motorcycle owners who often carry a passenger can opt for a longer seat. If you find it difficult to place your feet on the ground, swap your stock seat for a deeper one.
To make a style statement, you can purchase an aftermarket seat with a custom stitched leather cover. But if you want practicality and comfort, a vinyl seat looks like leather but offers added durability and weather resistance.
#2. Battery
If your motorcycle isn't starting straight away, or your battery resembles a cube of rust, maybe it's time to swap out your old battery for a new one. It beats carrying jumper cables around. Motorcycle batteries are easy to replace, and a new one might be lighter, saving on gas.
The most important consideration when you replace your motorcycle battery is its dimensions. If your new battery doesn't fit into the same space as your old battery, it's useless.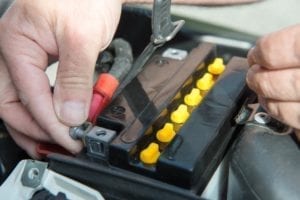 Fortunately, you can find exact match replacement batteries for all the most popular motorcycle models, such as batteries for your Harley Davidson.
Your new battery doesn't need to be an exact fit. You can also install a smaller battery as long as it supplies the same or better cold-cranking amps and amp-hours.
When you want to start your bike in cold weather, you'll find it easier if your battery offers more cold cranking amps.
If you have fitted aftermarket accessories to your motorcycle that draw power from your battery, you'll benefit from a replacement motorcycle battery that supplies more amp hours than the stock battery.
There are several common battery types, the most popular being lead-acid batteries, sealed batteries, AGM batteries, and Gel batteries.
Lead-acid batteries require regular maintenance, so they're not a good option. Gel and AGM batteries are maintenance-free, and AGM batteries perform the best.
You may also see superior lithium-ion batteries, but they are rare. They're much lighter than other batteries and perform better but will be expensive.
#3. Tires
You shouldn't need to be told how important your motorcycle tires are for your safety and your bike's performance. They are the most commonly upgraded part of any motorcycle.
Tires with better grip not only enable higher speeds but also provide better gas mileage. Good traction also leads to safer steering and more efficient braking.
When selecting replacement motorcycle tires, look out for wide tires (between 25" and 28") with relatively deep treads. Also, ensure that replacement tires are compatible with your bike's frame clearance and load ratings.
However, the most important consideration is what kind of motorcycle riding you do. If you are mainly riding on urban roads to get from A to B, you'll need an all-round tire that's suitable for riding across road surfaces both in the rain and in the sun.
For track racing, you'll need sports tires that get sticky as they grow hot at high speeds. Expensive sports tires are pointless for urban riding because they won't reach the temperatures required to work as they are designed to do.
#4. Phone mounts
Smartphones are an important part of modern life, so you want to keep them both safe and easily accessible. A good-quality motorcycle phone mount keeps your phone where you can see it and won't allow it to tumble onto the road when you take a corner at 60.
There are multiple ways to mount a phone on your bike, and the best method depends upon your motorcycle's design.
Handlebar mounts are good for some bikes while others need a triple tree mount. Some of the more popular bikes have phone mounts specially designed for them that will only take seconds for you to install.
If the main reason you're mounting your smartphone is to use its in-built GPS system, consider replacing it with a dedicated motorcycle navigation system, sometimes called a motorcycle sat nav.
Smartphone navigation systems don't always give the best directional advice for motorcycle riders.
Modern motorcycle GPS units can pair with Bluetooth motorcycle helmets, so you can hear the directions over the wind. They also feature lane notifications and enable you to avoid roads unsuitable for bikes.
#5. Chain lube
The one moving part of your motorcycle most exposed to the elements as well as bearing a great deal of stress is your chain drive. If you want to keep your bike moving in all weather conditions, it is crucial to ensure you have a well-lubricated chain.
If you don't keep your chain well oiled, you're in danger of it seizing. This could cause serious injury to whoever is riding it at the time. That's why you must keep it clean and lubricated with a specialist motorcycle chain lubricant. You can't simply use your motorcycle engine oil in its place.
Chain lubes are specially formulated to keep your bike chain running smoothly and to maximize its lifespan. Alternatives, such as WD40 or alcohol, will actually dry out your chain and may cause damage.
You may not have realized, but there are 3 common types of chain: X, Z, and O-ring. While some motorcycle chain lubricants are formulated to work on any type of chain, some won't. It's important to ensure that you choose a chain lube compatible with your chain.
Chain lube comes in aerosol spray and wax varieties. The aerosols are messier and more expensive but work quickly.
Wax lube tends to be less efficient at reaching the deeper parts of your chain, but they are inexpensive, and you can ensure they only touch the places you want them to touch.
Notice:
OutsidePursuits.com is a participant in the Amazon Services LLC Associates Program, an affiliate advertising program. OutsidePursuits.com earns fees from products sold through qualifying purchases by linking to Amazon.com. Amazon offers a commission on products sold through their affiliate links.