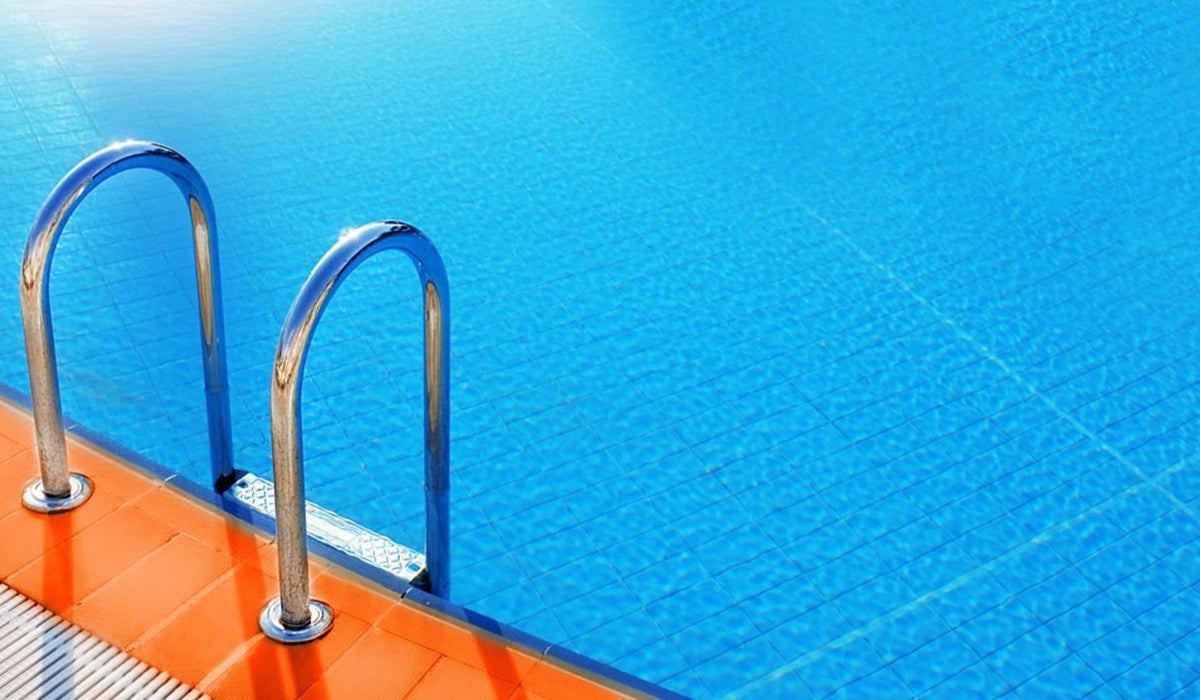 Our Editors independently research, test, and rate what we feel are the best products. We use affiliate links and may receive a small commission on purchases.
The idea of a pool sounds great, doesn't it? It's like having the perfect swimming hole right at your house any time you want it. The problem is, pools are a lot of work. You have to keep debris from filling the water and along with it, you need to keep all the nastiness that can grow in the water at bey. The idea of a pool shock is just as it would seem – you're adding chemicals in the correct amounts to shock the water into being clean and free of all sorts of creepy-crawly stuff from growing in the water and ruining your fun and summer investment. We did the research for you to find the best pool shocks for your summer pool-time fun.
Clorox XtraBlue Pool Shock – Editor's Pick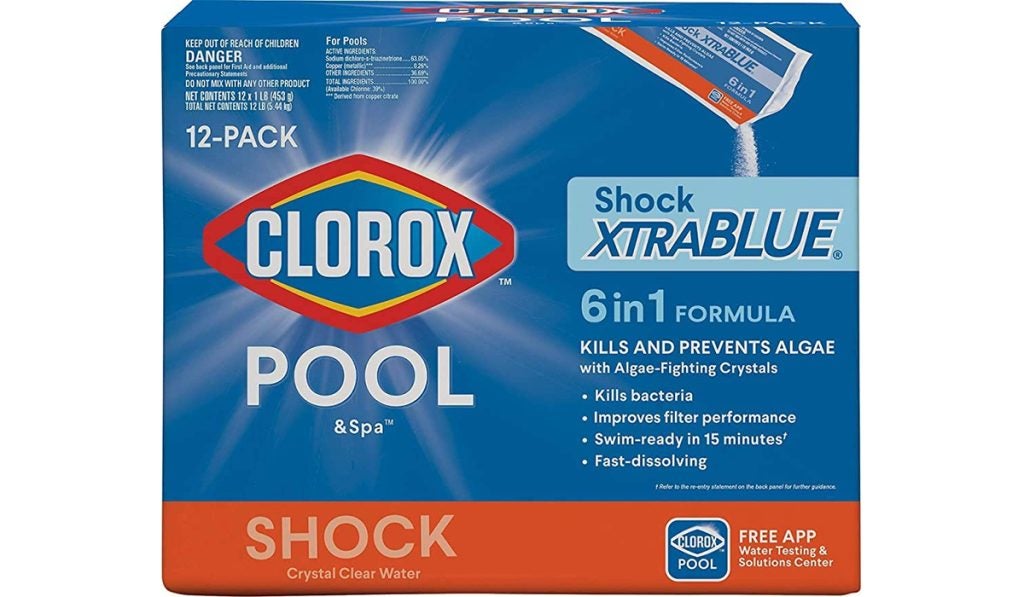 Clorox's XtraBlue Pool Shock tops our list for a couple of reasons. One, it has the highest customer ratings from consumers who use this product day in and day out. It's also a great value with 12, one-pound bags of treatment that clears the cloudiness from the water, kills algae and improves water quality, making the filter's job easier.
You want to know what I really like about this product? I like it because it is easy to use when you test your water and if there is an issue, I can use the Clorox product and my kids can be swimming in 15 minutes. So aside from the fact that it works really well, it also helps me avoid any issues with the kids when they want to swim. Ever dealt with a group of T'ween girls who want to swim on a hot summer day and the pool looks "gross?" Yeah, I'd be happy to pay more for this product. Thankfully, I don't have to.
Pro – Works in 15 minutes, keeps the water clear
Con – I'll let you know when I find one.

BioGuard Smart Shock – Easy Pick
Another great pool shock is the BioGuard Smart Shock, which is a multi-functional product that shocks, oxidizes, buffers, and clarifies pool water Like other products, it kills and prevents bacteria growth which is so important in pool maintenance. The BioGuard Smart Shock uses blue algae-fighting crystals that kill unsightly algae, so you don't get the green slimes.
A handy thing about this product is that there is no need to mix or pre-dissolve, you just add it directly to your pool water. And like other products, the BioGuard works to improve filter efficiency. I also like that you can start swimming in as little as 15 minutes after you use it.
Pro – Easy to use, works quickly
Con – A little pricier than other options

BIPRKNG In The Swim Super Pool Shock – Power Pick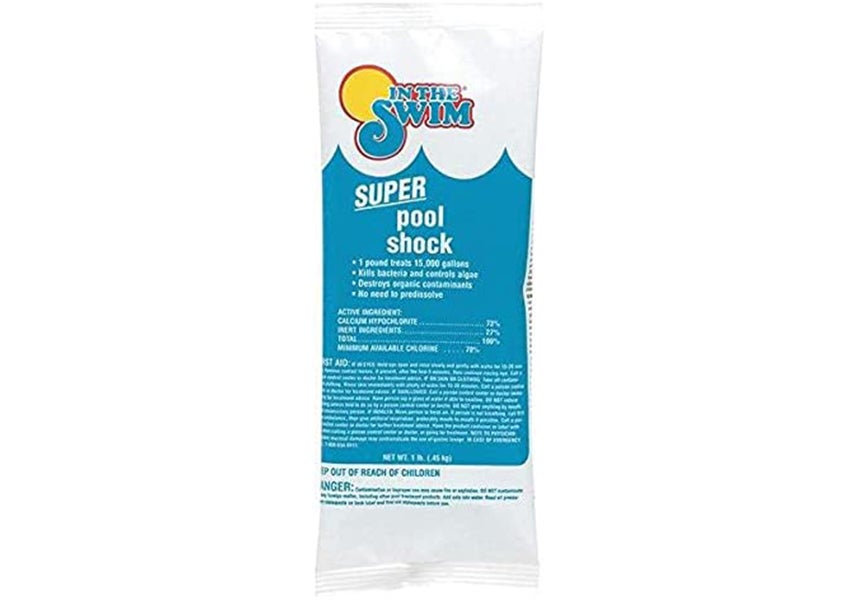 If you're mechanical, you might have seen the t-shirt that shows a guy trying to get a bolt to come loose. He starts out with a wrench, then goes to a longer socket wrench, then a pry bar, before he finally winds up with a cutting torch and the caption reads, "I tried asking nice for you to work." The In The Swim Pool Shock is kind of like the cutting torch for algae blooms.
In The Swim is 73% Calcium Hypochlorite, making it a powerful chlorine shock treatment that can quickly take your pool water from cloudy to clean. It lays waste to algae, bacteria, and other contaminants from your pool water. Its strength makes it ideal for spring openings and those nasty algae blooms, yet it works for regular maintenance, too.
Pro – It's kind of like the nuclear option for algae
Con – While it will work as a regular treatment, I suggest it only if you have an active pool

HTH Super Shock Treatment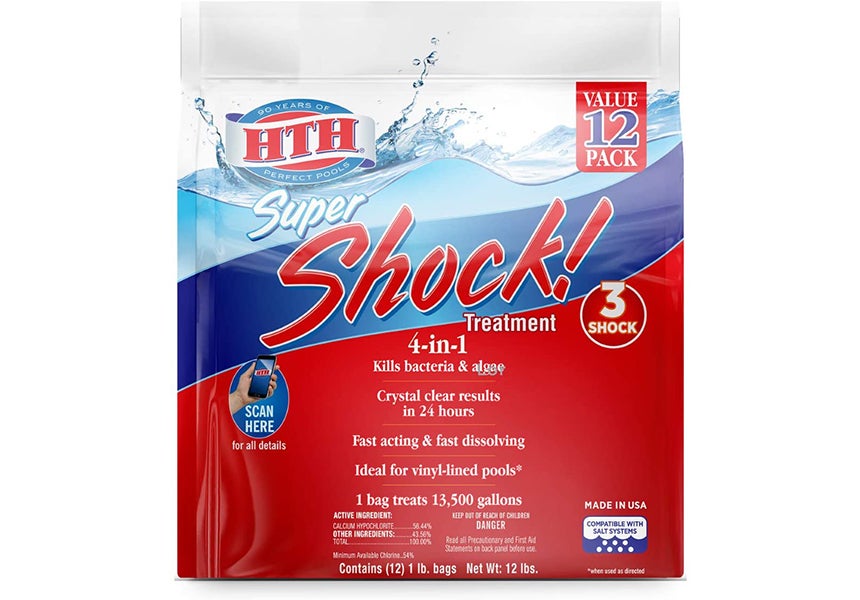 The HTH Super Shock works hand-in-hand with your regular chlorine treatments to knock out any sudden nastiness that takes root in your pool. HTH Super Shock treatment is a 4-in-1 powerful additive designed to boost chlorine levels and kill and prevent bacteria and algae.. Each pound of Super Shock treats 13,500 gallons and restores clarity in just 24 hours. This pool shock is great for all pool types and won't fade your pool liner.
Pro – A good maintaining shock
Con – Can take up to 24 hours to work

DryTec Calcium Hypochlorite Chlorine Shock Treatment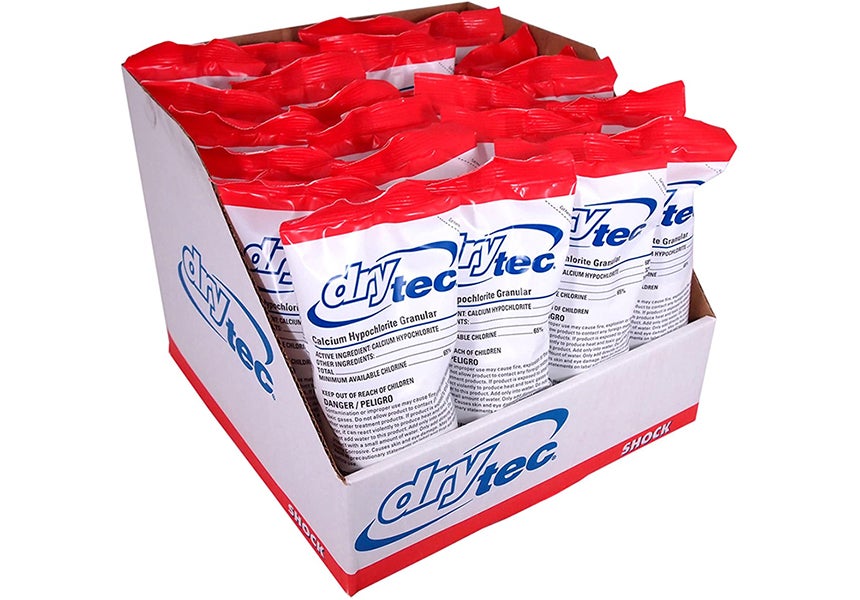 The DryTec shock is a fast-acting economical treatment for your pool. It is made from 68% calcium hypochlorite and a 0ne-pound package will treat up to 10,000 gallons of pool water. DryTec has been at this for a long time and they are well known and respected. You get 24 one-pound bags for a price well below much of the competition, and with the quality behind this product, you can trust it to work.
Pro – Shocks everything but your wallet
Con – Make sure you dissolve all the granules before getting in the pool

Choosing the Best Pool Shock
There are several factors that come into play when picking the best pool shock for you. Topping my list is what type of pool do you have?  By this, I mean, what setup does your pool use, what type of liner and where do you live? Oh, yeah, that last one comes into play more so than you might think.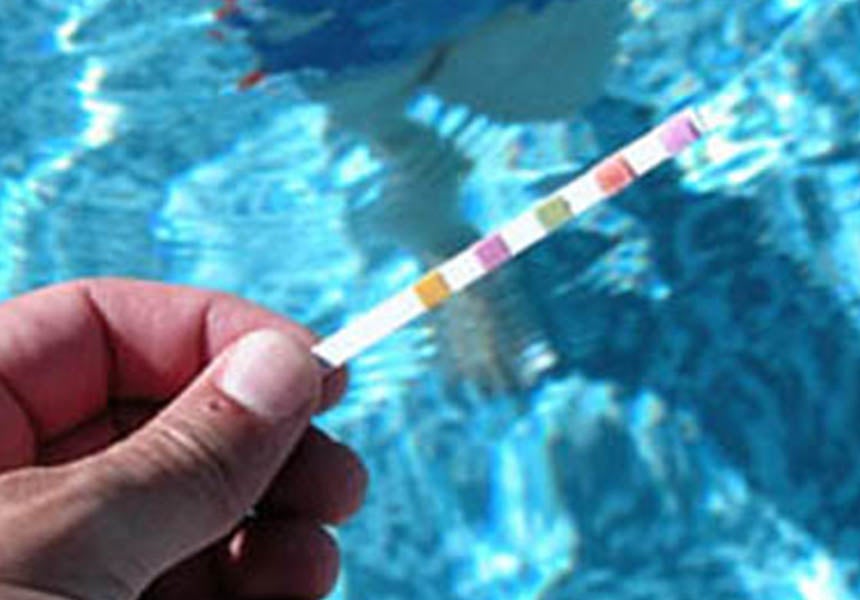 Plastic-lined pools have slightly different needs for chemical treatments than non-lined, or painted pools do. It's basic chemistry. Be sure that your pool shock is safe for the type of bottom your pool has. Most pool shock will come in a granular form or as a tablet. When it comes to vinyl and fiberglass pools, people get concerned about shock staining the sides. An easy fix is to dissolve the shock in a five-gallon bucket before pouring it into the pool.
You also need to be sure that your filtration system is ok for the chemical you use to shock the pool water. Most are ok, but if you have a much older pool system, double check before you buy. 
Where you live plays a part, too. Sunlight breaks down the chlorine, causing the water to lose up to 5 ppm of chlorine per day. Swimmers unintentionally release bacteria and contaminants like sweat, makeup and sunscreen and then add in  dust, pollen, leaves and algae – it's a mess! This is why you need a pool shock.
What's up with Calcium Hypochlorite?
Most pool chlorine and shock should contain about 65% calcium hypochlorite. If you happen to find a product that calls itself pool shock with a much lower concentration, you may want to reconsider.
Algaecide? When going green is bad.
If you have an algae bloom, a pool shock with algaecide is a bonus. Do you always need an algaecide? No, as it shouldn't really be part of the regular maintenance, but when things go green, it's time to make sure the algae takes a hike. You may have to treat your pool with an algaecide after treating it with a shock first, if the algae outbreak is bad enough.
Frequently Asked Questions
How much pool shock do I need?
In general, you will need one pound of shock for every 10,000 gallons of water in your pool. 
How often do I shock my pool?
In ideal circumstances, shocking your pool once a week will keep it looking clean and clear, but heavy rainfall, signs of algae, heavy use or long periods of sunny weather may require more frequent treatment. Sundown is the best time to shock your pool, so the chlorine can work to restore water clarity without the sun's harsh ultraviolet rays. Cleaning the pool with a brush also helps expose settled contaminants to the chlorine.
Notice:
OutsidePursuits.com is a participant in the Amazon Services LLC Associates Program, an affiliate advertising program. OutsidePursuits.com earns fees from products sold through qualifying purchases by linking to Amazon.com. Amazon offers a commission on products sold through their affiliate links.