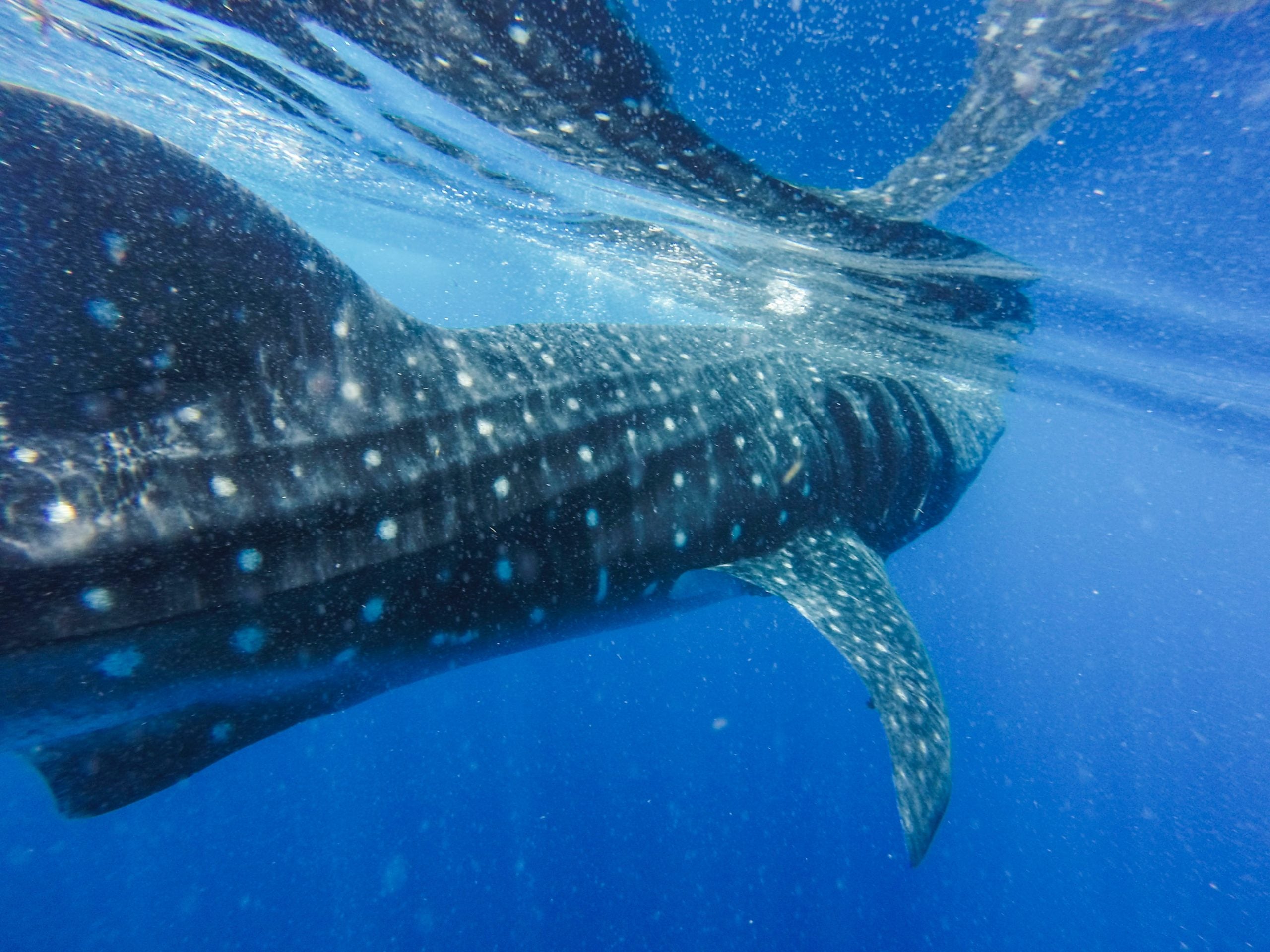 Our Editors independently research, test, and rate what we feel are the best products. We use affiliate links and may receive a small commission on purchases.
Between the months of June and September thousands of whale sharks migrate to the warm waters of the Mexican Caribbean looking to feed and mate – in 2011 more than 400 were sighted off the Yucatan coast.
These sharks can grow up to 12 metres long, and weigh 20 tons – but they feed on tiny ocean organisms known as plankton. Interested in swimming with whale sharks in Mexico? Everything you need to know is here …
Whale Shark Savvy
Whale sharks are known to be gentle with divers – one of the reasons you can get really close to them in their natural habitat. They feed at the surface so you only need a mask, snorkel, and fins to join them! They can dive to more than 1900 metres and live in warm, tropical waters. They spend most of their lives on the move and are thought to be quite solitary creatures– migrating according to where the food is to be found.
Nowhere in the world do so many whale sharks come together at once like off the coast of Cancun – for several years now hundreds of them can be spotted here – and you can witness a whale shark feeding frenzy.
Unlike most species of shark they're filter feeders not hunters so they don't bite. Despite their enormous mouth and thousands of teeth whale sharks pose no risk to people. They swim on average at a speed of about three mph and are extremely docile.
They're beautiful to look at – grey with a white belly, covered with a unique pattern of pale yellow spots and bars. No two whale sharks are alike – they each have their own distinctive patterns like fingerprints. The whale shark's skeleton isn't built of bones – just cartilage.
The female sharks produce eggs which hatch internally unlike most fish –she'll give birth to about 300 baby sharks measuring around 60cm. Life estimations are from 70 to 100 years with sexual maturity reached at about 30.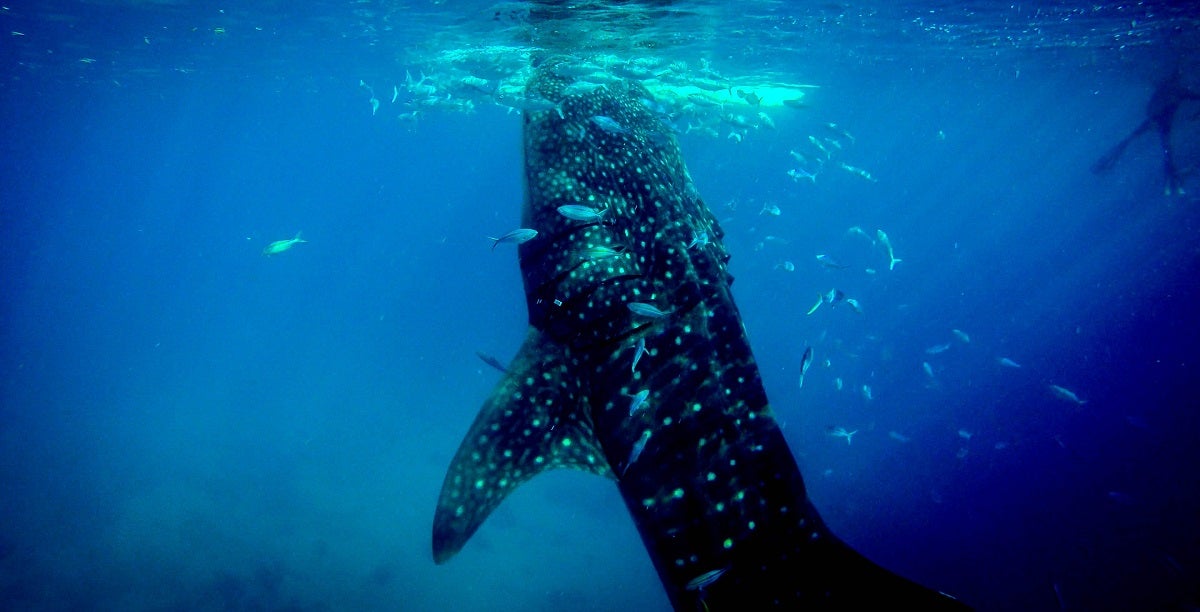 Whale Shark Snorkel Tours
Koox Diving will provide you with a whale shark adventure that you'll never forget. You'll go to Cancun and catch a boat to a special location near Isla Mujeres – this is the feeding ground of the whale sharks.
On board your instructor will discuss and plan the swim with you – and you'll hear useful information about the sharks themselves. You'll be able to swim and snorkel with them and explore the beautiful underwater universe.
The temptation to dive and swim very close and touch a whale shark is great – but this can cause unnecessary avoidance behavior as the shark banks or dives. You'll be advised to:
Be quiet – get into the water by sliding in slowly rather than jumping and keeping fins under the surface water to reduce splash
Don't touch – touching will stress the shark causing it to dive and spoiling the event
Stay three metres away from the head – and four metres from the tail – this gives you time to split into groups if the whale shark comes directly towards you
Snorkel calmly – approach from the side near its fins without restricting natural movements and behavior
Avoid flash photography – don't point your camera directly into the whale sharks eyes
Use eco-friendly skin care products – smelly chemicals sting the eyes of the whale shark
Wear a life jacket – this is an absolute must as massive tails can deliver a hard swipe

Save the Whale Sharks
Every year millions of sharks die needlessly from overfishing – and the shark population continues to decrease due to slow growth rate and low birth numbers. Educating people that a sustainable living can in fact be made from swimming with whale sharks rather than fishing them takes place during Whale Shark Festivals – International Whale Shark Day 2018 is on 30 August.
Mexico takes its marine life conservation very seriously and the wale shark snorkeling trips organised by Koox Diving are well regulated and enforced with their licensed boats and guides. Teaching respect and responsibility towards the environment is what the divers from Koox Diving believe in – wanting future generations to be able to explore these incredible natural wonders.
The World Wildlife Funds list whale sharks as vulnerable to extinction – fortunately there are many conservation groups on the case. You can help protect these biggest fish in the world by following the best practices when swimming with them – keep your distance, don't touch, have respect, and above all enjoy and admire them!
Meet the Author
Jesus Guzman Diaz – or Chucho as he's fondly known – is an experienced dive explorer who has discovered and mapped many cenotes in Mexico working with National Geographic. He loves surfing and is the co-founder of XookBoards – making the first true wood surfboards. When he isn't diving he spends all his free time with his two lovely children. Diving is not only his profession – it's his way of life.
Notice:
OutsidePursuits.com is a participant in the Amazon Services LLC Associates Program, an affiliate advertising program. OutsidePursuits.com earns fees from products sold through qualifying purchases by linking to Amazon.com. Amazon offers a commission on products sold through their affiliate links.