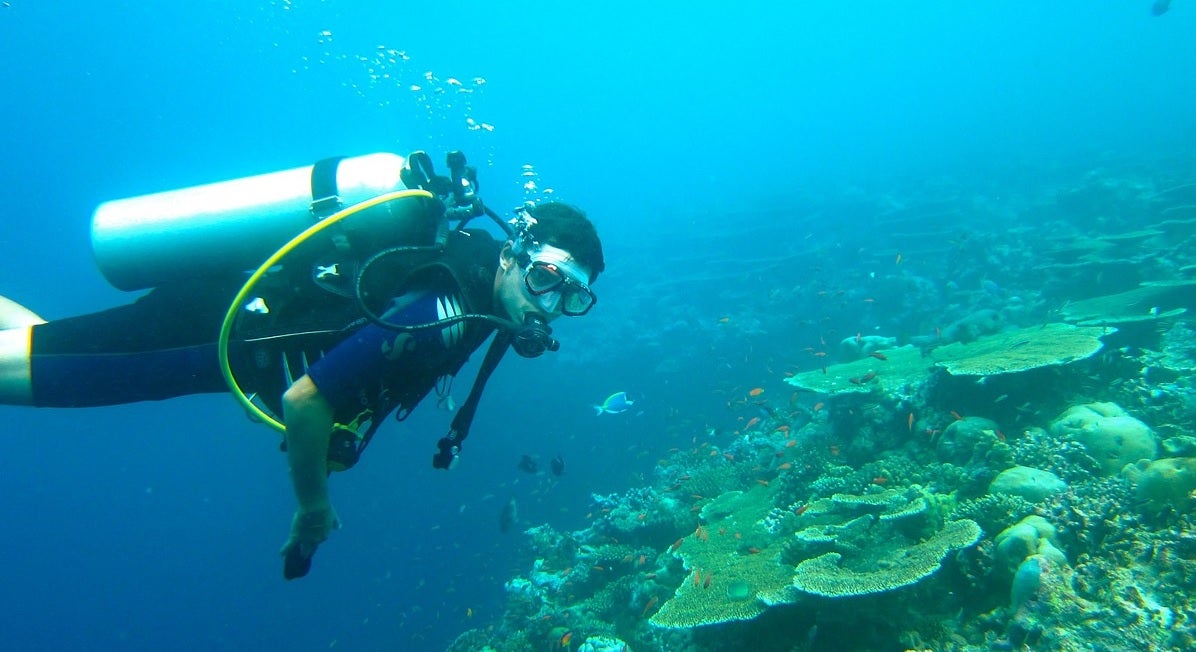 Our Editors independently research, test, and rate what we feel are the best products. We use affiliate links and may receive a small commission on purchases.
Whether you're brand-new at scuba diving or already have a good amount of experience, you absolutely need to know how to maintain your gear. This goes for whether you're renting or if you have your own equipment, as you want to leave rental gear in the best conditions possible as well.
To answer any questions you may have and make sure you are maintaining your scuba gear the right way, we've come up with this handy guide. Let's get started!
Wetsuit, Masks, Fins and Snorkels
First off, let's take a look at how to store your wetsuit, masks, fins, and snorkels.
Wetsuit – Even though your wetsuit is made to hold up to regular wear and tear, it can still be quite delicate if not cared for properly. Always make sure that once you're done using it, you dry the suit out and store it inside-out. By flipping it inside-out, you greatly reduce the risk of UV damage of the top layer, which is also the most important.
You should also wash your suit regularly, along with your snorkel, mask, and fins with some soapy water and a sponge. If you get any sand in the edges of the mask, you can also take a toothbrush, or a soft cloth to help get it out.
Masks, Fins, Snorkels – When we're dealing with thick rubber straps like you'll find on open-heel fins and masks, you need to regularly stretch them out to ensure there are no small cracks in them. If you do happen to find some, you need to replace them ASAP.
Next, you should examine the silicone mask skirt, the flexy part of the snorkel hose, and the mouthpiece for any cracks or tears. Finally, take a look at all buckles and ensure they function properly and don't have any cracks in them. If you find any signs of wear you also need to replace these before your next snorkeling session.
To eliminate the growth of mildew, make sure to rinse them all off in warm, fresh water. To dry, let them drip dry 100% and then pack them up safely, ensuring nothing gets squished or bent. If you leave them bent into any unnatural positions, over time this can actually leave them in this position, rendering them unusable.
Storing and Maintaining BCDs
No matter if you're snorkeling in chlorine or in saltwater, you need to make sure you always rinse your BCD off properly. To do so, place it completely under the water in a rinse tank, moving all pieces through the water to get rid of any chlorine or salt residue.
Make sure to also wash off zippers, buckles, and other closures. If you have sand or other debris caught in the buttons, begin inflating and deflating the BCD to remove it.
Storing and Maintaining Regulators and Computer
The amount of time you have to service your regulator will greatly depend on its manufacturer. You could do so as often as every 100 dives to every 200 diving hours, or even less frequently. If you have any doubts about this then simply check on the packaging or the brand's website and they'll have it all listed out for you.
You should be cleaning your regulator after every dive. To do so, scrub out the mouth pieces with a soft sponge and soapy water. Make sure you aren't purging as you do this. Clean the dust cap and first stage by blowing on it with air directly from the tank. Once dry, spray silicone over the BCD disconnect, first stage knob and metal.
Rinse off your dive computer after each dive as well, pressing each button a few times to take out any remaining sand or saltwater. Dry it off with a soft cloth and once completely dry, stow it somewhere safe. Also check the battery indicator and follow the brand's instructions for just how often and how you should go about doing this.
Preparing Your Regulator
Before you even take your regulator out for a dive trip, make sure to hook it up to a tank, breathing in a few breaths from it and the octopus. Revise your SPG to ensure it's giving out an accurate reading. If inaccurate, make sure to get it serviced from a reputable technician.
Next up, disconnect the regulator from the tank, inhaling on each regulator strongly and hold a vacuum. It should let in a tiny bit of air, or none at all. Make sure to also revise the second-stage housing for any signs of wear, like cracking.
Tanks
Before you go diving, make sure to revise the numbers on the metal on top of the tank you're using. These will be located near the valve and should be looked at for the hydrostatic test date, along with the VIP sticker for its visual inspection date.
If it happens to be outside of inspection (the last day of the month, a year from the date of inspection), it will have to be inspected again before any dive shop fills it. Not only that, but you must check the valve for any damage or corrosion, which typically occurs around the burst disc or hand wheel. This is a tell-tale sign that they will malfunction.
Postdive – Never store your tanks either completely full or empty. You need at least some pressure inside of them, otherwise contaminants and moisture can seep in, which will end up in corrosion. Full tanks are vulnerable to cracking if you keep them stored for extensive periods of time – even more so if they're aluminum. Make sure you keep them stored anywhere between 300 to 500 PSI, and where they're out of the way of the risk of being bumped into or knocked over.
Summary
Now that you know all about how to properly maintain your scuba gear, are you ready to head out onto your next diving adventure? We hope that our guide was able to help you out and give you a clearer idea of how to keep you and your equipment safe on every dive as well as extend the life of your gear and ensure proper operation. Thanks for tuning in, and we'll see you again shortly!
Notice:
OutsidePursuits.com is a participant in the Amazon Services LLC Associates Program, an affiliate advertising program. OutsidePursuits.com earns fees from products sold through qualifying purchases by linking to Amazon.com. Amazon offers a commission on products sold through their affiliate links.