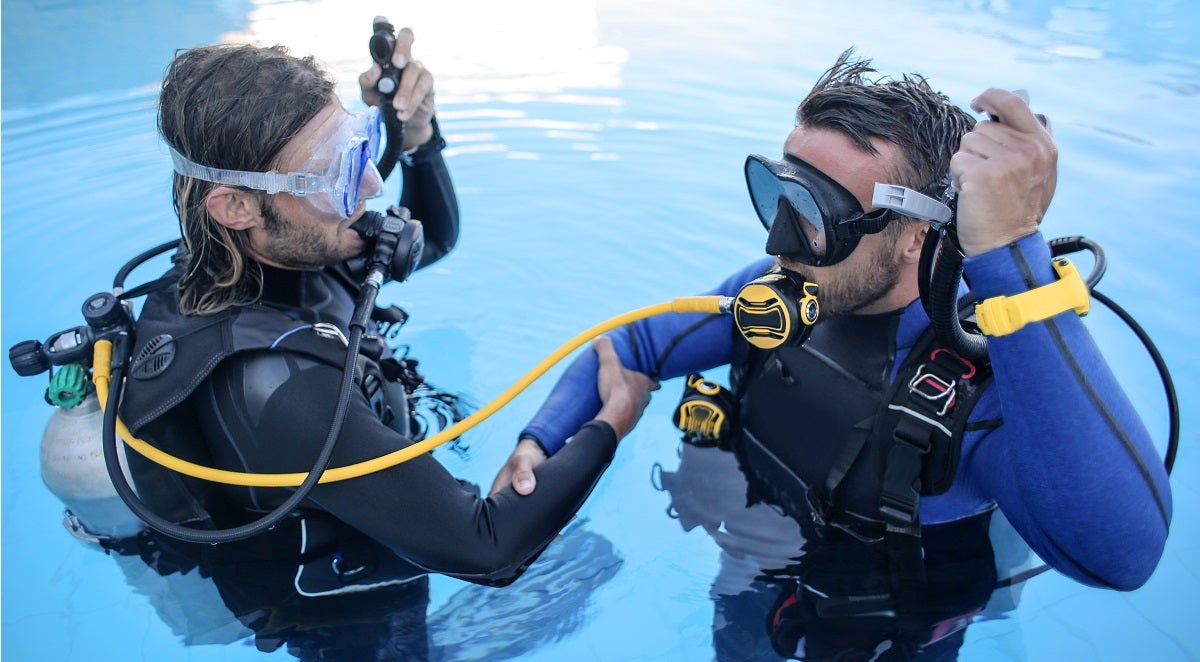 Our Editors independently research, test, and rate what we feel are the best products. We use affiliate links and may receive a small commission on purchases.
If you've just decided to take up scuba diving, then you may be feeling overwhelmed. Scuba diving does involve quite a bit of planning, education, and safety measures and if you're just starting out it can get confusing.
That's why I'm here, to share my first-hand experience along with some tried-and-true tips to ensure that you have fun and stay safe throughout each one of your dives. I know you are eager to get out there, so let's jump right in!
What To Expect
It's important to set expectations so you aren't disappointed in yourself or the experience, and also know what you're getting yourself into! It's crucial that you learn the basics, which does involve theory, but it's actually pretty easy and you shouldn't be nervous at all about that!
Just remember that you absolutely do need to get certified in order to scuba dive – not only for your legal well-being but your physical well-being.
After that, you get to partake in underwater lessons which are made to prepare you for when you get out there on your own (obviously with a partner or group but no longer with your instructors). Once your instructor(s) have determined that you're more than competent to go out there in the ocean, you'll receive your scuba certification!
Best Place to Learn Scuba Diving
The ocean is definitely a great place to learn, depending on the location. If it isn't too crowded and if the waters are somewhat calm, then you could realistically learn in the ocean.
However, if you don't have an ocean nearby or it's simply too aggressive for your current skills and confidence, you could easily learn in a lake or large pond. Just make sure that the water has great visibility and that it can actually be used for this purpose.
There are some people who plan to get their certification while on vacation, or they end up at the beautiful tropical beaches of their destination and think scuba diving looks like fun, trying to get certified on a whim.
While the idea of getting certified in paradise may sound like a dream, it's simply not feasible. You're going to already be in an unfamiliar location, which can be distracting in itself. Add that, on top of the fact that you'll be figuring out how to equalize, apply what you've learned in your courses, etc. and you won't even really be able to enjoy your surroundings.
Part of that certification involves studying and do you really want to be doing that instead of sipping on a delicious drink on the beach? You may as well go somewhere where you can focus on these crucial skills.
If you don't want to go out and practice in open water, then you can also do so in a pool, where you'll be in a more controlled environment and be able to focus on applying what you've learned.
Gear
This is a particularly confusing aspect for many beginners, and it's completely understandable. There are so many misconceptions out here but I'm here to set the record straight. As you're just starting out, you may be wondering if you should rent or buy your own equipment.
This isn't a black-and-white answer, and there are some pieces of gear I recommend buying while others can be rented (for now).
Travel
Are you planning on traveling to scuba dive or do you have a spot at home that you like? If you are going to travel then taking a scuba tank, regulator, BCD, depth and pressure gauge, and weight belt aren't really feasible to take on a plane. You're better off renting these items. However, if you're staying local then they're always great to buy if you can swing it!
Own Your Own
These are pieces of gear that I recommend you eventually purchase for yourself:
Of course, you don't have to get all of these for your certification course. I recommend getting at least a mask and a pair of boots, but everything else can be purchased later on.
Extra Tips
Grab Some Socks – If you're not used to wearing and using fins, it's a lot like wearing a new pair of shoes. They can cause blisters and a bit of pain, due to the friction and your skin not yet being tough enough from regular use.
To ensure you feel good enough to practice, you can avoid all of that by getting yourself a pair of underwater socks!
Keep Hydrated – Remember, scuba diving is a physically demanding sport which can honestly be exhausting, especially if you're not accustomed to it yet. The air you're breathing on scuba is pretty dry, which can actually help dehydrate you. That alone will require you to drink more water than usual. If you're diving in a hot environment, then it's even more crucial. Keep a bottle of water with you always!
Learn How to Use Dive Computers – You should know that not every dive school out there teaches you how to use dive computers. However, if you can, we recommend you find one that does offer this as part of the course. Using dive computers will help keep you safe, make dive planning easier, and is as accurate as it gets. While your dive tables are great to have as a backup, they're both important to learn.
Use Your Snorkel – When you're on the surface, start using your snorkel instead of your regulator. This will help keep your airways free of water and help save air from your cylinder which you'll use on your dive.
Summary
Learning to scuba dive is a bit tedious, but it's rewarding in so many ways! There are few other opportunities to experience this kind of adventure and explore our world underneath the surface. If you follow the guide laid out above, I can assure you that you'll be successful and have a wonderful time! I hope that this guide has helped you out, and that you now know where to take your next step. Thanks for tuning in, and we'll see you again soon!
Notice:
OutsidePursuits.com is a participant in the Amazon Services LLC Associates Program, an affiliate advertising program. OutsidePursuits.com earns fees from products sold through qualifying purchases by linking to Amazon.com. Amazon offers a commission on products sold through their affiliate links.