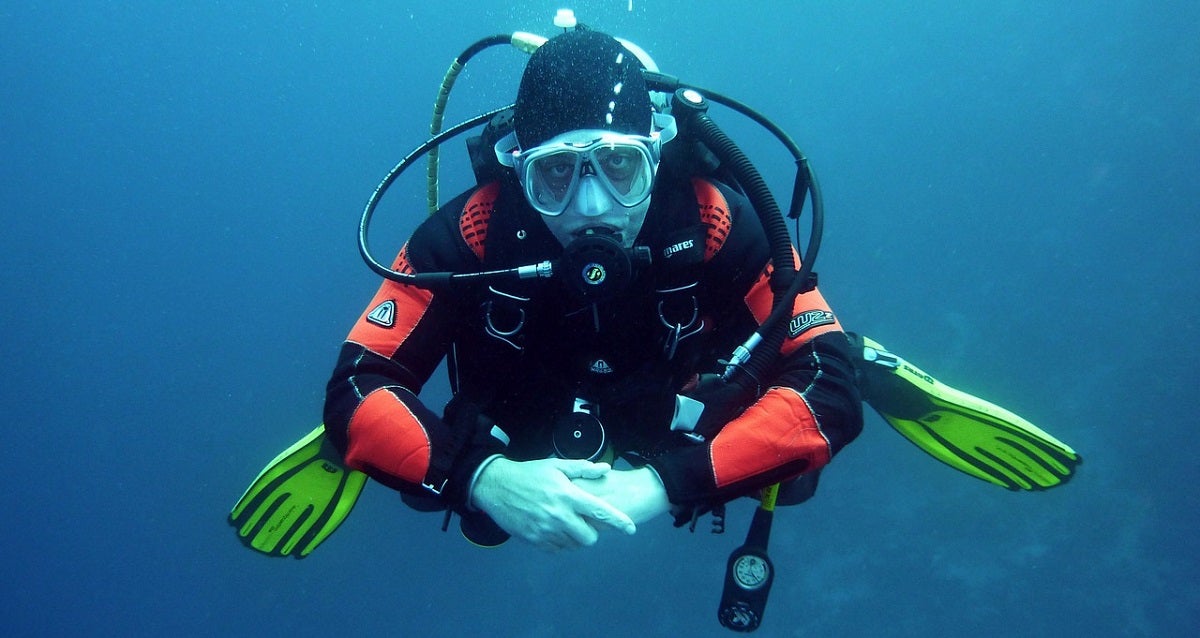 Our Editors independently research, test, and rate what we feel are the best products. We use affiliate links and may receive a small commission on purchases.
So you've decided you're going to try scuba diving. How exciting! Scuba diving in an experience unlike any other, that's thrilling from beginning to end. You get to experience life underwater, encounter incredible sea life, have fun with friends, and get in a great workout!
However, it is a sport that requires a good amount of equipment and knowledge of how to use it. Well, we've come up with the complete scuba diving equipment list to ensure you aren't forgetting anything and can make the most of your adventures!
Wetsuit
The necessity of having a wetsuit will vary, depending on the type of waters you'll be diving in. In warm, tropical waters a wetsuit isn't very necessary. However, if you'll be traveling to different locations or diving in cooler waters then it's practically a requirement.
While traveling with a wetsuit can be a bit of a hassle, it will help keep your skin protected while also keeping you warm! The neoprene rubber combo essentially pads your body with a small bit of water against your skin. Depending on how cold the water is, you'll need something thicker.
Diving Mask
As you probably know from various incidents of opening your eyes in the ocean or at the local swimming pool, our eyes our not made to work well underwater. In fact, some of us have some pretty serious reactions to getting anything at all in our eyes!
Unless you enjoy the feeling of stinging eyeballs and blurry vision, we highly recommend you get yourself a diving mask. If you can, we strongly suggest avoiding masks from Walmart or other cheap providers.
What you need is a comfy, high-quality mask that is made of top-notch materials like silicone that feels soft and malleable against the skin so it doesn't cut or rub against your face. Sure, you could rent a mask too, but does the idea of wearing a mask that hundreds of others have really sound ideal? Not only that but you don't know how they'll fit you and in what conditions rental masks will be in.
It's just better to get your own. That way you can pick one that works with your bone structure, your diving environment, and personal tastes.
Fins
Even if you're an amazing swimmer, you'll still need scuba fins to be able to effectively propel yourself under water, gaining speed and being able to maneuver with precision. You'll find two main types out there: open heel and full foot.
Open heels come with bigger, stiffer foot pockets and are open in the heel area so you can wear neoprene dive booties. These are the preferred type for the vast majority of divers, so just make sure that they're comfortable for your specific shape and size of feet. Different manufacturers are known for different styles, like longer or shorter, wider or more narrow, etc.
Scuba Gloves
These gloves are pretty different from the kind you wear in the wintertime. They're tough and heavy-duty enough to protect your hands from potential scratches, punctures, rashes, etc. throughout coral, underwater caves, and so on. They are very similar in how wetsuits work, trapping a thin layer of water between the gloves and your skin to also keep your hands warm.
Scuba Tank
A scuba tank is pretty obvious, as you're going to need air to breathe! This is one component that will make up your larger breathing apparatus, allowing you to store and transport large quantities of compressed air. You can also find different gas mixtures like Nitrox if you prefer, as well.
Make sure you know at what PSI to store your tank and make sure they never go over 2000 to 3500 PSI. These tanks must be pressurized, as the deeper you dive, the more pressure is applied to your body which means you'll be able to breathe under the extreme pressure with these tanks.
Regulator
Even if you have a tank, you're not going to be able to breathe air in from it without the addition of a regulator. Regulators convert the pressurized air into ambient pressure that is safe for our bodies. Regulators come with different "stages" as well. The first hooks up the tank or diving cylinder so that you can wear it on your back while the second is the section you place in your mouth.
Regulators are more expensive, so you may want to start out renting and eventually move onto getting your own. Just make sure that they're comfortable, not too heavy for you and that you understand how each one works.
Dive Computer
These are essential in making sure that you're safe when you go diving. They take data like how long you've been underwater, how deep you go, and the amount of time you can stay at the depth you're located in. If we had to do it all over again, we'd skip the rentals and just go straight into buying a dive computer, even as beginner divers. They're not all that expensive and it'll quickly eat up a good chunk of cash by renting.
Dive Knives
A divers knife will be either stainless steel or titanium. Titanium tends to last longer, though they will cost a bit more in most cases. Some will come with either a sharp cutting edge or a serrated edge, while more advanced models will have both. These are another piece of safety gear made to get you free if you get caught up in fishing lines, seaweed, etc.
Underwater Lights
Also known as "dive lights", these are what will guide your way in dark environments. If you plan on going diving at night, in wrecks, or in caves, then you absolutely need one of these. They vary widely in how long the batteries last, the quantity of lumens they put out, and really what they're used for. Some are just backup lights, technical lights, while the more powerful models are primary lights.
Summary
Now that you've been able to read through all of the necessary dive equipment, do you have a better idea of what you'll need to bring along in the future? All of these can be rented, though we recommend that for certain items you buy your own. We hope that our guide was able to help get you situated so that you're successful in every dive you make. Thanks for tuning in and we'll see you again shortly!
Notice:
OutsidePursuits.com is a participant in the Amazon Services LLC Associates Program, an affiliate advertising program. OutsidePursuits.com earns fees from products sold through qualifying purchases by linking to Amazon.com. Amazon offers a commission on products sold through their affiliate links.