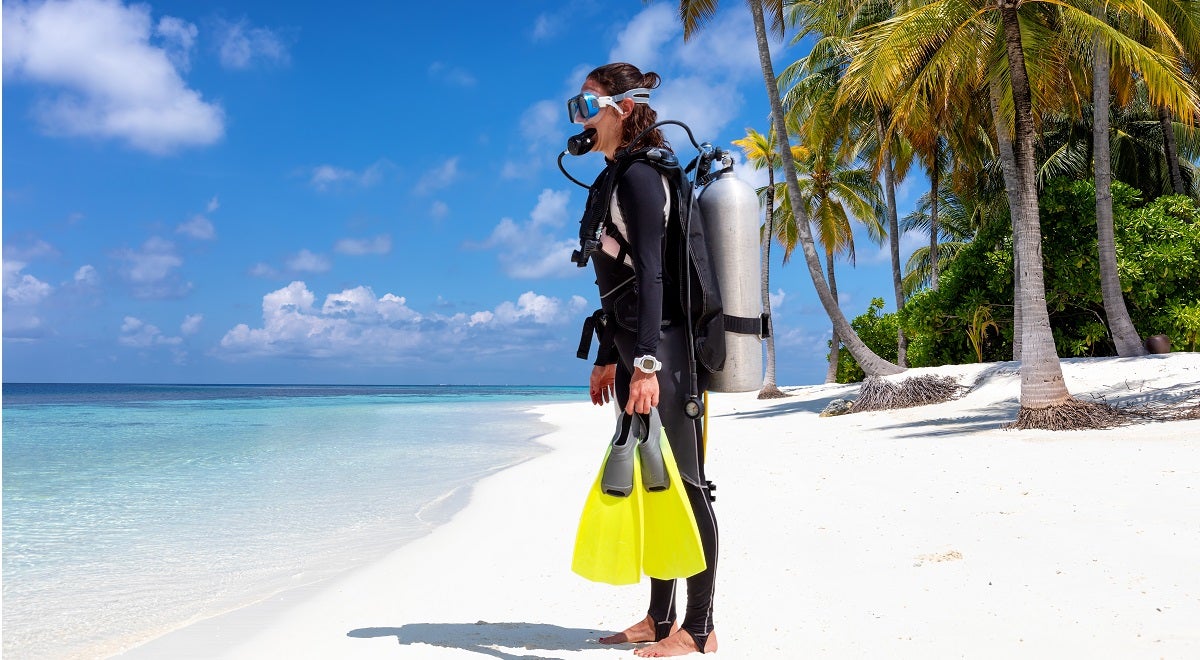 Our Editors independently research, test, and rate what we feel are the best products. We use affiliate links and may receive a small commission on purchases.
Scuba diving is one of the most amazing activities in the world. Even just trying it once will get you hooked, due to the unique nature of the activity, and the fact that it's part of the world most of us don't get the chance to really explore.
If you've already explored your local dive spots (or you don't have any locally) then you may want to broaden your horizons and dive abroad or in other places around the country. We've decided to come up with a comprehensive scuba packing list for dive travel to ensure your trip is a successful one, and that you don't leave anything out!
One Month Before
It's important that if you want everything to go seamlessly, you must plan ahead of time. We recommend planning at least a month in advance so you can acquire any gear you may need and make alternate plans if something falls through. Here are some other specifics:
Make various checklists – You'll need one for gear, one for clothing, and one for toiletries and other small necessities.
Research where you're going – This is crucial as you will need to know if you need a thicker wetsuit for colder water, or even a wetsuit at all if you'll be in warmer, tropical waters. Not only that, but this will help you schedule your dives and make decisions on what kind of clothing to pack along.
Medications (if applicable) – If you take any prescription medications, you need to ensure you have at least one copy of the order form in case you have to get more in case you lose yours or happen to run out, and to avoid any potential issues with customs. If you have any questions regarding customs, you can usually find this info online too.
Two Weeks Before
Try to clear out an area of your home, like on the floor of a spare bedroom no one is currently using. Take out all of the items you're planning on bringing along and start organizing them into sections. For example, make a section of everything that goes in your carry-on and that which will go into your checked luggage. Now, everything you don't require on the day you leave (like dive gear), can all be put away.
Pack 2 bags – You want a carry-on and a larger piece of luggage to be checked. Soft-sided carry-ons are typically much more convenient as you can squash them under a seat or in the overhead.
Bring ear plugs – This is essential if you're a light sleeper for when you're in the plane, or in your hotel/Airbnb. If you're not an ear plug fan, then some noise-cancelling headphones will work just fine.
A Few Days Before
Now, you need to start thinking about specific items to bring along for your actual trip.
A light jacket is always a good idea, as planes can get pretty chilly sometimes. Not only that, but you never know what the weather is going to be like when you land. Tropical climates are known to change rapidly and without warning.
Try to bring flip-flops, some tennis shoes, and some comfortable socks just in case your feet get cold at night.
Don't forget sunglasses with UV protection as well as a hat to shield your face from the sun and sunscreen. No one likes the feeling of a sunburn, and no one wants skin damage, either!
Pack toiletries like motion sickness tablets or bracelets. Even if you've never been motion sick in your life, that can change at any time, or you may need some for a friend or family member. If you need to pack any liquids, remember that in the US you're limited to 3.4 ounces in the US.
Safety
Remember, safety should always be your first priority. Let's go through some essential safety equipment you need to bring along. These will keep your health in check and also make sure you don't lose any valuables.
Luggage Locks – We recommend putting these on all of your checked luggage, and keeping two sets of keys, stored in different places.
Money Belt – If you're going out into touristy areas then these are essential to wear under your clothes, particularly if you're carrying around cash.
Carbon Monoxide and Oxygen Analyzer
Dive Computer – Sure, you could rent one but we recommend getting your own to make sure you know how to use all its little intricacies and know it's reliable. They're not that expensive or bulky, either, making them easy to travel with.
Dive Knife – In case you get tangled up in some fishing line, seaweed, or other objects, you need to have a dive knife along to cut yourself out.
Dive Light – Dive lights are a necessity if you're going to be diving at night, in caves, in wrecks, or other dimly-lit areas underwater. In warmer waters, you may not need these as visibility can be up to more than 100 feet/30 meters. However, it's better to just have one anyway just in case!
Wetsuit – Again, you may not need a wetsuit if you're going to be in warmer waters but they will help protect your skin against sharp rocks, uneven terrain, and of course, will keep you warm.
More Essentials
Dive Masks – To make sure you can see clearly under water, you need to a good quality dive mask. An ill fitting mask will either fog up or leak water in the mask.
Fins – To make your dive as easy as possible, you need good scuba diving fins. There are open heel and closed models to choose from, so make sure you get what works best for your environment, skills, and preferences.
BCD, Snorkel, Air Tank – These are all rentable, though the air tank and BCD are going to be more difficult to travel with. The snorkel, on the other hand, can be purchased and transported with ease.
Other Items to Consider
Personal GPS
Spear gun if you want to hunt fish
Dive boots or socks – especially if you have open heel fins
Reef gloves (double-check that your destination allows them)
Weight pockets or weight belt
Regulator, octopus and dive console
Dive skin/rash guard
Dive hood/beanie/head band/bandana
Whistle or surface noisemaker/mirror
Dive flag
Mask defog
Ear drops
Padlock for dive locker
Bungee cord/shock cord/dive-gauge retractor
Scuba pointer stick
Lift bag
Marine life ID and/or dive-destination books
Ginger candies or anti-nausea medicine for seasickness
Trash bags for wet gear
Underwater camera and all accessories
Connection cables/USB card reader
Tripod or selfie stick
Shorts/capris
T-shirts/casual shirts
Long pants (at least one pair)
Shirts
Sweatshirt/sweater
Dressy outfit with nice shoes (if necessary)
Swimsuits (at least two)
Cover up/sundress/sarong
Beach towel and/or sport towel
First-aid kit
Flashlight with extra batteries
Laptop
Electrical voltage converter/adapter
Chargers for electronics
Travel documents along with photocopies stored separately
Summary
Now that you literally know everything you should ever have to bring on a scuba diving trip, do you have everything you need? We hope that our guide has been able to help you out and that you know what else you need to get if you don't already have it ready. Thanks for tuning in, and we'll see you again soon! Have fun and remember to stay safe!
Notice:
OutsidePursuits.com is a participant in the Amazon Services LLC Associates Program, an affiliate advertising program. OutsidePursuits.com earns fees from products sold through qualifying purchases by linking to Amazon.com. Amazon offers a commission on products sold through their affiliate links.