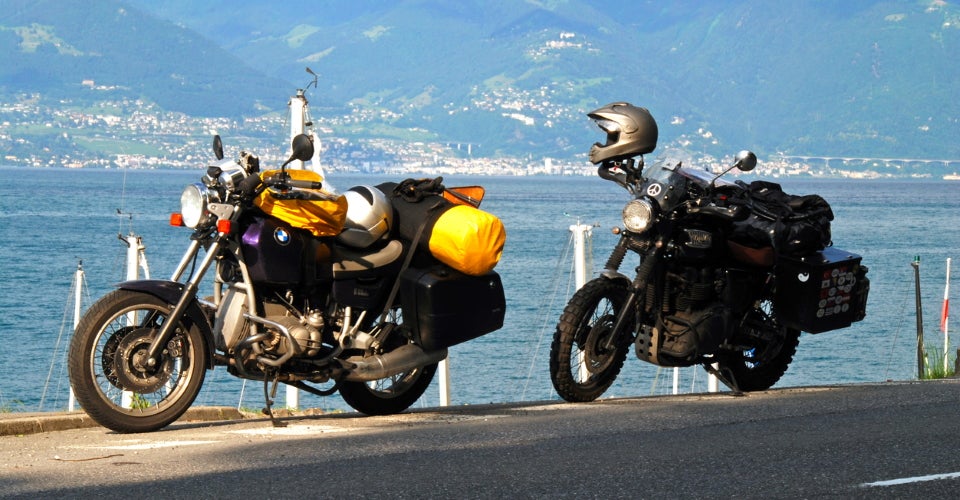 Our Editors independently research, test, and rate what we feel are the best products. We use affiliate links and may receive a small commission on purchases.
Motorcycle trips are always exciting and adventurous. But unlike with cars and other vehicles, you tend to lack the luxury of huge storage space. That means you can only bring along essential items.
Unless you are a packing pro when it comes to motorcycle trips, you will likely face a bit of a challenge when it comes to figuring out how to bring everything you need (and want) along.
People often pack what they won't end up not needing and forget what is crucial. To avoid this scenario, here are some things you must never forget when packing for a motorcycle trip.
A Water Container
Forgetting a water bladder or a water container is one of the biggest mistakes you can ever make when packing for a motorcycle trip. Chances are you are going to get thirsty a few times before you reach your destination. Ideally, you should drink at least 500 mL of freshwater one or two hours before you embark on your journey.
That, however, won't prevent you from getting thirsty along the way. Make sure you carry a container that is large enough to carry a sufficient amount of water but small enough to leave plenty of space for your other belongings. If you run out of water, make sure to refill it before proceeding with your trip.
A Battery Lamp
People often forget to pack a battery lamp thinking that the motorcycle headlight will be enough. What you may not have considered is that you'll still need a portable light for other moments on your trip. For example, you'll want more than your motorcycle headlight when you're trying to pitch a tent.
A battery lamp is one of those static motorcycle gear that will come in handy in that kind of situation. It's portable and small, but it's powerful enough to give you plenty of light any time you aren't on your motorcycle at night.
Tire Repair Kit
We recommend that you bring your bike in for a complete checkup a few days before your trip to avoid any unexpected mechanical issues. Still, accidents happen, so there's no guarantee you won't puncture a tire somewhere along the way. That being said, it's wise to pack a tire repair kit.
In fact, it should be the first item on your motorcycle trip packing list. You'll be thankful you remembered to bring it along if your tire deflates and you're in the middle of nowhere. This type of kit will enable you to easily change the tire and continue your journey in no time.
Communication Devices
Ranking at the top of the list of necessary items for a motorcycle trip is your various communication devices so you can stay in touch with friends and family along the way. The most important ones are your phone and a pair of Bluetooth headphones.
The headphones will enable you to answer phone calls while riding your bike. Your phone is an obvious one, but make sure it's fully charged so you can always access your GPS (and don't forget your charger and a power bank!).
Protective Clothes
Don't assume that you don't need protective clothing just because you're a careful rider. For your safety, consider motorcycle jeans or pants, motorcycle gloves, helmet and a chest plate if possible.
Leather boots and a pair of heavy-duty breathable pants are also necessities for your trip. These will keep you from getting too banged up in the event that you fall off your bike.
A First Aid Kit
Last but not least to add to your packing list is a fully equipped first aid kit. This will come in handy if you happen to get injured on your journey.
Make sure your kit includes safety pins, plasters, sterile eye dressings, bandages, tweezers, pain killers, and sterile gauze dressing. With these items, you can take care of minor injuries and also keep any wounds from infections.
Physical maps are also a smart idea in case your phone fails you. Now that you know the most essential things to pack for a motorcycle trip, it's time to hit the road. Enjoy the ride!
https://ridermagazine.com/2017/12/19/how-to-pack-your-motorcycle-for-a-road-trip/
https://www.bookmotorcycletours.com/news/how-to-pack-your-motorcycle
Notice:
OutsidePursuits.com is a participant in the Amazon Services LLC Associates Program, an affiliate advertising program. OutsidePursuits.com earns fees from products sold through qualifying purchases by linking to Amazon.com. Amazon offers a commission on products sold through their affiliate links.