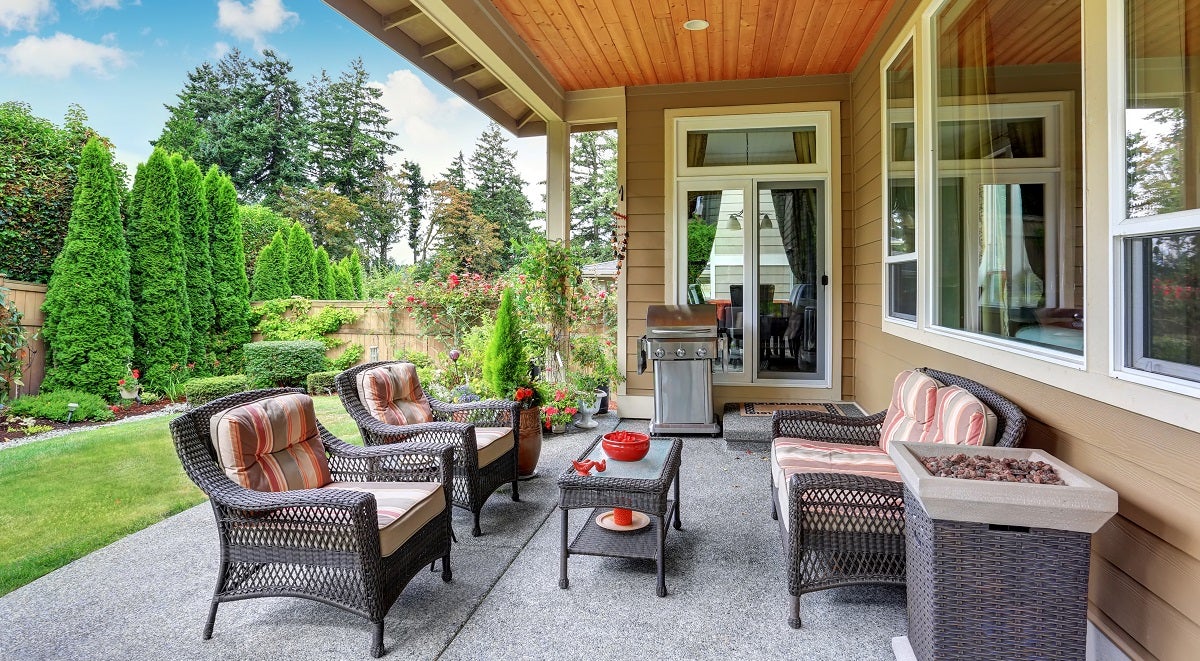 Our Editors independently research, test, and rate what we feel are the best products. We use affiliate links and may receive a small commission on purchases.
If you've just moved into a home with a patio or you're simply trying to bring some life into the one you already have, then you're in luck. With so many products out there, things can get overwhelming when it comes to what you will really enjoy or benefit from.
We've decided to come up with the 5 must have items for any patio out there. We're sure that by the time you're done reading, you'll already have the perfect patio in mind!
1. Patio Umbrellas
We all know that the sunlight can be warming and is one of the most pleasant things about summertime – sometimes. Other times it can be downright painful, causing sunburns, and making it difficult to see what's right in front of us. If you want to hang out on your patio and read a nice book or simply get some fresh air, you should have the option to mingle in the shade as well.
A fashionable and convenient way of doing just that is by adding a patio umbrella into the mix. Patio umbrellas take up minimal space but offer quite a bit of shade; at least enough for your entertainment space for you and your guests! You get your choice of seemingly endless shades and patterns, so you can pick the design that jives perfectly with your décor and style.
The best cantilever umbrellas are made to be weather-resistant, so you can keep them outdoors practically all year-round. However, we do recommend taking them indoors during particularly extreme weather conditions to maximize the lifespan of your umbrella.
2. Ceiling Fans
Just because you're hanging out on your patio, doesn't mean you have to suffer through the heat. No, you don't have to install an expensive air conditioning system, either, nor deal with the annoying noise of cheap box fans. Instead, you can add in an outdoor ceiling fan to your patio setup!
These are beautiful appliances that you're sure to take advantage of. Some even let you spin it counter-clockwise to create a warmer environment for those chilly nights where you just don't want to head inside! Controlling them is a breeze too, as most come with remote controls so you never even have to get up from your chair or sofa to adjust the intensity or operating mode.
Certain models will come with lights as well, to add to the ambiance even further, if not allow for better visibility on your patio area. Not to mention, these fans are absolutely beautiful and will create an even more appealing look to your already-existing design.
3. Outdoor Fountains
Who doesn't absolutely love the sound or the look of running water? The vast majority of us do, as it's actually hardwired into our brains as human beings to search for this sound for survival purposes. Nowadays, we're lucky enough that we can use running water simply as a way to relax us and create a more serene atmosphere.
Many of us use our patios as a kind of "getaway" right here at our own homes and outdoor fountains are the perfect way to do so. These are relatively inexpensive accessories that can completely transform the look and feel of your environment yet take very little time to set up.
In fact, most simply require you to take the fountain out of the box, fill it with water, and plug it in! It really is that simple, so if you aren't particularly DIY-savvy or simply don't feel like putting in the work, we highly recommend these.
On top of that, you get your choice of a huge selection of fountain designs. From modern and edgy, to antiquated and charming, you're sure to find something that fits with your personal style and patio décor.
Keep in mind that these do vary quite a bit in terms of size and weight, so if you're planning on relocating the fountain frequently, take these factors into consideration before making your final choice.
4. Outdoor Patio Dining Set
Why does it seem like a cup of coffee or a nice dinner tastes even better outdoors? Perhaps it's the fresh air or the beautiful scenery, but regardless, eating on your patio is sure to be something you make a habit out of. All you need is the right outdoor patio dining set and you're in business!
These patio dining sets come in all sorts of sizes, shapes, and styles so whatever you're looking for, you won't be disappointed. You can choose a rustic wood picnic table or a more modern glass look. No matter what you pick, you can rest assured that there will be enough room for everyone and that everyone will be able to lounge around comfortably.
5. Outdoor Electric Grills
Now that you have your patio dining set all ready, you're going to need some delicious, juicy delicacies to go along with it! With an outdoor electric grill, you'll be able to partake in mouth-watering cuts of meat, perfectly seared veggies, and everything in-between.
Due to how portable and convenient they are, you don't have to deal with the hassle of using charcoal, or flammable lighter fluid which can frankly be pretty dangerous if you don't know what you're doing. Not only that, but you don't have to deal with lugging around gas tanks whenever you want to relocate your outdoor grill.
Summary
Now that you know all about the top 5 must have items for your patio, which one are you going to select first? The great thing about all of these selections is that you don't have to choose just one. However, even if you do just go with one of the aforementioned accessories, you can be assured that it will make a huge difference in your user experience. We hope our guide has been of help. Thanks for tuning in, and we'll see you again shortly!
Notice:
OutsidePursuits.com is a participant in the Amazon Services LLC Associates Program, an affiliate advertising program. OutsidePursuits.com earns fees from products sold through qualifying purchases by linking to Amazon.com. Amazon offers a commission on products sold through their affiliate links.