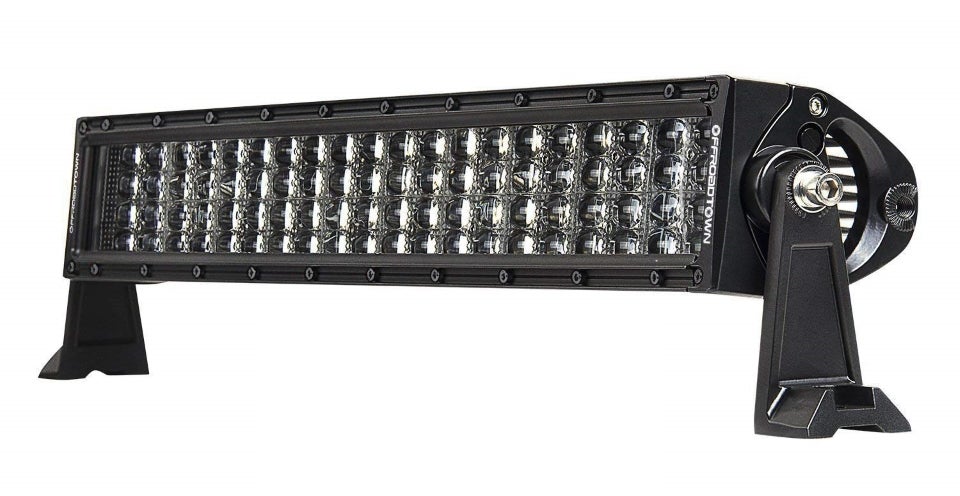 Our Editors independently research, test, and rate what we feel are the best products. We use affiliate links and may receive a small commission on purchases.
One of the great things about owning a Jeep Wrangler is how much fun you can have off-roading at night. Off-roading in the dark provides many more challenges than off-road driving in daylight.
Trees appear out of nowhere, shallow shadows transform into deep ditches before you realize your mistake, and animals are often invisible until the last second.
Jeep Wrangler LED light bars offer the best aftermarket solution for illuminating trails when driving off-road in the dark. Not only do they provide drivers with good visibility over a greater distance, but they also warn away larger animals like deer and big cats that could otherwise become a hazard for a fast-moving Jeep.
Jeep Light Bars – Recent improvements
Innovations in the vehicle lighting industry over the last decade mean that LED light bars are today more affordable than ever before. LED light bars also provide up to 3 times the illumination of old-fashioned, roof-mounted halogen/HID light bars.
The National Safety Council has identified that compromised night vision is a danger to drivers. Because LED light bars are so much brighter than similar-sized halogen light bars, they help you avoid collisions with obstacles in your path and could possibly save your life.
Used in combination with LED headlights and LED fog lights, they vastly improve the safety of off-roading in your Jeep Wrangler.
LED light bars are lighter and smaller than comparable halogen/HID light bars. This makes positioning your Jeep Wrangler LED light bar extremely flexible.
LED light bars come in a broad range of sizes to suit any taste, with typical lengths of 6", 12", 20", 22", 24", 30", 32", 40", 50", and 52". LED light bars are surprisingly durable. LED light bars also generate less heat, use less energy, and last longer than comparable halogen/HID light bars.
Features of a high-quality Jeep Wrangler LED light bar
There are many light bars on the market that are compatible with your Jeep Wrangler. However, when you're entrusting your life and the welfare of your vehicle to a component, you want to know it's fit for purpose. You also want to get good value for your buck.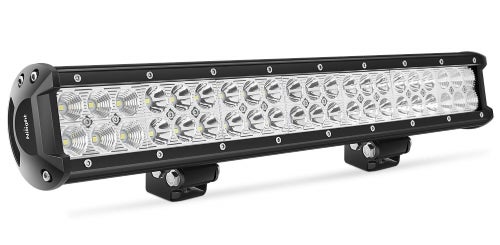 Any Jeep Wrangler LED light bar you purchase should have a high IP rating (ingress protection). The IP rating of an electrical enclosure is a measure of how well sealed it is against intrusion by moisture or foreign bodies, such as dust.
For off-roading, you require a minimum of IP65. The best light bars will achieve a rating of IP69K. The electrical connectors must be IP-rated.
When you're off-roading, you throw a lot at your light bar. The brackets and mounting points on your Jeep Wrangler LED light bar need to be corrosion-proof, sturdy, and flexible. Ideally, you should be able to mount your light bar in several different locations on your Jeep according to taste.
Although LED bulbs generate less heat than comparable halogen bulbs, they still generate a lot of heat that can shorten their lifespan. Good-quality LED light bars offer tight current control and oversize heat sinks so your LED bulbs last longer.
A Jeep Wrangler LED light bar manufacturer should have faith in their product. That's why you should ensure they offer a warranty. Expect at least a 1 or 2-years guarantee on a good-quality LED light bar.
Use of your Jeep Wrangler LED light bar
LED light bars are fantastic for your off-road adventures. However, they are not DOT approved for driving on the road. They can dazzle other drivers and cause a hazard. Switching them on while driving on the road could lead to problems with the police.
Light bars are useful for camping when you need to pitch your tent in the dark or perform essential maintenance at night. At home, you can use your light bar in the garage to aid vehicle maintenance in the dark in place of a garage shop light.
Installing your Jeep Wrangler LED light bar
Once you've purchased your LED light bar, you can either ask a trained mechanic to fit it on your Jeep or do it yourself.
If you choose the DIY route, you will require a basic mechanic's tool kit, some elementary knowledge of vehicle wiring, and possibly a friend's help with positioning longer bars.
Any good-quality Jeep Wrangler LED light bar will come complete with a wiring kit, mounting fixtures, and installation instructions.
Even if you're not an expert auto mechanic, LED light bars are designed for easy installation by anyone who knows their way around a tool kit.
First, decide where you want to position your light bar. While long light bars are designed to be fitted on the roof, shorter bars are often positioned between the headlights either as one long bar or two shorter ones.
Next, run the supplied wires from the battery to a switch in the cabin and then return them to the position where you plan to fit your light bar.
The wiring must flow through the firewall for safety. A separate ground wire needs to run from the light bar to a ground point. Before drilling any holes in your Jeep Wrangler to fit the mountings, test the wiring to ensure your light bar functions as expected. Finally, you're ready to mount the light bar on your Jeep Wrangler.
Notice:
OutsidePursuits.com is a participant in the Amazon Services LLC Associates Program, an affiliate advertising program. OutsidePursuits.com earns fees from products sold through qualifying purchases by linking to Amazon.com. Amazon offers a commission on products sold through their affiliate links.