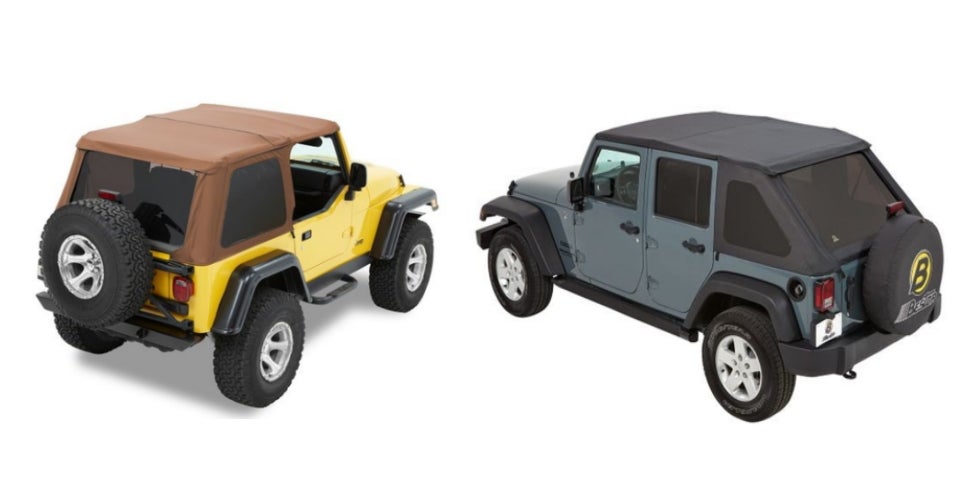 Our Editors independently research, test, and rate what we feel are the best products. We use affiliate links and may receive a small commission on purchases.
The Jeep Wrangler is the ultimate convertible for lovers of the great outdoors. You can remove the top to enjoy nature's own air-conditioning and enjoy a truly panoramic view or switch it out for a more stylish top that protects you from the elements.
The best replacement tops you can buy for your Jeep Wrangler are Jeep soft tops. Soft tops come in a wide variety of styles and materials. This empowers you to choose the Jeep soft top that best suits your taste and requirements.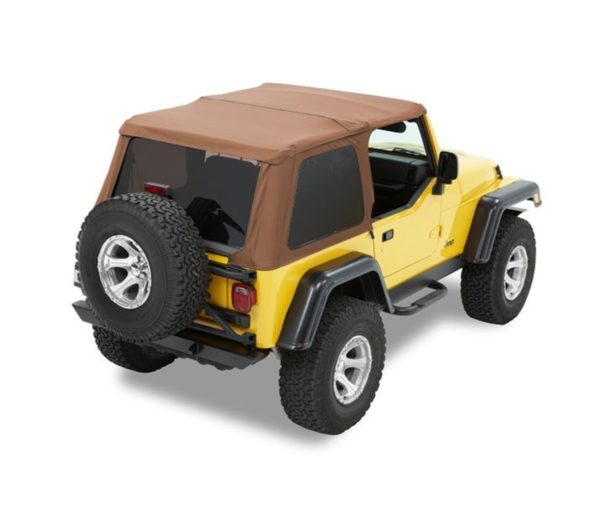 The Benefits of Jeep Soft Tops
If you are considering swapping out your factory-fitted Jeep Wrangler top for a replacement top, you should be aware of the benefits of choosing a Jeep soft top.
Soft tops protect your Jeep Wrangler seats from the summer sun, fall leaves, winter frost, and spring pollen.
Soft tops protect you from wind, rain, and snow.
Soft tops come in a wide variety of styles.
Soft tops come in a broad range of colors.
Soft tops are available in patterns, like the Stars and Stripes, so you can express your personality.
Soft tops are very affordable, some costing as little as $100.
Soft tops are easy to fold and store away.
Soft tops are easy to install within minutes, so when it starts to rain, you're covered.
Good-quality soft tops protect your Jeep and its contents from theft and vandalism.
Some soft tops come with inbuilt pockets and other extra features to improve your driving experience.
Popular styles of Jeep soft tops
There is a wide range of styles, but some are more popular than others. The best-known Jeep soft top styles are the bikini, the safari, the fully enclosed, and the flip top.
Bikini soft top or brief top
As you may have guessed, the bikini top or brief top is a skimpy option for hot summer months. The typical bikini design only covers the top of your Jeep leaving the back and sides open to the air.
It provides a limited amount of protection from the sun and light rain. Bikini soft tops only cover the front half of your Jeep offering minimal protection to the driver and front-seat passenger.
Safari soft top
The safari soft top provides better cover than the bikini, stretching over both the front and rear seats. However, the sides and back are open to the air to allow that cooling summer breeze. It's like an extended version of the bikini soft top.
Fully-enclosed soft top
The fully enclosed soft top is the best option for poor weather conditions. It provides as much protection from the elements as the factory-fitted hard top.
With a fully enclosed soft top, you can easily use the heaters to warm up in cold weather or use the air-conditioner to cool down in hot weather. The fully enclosed soft top also provides the best security of any soft top design.
Flip top
The flip top is an excellent soft top design if you want to be able to cover or uncover the front seats of your Jeep instantly. The flip top is like a sunroof for Jeeps so you can cover yourself when it rains and let the sunshine in when its sunny. The front part of the soft top flips back and forth effortlessly whenever you want.
Additional options
Sometimes your soft top doesn't provide all the protection you require, and you need something in addition, such as a windjammer or a duster top.
Windjammer
A windjammer is an accessory you can purchase to use in combination with a bikini soft top if your Jeep has a rooftop or rear cargo area. The windjammer hangs between your seats and the cargo area to reduce the wind and dust at your back.
Duster top
A duster top is a soft top used to cover your rear cargo area. It protects your cargo from the elements and dust as well as keeping your cargo area looking spick and span.
Car Cover
If you opt for a bikini top, you might want to invest in a custom-fit cover to protect your Jeep when you leave it parked outside for a long period. A cover can be easily folded and stored when not in use and effectively weatherproofs your Jeep when you need to leave it exposed to the elements for a prolonged time.
Construction
Jeep soft tops are either framed or frameless. A framed soft top utilizes a sub-structure to support the fabric. This makes it more rigid and keeps road noise to a minimum.
Frameless tops cause a noisier ride, but they are easier to remove or fold away when you want to ride topless. Frameless soft tops are more affordable than framed soft tops but may not be as durable.
Soft tops are manufactured from a range of different fabrics. Better quality fabrics include twill and sailcloth. Twill is a three-ply fabric with an acrylic and neoprene center and a vinyl backing.
Sailcloth offers high resilience, high UV resistance, and is more affordable. These fabrics are available in a broad range of colors and patterns so you can truly express yourself.
Compatibility
When choosing a soft top for your Jeep, it's essential to ensure that it is a good fit for your Jeep's model and year of manufacture.
Even small changes in specifications can lead to a poorly fitting soft top that rattles in the wind or doesn't fit at all. Fortunately, good-quality soft tops can be found to fit any model and age of Jeep.
Notice:
OutsidePursuits.com is a participant in the Amazon Services LLC Associates Program, an affiliate advertising program. OutsidePursuits.com earns fees from products sold through qualifying purchases by linking to Amazon.com. Amazon offers a commission on products sold through their affiliate links.