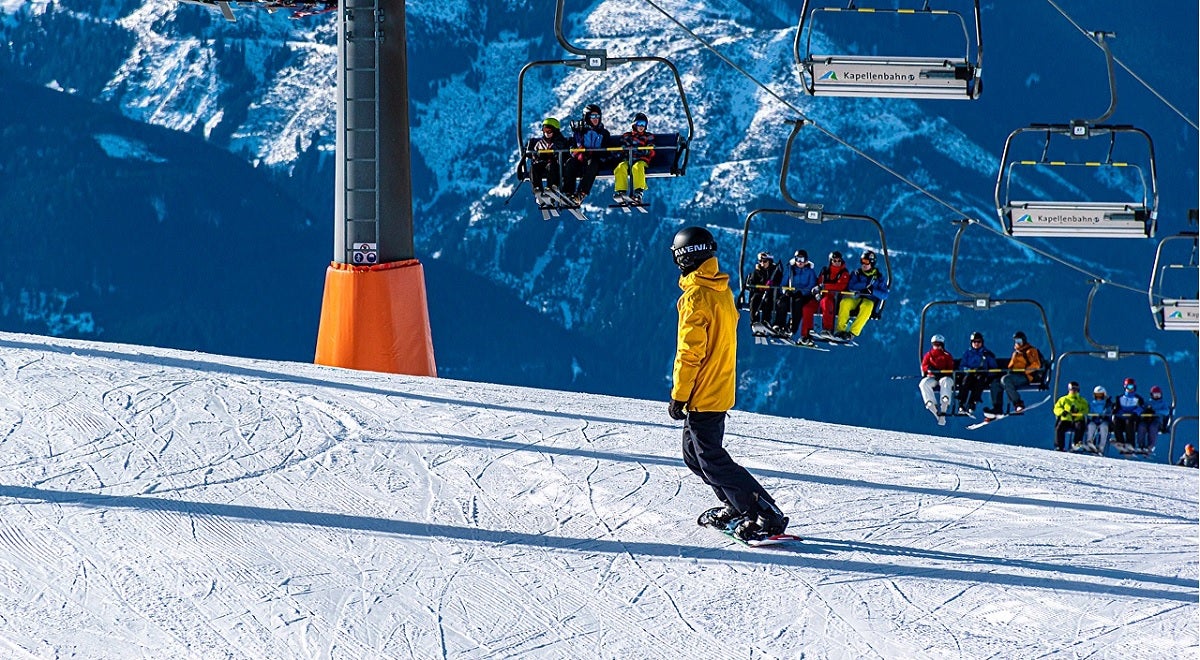 Our Editors independently research, test, and rate what we feel are the best products. We use affiliate links and may receive a small commission on purchases.
So, you've taken up an interest of the amazing sport of snowboarding! It's undoubtedly some of the most fun you can have during the wintertime, and allows you to really show off with style, too. Who hasn't watched the Winter X-Games and awed at the smoothness of the turns down the slopes, and how they seemingly effortlessly fly through the air?
Well, I'll be honest: it's definitely not as easy as it looks, but if you're wondering if snowboarding is hard to learn, it's a bit more of a complex answer.
The Basics
Something being "hard" to do all comes down to your individual definition of what hard is in the first place. Snowboarding is a sport that can feasibly be partaken in by the vast majority of people in good health. If you're already familiar with other board sports such as skateboarding or surfing, then it probably won't feel all that unnatural to you.
While snowboarding is definitely different from the others, you'll feel more comfortable riding downhill sideways and as you've already developed a familiarization with your stance, you won't have to figure that out either. Just remember that it will feel quite a bit different having your feet actually strapped to a board. Riding on snow is much different than water and pavement, too.
Snowboarding vs. Skiing
Everyone always asks the question: "Which is harder, snowboarding or skiing?". There's not a definitive answer to that, either. While skiing is generally known to have a lower bar of entry, it is more difficult to master. Snowboarding is the opposite: it is more challenging to pick up but becoming good at it is generally more achievable.
Snowboarding, overall, is less expensive and you'll worry about carrying less gear around as you only have a single snowboard to keep track of vs. the two skis and poles.
Physical Fitness Level
If you're not particularly an active person, then you may be wondering if you'll be in good enough shape for snowboarding. Well, we do have to keep in consideration that snowboarding is an extreme sport, so you can expect it to take a lot out of you.
Learning how to snowboard typically means you're going to spend more time seated on the side of the mountain than actually snowboarding.
If your core and legs are weak, it's going to be exhausting by the end of the day as you'll have to stand up from a seated position countless times a day. Pair that with the fact that you'll have a board strapped to your feet and you'll be on an incline.
However, if you have any kind of balance at all, will be just fine. It takes practice like anything else, but by the end of your first day at the resort you should have it down more or less! Simply keep your feet tucked as close to you, leveraging that to help lift yourself up.
Some people find it easier to flip over on their knees and push themselves up with their arms, going backwards onto their board.
If you really want to make it easier on yourself, try working out at least a few weeks before your first trip up to the mountain. Really focus on building core strength, balance, and strength and agility in your lower body. Aerobic exercise will help as well, as you're going to need some serious stamina.
What Do I Need to Rent?
Rentals as far as snowboarding goes are pretty simple and straightforward. When you go to the lodge, they will often have a rental center where you can get a board that suits your experience level, your height, and stance. However, there will oftentimes be other ski/snowboard rental places close to the resort or in town, too.
For your first rental board (or if you decide to purchase one), I recommend opting for an all mountain board. These boards are ready for anything and meant to take you from any type of environment, from groomed runs to the powder. While you're most likely not going to be heading out into the backcountry anytime soon (I hope not), all mountain boards just do everything pretty well.
If you'd like, you can also opt for a women-specific board, which are typically more lightweight and ideal for smaller bodies, overall. However, that's completely up to your own discretion.
Required Gear
To go snowboarding, you absolutely need a board, bindings, and boots. You'll be better off in the long run if you have your own boots, as they'll eventually form to the individual shape of your feet which will offer the most comfort with minimal irritation or risk of blisters.
While you can also rent outerwear for snowboarding, this is something else I suggest you purchase for yourself. You want to feel comfortable in what you're wearing and be able to have it handy at all times without relying on renting something that might work for you.
I suggest getting a pair of high-quality snowboard pants and a snowboard jacket. Both should be waterproof and resistant against rips and tears, though still flexible enough to move with your body naturally. Lastly, a good pair of gloves to keep your hands warm.
Protective Gear
Many people ask if they really need protective gear. The answer is a million times, "yes!". While you'll usually see helmets on the heads of children, adult heads aren't much different and still need proper protection. This is especially crucial when you're learning an extreme sport like snowboarding, where you're essentially throwing yourself down the side of a snowy mountain!
Wrist guards are all up to you. However, adults are at a greater risk of wrist injury than children are, so it's just better to try and prevent it.
Finally, I also recommend picking up a pair of goggles from a reputable brand. Smith, Spy, and Oakley are some of the most popular and you can realistically pick up a high quality pair under $40 or so if you're on a tight budget.
Summary
Now that you know all about what to expect your first time snowboarding, are you ready to take on your first trip up to the resort? It may be daunting, but there's no need to worry! If you follow this guide, you're going to be more prepared than 99% of other first-time boarders up there and you're sure to learn faster. We hope our guide was helpful to you, and hope to see you again soon! Thanks for tuning in and have a great time!
Notice:
OutsidePursuits.com is a participant in the Amazon Services LLC Associates Program, an affiliate advertising program. OutsidePursuits.com earns fees from products sold through qualifying purchases by linking to Amazon.com. Amazon offers a commission on products sold through their affiliate links.