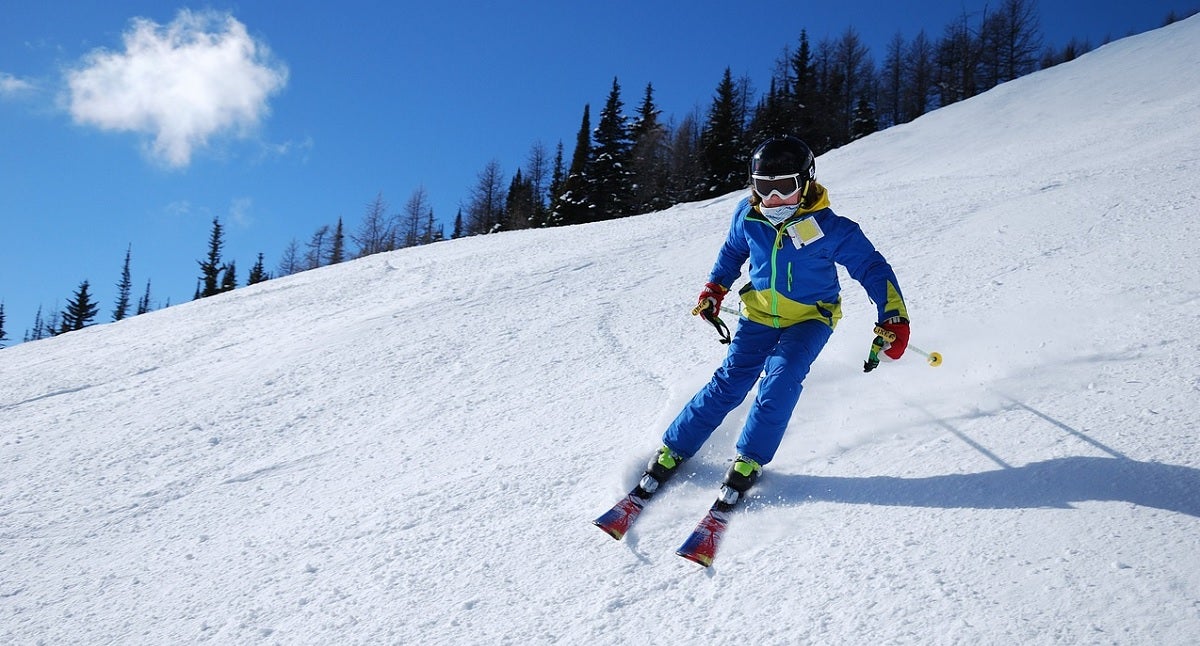 Our Editors independently research, test, and rate what we feel are the best products. We use affiliate links and may receive a small commission on purchases.
The truth is, many of us don't want to partake in a sport unless we know it's going to make us look better. Others love working out but still want the satisfaction of knowing they're getting some good calorie burn in.
No matter what your situation is, if you're wondering if skiing and snowboarding is good exercise, then don't go anywhere. We're going to take you in-depth through the answer, as a simple "yes or no" isn't going to suffice. So strap in and let's take a look!
Burns Calories
Yes, both sports do burn calories – and quite a lot of them! Just to get from point A to point B or traverse from the end of the run to the lodge can get the body warmed up. Not to mention the fact that ski/snowboard boots and clothing adds a significant amount of extra weight.
Just standing around and walking without the boards and skis in the cold will increase your calorie burn. Pretty cool, right? Now imagine how much you'll burn in an entire day!
Well, let's say you way 185 pounds. Studies show you'll burn around 266 calories in just half an hour of downhill skiing. This number goes up the steeper the incline of the run, as your body has to work even more to keep balanced.
2. Strengthens the Lower Body
As you're going to be using your lower body extensively throughout the entire ski or snowboard trip, you're going to really feel the burn! Skiing is a sport which will keep your body in the squat position throughout the entire time, though snowboarding will also require you to be like this the majority of the time.
To carve, stop, and everything except cruising more or less is going to engage the quads, hamstrings, calves, and glutes. Skiing also uses these muscles, though with snowboarding you also involve the ankles and feet more to help with maneuvering and keeping balanced. As you are balanced on both feet, traveling head on downhill, you don't have to worry about keeping balanced quite as much as boarding requires.
4. Strengthens the Core
It's not only the lower body that's going to get a workout through skiing and boarding. The core is what keeps us upright and balanced and will constantly be engaged while you're on your board. At first, this will be a more conscious effort that will require focus. However, after a while it will become second-nature to you and keeping your balance on slippery surfaces, carving, etc. will be much easier.
5. Increases Flexibility
With most extreme sports, like snowboarding, the amount of flexibility you have is going to directly relate to the injuries you have along with how well you perform. Keeping balanced can actually help improve your flexibility. As you're constantly changing positions, rapidly, your body will improve upon this over time naturally.
However, you can help yourself with this by doing stretches and/or yoga when you are at home. Pay special attention to this the day before you head to the slopes as well as the morning/day of to minimize your risk of injury and to move smoother.
6. Boosts Mood
You're bound to find skiing and snowboarding to be some of the most exhilarating sports you've ever tried. Being up in the mountains with fresh air and the smell of pine trees is enough on its own to boost anyone's mood.
Pair that with sliding down a mountain, and you have a recipe for a huge endorphin production! Endorphins are what makes us feel happy but also relieved, which can help melt away stress.
On top of that, you'll be exposed to the sun, even on cloudy days, which offers a boost of Vitamin D!
Summary
Now that you know that skiing and snowboarding is some of the best forms of exercise out there, are you ready to try out one of the sports? They both have similar benefits to the body, but they're also so different from each other that you'll need to figure out which you prefer. We hope this guide helped to clarify your question. Thanks for staying tuned with us, and we'll see you again soon! Have fun up in the snow!
Notice:
OutsidePursuits.com is a participant in the Amazon Services LLC Associates Program, an affiliate advertising program. OutsidePursuits.com earns fees from products sold through qualifying purchases by linking to Amazon.com. Amazon offers a commission on products sold through their affiliate links.