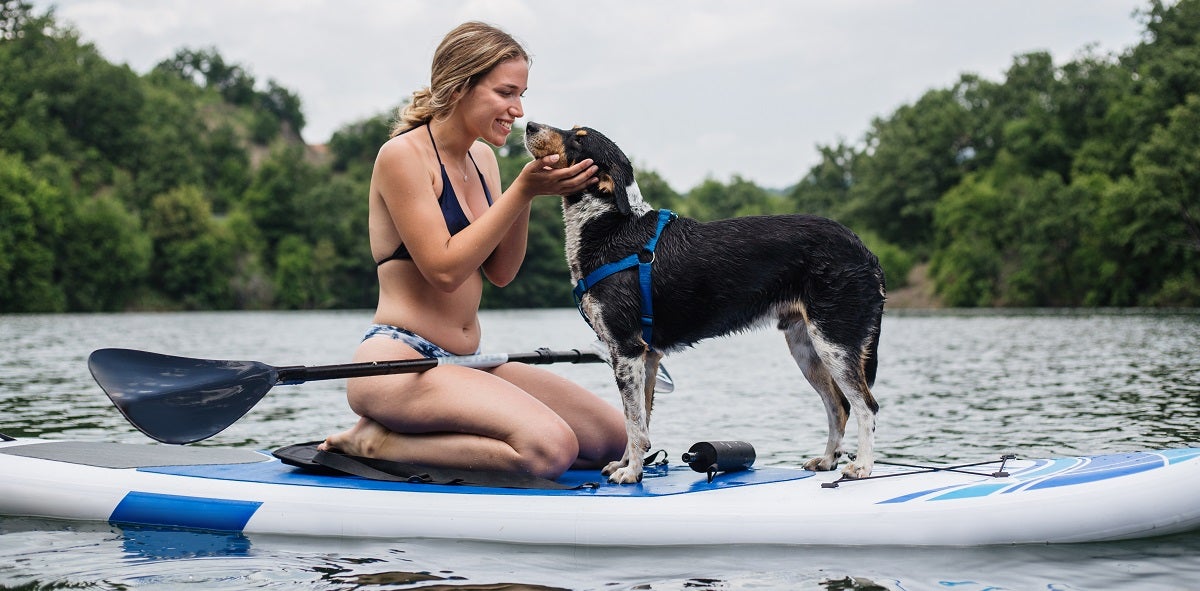 Our Editors independently research, test, and rate what we feel are the best products. We use affiliate links and may receive a small commission on purchases.
The sun is shining, the waves are lapping at the shore and you're ready to hit the water with your board. But something's missing — your furry friend. He's stuck at home wondering when you'll return.
Don't let him down. Instead, teach him how to ride along on your paddle board and so you bring him along. Here are a few tips to get you started.
Find the Right Gear
Are you and your pup beginners? If so, take a look at an inflatable paddle board, which is easier to use. You might need to try out various models to decide the best type for you. Make sure the board is long enough for both you and your dog without feeling crowded.
Keep your board in the house for a few weeks, so your dog gets used to it being around. He can sniff it and discover it's harmless. After a couple of days, put a treat on the board and encourage your pup to step on. Some dogs will be comfortable right away while others need a little practice.
You'll also need paddles. You can dismantle multi-piece paddles for easier transportation, plus they're adjustable. Sit on your board and simulate a typical ride. This practice will get your dog accustomed to the movements.
Try the Best Techniques
Some people reprimand their dogs when they make a mistake. If you want to teach your pooch how to paddle board, it's crucial to remain patient. Create a positive environment and let your pup have fun. If he seems scared or confused, give it a break for the night.
Treats are a must. Consider how you'd feel if coerced into learning a new trick. You'd want a little reward, right? The least you can do is invest in some chicken treats or peanut butter snacks. After a particularly long session, end the night with a rawhide.
Think About Safety
Once your dog sits on the board, it's time to break out the life vest. This process should be simple if you buy Halloween costumes and Christmas sweaters. Your pup's flotation device should fit snugly to avoid slippage. If it's uncomfortable, they'll associate the feeling with paddle boarding.
As for you, invest in a leash — one that attaches to your board. You'll avoid the need to swim after your ride when you wipe out, something hard to do when looking after your pooch.
Head Out to the Water
It's time for the ultimate test. Get the board close to or slightly on the water. Then, give your pup the command to step on and sit down. Depending on your dog, you may need to do this a few times before you head out. Once your dog seems confident, it's time for an adventure.
Keep outings short at first. Give yourself and others plenty of space, whether you're on a pond or in the ocean — it's just good manners. Expect some mistakes and fumbles at first. The more you practice, the more confident both you and your dog will become. Some dogs take to the water right away, but others need time.
Make Some Adjustments
Does your dog have traction issues? Slippery boards and wet paws don't tend to mix. To give your pooch a better grip, attach a bath mat with suction cups to your board. You can also buy a pad designed for dogs. As a bonus, it will prevent scratches from nails.
Does your dog keep falling off with the added traction? It could be a board issue. Look at your gear's weight capacity. You and your pup's weight — especially if you're hauling around a mastiff — could be too much to handle. Try to limit what you take along, even if it means nixing the cooler.
Bring Fresh Water
A trip out to the ocean can be a fun experience. You can push through the waves, keep an eye out for sea creatures and soak up the sun. However, it's essential to bring along fresh water to avoid dehydration.
If you plan to be on the water for more than an hour, bring along two bottles of water — one for you and one for your dog. You should invest in a collapsible water bowl. Dogs can also get sunburned, like humans. Decrease your time in the sun with a battery-powered pump, which inflates your board in three to five minutes.
Paddle Boarding With Your Pup
It takes time and effort to teach your dog how to paddle board. In the end, though, when you're out on the water together, it will all be worth it. Nothing is better than spending every moment possible with your best friend.
Notice:
OutsidePursuits.com is a participant in the Amazon Services LLC Associates Program, an affiliate advertising program. OutsidePursuits.com earns fees from products sold through qualifying purchases by linking to Amazon.com. Amazon offers a commission on products sold through their affiliate links.