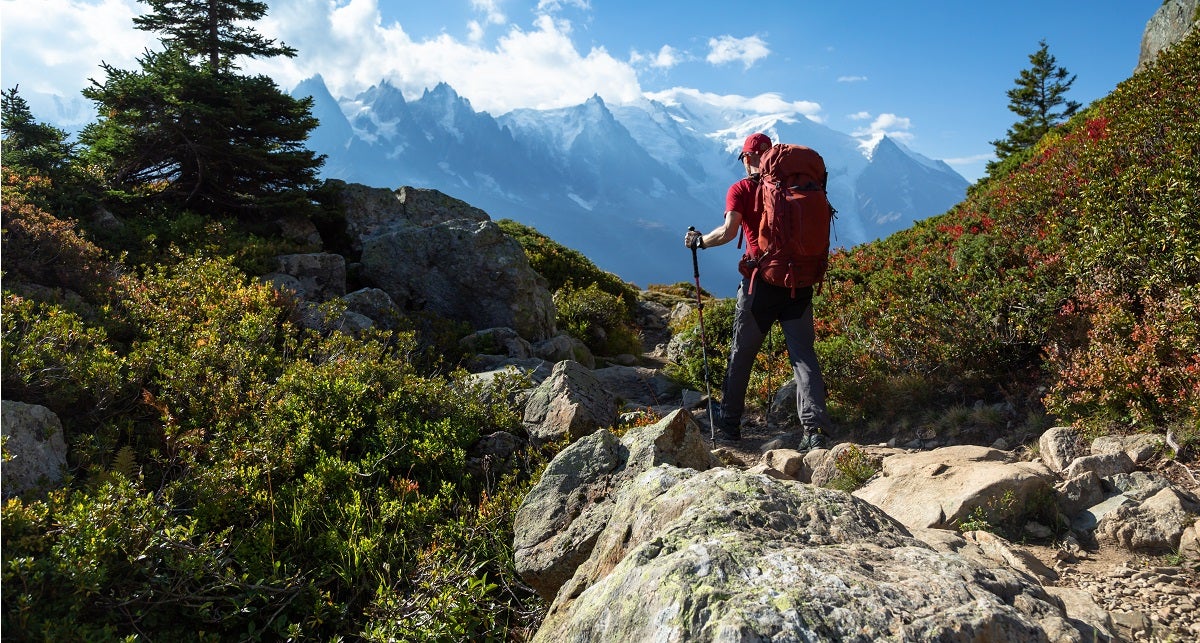 Our Editors independently research, test, and rate what we feel are the best products. We use affiliate links and may receive a small commission on purchases.
Hiking is one of the best experiences we can give our bodies, both mentally and physically. Hiking presents challenges like uneven terrain to test our muscles and balance, while also burning some calories and letting us take in the fresh air and beautiful vistas of Mother Nature.
However, if you're going to be hiking alone there are some tips you need to follow to stay safe. We have the top 5 tips of how to stay safe while hiking solo right here for you!
1. Backpacking Water Filters
Water is one of the most important things necessary for our body to function properly. When out hiking for days at a time, your body is going to require more water than you're simply going to be able to carry. However, if you're going to cross water sources such as a river, you're in luck!
Backpacking water filters come with a bag for you to fill up with water from said source, filtering out the water in various ways. LifeStraw is without-a-doubt the most well-known due to its incredible convenience and the fact that it removes up to 99.9999% of bacteria, protozoa and viruses. There are others which include ceramic, charcoal, and glass fiber filters to help rid the water of cloudiness and odor as well.
Thanks to the wide array of different styles and methods, you'll be able to select the one that works best for you and your hiking environment.
2. Learn How to Navigate
While many of us like to believe that we were born to be in the outdoors and can navigate perfectly fine on our own, we really don't recommend leaving this up to yourself. While you may do just fine, it's simply not worth the risk of getting lost. Even getting lost one time can have grave consequences. So, let's take a look on a few navigation tools that ensure this never happens:
GPS Unit – If you're heading out into the wilderness, you really should be bringing along some type of hiking GPS. No, the one you have on your smartphone is not appropriate for navigating these types of environments.
Those that we're referring to can help navigate to precision, no matter where you are in the world. Whether you're simply heading off of a trail and want to be assured you'll easily find your way back or would like to create and follow a pre-charted route, these are exactly what you need.
Compass – Sure, compasses may seem a bit antiquated, but if it's not broken don't fix it, right? If compasses were able to lead countless legendary explorers across various oceans and continents, they're certainly good enough to keep you on the right path.
Backpacking compasses all differ, but oftentimes you'll find an additional magnifying lens, clinometer, straight edge/inch markings, scales, and more. These are designed to be compact yet incredibly useful navigation tools that work for everything from basic operation to advanced navigation with topographic maps.
Outdoor Watch – If you don't feel like carrying around a compass in your pack, carry one on your wrist! These outdoor watches usually come with a built-in compass, altimeter, barometer, topographic maps, weather graphs/alarms, and are even water-resistant. What more could you want on your hike?
3. Always Have a Source of Power
This is pretty hard to do without an electrical input or batteries, right? That would've been true a few years back, but now we have solar chargers that can be used anywhere! Solar charges made for hiking are more compact so you can easily carry them in your backpack safely, without taking up much room or adding much weight.
Obviously, you're going to need some sunlight, but that shouldn't be an issue when in the great outdoors. Each model will vary in terms of how long it needs to sit under the sun to gather energy, the amount of energy it offers, as well as how long it will charge devices for. However, you now don't have to worry about any electronic devices losing their juice.
4. Be Able to Start a Fire
Sure, many of us were in Boyscouts or Girlscouts at one point in time, where we learned how to start a fire. Not only was that a long time ago, those methods simply aren't the most effective and are even outdated when you consider modern technology like a fire starter.
What is a fire starter? Well, you probably know the most common ones already: matches and lighters. These are something we recommend you always carry with you. However, there are other less common yet highly effective fire starters in the form of flint and steel and fire pistons. The Fire-Fast Fire Starter is our personal favorite, however, replacing the need for any matches or lighters!
5. Know How to Dress
While you may start your day out hiking with clear blue skies and warm temperatures, rain clouds can come in quickly and temperatures will drop quickly as soon as the sun sets. You need to be prepared for anything, which means having a jacket that you can easily pack away but take out when weather conditions get more intense.
A backpacking rain jacket will help keep you warm while keeping the wind and rain out. You want something not too bulky, protective, yet breathable enough that you don't get too hot or sweaty. Hardshell jackets are for when weather gets a bit more abrasive, such as heavy windstorms, icy/snowy conditions, and very low temperatures. Make sure to wear some warm, insulating layers under these, especially if your jacket doesn't already come with a layer of insulation.
Summary
Now that you know how to stay safe while hiking solo, which items are you going to obtain first? One last item we would recommend is bear spray. In the backcountry bears represent a real threat and bear spray and mean the difference between life and death!
If you are missing some necessary clothing then get that first. It doesn't matter much what other gear you have if you can't first protect your body from the elements!
However, we highly recommend getting each item if you don't already have one. They each serve their purpose, and we know you'll be thankful to have them. We hope our guide has helped you figure out just how prepared you are and help fill in any gaps in your plan. Thanks for tuning in, and we'll see you again soon!
Notice:
OutsidePursuits.com is a participant in the Amazon Services LLC Associates Program, an affiliate advertising program. OutsidePursuits.com earns fees from products sold through qualifying purchases by linking to Amazon.com. Amazon offers a commission on products sold through their affiliate links.