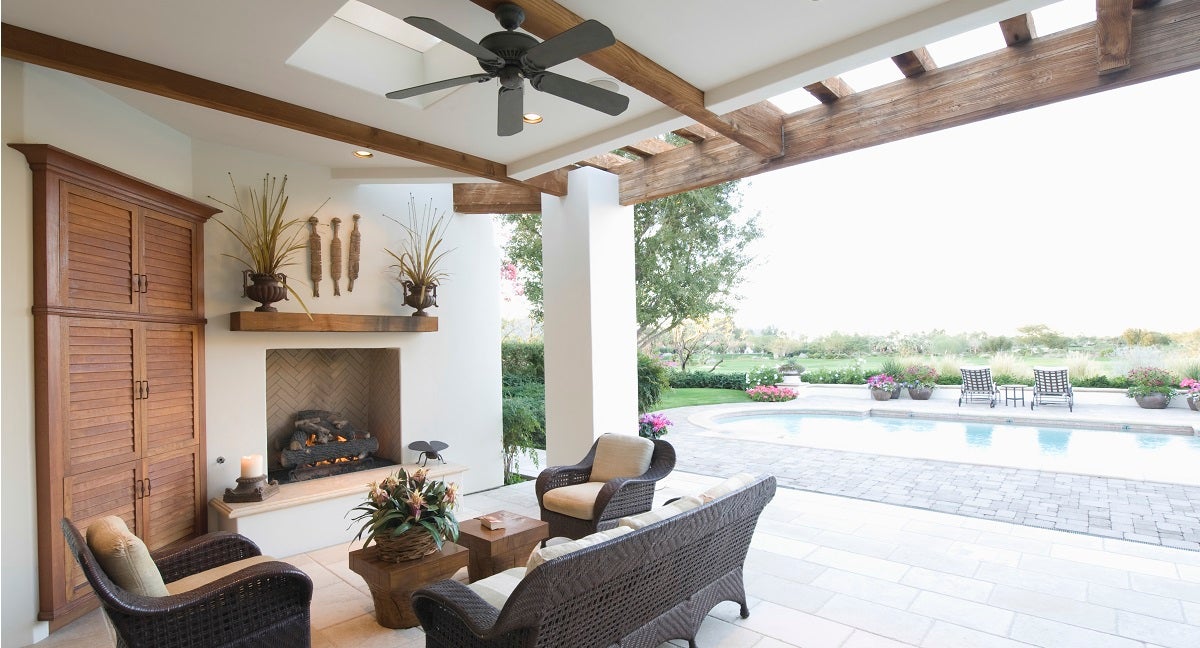 Our Editors independently research, test, and rate what we feel are the best products. We use affiliate links and may receive a small commission on purchases.
When summertime hits, everyone loves the idea of being outside. However, not every patio is summer-ready. You're going to need to prepare it for hanging out outdoors if you want to be comfortable – not to mention if you're planning on entertaining guests!
If you don't know where to start, there's no need to worry. We have the best tips on how to stay comfortable on your patio in the summer all right here!
1. Inflatable Pool
When we think of what we love most about summer, many of us think about lounging somewhere in the pool or at the beach. However, it's not really feasible to bring the beach to our patios, so that leaves us with a pool. If you don't have a built-in pool in your backyard, then there are other options, like using an inflatable pool!
These pools come in all sorts of shapes and sizes, so you can pick how many people you'd like to accommodate. One thing is for sure, though, is that you and your guests will definitely make good use out of it!
Whether you really want to swim around or simply want something your can sit and drink your beverage in, there's something for everyone. If you have children, then you're doubly sure to love investing in one of these pools.
Now you and your family or friends can enjoy cool, refreshing water without having to head to a local pool or beach. Enjoy it all from the comfort of your own patio.
2. Outdoor Daybed
Outdoor daybeds are wonderful for putting up your feet and really letting all of your stress melt away. These beds can accommodate multiple people so everyone can relax together. We love these for reading a book, enjoying some refreshments, or just chatting with friends.
As these beds come with canopies, you'll have a well-shaded space to spend all day on without worry about getting sunburnt or simply feeling uncomfortable. While they tend to be a bit of an investment, you get a kind of 2-in-1 with these models.
If you don't want to use it as a daybed, you can separate it into different sections that serve as seating and a table for you and your guests! That way you are maximizing your available space while making sure every situation is taken care of.
3. Ceiling Fans
Similar to outdoor daybeds, outdoor ceiling fans are perfect for use during any season. You're probably thinking that ceiling fans have no place on a patio during winter, but with these fans it's different! They can be operated in reverse, which actually works to warm up a space instead of cooling it down so instead of shelling out some cash for a heater you can simply purchase one of these and take care of any kind of climate.
However, today we're talking about keeping things cool and these fans work wonders at doing just that. They come with multiple speeds, so you'll be able to adjust it exactly to your liking. On particularly hot days, simply ramp it up to a level 3 or 4 and you and your guests will be able to enjoy your patio while staying perfectly cool and dry.
As they come with remote controls, you can change up the mode or the fan speed without ever having to leave a conversation or leave your seat. They're designed to make entertaining more convenient for you, and now that we've added one onto our patio there's no way we could ever go back.
4. Outdoor Misting Fans
So, say that you don't think an outdoor ceiling fan is enough for the intense heat that your area experiences. Or perhaps a ceiling fan is enough, but you have a very large patio and feel you need to take things up a notch. Whatever the case may be, an outdoor misting fan is a wonderful solution. These fans obviously blow cool air, but they also work to distribute a refreshing mist to anyone in its path.
These misters come in different types of configurations, depending on how accessible a power outlet is or how often you want to transport it. If you need something that's easy to move around, you can take a look at fans with water reservoirs that don't require you to hook it up to a hose. Simply fill it up and it's ready to go.
If you want a more permanent fixture, then there are alternatives which let you connect it to a garden hose so you have a never ending supply of water to entertain your guests and keep them cool all day long.
5. Inflatable Water Slides
If you have kids around, there's no better way to keep them cool and happy than an inflatable water slide. Just make sure you're prepared for the neighbor kids to take up residency in the summertime because everyone is going to want to join in on the fun!
These slides come in all types of shapes and sizes, so you'll be able to choose the perfect model that fits your backyard space while also accommodating the age and activity level of your child. From a splash pad or a slip-n-slide to a full-blown water park, there's really something for every age and budget out there. Each of them are easy and quick to set up, however, so you can put in minimal effort and keep your kids happy all season long.
Summary
Now that you've had the opportunity to read all about the best ways to keep comfortable on your patio during the summer, which accessory are you going to add in first? While you can definitely add all of the aforementioned items onto your patio, even just getting one will make a great difference in your comfort level and the amount of time you spend outdoors.
We hope our guide has helped you select the best accessories for you and your space. Thanks for tuning in and we'll see you again soon!
Notice:
OutsidePursuits.com is a participant in the Amazon Services LLC Associates Program, an affiliate advertising program. OutsidePursuits.com earns fees from products sold through qualifying purchases by linking to Amazon.com. Amazon offers a commission on products sold through their affiliate links.