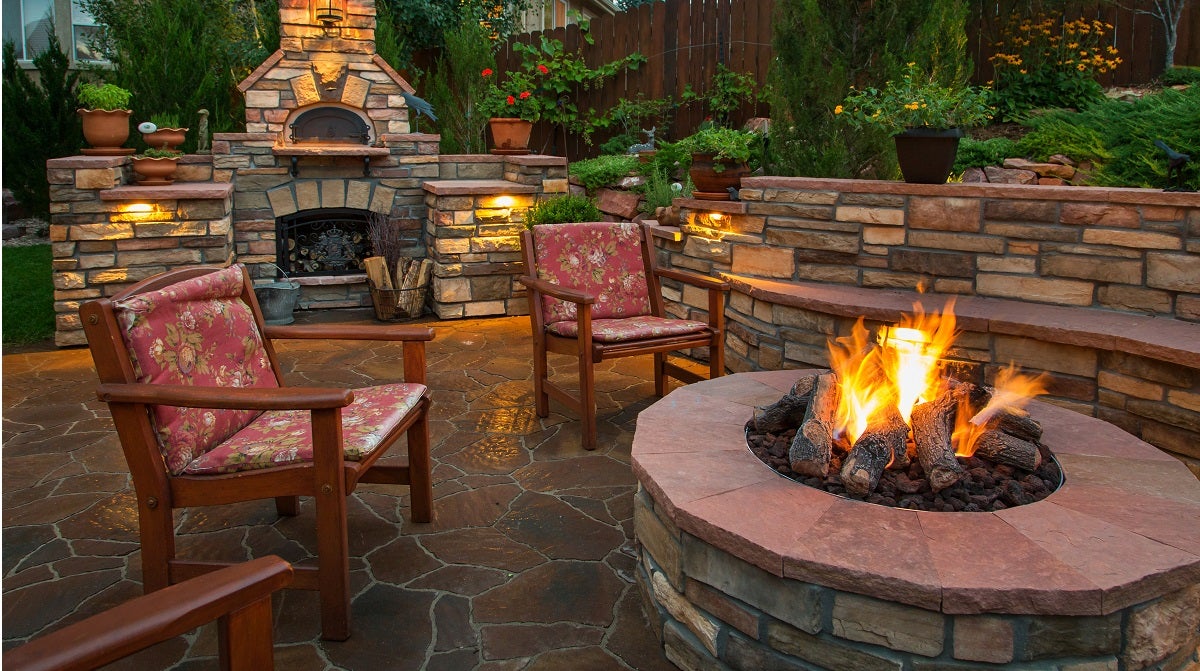 Our Editors independently research, test, and rate what we feel are the best products. We use affiliate links and may receive a small commission on purchases.
Patios are there not only to be enjoyed when the weather is nice, but all year-round. However, in the past, many people had to forget about that when temperatures dropped as there simply wasn't a feasible way to keep it warm.
Well, all that has changed, and we are here to show you the best ways of how to stay comfortable in the winter on your patio. You'll definitely wish you'd read this guide earlier, once you see what a huge transformation they can make in your experience!
1. Fire Pits
Fire pits and chimineas have a way of drawing people in like magnets, don't they? No matter whether it's a literal hole in the ground or a beautiful pit made with precision, the flames really make people gather round the fire.
They create a kind of ambiance that's unmatchable by anything else, but more importantly, they keep us warm very well!
Fires lit an otherwise dark place with a unique pattern that no other can match, and it can even create a romantic ambiance if it's just you and a significant other. If you've spent the afternoon feeding your guests a delicious dinner, why not finish it off with a dessert in the form of s'mores over a fire?
That way it's not only yummy but a fun, interactive way of making their dessert that your guests are sure to remember.
No matter the size or shape you're looking for, there will be at least one fire pit to suit your preferences. From modern to rustic, there's sure to be something that works well with the existing décor on your patio.
2. Patio Heater
Patio heaters are great alternatives or complementary accessories to a fire pit. These are commonly seen in outdoor commercial spaces, such as an event venue or a restaurant patio. This is because they're incredibly effective at keeping larger spaces warm, but never too hot.
Not only that, but they're very safe to use if you select a high-quality model. They aren't eye sores, either, with the designs only adding to the ambiance.
You can choose from either a propane version or an electric model. If you have easily accessible outlets on your patio then electric models are much safer and more convenient. However, if you have a larger outdoor area and would have to use extension cords, you're probably better off with a propane heater. Just make sure it has enough clearance.
3. Hanging Chairs
No, hanging chairs by themselves may not be able to keep you very warm, but they will make a difference. These chairs are perfect for one or two people max, and are more compact, making them great little eggs to cuddle up in. As they usually come with plush cushions and pillows, they'll create a nice barrier against the wind. However, once you add a soft blanket into the mix you'll be ready to take on any chilly night!
These lovely little sanctuaries will be a hot spot for any cold guest you're entertaining, and also look beautiful, adding to the appearance and character of any backyard. Hammock chairs are also nice alternatives, though the padding isn't typically as thick as hanging chairs' will be.
4. Outdoor Ceiling Fans
Typically, fans are one of the last things on our minds when we're thinking about making a space warmer! However, it's important to note that there are certain outdoor ceiling fans that also work in a reverse manner, bringing cold air upward. This actually leaves us with a warmer, more comfortable environment in the colder months!
These fans are made specifically to hold up to the elements, so you don't have to worry about it becoming damaged by colder temperatures. Not only that, but once things start to heat up again, you'll be able to use them to keep you and your guests cool. Needless to say, you'll really be getting the most out of your money as you'll be able to use these fans no matter the season.
As these fans typically come with multiple speed options, you can control just how warm you want your patio to be. You can do so without even having to walk over to the fan. Thanks to included remote controls, you never have to leave a conversation to change up the speed.
5. Outdoor Daybeds
Outdoor daybeds, like the fans we just covered, are great for year-round use. They're wonderful to lounge around on and take in the sun during the summer, but they're also perfect for huddling up on with some friends during the colder seasons!
Each of these models come with thick cushions and pillows, which will instantly make you and your guests more comfortable. Not only that, but they have canopies to help block out the frigid wind!
Throw on a few blankets, and everyone will be cozied up on the bed, telling ghost stories and enjoying a cup of coffee or hot chocolate. As most include a table in the center, you can do so without worry of the beverages tipping over and spilling everywhere. If they do, though, they're all very easy to clean.
Summary
Now that you've been able to read through our guide of how to stay comfortable in the winter on your patio, do you have a better idea of how you're going to warm you and your guests up? Even just selecting one of these items will make for a much more comfy experience and will ensure no one goes inside before they want to, due to the cold.
We really like combining a couple of the products, like having an outdoor heater next to an outdoor daybed. That way, you'll really be able to enjoy the fresh air without freezing! We hope that our guide has made you more excited for the winter months. Thanks for tuning in, and we'll see you again soon!
Notice:
OutsidePursuits.com is a participant in the Amazon Services LLC Associates Program, an affiliate advertising program. OutsidePursuits.com earns fees from products sold through qualifying purchases by linking to Amazon.com. Amazon offers a commission on products sold through their affiliate links.