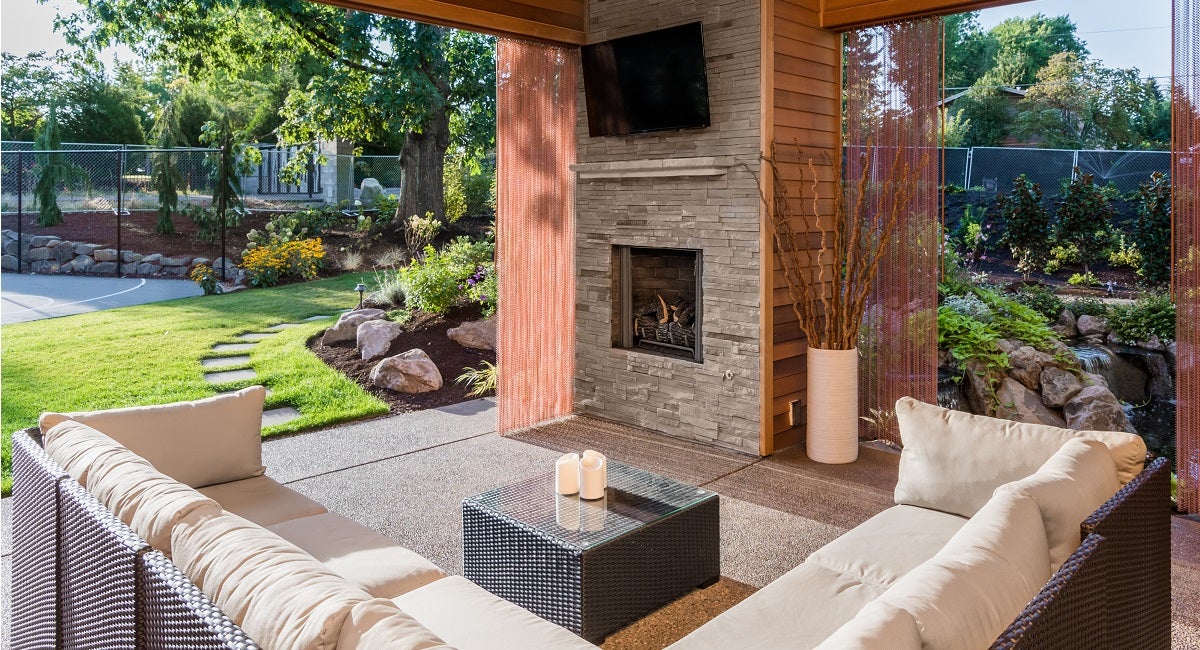 Our Editors independently research, test, and rate what we feel are the best products. We use affiliate links and may receive a small commission on purchases.
One of the best things about having a backyard is being able to entertain guests! You all get to enjoy the fresh air while being unrestricted by tiny rooms or the lack of furniture. However, you have to plan accordingly if you really want to make the most of it.
That's why we've taken our own experiences along with expert tips to give you the best tips on how to set up your backyard for entertaining. We know you don't want to waste any time so let's get started!
1. Projector
What easier way to entertain that to put a movie on? In the past, this was a much more difficult feat, considering no one wanted to set up a television that could easily become damaged by the elements. However, with an outdoor projector, it's no much easier.
The projectors themselves are very easy to carry so if the weather gets too intense, you can simply bring it back inside with minimal effort. Of course, you'll also need somewhere to project the image, so you'll also want to get an outdoor projection screen.
These screens are either fixed-frame or inflatable, depending on your needs and preferences. Both are made to work well outside, and take just minutes to set up or take down in case it starts raining or something.
If you or your guests aren't into movies, you can even setup a video game console to create a bit of friendly competition or keep kids entertained.
2. Fire Pit
Who doesn't love a nice fire pit? For some reason, the fire instantly creates a more welcoming environment sure to spark some conversations you'll never forget. If you love entertaining in the evenings or during the chillier months, these are going to be a must-have for your backyard.
It provokes everyone to come together around the pit and really cozy up to the fire. If you're a s'mores aficionado, then you need one of these yesterday.
They come in a wide selection of designs, shapes, and sizes, depending on the size of your yard and the amount of guests you typically entertain. You can rest assured though, that each of them is going to be safe and beautiful to look at.
Another option is a patio heater. While they are not as attractive as a fire pit, they provide plenty of heat to keep you warm on a chilly evening.
3. Pizza Ovens
For some reason, it can be all too difficult to find a good pizza. Those that are worth purchasing aren't often those we can get delivered to our homes, so you have to leave to enjoy it. Well, that was how things were in the past – not now, thanks to outdoor pizza ovens!
These ovens are made to be used outside, so your guests can revel in the delicacies of a well-made pizza pie all from the comfort of your backyard!
No matter what your backyard setup looks like, there will be at least one model to fit your needs. There are compact designs that can easily fit on a counter or on a table, while there are bigger alternatives that are freestanding and look more like the traditional pizza ovens one might see in an authentic Italian restaurant.
Each one will offer a crust exactly to your liking, with perfectly melted cheese and rich flavors that will have everyone raving about your get-togethers.
4. Seating
Any backyard ideal for entertaining needs adequate seating for guests. Oftentimes, this is where people are lacking, as they don't plan for as many people that will actually show up. You know how the guests you invite often tend to bring someone else along with them?
You'll want to have seating for all of them then you will have to deal with people standing around and perhaps feeling uncomfortable. There are multiple forms of seating to deal with, it all depends on your own preferences and how many people will be.
Picnic tables are a fun, festive way of enjoying the company of your guests, though they're not all that comfortable. They're easy to move and not that cumbersome, so you'll have to take into consideration your priorities. However, there are other forms of outdoor seating like proper patio dining sets which come with chairs, couches, and/or tables to place the food and drinks on securely.
If you don't typically have a lot of guests over but still want a fun and comfortable form of seating, try out a patio swing. These are relaxing and really let you take in the beauty of the outdoors and others' company. They're typically designed for 2-3 people at a time, however.
5. Misting Fans
On hot summer days, it can feel overwhelming to hang out in the backyard – especially if there isn't much of a breeze to speak of. An excellent solution is an outdoor misting fan, which blows mist in the direction you point it in.
These come with either a water tank so you can easily transport it without having it connected, or they come with the option of hooking up a garden hose so you have a source of water for as long as the hose is turned on.
Some are smaller than others, so you'll want to consider the size of your entertainment space. Perhaps you'll just want it set up in a corner of your backyard so if people get too hot they can pay the mister a visit and then go back to where they were.
Summary
Now that you've had the opportunity to read all about the best ways to set up your backyard for entertaining, do you have a better idea of how you're going to go about it? Even if you select just one of the aforementioned accessories, you can feel confident knowing that it will make a great improvement in the experience of you and your guests. We hope that our guide has been of some help in that regard. Thanks for tuning in, and we'll see you again soon!
Notice:
OutsidePursuits.com is a participant in the Amazon Services LLC Associates Program, an affiliate advertising program. OutsidePursuits.com earns fees from products sold through qualifying purchases by linking to Amazon.com. Amazon offers a commission on products sold through their affiliate links.