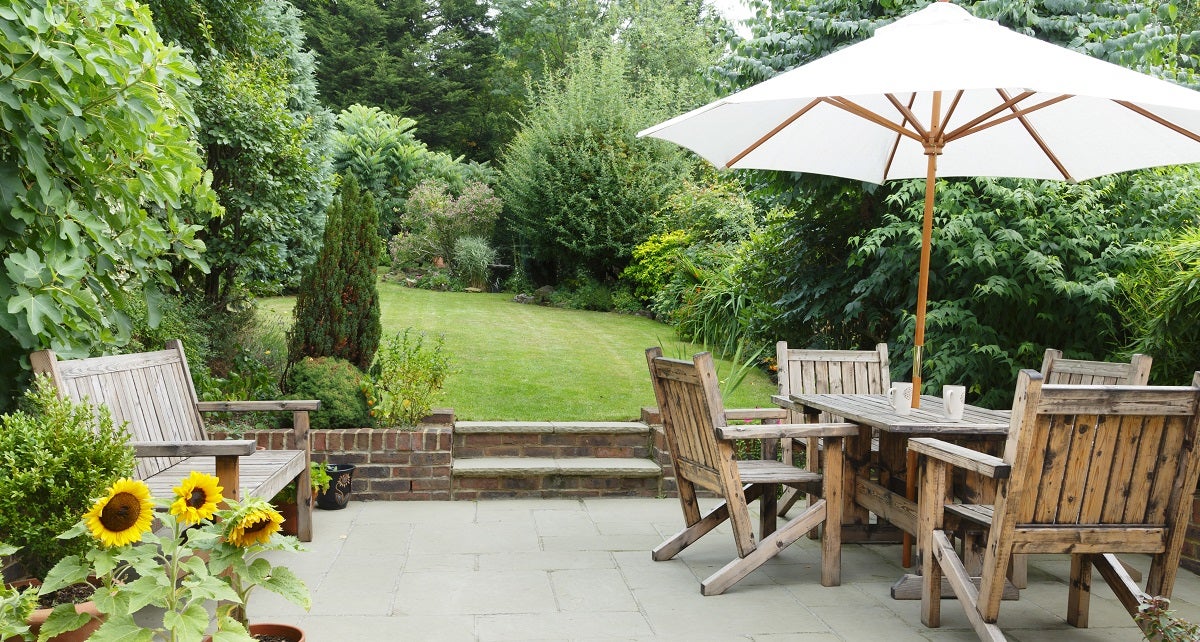 Our Editors independently research, test, and rate what we feel are the best products. We use affiliate links and may receive a small commission on purchases.
For many people, their patio is a kind of escape from their daily routine or life. While it's still part of your home, you can really make it into a kind of sanctuary where you get to relax on your own or entertain friends and family. Whatever your patio means to you, it should definitely be comfortable.
If you're looking for ways to make your patio more cozy, then don't go anywhere because we have the top tips for making your patio more comfortable. Let's take a look!
1.  Shade
The first rule of making any patio comfortable is having shade. Sure, there may be times when you really want to feel the sun's warm rays on your skin, but sometimes it can just become too much. That's where cantilever umbrellas come in! These beautiful accessories offer a great amount of shade, depending on the space you'd like to cover.
While many umbrellas out there are bulky and have large footprints that take up valuable patio space, these are easy to move and feature a kind of side pole umbrella where they're supported of a pole on their side instead of in the middle. This offers you much more space for you to take advantage of, while lowering the risk of you or a guest of running into it!
As patio umbrellas come in so many different styles and shades, you're sure to find something that suits your personality perfectly! Now you can stay on your patio for as long as you'd like to, without the sun dictating your every move!
2. Zero Gravity Chairs
If you haven't yet tried a zero-gravity chair, you're in for a real treat. These chairs are designed to allow your joints to relax, taking pressure off of them and your muscles, while boosting blood flow to help your body recover from a busy day or to help start it off right.
You'll typically be able to find these models either in 1-person or 2-person configurations, depending on your weight and if you'll be sharing the experience with a partner. Weight capacity and materials vary quite a bit, so make sure you know what you're looking for beforehand in that regard.
Different models offer different adjustable positions. The best ones will let you choose anywhere from a degree of recline from zero to an impressive 170 degrees, where you're almost completely horizontal. These are wonderful if you're recovering from a surgery or injury as they help take pressure off of the spine and the joints.
However, they're also great for preventing varicose veins and can simply help put your mind at ease which has an array of benefits in itself. As they're typically lightweight, they won't take up much room on your patio and are incredibly easy to move about. While not "zero gravity", Adirondack chairs are very comfortable and a good alternative.
3. Outdoor Daybed
What's better than taking a nap on a hot, summer day? Taking that nap outdoors, in the beauty of nature! If that sounds interesting to you, then what you need is an outdoor daybed. You'll find all kinds of different configurations and shapes to select among.
Many are circular, and comprised of a few different sections that can make up individual seating arrangements when separated, complete with a center table to place drinks and snacks. When placed together, they make up a spacious, comfortable bed for you to spend all summer on.
Complete with a canopy, you don't have to worry about sun damage if you accidentally fall asleep (which you absolutely will given how perfectly cushioned they are).
Moreover, as they are made up of individual pieces typically, they are easy to transport to different locations on your patio, depending on the season or the occasion.
4. Patio Heater
No matter where you live or the type of climate you have in your area, chances are that there are times when it's chilly outside. However, just because temperatures are dropping doesn't mean we don't want to take in some fresh air or enjoy our patios!
The perfect solution lies in the patio heater. These heaters are beautiful accessories that more often than not look like pieces of art themselves. However, they're just as functional as they are visually stunning!
They vary in size, weight, and power, so you'll need to measure your patio area out to select the right model for you. These heaters will warm the surrounding area to ensure that neither you nor any of your guests go inside early due to having goosebumps. Fire pits will also keep you warm while providing the ambiance of a fire. There are several types available, wood and propane. Either will look great on your patio!
5. Outdoor Rugs
Last but not least, is the outdoor rug. Not only do rugs tend to effectively tie a space together, but they're very convenient and easy to install – taking literally no experience whatsoever. They come in a variety of sizes, shapes, and materials so you can select exactly what works best for you and your space.
These rugs are designed to be weatherproof so they'll hold up for many seasons to come, and won't absorb water which can be a welcoming home to harmful bacteria. These rugs feel great underfoot and may even reduce fatigue from standing for long periods of time. Not only that, but they just make a space more inviting which is essential if you are entertaining guests regularly or spend a lot of time on your patio, yourself.
Summary
Now that you've had the chance to read all about the best ways to make your patio more comfortable, do you have an idea of how you're going to style it? No matter which accessory you choose, we know that it'll make a big improvement to your experience outdoors. We hope that our guide has helped you narrow down the best options for your patio. Thanks for tuning in, and we'll see you again soon!
Notice:
OutsidePursuits.com is a participant in the Amazon Services LLC Associates Program, an affiliate advertising program. OutsidePursuits.com earns fees from products sold through qualifying purchases by linking to Amazon.com. Amazon offers a commission on products sold through their affiliate links.