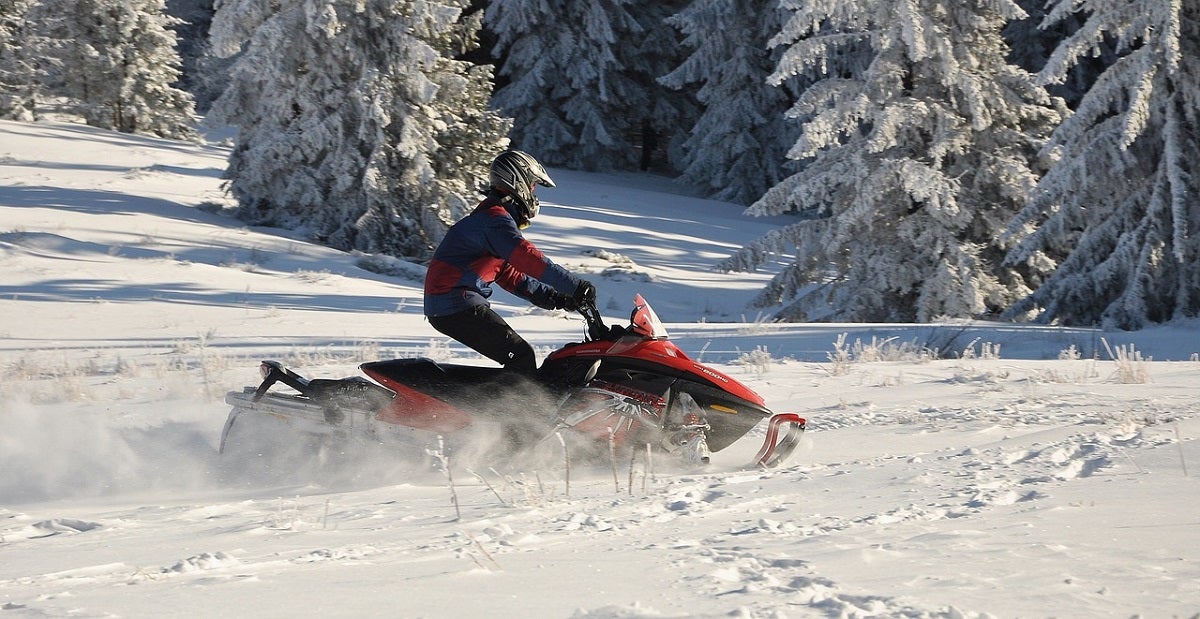 Our Editors independently research, test, and rate what we feel are the best products. We use affiliate links and may receive a small commission on purchases.
Think about it: you don't ever purchase a car or truck without the intention of giving it regular maintenance do you? Why would a snowmobile be any different? Snowmobiles are great investments, and if you want them to operate to their full ability and last as long as possible you need to take proper care of them.
Not only that, but it's also about keeping your safety in mind. We're here to show you how to maintain your snowmobile so that's never even a thought in your mind.
Know How to Ride
First off, you must know how to ride a snowmobile to take proper care of it. If you're too aggressive with it, you could be too rough on the engine and/or suspension which may mean you have to get it fixed or even replace expensive parts earlier than you should. If you're unsure if your snowmobile is suited for tricks and aggressive riding, then look up the manufacturer or speak with the dealer you made your purchase from.
Pre-Season Review
It's always exciting when the season is close, as we all think about an entire winter of zooming around and playing in the fresh powder. However, you must know how to do a pre-season checkup before you can haul it out to the mountains.
Unless you live in an area that receives snow throughout the year, it's likely that your sled has been sitting around for at least a few months. Once again taking it back to cars and trucks, you wouldn't likely leave your vehicle just hanging around without driving it regularly to make sure it starts without issue.
However, just because everything seems to be functioning as intended, you must perform this "tune-up" to save you from any potential hassles you may encounter when you're actually on the trails. So, let's start by grabbing your owner's manual. This manual will provide you with instructions and diagrams which will guide you through exactly what you need to do before each season begins.
Aside from that, follow our handy checklist:
Filter
Spark Plugs
Headlights and Taillights
Track
Skis
Brakes
Steering and Throttle
You should take a good look over at each one of these components, checking them for wear and tear as well as making sure everything is properly lubricated and adjusted to your liking.
Regular Maintenance
After you've finished your pre-season check, you're not finished! In fact, maintenance should be a regular thing. Not only will it help you to avoid any mechanical issues you may come across, but it is also going to have less of a negative affect on the environment, also offering improved fuel economy.
Here's another checklist for you to refer to:
Take a look at the owner's manual or the manufacturer's website to see what they recommend regarding fuel and oil.
Check spark plugs often. We do recommend changing them out at the beginning of each season, but you can use your judgement here.
Keep the engine tuned correctly, maintaining acceptable fluid levels throughout the season.
We advise against performing aftermarket alterations on the exhaust as it will end up producing a louder noise but can even void your warranty. It would be pretty silly to miss out on that coverage because of something like that.
Check your skis, carbides, track, and drive belt for any visible wear.
Chains
Change Chaincase Oil
Chaincase lube is going to start to disintegrate with regular heating and cooling cycles. Not only that, but it can even get contaminated by water and metal slivers that shave off from the chain during use. Newer chaincases are going to come with a drain plug in almost every case, making oil draining a breeze. Even if you've never done it before, you'll likely have no issue with the process.
Just remember if you have a Ski-Doo REV-X model, you're going to have to remove the chaincase cover before you can change the oil. Arctic Cat models often have an ACT Drive system which also needs to be flushed and filled up.
Set Chain Tension
If you're already changing out the oil, may as well set the chain tension, too! One process is just as crucial as the other to a properly functioning snowmobile. A chain that's set too loosely may even skip and grind the sprockets. This is not a fun experience, and can even end up with your sled failing entirely. If yours has a mechanical reverse system, it may even mean you aren't able to use the reverse or forward gears.
Grease
This is probably the simplest process out of all maintenance routines for your snowmobile. In fact, it should take you no more than a few minutes to finish the job. Make sure to cover all zerks in the rear and front suspension, the steering components, and finally the drivetrain. Pay special attention to the driveshaft and jackshaft because if they're too dry, a bearing could fail which will leave you stuck on a trail or mountainside. We're guessing you want to avoid that!
Lights
For some reason, many riders often overlook the lights when they're doing their checkup. Tail lights and brake lights are necessary for your safety and the safety of other riders. They make sure others see your snowmobile and you definitely don't want to be riding around when the sun is setting away from civilization only to find out that the lights are out.
The good news is that inspecting lights is also pretty simple, and so is replacing them! Simply start up the sled, turning on the lights. Check to see if any are out, are flickering, or if they're very faint. Any that aren't perfectly lit up need to be replaced.
Summary
Now that you know all about how to properly care and maintain your snowmobile, are you ready with your checklist? We highly encourage you to check out each component we have listed here as they all work with one another. We hope our guide has been of some help to you and you ride with even more confidence knowing that your sled is working at tip-top shape. Thanks for tuning in, and we'll see you again soon!
Notice:
OutsidePursuits.com is a participant in the Amazon Services LLC Associates Program, an affiliate advertising program. OutsidePursuits.com earns fees from products sold through qualifying purchases by linking to Amazon.com. Amazon offers a commission on products sold through their affiliate links.