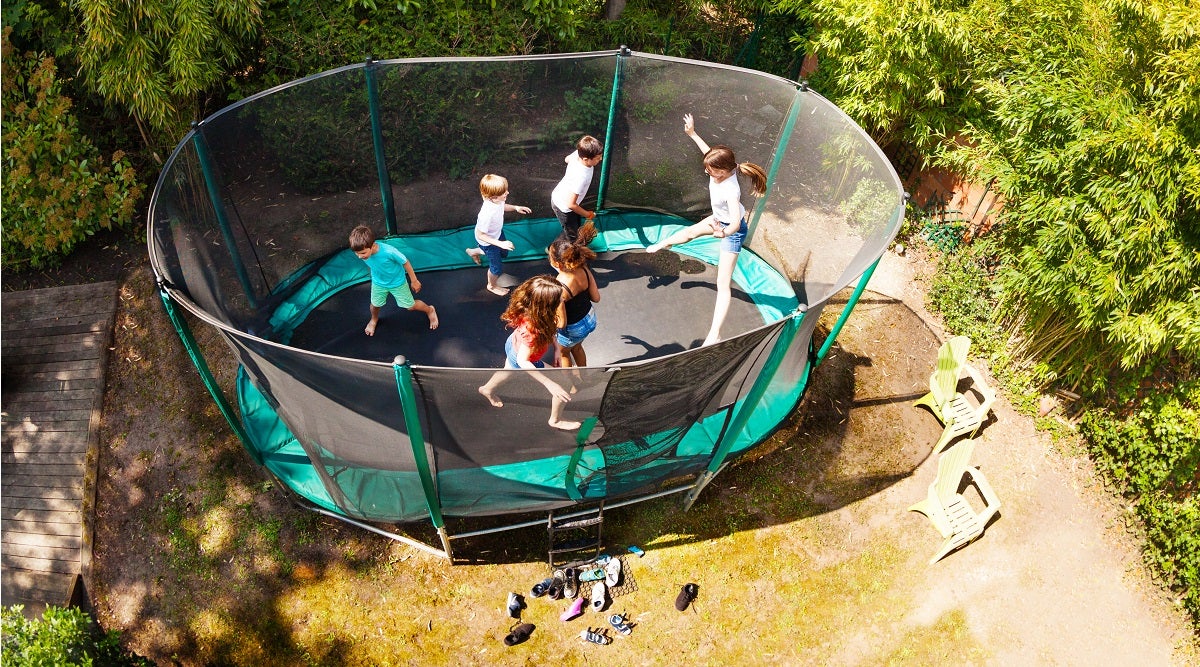 Our Editors independently research, test, and rate what we feel are the best products. We use affiliate links and may receive a small commission on purchases.
Now that temperatures are falling, homeowners are starting to pack away their grills, bring in their patio furniture and prepare for winter. There's no reason to hibernate just yet. Autumn brings colorful leaves, crisp air and the perfect weather for bonfires — things you don't want to miss.
As the new season settles in, continue enjoying the great outdoors from your own backyard with these 13 fun ideas.
 1. Roll Out Your Mat
While some people may prefer to work out in a gym or basement, others would rather breathe some fresh air during their exercise routine. If you're one of the many who would rather be outside, grab your mat and head out to your backyard. Flow through a yoga sequence on your own or find an online class to practice with.
This way, you can tune into a screen, nature and yourself all at the same time.
2. Fly a Kite
On days when it's a bit too windy for tree pose and headstands, try flying a kite. The basics aren't difficult to master and, once you get the hang of it, you'll be cruising. You might even get artsy and build your own kite. All you need is some newspaper, string, glue, two sticks and a craft knife.
Remember to tie a tail onto the end a decorate with ribbons and bows to promote stability and add some flair.
3. Start a Garden
Do you have a green thumb? Put it to good use by planting your very own backyard garden. Grow seasonal wildflowers, herbs, vegetables and even fruits to reap a decent harvest all summer long. Additionally, when you're done weeding, trimming and planting, take some time to sit in your garden and appreciate all your hard work.
Enjoy the bees and the animals that visit your little oasis and soak in the sweet smells from your flowers.
4. Hang a Hammock
Whether you're looking to swing the day away or spend a night under the stars, a patio hammock can help you unwind and reconnect with the earth. Choose between one, two or three-person hammocks, and hang yours between two trees or wooden beams under your gazebo or patio.
You might even choose one with a rain cover or mosquito net to protect you from the less pleasant aspects of nature. Bring a good book along and enjoy swaying wih the trees.
5. Update Patio Furniture
If you love lounging on your patio and soaking in the sun, odds are your patio furniture has seen better days. Frequent use, inclement weather and UV rays from the sun can discolor and damage chairs, couches, umbrellas and tables. Update furniture by replacing worn cushions, tie-dying your umbrella or investing in a few quality chaises.
If a complete overhaul is in the budget, consider replacing your patio dining set with one that's weather resistant so it last longer.
6. Sound Bathe
Surround yourself with all of nature's noises by indulging in a sound bath. Simply lay down in the grass and absorb the sights, sounds and smells of the world around you. Often, opening your senses in such a way will allow you to bridge the gap between yourself and the planet. Moreover, slowing down like this can ease tension and reduce stress.
Plus, soaking in the sunlight and vitamin D can boost your mood and regulate sleep patterns.
7. Keep Bees
In North America, you're 50% less likely to see a bumblebee than you were just 46 years ago. As endangered species, bumblebees and honeybees need all the help they can get. While planting wildflowers may support populations, keeping bees can seriously give their numbers a boost.
Check local laws and make sure you have good rapport with your neighbors before purchasing a beehive or equipment. Then, set to work creating the best hive a bee could ask for.
8. Host an Outdoor Movie Night
You don't have to skip movie night to enjoy the great outdoors. Take your viewing party outside and watch your favorite action film in your backyard. All you need is a sheet, an outdoor movie projector and every pillow and blanket you can find. You might also purchase an inflatable projector screen for easy setup and storage.
Once you have everything set up, call the neighbors, make some popcorn and enjoy your outdoor cinema.
9. Stock Up On Yard Games
Another brilliant way to get everyone outside more often is to stock up on yard games. Of course, you may already have cornhole and spike ball and, while they are fun, you can only play so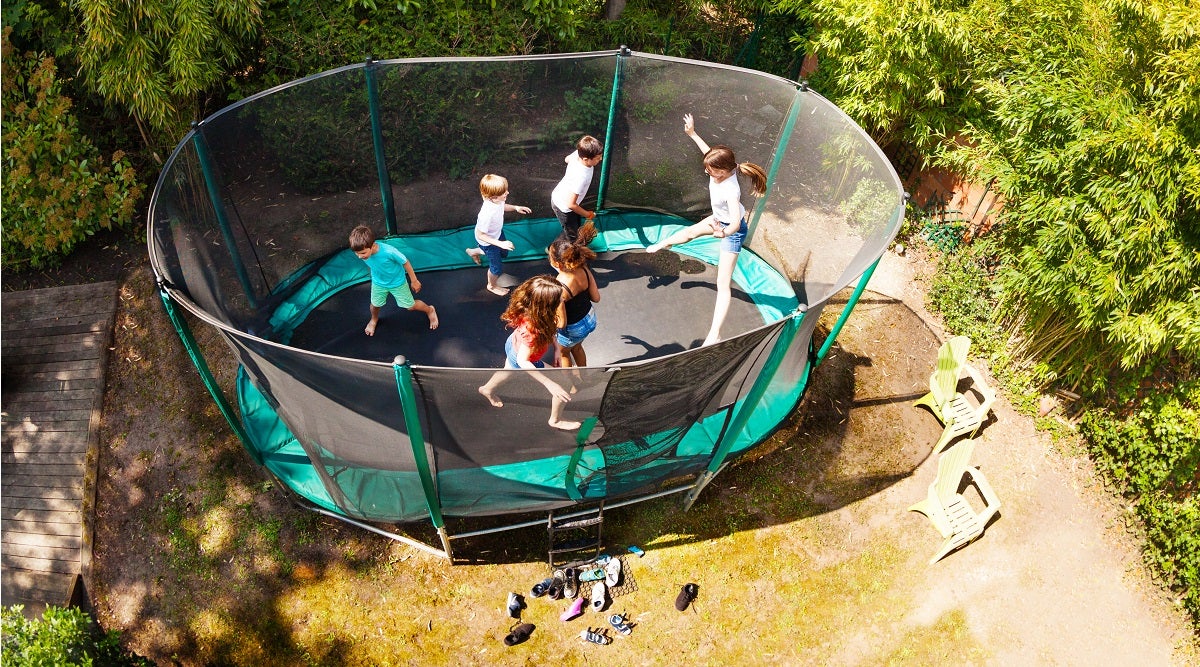 many rounds before losing interest. Update your lawn game arsenal with less common ones like giant Jenga, giant connect four, bucket ball, yard Yahtzee and horseshoes.
Then, invite your neighbors over for a night of drinks and competition.
10. Get a Trampoline
Trampolines aren't just for kids. Adults can have plenty of fun jumping, flipping and rolling around on them, too. Therefore, if your backyard is kind of empty and you're looking to boost your cardio routine, consider setting one up on your lawn.
Hop around to some music, spend some time simply lounging about or set up a sprinkler underneath to cool off while you get your sweat on. You might even invite your kids and their friends to come bounce.
11. Pitch a Tent
If you weren't able to go camping this summer, now's your chance. Pitch a tent right behind your house for an easy camp experience — no traveling or backpacking necessary. Cook up some traditional camp food like hot dogs and pancakes and enjoy your meals on a picnic blanket.
Stay up late telling ghost stories and star gaze once the sky is dark. Then, fall asleep in your tent or head inside and cozy up in your nice warm bed.
12. Build a Fire Pit
No backyard oasis or campground is complete without a fire pit. Purchase an iron pit from your local home improvement store or build your own with concrete bricks and river rock. Choose a level spot away from your home and low-hanging trees.
Then, create three or four round tiers with your bricks and add river rocks to the perimeter. Stock the center with firewood, set it ablaze and toast up those marshmallows.
13. Add More Lighting
Fall is the perfect time to cozy up around a fire and enjoy the crisp autumn air. However, since the sun sets earlier during this season, it may be wise to add some lighting to your backyard. This way, you can spend more time enjoying the outdoors even as the weather begins to change.
Light up the night with solar or LED fixtures like spotlights, string lights, path markers and lanterns.
Think Outside the Box
As an outdoor enthusiast, you already know what kinds of activities you enjoy. The key is adding some variety to renew your interest and help you stay outside as temperatures fall.
Be adventurous, purchase a few new toys, try something different and have fun. The more you enjoy being outside, the more likely you'll venture outdoors in the future.
Notice:
OutsidePursuits.com is a participant in the Amazon Services LLC Associates Program, an affiliate advertising program. OutsidePursuits.com earns fees from products sold through qualifying purchases by linking to Amazon.com. Amazon offers a commission on products sold through their affiliate links.