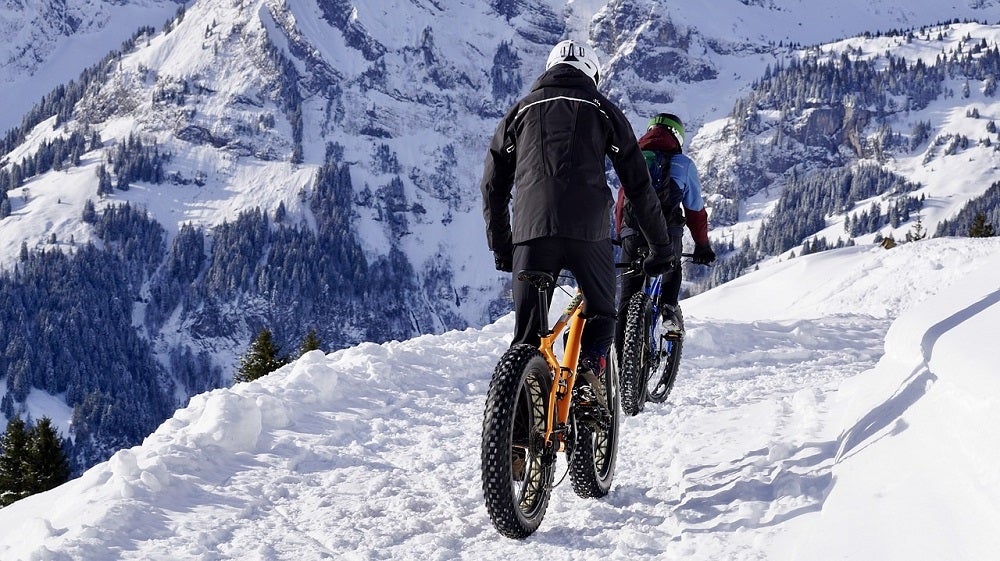 Our Editors independently research, test, and rate what we feel are the best products. We use affiliate links and may receive a small commission on purchases.
Cycling is one of the most preferred activities of all ages, however, searching for the best outfit to dress up is quite tricky.
Especially during the winter season.
You may think that bicycling or cycling season is over, but with the right practice and knowledge, winter bike riding can be rewarding.
It might seem like a tedious activity at first, dressing yourself up to ride a bike through rain, ice, snow, and cold temperatures. But it is worth the try.
And besides, there's nothing more exhilarating than cycling in the dead in the winter!
Your clothing is the most critical element to consider when riding a bike in cold weather. But remember one thing, do not overdress. Wear only the right clothes.
For a little help, listed below are the clothing essentials you need to invest in cycling in winter.
Footwear
Probably the prominent challenge endured by people cycling during winter is making sure that their feet are warm. When biking, our feet do not bend that much while pedaling and when the chilly wind adds up our toes get frozen.
One way to keep your feet warm is to have some added insulation inside your footwear. You can go for those summer shoes that cover the entire foot.
Also, do not forget the wool socks, ski socks made from merino wool work well.
Steer clear of cotton socks as they are quick to absorb moisture which is not helpful if you wish to keep your feet warm while cycling.
Just like any piece of clothing, shoes for winter cycling varies at all prices. Look for shoes with a wind-blocking material. Moreover, there are plenty of beautiful winter cycling boots or shoes that are warm, stiff, and comfortable.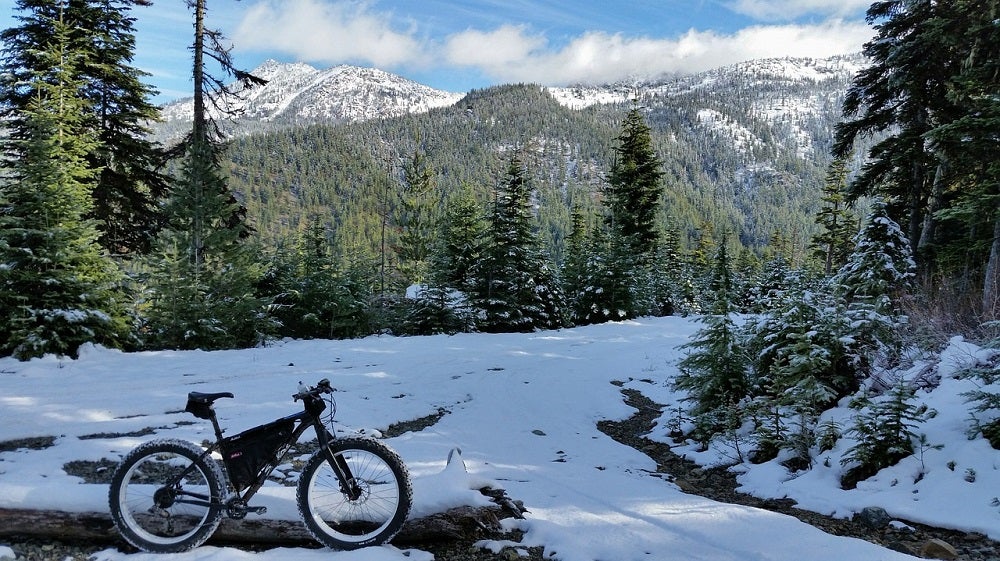 Base Layer
The aim of wearing a base layer is to make sure that you are dry. Spandex, nylon, polyester, or merino wool base layers work well.  Avoid wearing cotton materials because it absorbs your sweat and keeps it into your skin.
Selecting the appropriate undershirt can make a difference and bring you comfort. It provides the right insulation and drawing off sweat from your skin.
Opt for shirts that showcases thumb or high neck looks.
Begin with an excellent base layer or undershirt and you are set to a great start to cycling merrily during winter. You can buy different styles, lengths, weights, fabrics, low and high collars of base layers in any online store like French Connection.
Make sure that the base layer you choose suits and fits you well for it to function effectively. Being comfortable is important, and it is not just the textile being smooth and comfy.
It's also about a base layer with no tags or labels or anything that can irritate or discomfort you.
Outerwear
Outerwear for winter cycling features a long cut in the back and sleeves that enhance the ability to ventilate. But one thing is for sure; it is challenging to have a winter cycling outerwear that will keep you dry and warm under any conditions, while still maintaining breathability.
Choose a winter cycling jacket that will keep you warm and will keep the cold out. Although it may cost a bit higher, a cycling jacket can provide you enough warmth and comfort to let you ride your bike in any conditions.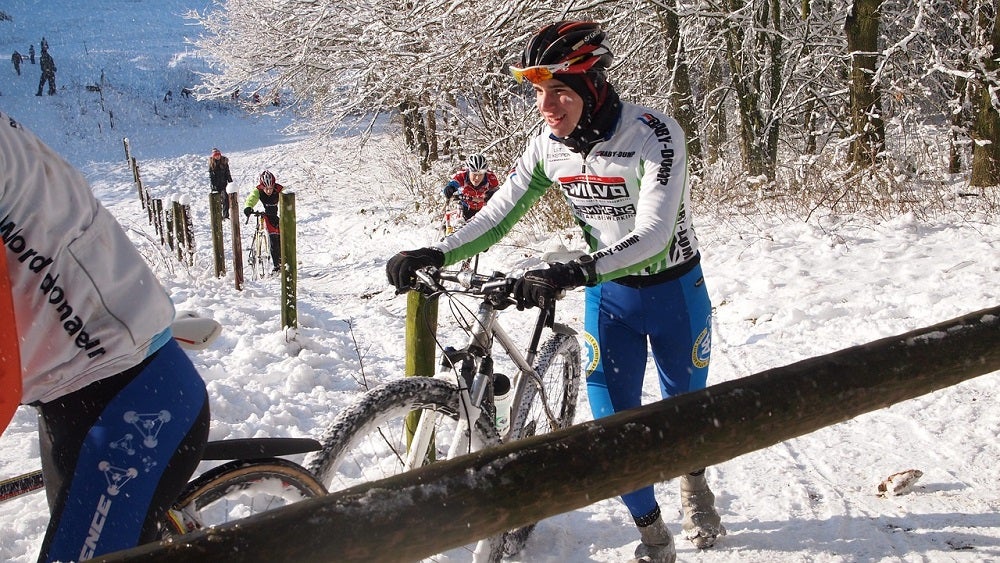 Head Cover
It is essential to keep your head covered because you can waste an ample amount of body heat through the head. Also, it is an easy and quick way to shed the remaining heat.
However, the most challenging part here is the ear and nose frostbite and the usual discomfort in the face. Thus, a thin and multifunctional balaclava is a great piece to wear as it can provide protective cover to your face.
Go for a flexible and thin one to suit underneath your helmet. Moreover, make sure it has proper ventilation for breathing and help stop the fogging up to your eyewear. Wool beanies work well and an for under your bike helmet.
Stay warm, ride your bike, and beat the cold temperature with these cozy pieces.
Gloves
Your ootd (outfit-of-the-day) for winter will not be complete without a reliable pair of winter gloves. The best gloves for winter cycling are those with grippy fingers and palms because the handlebars can get difficult to hold firmly when wet.
There are plenty of gloves available in the market appropriate for the cold weather according to your preference.
Our hands are one of the most vulnerable parts of the body when cycling during winter. So, having an excellent pair of gloves are a must-have for a more comfortable bike riding. Look for gloves that will give warmth to your hands.
Additionally, look for gloves with waterproof and breathable fabrics. And make sure that these gloves are well-fitted and allow your fingers to move freely.
There are lots of choices out there but make sure that you get the perfect one for you.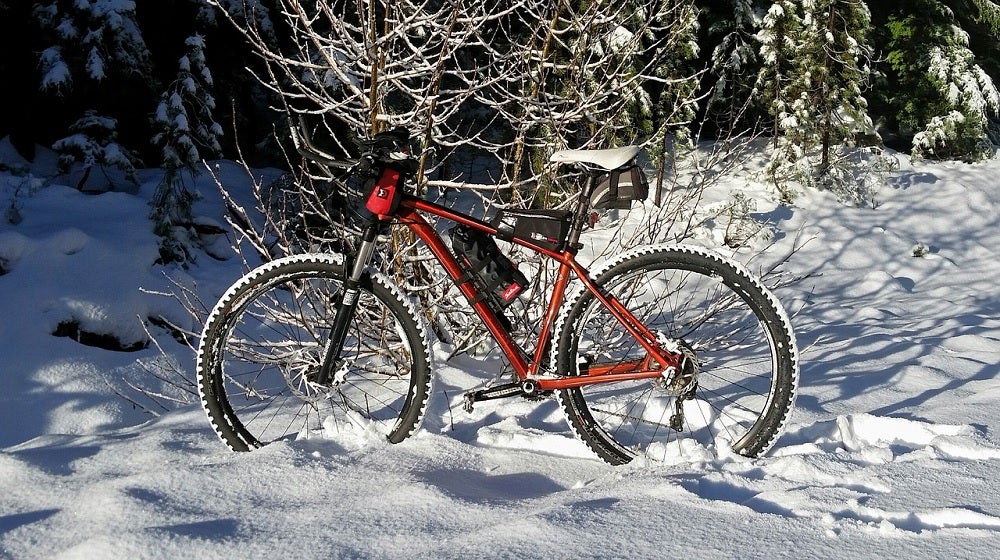 Takeaway
Bike riding during winter might seem terrifying at first because of the cold weather and snow, but it does not have to be like that. With the right and proper outfit and gears, you can happily and merrily go on a bike ride on the winter season.
If its a sunny day, a good pair of cycling sunglasses can not only keep the cold air out of your eyes, it will also reduce glare from snow.
From the footwear, base layer, outerwear, head cover, and gloves you can make sure that you have warmth and comfort while bike riding in winter. Don't forget a bike light as well, it gets dark early in the winter months!
Notice:
OutsidePursuits.com is a participant in the Amazon Services LLC Associates Program, an affiliate advertising program. OutsidePursuits.com earns fees from products sold through qualifying purchases by linking to Amazon.com. Amazon offers a commission on products sold through their affiliate links.