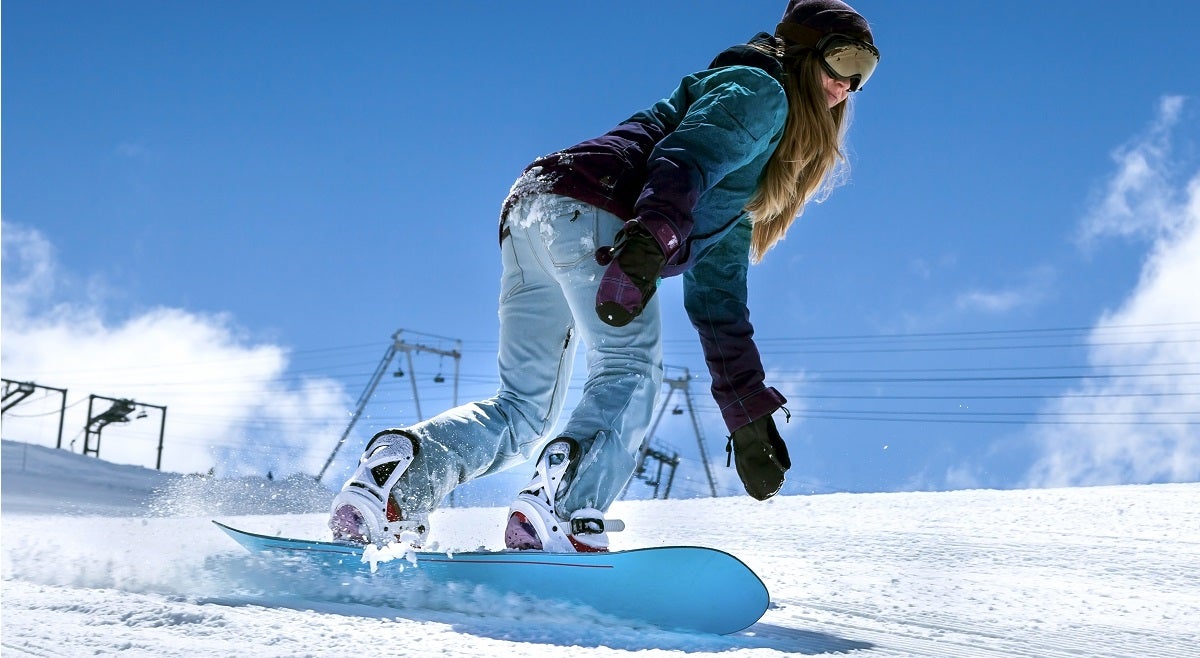 Our Editors independently research, test, and rate what we feel are the best products. We use affiliate links and may receive a small commission on purchases.
If you're just getting started with snowboarding, then you may be wondering how to choose your first pair of snowboard boots. Boots should be the first thing you purchase when putting together a snowboard / boots / binding setup.
It's a pretty big deal, considering the wrong size or type could result in you being uncomfortable, or even stunting your learning abilities. That's why I've decided to write up this handy guide which will lead you through each feature to ensure by the time you're done reading you'll be 100% sure on which is right for you.
How Should Boots Fit?
The first thing we should know is how snowboard boots fit if we're going to get the right pair, right? Even the most expensive, highly rated pair aren't going to work well if they are the wrong fit. Unlike ski boots which are very tight at times, snowboard boots should fit snugly.
By snugly, I mean that you should feel a good amount of compression when you have your socks on, but they should never cause discomfort or pain. However, your first few days riding in them will by a fairly tight fit over the top of your foot and around the upper ankle until you start breaking them in.
Your toes should never be curled or scrunched up inside – this could negatively affect your boarding performance anyway (make turning and maintaining balance more difficult, etc). Instead, select a size where your toes will just barely touch the toecap while you're standing up.
You should be able to freely wiggle your toes while wearing them. As you continue to use them, the boot padding will pack out up to half a size so they won't feel as snug eventually.
Your heels, however, should not be sliding about the boot while wearing them. When your knees are bent, make sure your heels stay put right where they are. If they are sliding around, it can cause chafing, blisters, and also make it harder to board properly.
Going back to socks for a second, one pair of thin to medium wool or synthetic socks will be perfect. Make sure they wick moisture away from the skin and that they rise above the top of the boot to avoid chafing your lower leg/calf.
Boot Sizing
The good news is that boarding boots use your traditional US number sizing, though a 10 in one brand may vary quite a bit from a 10 in another. Moreover, some boots are made specifically with a low profile, making them ideal for more narrow snowboards.
If you know which bindings you'll be using, check out their ramp angle which will also have an influence on how big of a boot will be compatible with them.
Snowboard Boot Flex and Riding Style
If you've already been boarding for a while, then the goal here is to find a pair that will suit your riding style and the places where you usually board. You'll often see boots referred to as "soft", "medium", or "stiff", referring to how flexible they are.
Some manufacturers will give a number rating from 1-10, with 1 being softest and 10 the hardest. The flex you choose will come down to your personal preferences along with the kind of boarding you partake in.
Soft – Soft boots are extremely comfortable and luxurious feeling to ensure you feel great all day on the mountain. Despite their softness, they are still comprised of durable materials to last you for years to come. These are typically the go-to for park and beginner riders.
Medium – These are a nice meet in the middle for many riders, offering a nice blend of freedom of movement and support.
Stiff – These are usually the preferred feel for all mountain riders and free riders, offering max support for incredible control and edge power when traveling at fast speeds and in tough environments or weather conditions.
Riding Style
If you're a beginner, then I'm going to recommend you start out with a relatively soft boot as you're going to need comfort and minimal support at this time. So, if you're not yet unsure of your riding style, then this is a good place to start.
If you're already an experienced boarder, what's your riding style? Let's take a look at each to help you figure it out if you're not already aware of your style's classification.
All-Mountain – If you're someone who loves riding all over the place and at high speeds, then you need a very responsive model, which is likely to be a stiffer one. All mountain riding covers groomed runs, untracked powder, most backcountry split boarding, and a bit of park riding. The majority of boarders fall under this category.
Freeride – Freeriders, like all-mountain riders, are going to need some stiff boots as they'll need a great amount of control to handle high speeds and precision control. This category covers off-piste environments and some groomed runs. If you're a park or pipe rider then look into the next category.
Freestyle – This category covers the really fun, lighthearted stuff like pipes, rails, jumps, etc. If you're a park or pipe rider this is you. Here, you need a lot of mobility and quick response time which warrants softer, flexible boots.
Lacing Systems
This is an aspect of selecting a pair of snowboarding boots that often goes overlooked. However, it still plays a crucial aspect in fit, convenience, and overall experience. Your boots should be laced up tightly but not so much that they cause you any pain or discomfort. The goal here is to keep the heels in place with very little heel-lift.
There are 3 different lacing systems you can currently choose from: Traditional, Quick-Pull, or Boa. Some even have a blend of a couple. Just like with boot stiffness, there's no "better" option – it's all about your preferences.
Traditional Lacing – Dating back quite a while, traditional laces just work for your average rider. They're easy to use, seeing as how most of us use similar lacing for our gym shoes and hiking boots. The tightness of the fit is easy to adjust, depending on how tight you pull the laces.
However, they tend to loosen up throughout the day so a bit of maintenance is required to keep that ideal fit. Fixing laces normally wouldn't be too difficult, but when you have gloves on or when your fingers feel frozen, it's much harder.
Despite this, the fact that they're so affordable and easy to find replacements make them the reason why most boarders stick with traditional lacing.
Quick-Pull Lacing – As you can probably guess from the name, this type of lacing is much quicker than traditional systems. The corset-like system offers zonal tightening, meaning that you can adjust the lacing on your forefoot and lacing on your ankle/lower leg independently from one another.
On top of that, you can adjust rapidly and with precision, even with gloves on. Another benefit they have over traditional lacing is that they neatly tuck away so you don't have to worry about them coming loose and flapping around in the wind.
The downside to quick-pulls is that it's not quite as simple to create as tight of a fit as you could with traditional lacing systems and if a lace happens to break, you're likely done for the day.
Boa – Boa lacing may look complicated at first, but once you use them a few times I'm sure you'll love them as much as I do. I've tried other lacing systems, but as I like the uniform, precise adjustment Boas offer, I keep going back to them.
Using small-diameter cables connected to 1-2 wheels or dials, this is the way snugless is customized. If you select a pair with 2 dials, you'll be able to adjust the boot tongue area and the ankle, offering a custom fit all around.
Not only can you adjust while wearing gloves, but you can even do it with one hand! If you're sick of getting grit in your laces, these are great at eliminating that too. Just like with quick-pulls, if you happen to break your lace you'll likely have to head home until you get a new pair.
Boot Liners
The liner of a boot is essentially the whole inner part. They're almost always comprised of EVA, making the boots lightweight and cushy while still offering adequate insulation and support. Some are removable, making them easy to take out once you get done from a day of riding which will prevent the growth of bacteria as they dry easier.
Non-Moldable – These are what you'll typically get by default. While they may not be the supreme in comfort initially, they'll eventually start to form to your individual foot shape. This means that the more you wear them, the comfier they'll be.
Thermoformable – These you're the heat generated from your feet and lower leg to create a completely customized fit. This makes them ultra-comfortable, and seeing as they only take a day or so to break in, everyone loves them.
Custom Moldable – Instead of using the heat from your body, these use an artificial heat source to create a custom fit. While you can absolutely mold them at your home, I recommend just taking them to your local ski shop and having them do it for you. Just make sure that the shop you choose is known for fitting boots well.
Summary
Now that you know just about everything you need to about how to choose the right snowboarding boot, have you decided which you'll go for? Boots are a very personal experience, as everyone rides differently and has differently shaped feet.
Make sure your boots also fit your personal tastes. Nowadays, if you can imagine it, there's a boot which will suit what you have in mind.
I hope that my guide has helped you out, or at least helped you narrow down your options. Thanks for tuning in, and we'll see you again soon! Remember to have fun and stay safe!
Notice:
OutsidePursuits.com is a participant in the Amazon Services LLC Associates Program, an affiliate advertising program. OutsidePursuits.com earns fees from products sold through qualifying purchases by linking to Amazon.com. Amazon offers a commission on products sold through their affiliate links.