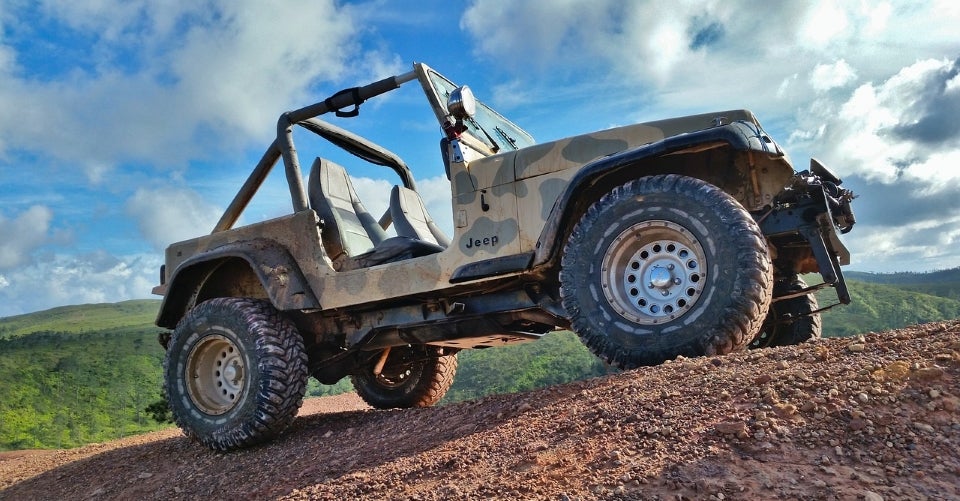 Our Editors independently research, test, and rate what we feel are the best products. We use affiliate links and may receive a small commission on purchases.
If you're serious about taking your Jeep, truck or 4×4 offroading or to places most don't get to see, then you're going to need to properly accessorize. What you need is something that lets you travel comfortably, but with safety and efficiency at the forefront.
Contrary to popular belief, bigger isn't always better and finding a ready-made 4WD is hard to do. What you really need is the right equipment, and we have just the gear for your next adventure.
What Do You Want?
This is the first place you should start. What exactly do you want out of your touring 4×4 or truck? Just buying whatever you can because someone else has it or you think you're "supposed" to have it may not be the best route to take.
Are you planning on just taking it to camp out on the beach, or are you using it to scale mountains? These are going to require very different builds and accessories so be logical. Consider setting a realistic budget for things like light bars before you get started, so there's no buyer's remorse afterward.
Write down the places you'd like to take your vehicle and how long you plan on keep on keeping it around for. Don't just consider the actual price of the modification, but how much it will take to build and fit it, too.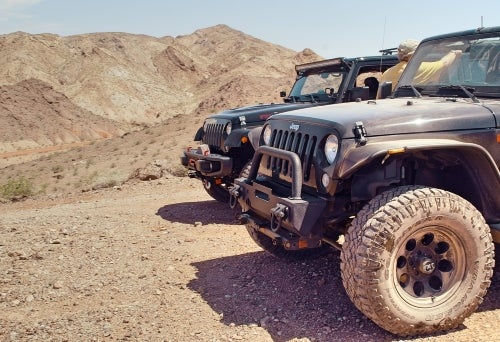 Slow and Steady Wins the Race
While it may be appealing to add on an LED light bar, a bull bar, and anything else that looks cool, it's better to go about this process slowly. If you're an experience adventurer, then you may already have some ideas of what you want.
However, if you're just starting out, try to make a note of things you'd like to improve on your 4WD each time you come back from a trip. That way, you can add a modification knowing that it's something you'll actually benefit from.
Legalities
The law always has to bring down our fun, doesn't it? Well, it's usually for a good reason, especially when it's regarding vehicles. With touring, it's important to have accessories that add to your experiences, but you must also be mindful about how much they weigh.
If you keep on adding and adding, eventually you're going to end up with a notably heavier vehicle. Be aware of the weight limits of your area, because if it's too much weight, it will be illegal.
We highly recommend having insurance for your 4WD, and you may not be able to obtain it if your vehicle isn't considered "roadworthy".
While you may feel like you're not going to get caught, remember, there are reasons why there are standards. You don't want to be a danger to yourself or others, right?
Safety and Communication
This kind of ties into our last point, but safety is essential, especially when it's involving high speeds, rough terrain, and being in the middle of nowhere.
While the vast majority of us always carry around our smartphones, they're rendered practically useless if it's not getting signal from a cell tower.
Risking your safety or the safety of those with you isn't worth it, especially when it's something so easy to avoid. Think about how you're going to make communication if you have an emergency. It could be as simple as someone in your group slipping and breaking a bone or getting lost.
The ideal solution here is to use a UHF radio, satellite phone and/or emergency locational device. This will ensure that no matter what your situation is, you'll have access to speak with someone and get help or guidance.
Cost
No matter who you are, cost probably plays somewhat of a factor in what you buy. Even if you have all the money in the world, we often view the quality of something as directly relating to how expensive it is.
However, accessorizing your touring 4×4 doesn't have to be pricey. You can easily create the ultimate setup within your budget, but you have to know how to do it.
An easy way to save money is by not selecting top-of-the-line equipment for everything you need. All you really require is functionality and reliability, and there are plenty of budget products that can provide just that.
If you are fully capable and feel confident in doing so, doing everything yourself rather than having to pay someone to fit and install your modifications can save you a ton of money, as well.
If you're just trying to save some cash, however, and don't actually know what your doing, it could end up being a very costly mistake.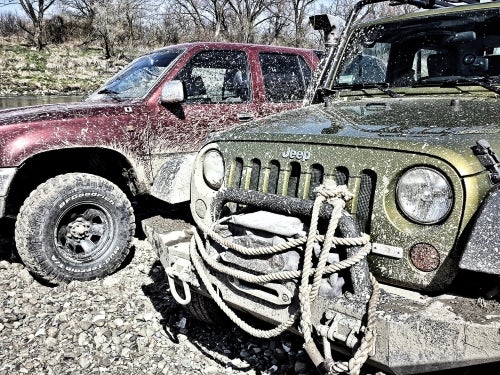 Our Recommendations
So, which accessories should you start out with? While everyone's needs and situations are a little bit different, we have some suggestions that everyone could benefit from.
12V Fridges
If you're going to be on the road, or rather off the grid for a while, you're going to need to eat. Although ramen noodles are surprisingly delicious and cheap, you're probably going to start craving real food after a day or two.
Not only that, but if you're out on a trip in the middle of the hot summer, you're going to have a hard time finding a refreshing, cold drink without a way to store it.
So, what's the solution? You could bring a cooler, or you could take a full-powered 12V refrigerator. What's so great about these, is that they use electricity to operate a low-power compressor and are specially designed to work in a moving vehicle.
The electrical system in your vehicle is very powerful, and you can easily take along a coffee machine in case you want something warm in the morning! Essentially, you have all of the benefits of a regular fridge, but have the great flexibility of using it wherever you are away from society.
Bullbar
This is a very common and often the first modification to a 4×4 setup, due to how much protection it offers to the front of your vehicle. They don't offer the full-wrap protection that grill guards provide, but they do look unique and allow you to add off-road accessory lights, winches, aerials, and more.
If that doesn't interest you, the fact that it also creates a barrier between important parts of the engine probably will. When you're off the beaten path, it's always important to consider the chance that an animal could run into your car, among other things.
Tires
A quality set of tires is quite possibly the most important upgrade you can make to your 4WD. You're obviously going to need something different than your standard stock wheels that came on your vehicle, because you're not just going to be traveling on the streets that they're made for.
Look for a pair that can easily take you through all kinds of rocks, dirt, and mud with no problem. We particularly recommend going for a set with a dual tread radius which distributes weight and stress, which works to increase tread life significantly and decrease uneven wear.
And if you're using oversized tires you will need to consider a steering stabilizer.
Roof Rack
Even if you have a spacious 4WD, it's nice having some free space to use for other people or to be able to stretch out and be more comfortable. If you're going to be moving at high speeds or uneven surfaces, then it's also a good idea to have as little equipment inside as possible, so it doesn't come loose and bump into one of you.
Perhaps a hitch cargo carrier could work for you, but many people prefer a more compact setup. The best option for many adventurers who are bringing along a lot of bulky equipment, is the roof rack. The rack lets you easily pack away those large items out of the way, leaving free space inside your 4×4.
However, it is also important to take things back to the subject of weight. If you place too much weight on top, it can throw off your center of gravity. Also see the option for a rooftop basket to add storage space.
Truck Tent or Rooftop Tent
Sleep is inarguably the most important basic necessity for us, as humans – more important than water and food, even. If you're not getting a good night's sleep, it's not only going to make you irritable and unmotivated to go out exploring. You're then putting yourself and possibly others at risk by falling asleep at the wheel or becoming distracted while driving.
That means that you need to find a comfortable way to properly sleep. Don't count on being able to sleep in the driver's seat, because in most cases, it's highly inefficient. A great alternative, is to use a truck tent or our favorite: the rooftop tent.
What's great about these, is that you don't even need a free space on the ground. You can easily sleep on the beach without worrying about getting sand or bugs in your sleeping space. Aside from that, it's off the ground, which is a bit safer in most areas.
Finally, you'll find that rooftop tents are the most durable travel tents you can buy, as they're typically made of canvas and steel/aluminum to hold up well against the elements.
Cargo Carriers
Chances are, you're going to buy or already have a 4WD that's made to the highest safety standards. However, that's not going to do you much good if you have loose cargo in your car. While many don't often consider it, it's quite dangerous having loose items in your vehicle.
Unfortunately, there have been many terrible accidents where people have had some kind of frontal impact while driving and the cargo flew forward and that was it. Now think about the heavy items you're probably going to be taking with you. Those need to be restrained so they don't go flying forward.
Unfortunately, most 4WD wagon and ute cargo hooks aren't made to withstand this kind of load. The upside is, cargo carriers are. They'll keep heavy items from moving forward in case you have to stop quickly or hit something.
The Goal
The ultimate goal with how you accessorize your vehicle, put simply, is to be self-sufficient. You don't want to have to rely on finding a gas station, a store, or any other person to help you properly operate your truck or be comfortable.
Your goal here is to get away from it all and enjoy the great outdoors. This means that you should have your food covered (have cold and warm food and drinks), be safe, have a reliable means of contact, and of course be comfortable.
In addition, you need to ensure that your 4WD isn't giving you regular issues as this combats the whole "self-sufficient" idea. Truck trouble is never fun, but it can quickly make things dangerous or nearly impossible to come back when you deal with them in the middle of nowhere.
In addition, make sure that your set up is ready to go at a moment's notice so you can start having experiences whenever you get the urge to get up and head out.
Summary
Now that you have everything you need to properly accessorize your touring 4×4 or truck, which modification are you going to start with first? There is a lot to choose from, but no one said you have to just stick with one!
The fun thing about accessorizing is checking out the various combinations you can create to make the ultimate 4WD that fits your needs perfectly. We hope this article has helped you narrow down your options or at least get a better idea of how to accessorize a touring 4×4 or truck. Thanks for tuning in and happy off-roading!
Notice:
OutsidePursuits.com is a participant in the Amazon Services LLC Associates Program, an affiliate advertising program. OutsidePursuits.com earns fees from products sold through qualifying purchases by linking to Amazon.com. Amazon offers a commission on products sold through their affiliate links.