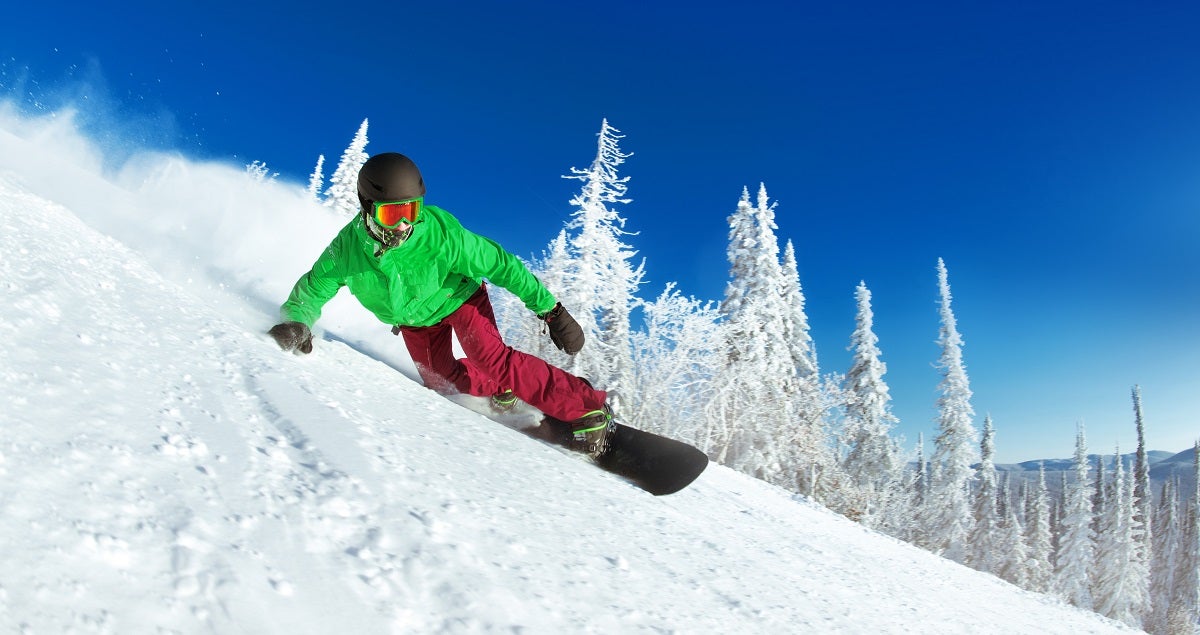 Our Editors independently research, test, and rate what we feel are the best products. We use affiliate links and may receive a small commission on purchases.
Snowboarding is one of the most exciting sports out there, so it comes as no surprise that its origin was just as thrilling. It always helps to understand the background of the sport you're partaking at, not only to understand the act of the sport but the culture of it. Snowboarders really had to work hard to get it to where it is today – one of the most popular and successful snow sports of all time.
The Beginning
Snowboarding draws some serious comparisons to skateboarding and surface, so it's no shock that in the mid 1960's, a young surfer by the name of Sherman Poppen couldn't bear going a snowy winter without cruising on a board. Naturally, he decided to take on the task of creating a surfboard made for snow!
The 4-foot-long board he first created was made out of his kids' skis bolted together. He presented the new board as a gift for his daughter, which soon won the attention of all the neighborhood kids (and undoubtedly some of the parents!). Due to the success of his initial board and his efforts to improve upon it, only a year later he produced the "Snurfer", which sold for a mere $15 each up until 1975. These boards came with a thin rope "handle" to help maneuver.
However, somewhere around 1970 a surfer from the other side of the country, by the name of Dimitrije Milovich, started making his own type of snowboards. His boards used short board surfboards as his inspiration, with the snowboard including steel edges, laminated fiberglass, and even gravel on the board to offer a better grip. For bindings, he had nylon straps to keep it on the feet.
Near the end of the 70's, a young Jake Burton emerged due to his constant determination to improve upon his Snurfer. Adding footstraps and fins to create a more stable and smooth ride, he ended up making a flexible board not to different from those we see today. Around this time, former skateboard champ, Tom Sims, also began creating snowboards. You may recognize Sims and Burton as 2 of the leading names on the market today.
Development of the Sport
The beginning of the 80s saw a huge influx of snowboarders around the world. However, ski resorts didn't allow snowboarding to take place on their runs so if you wanted to board you had to hike up at night and try to sneak some runs in. Some decided to opt for the backcountry but any way you put it, it was pretty dangerous.
Many skiers were also quite hostile towards snowboarders and the entire sport, in general. They often saw them as people who were up to no good, and dangerous to skiers who just wanted a bit of relaxing fun.
However, snowboarding did during this time receive a lot of recognition, as well. From Tahoe to Michigan, snowboarding or Snurfing contests took place. In fact, they had even created the world's first snowboard halfpipe which brought about incredible boarders and skate mag photographers.
The energy was infectious, with the crowds watching, screaming in disbelief and awe. It was no surprise that in 1975, the first snowboard mag also came out, named "Absolutely Radical" and later renamed "International Snowboard Magazine".
Modern-Day Design
It was also in this era where the Snurfer started becoming a bit obsolete, while the more technologically advanced Burton and Sims designs exploded in popularity. The evolution of the snowboard became increasingly more rapid, too. At the end of the 80's, materials used to make skis and bindings were adapted to ensure the board glided over the snow instead of sinking in.
It was at this time that the bindings were greatly improved upon. From simply using straps to creating highbacks engineered by Flite, this really changed the game. It offered boarders a significantly greater amount of control and support as well.
Boards began to take the shape of how we know them today, with rounded tails, twin-tip designs where the tail and nose were identical, plate bindings, and all 3 different types of boards (racing, park / freestyle, all mountain etc.).
Moving into the 90's, we see snowboarding only continue to rise in popularity, with more than 6 million people across the globe partaking in the sport. In fact, it has shown no sign of slowing down, with the vast majority of children who partake in alpine sports prefer boarding.
Split Board
The early 2000's gave birth to one of the biggest and most interesting updates to the snowboard design. Throughout its history, the board has only been one solid piece. However, Voile developed the unique "split board" which essentially splits into two separate pieces.
Not only can this make them easier to transport in certain situations, they allow you to use them as skis to hike up mountainsides and traverse uneven terrain, which is incredibly useful in backcountry environments.
There are even some split boards which separate into 4 individual pieces! These make them the best for transport, instead of lugging a big board around. The point is, there really is something for everyone, and there should be nothing stopping you from trying this incredible sport!
Summary
Snowboarding is absolutely one of the best snow sports in the world, and we highly encourage you to try it out for yourself. It can provide a sense of freedom that few other activities can. Not to mention it'll boost your confidence, help you create lifelong friendships, and let you get in some exercise and fresh air.
We hope that this has helped you see where snowboarding originated and appreciate it even more! Thanks for tuning in, and we'll see you again soon!
Notice:
OutsidePursuits.com is a participant in the Amazon Services LLC Associates Program, an affiliate advertising program. OutsidePursuits.com earns fees from products sold through qualifying purchases by linking to Amazon.com. Amazon offers a commission on products sold through their affiliate links.