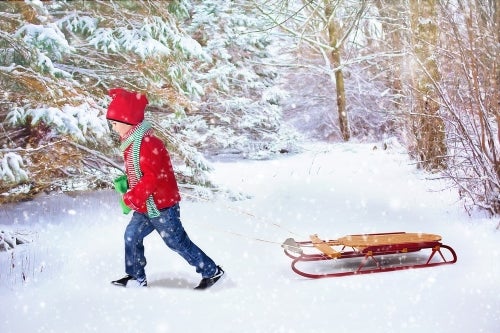 Our Editors independently research, test, and rate what we feel are the best products. We use affiliate links and may receive a small commission on purchases.
In winter time, are you the type of family that hibernates inside and awaits the winter to pass? Or the family that gets out and tries to make the most of it? Life is too short to be stuck in the house all day in the name of keeping warm, yet there are sports you can do in winter days.
Get your adrenaline going and have fun as far as it can last. It doesn't mean that you have to know how to ski to enjoy your recreation outdoors during winter. You can as well sled.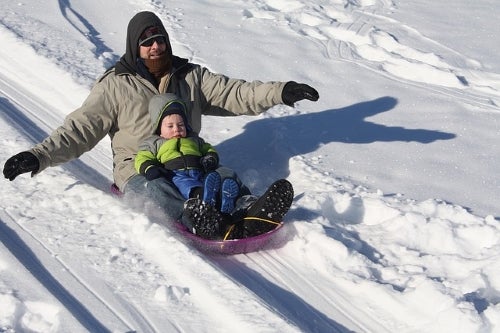 Most families find sledding to be a healthy and fun way to create memories. Sledding began way before recorded history. The natural amusement was to have your children on the cart when done with its work and start pushing them down the hill. It shows that sledding is one of the oldest winter sport.
In the 19th century, sledding contests took place, but as time went by, the sport got revolutionized. Samuel Leeds invented the first sled, flexible flyer in the 1880s. As time, went by, many more types of snow sleds came by.
Sleds For All Age Groups
For you to have a fun sledding time, you need a fast sled. Best slides are the ones with bottoms that are slick and hard to be able to zip across snow that is packed or has room for more than one rider. The warmth of bodies of the riders and the friction help in melting the snow beneath thus help the sleds to schuss down a hill. The smaller the surface, the faster it will go and vice versa, depending on the weight.
Below are some of the different types of sleds for all age groups:
1. Inflatables.
Inflatables are portable and donut-shaped, filled with air and thus are easy to deflate and be stored over the summer. They are inflated with the cold air and kept well inflated, but, they are known to tear or tear sometimes when using them.
2. Saucers
They are either round or concave in shape. The material used in the early days was metal, but nowadays they are made of plastic. They are known mostly for their speed and spinning down a hill hence making it hard to control.
3. Classic wooden toboggan.
It is bound wooden slats that are bent forward at the front this way, forming a J' shape. It has ample room for several people.
4. Plastic toboggan
They are similar to the classic wooden toboggan. The only difference is the material: plastics and some variations have brake and steering options. It can fit two to three riders thus suitable for a family.
5. Luge
In this, the riders go down a hill on their backs and use their body weight and hands to steer it up.
6. Skeleton
It is similar to the luge. The difference between them is that the rider usually whips down the hill headfirst. The skeleton has metal runners, bumpers and handles along on the sides to help in the stability of the rider.
7. Flexible Flyer.
As said above, it was one of the first to be invented. You can sit upright or choose to lie down on your stomach.
8. Horse-drawn sleigh
It is a sled that is pulled by a horse. It is mostly meant for flat and snowy terrain and can accommodate two to four people.
Safety Tips for Safe Sledding
With all the fun in sledding, it is also riskier than you might think. If the hitting of your head happens, it is easy to get a concussion and injure your brain and so much more. Don't let the injuries to control the winter fun, try the tips below for a safe sled.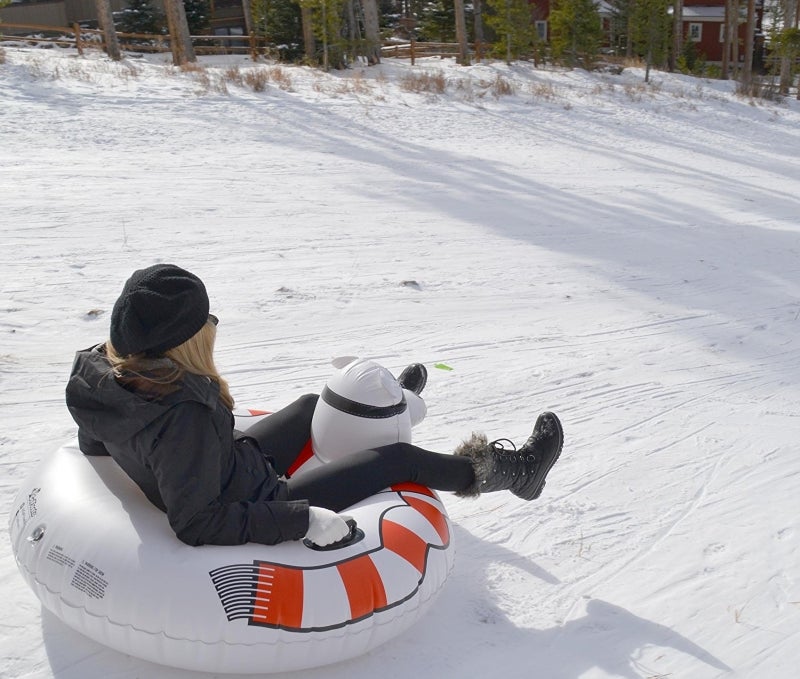 • Always choose a proper sled. Never substitute it with a cardboard box or a lunch tray. They can be torn by objects on the ground thus have an unsafe schuss.
• Always dress well for this sport and the weather too. Hypothermia and frostbite are common concerns during winter sports. Wear any sensible winter outwear when going for a sled. Here is all the info you need on the various kinds of winter wear:
WINTER CLOTHING  HEATED GLOVES | DOWN JACKETS | FLEECE JACKETS | BASE LAYERS | BEANIES | WINTER GLOVES | WATERPROOF BOOTS | NECK WARMERS & GAITERS | HEATED JACKETS | HARDSHELL JACKETS | SOFTSHELL JACKETS | WINDBREAKERS | ICE FISHING BOOTS
• Wearing helmets is important for it will help in protecting against head injuries.
• If you have any children that are five years or younger, make sure they have an adult to sled with, and for the ones below twelve years always keep watching.
• Always choose the right terrain to have safe schuss. The hill should be clear of any rocks, poles, and trees. It should long and have a flat area at the bottom hence help when gliding to stop.
• Going down the hill should be one at a time this will help with accidents not happening.
• Never schuss down a hill standing or backward it increases significantly on injuries.
• It is advisable not to sled at night mostly when the hillside is not well lit. It is better doing it daytime.
• Always keep your legs and arms at all times within the sled. If the sled is not stopping, you should roll off away from it and if you accidentally fall off the sled, try and move out of the way.
• It is always better for you to learn first aid. If an accident happens, an adult should be there to offer first aid, if need be, take the person to an emergency room.
Conclusion
All the above sleds have their disadvantages. Make sure to choose the best one. It is also very advisable to learn first aid just in case an accident happens. You should also familiarize yourself with the above tips before going for a sled with your family. Do not limit your fun by not following them. Have a good safe snow sledding time as it lasts.
---
Thanks for reading Sledding And Sledding Tips.
If you have any questions or comments for us just use this Contact Form.
MORE WINTER GEAR  SNOWBOARD HELMETS | SNOWBOARD GOGGLES | PARK & FREESTYLE SNOWBOARDS | WOMEN'S SNOWBOARDS | ICE SKATES | SNOW SLEDS | ICE HOCKEY SKATES | ICE AUGERS | WINTER SLEEPING BAGS | HEATED GLOVES | BASE LAYERS | ICE FISHING BOOTS
Notice:
OutsidePursuits.com is a participant in the Amazon Services LLC Associates Program, an affiliate advertising program. OutsidePursuits.com earns fees from products sold through qualifying purchases by linking to Amazon.com. Amazon offers a commission on products sold through their affiliate links.