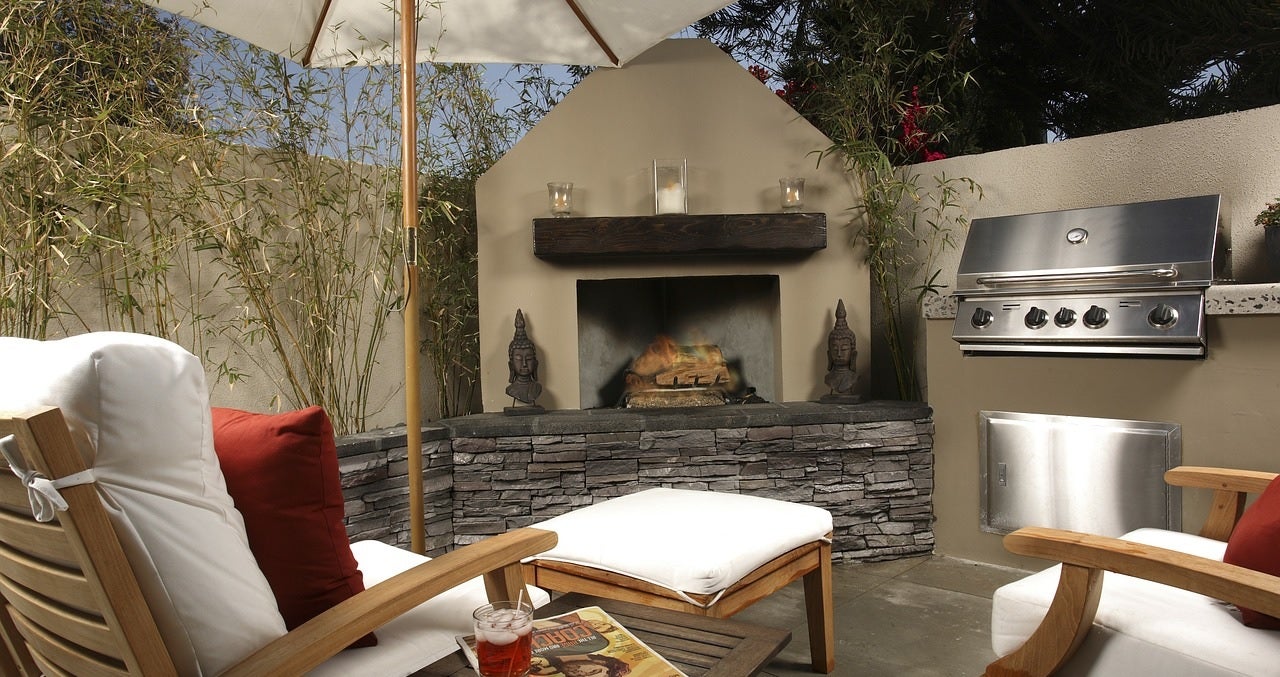 Our Editors independently research, test, and rate what we feel are the best products. We use affiliate links and may receive a small commission on purchases.
Does your home sometimes feel too small for your growing family? And when your friends and family visit, is it difficult to squeeze them all into your living room? There is an easy solution.
Look out your window! If your house is anything like mine, your backyard covers more than twice the ground area of your home. You can dramatically increase the size of your living space by building a new "room" outside.
Building a patio in your backyard creates an outdoor room you can use for any purpose. A paved rectangle in your yard adjacent to your home provides a firm surface upon which you can stand furniture or equipment. You can utilize your patio as a family room, dining room, kitchen, children's playroom, or even as a spa! The possibilities are endless.
Building Your Backyard Patio
Creating a backyard patio is much simpler than building an extension to your home. Simply follow these easy steps.
Plan Your Patio's Size, Shape, And Location
First, decide what you want to use your patio for. The ideal size, shape, and position of your patio you will depend on its use. For example, if you plan to host dinner parties for 20 people outside, your patio will need to be much bigger than one used for a family of 4 to eat breakfast
With a size in mind, walk around your backyard and consider its topography. When built, your patio will need to be relatively flat. Also, if it is adjacent to your house, it must slope slightly away from the wall, so rainwater flows away.
If your backyard is generally higher than your house, but you want your patio right outside your door, you'll need to excavate an area of ground to lay your patio.
This excavation must cover a larger area than your patio's planned footprint in order to create natural drainage at the outer edges. Landscaping will be required to smoothly contour the abrupt changes in height around your patio.
For the location, think about convenience. If you're planning on using the patio as a family room, and your living room has French windows out into the backyard, then placing your patio beside your living room would be a good idea.
If you want to entertain guests on your patio, then access to the kitchen will be important. When you're serving food and drinks, you don't want to have to carry them 50 feet across your lawn.
If you plan to permanently position large pieces of equipment on your patio, like if you're going to build an outdoor kitchen with countertops and a pergola covering, then think about the views from inside your house.
Maybe you have a fantastic view of a lake from your living room window. If so, locate your patio where it will not ruin that view.
Sketch a scale drawing of your planned patio in the location you have chosen. Use this drawing to ensure that the furniture and equipment you plan to buy will fit in the planned space.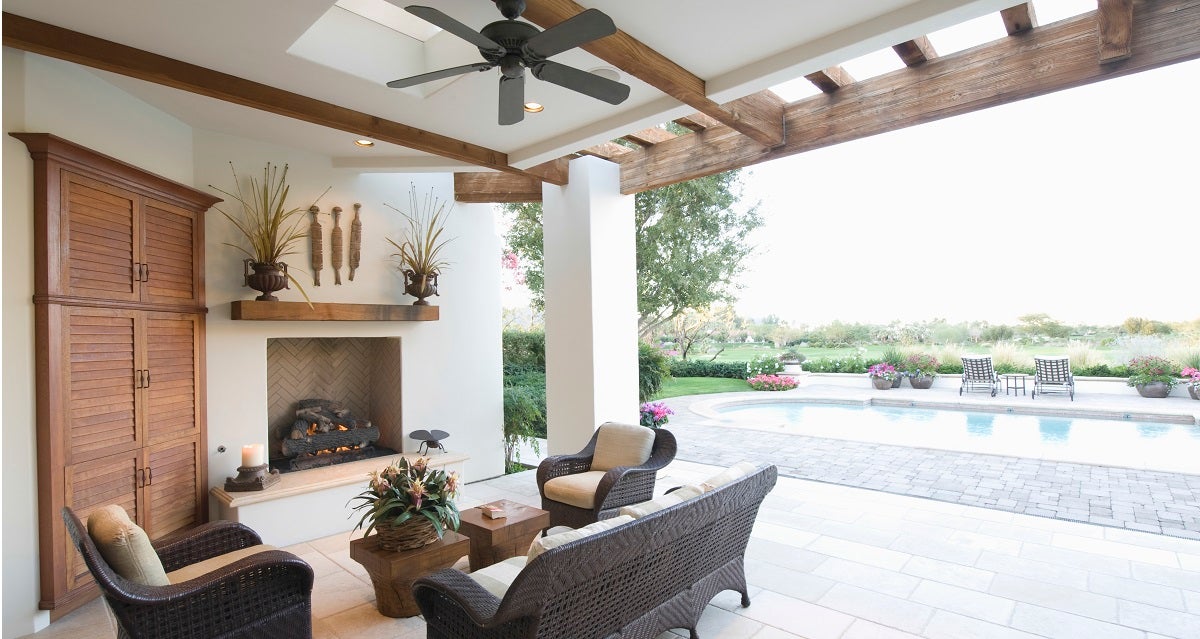 Choose What Materials To Use
Patios are surfaced with a wide variety of materials, like concrete, flagstones, bricks, tiles, and pavers. The differences are largely aesthetic, but you will have to make a choice before building your outdoor room.
If this is the first patio you have built, choose a simple option, like regularly shaped pavers that you can easily arrange in a rectangle without needing to cut or shape any pavers. Use your scale drawing to determine the amounts of materials you must buy to complete your patio project.
Prepare The Ground
Once you know where your patio will go, what shape it will be, and its size, you can begin. Hammer stakes into the ground around the planned area of your patio, linking them with string. Then step back and ensure everything looks exactly how you planned in your original scale drawing.
Next, excavate the marked area. If the area is flat and slopes away from your house, all you must do is use a sharp spade to remove the turf and topsoil, digging down 5" plus the thickness of the chosen paving material.
If the area is not flat, you'll have to dig down deeper in some places and use a level to ensure that the resulting excavation is flat. Remember, if the patio is next to your house, it must slope gently away from the building.
Build The Patio Base
Use landscape fabric to line the excavated area. This will discourage weeds from sprouting in the gaps between pavers.
Spread gravel atop the landscape fabric to a depth of 4". Use a tamper to squash the gravel into a firm base. Then spread sand over the gravel to a depth of 1" and settle the sand with the tamper.
Lay The Pavers
Spread the pavers out across the dry sand to determine their exact placement. This is especially important if the pavers or stones are of irregular sizes and shapes and need to be arranged in a pattern like a complex puzzle. Leave a ½" gap between the pavers that you will later fill with mortar.
Mix 1 part cement to 5 parts sand to create a mortar mix. You can do this in a wheelbarrow or, for a larger patio, hire an electric cement mixer.
Lift a section of pavers and, using a trowel, spread an even 2" thick bed of mortar across the sand. Carefully replace the pavers in the correct pattern and tap them down with a rubber mallet. As you progress across the patio, use your level to ensure that your pavers are all level.
Once the pavers are all laid, wash the surface to remove excess mortar. Next, use a pointing trowel to fill the gaps between pavers with mortar. Wipe off excess mortar as you go.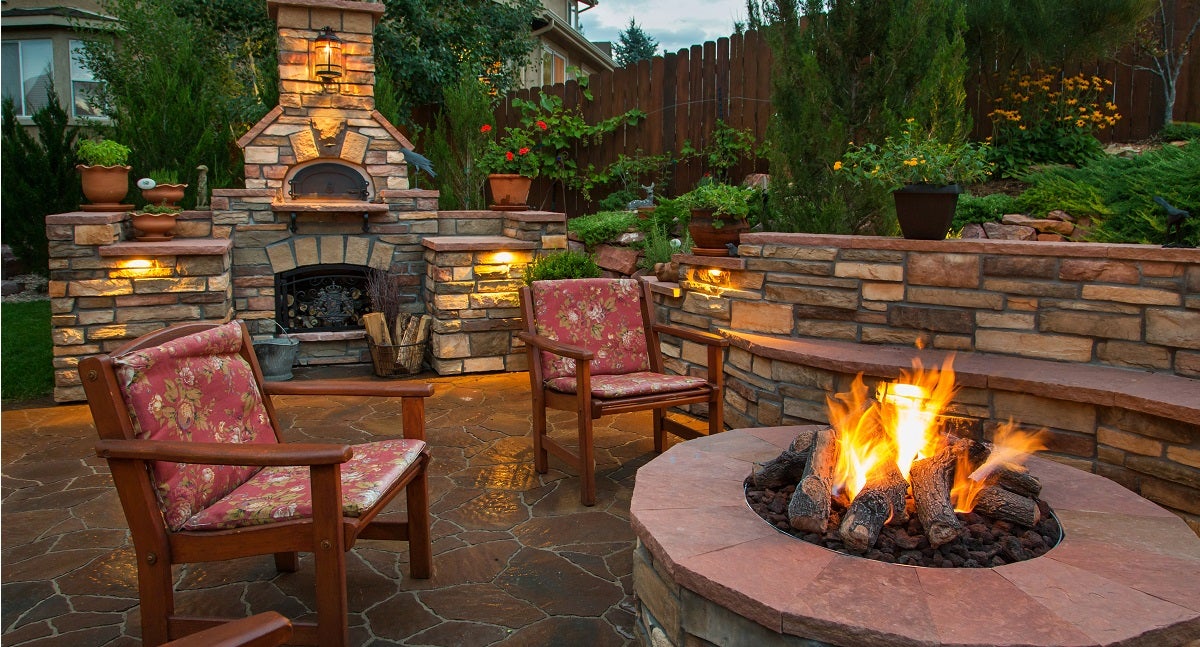 Your Patio As An Outdoor Family Room
Now that your patio is ready, you can easily transform it into an outdoor family room. With a little careful planning, you can make your patio area as comfortable as any indoor den. All you need is an outdoor sofa set to laze on while you watch TV or listen to your hi-fi on Bluetooth speakers.
Don't worry about your TV getting wet. To protect your TV from the elements, you can use a TV cover or cabinet. For perfect HDTV reception, make sure you're using the latest model of HDTV antenna.
If the sun gets too bright, you might want to turn on the ceiling fan and shade your TV and sofa with a retractable awning. On the other hand, once the sun goes down, you'll definitely need floodlights and might benefit from the comfort of a fire pit on cooler nights
Your Patio As An Outdoor Home Cinema
If you enjoy the atmosphere at a drive-in movie theater, you'll love inviting friends over to your house to watch films in your very own outdoor home cinema. All you need is a projector and screen, and Saturday night at the movies will never be the same again.
When more people than you expect arrive to watch the film, you can always drag some chairs from inside your house. But if you don't want to subject your indoor furniture to the elements, consider keeping a few inflatable loungers in your garden shed that you can use whenever friends gather around.
Your Patio As An Outdoor Dining Room
When you invite your friends and family over to dinner, why not serve them your delicious food outside? All you need is a set of outdoor table and chairs on your patio, and you have an outdoor dining room.
Don't worry if it rains while you're eating. Just pull down your retractable awning for instant protection from the weather.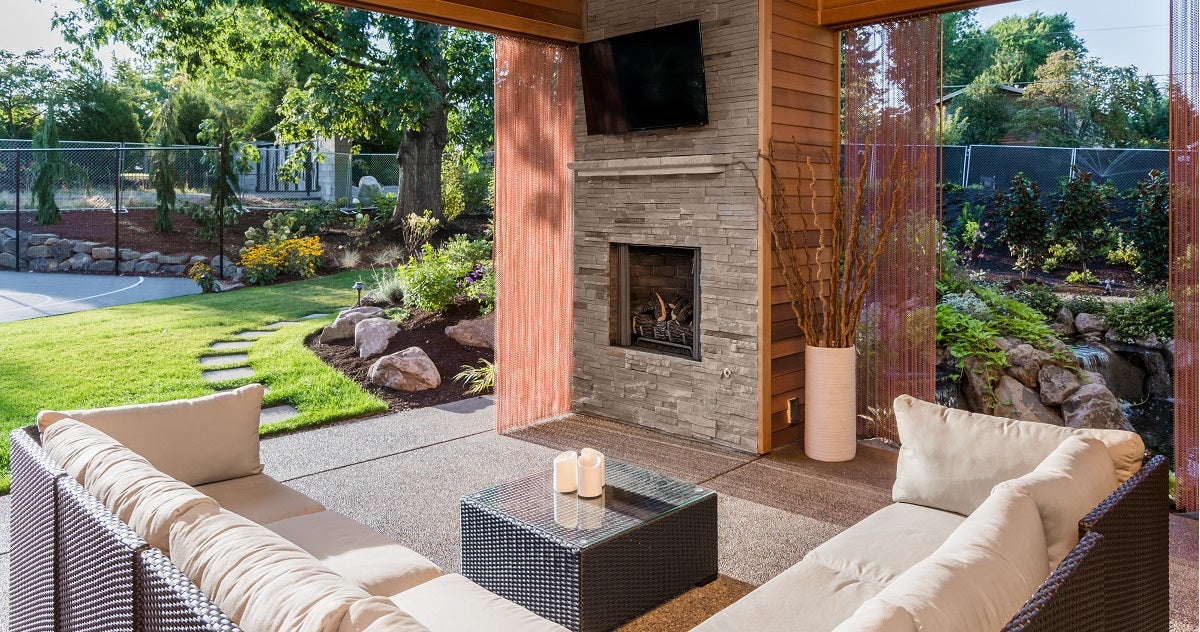 Your Patio As An Outdoor Kitchen
Do you enjoy barbecues? Your new patio is a great place to barbecue your burgers and sausages on a BBQ smoker. But if you want to do more than just barbecue on your patio, there's a wide range of cooking equipment designed for outdoor use.
If you love pizza, you can install an outdoor pizza oven. But if you prefer fried turkey, why not get a turkey fryer?
For the serious outdoor chef, you can even build a complete outdoor kitchen, with a burner, sink, refrigerator, cabinets, and countertop. With the whole of your backyard available to use, you can create a kitchen even Martha Stewart would be pleased to use.
Your Patio As An Outdoor Spa
If you like to be pampered, your patio is a great place to stick an inflatable hot tub where you can relax on the weekend or after a hard day at work. And don't worry if you want to use the patio for something else, because your inflatable hot tub can be stored away in your garden shed when not needed.
Your Patio As An Outdoor Children's Playroom
Are your kids driving you mad running around inside your home? The answer is simple. Banish them to the patio.
You can transform your patio into a playground by installing a trampoline for them to bounce on and a swing set they can go crazy on.
And in summer, your patio is the ideal location for an inflatable pool. You inflatable pool might be more of a paddling pool for your kids to splash around inside than a full-sized swimming pool you'd need a robotic cleaner to keep clean, but the rug rats will love it.
Your Patio  As A Reading Nook
If you like reading in the backyard, your patio will become your new favorite place. Select a good book, settle onto your patio swing, and fall into the story.
Zero gravity chairs can be even more relaxing than a patio swing. But if you're feeling sleepy, nothing beats a hammock where you can lay back and cover your eyes with that book.
If the sun gets too much while you're trying to read (or sleep), simply open your patio umbrella for instant shade.
Other Uses For Your Patio
Your new patio makes a great firm base for a handy garden shed to store away all your valuable tools. And if you have green fingers, you could build a greenhouse on your patio to cultivate a broader variety of fascinating plants.
But if you really love nature, your patio is also a great place to put a bird feeder. You can help your feathered friends weather the winter and enjoy watching them flutter around in spring and summer.
Get Building Your Patio!
Really, your imagination is the only limit to the possibilities. Build a well-designed patio, and outdoor living will introduce a whole new dimension into your life.
Notice:
OutsidePursuits.com is a participant in the Amazon Services LLC Associates Program, an affiliate advertising program. OutsidePursuits.com earns fees from products sold through qualifying purchases by linking to Amazon.com. Amazon offers a commission on products sold through their affiliate links.