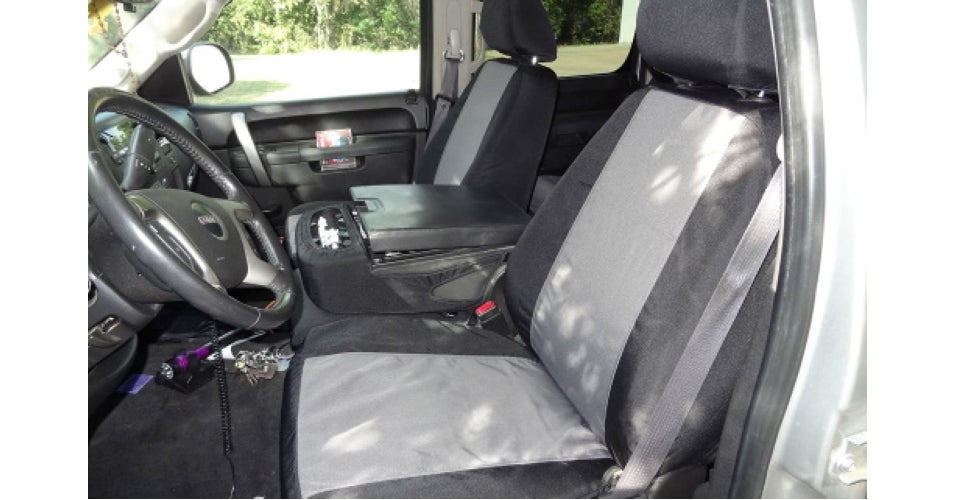 Our Editors independently research, test, and rate what we feel are the best products. We use affiliate links and may receive a small commission on purchases.
Jeeps have a well-deserved reputation for quality, endurance, and the ability to take you anywhere on or off the road. However, even Jeeps start to look worn and dated after several fun years of off-road adventuring.
A fresh coat of paint can transform your Jeep's exterior, so it looks factory fresh. But if you want that genuine Jeep showroom look, you cannot neglect your Jeep's interior. That's why you should consider investing in new floor mats and seat covers.
Maybe you love to look good in your Jeep, or maybe you're looking to sell. Whatever your deal, replacement floor mats and seat covers represent a good investment.
First impressions count, and anyone climbing inside your Jeep can be convinced it's fresh off the production line. They can make you look good, help attract buyers, and maybe even get you a better price when you sell.
Jeep Floor Mats
Because you've enjoyed years of off-road adventures, your factory fitted floor mats will now be stained, worn, and possibly torn. By replacing them, you can transform your Jeep's interior.
The floor mats inside your Jeep are essential to protect its floor from damage. Because they are removable, they also help keep your Jeep's floor clean.
It's simple to take them out of your Jeep, shake them, and vacuum them. If they are very badly soiled, you can soak them in hot soapy water and then scrub them.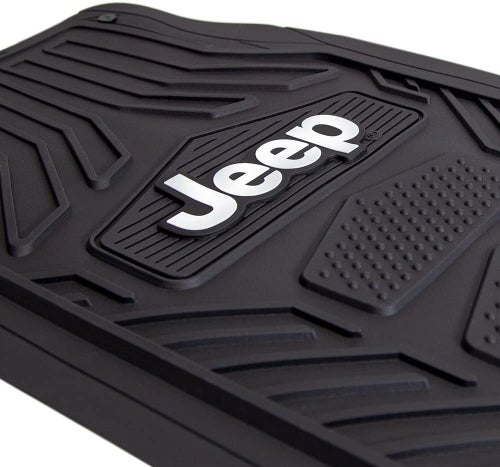 Durable and heavy-duty replacement Jeep floor mats can offer better protection for your Jeep's floor. If you choose high-quality replacement floor mats, you won't need to replace them for years.
Don't choose cheap mats that you'll be forced to replace within a year.
When selecting replacement floor mats for your Jeep, ensure they are compatible with the model. Universal floor mats can be more affordable, but they won't fill the floor space as well as floor mats designed especially for your Jeep.
Custom fitted Jeep floor mats offer a better choice. Badly fitted floor mats can actually cause accidents if they interfere with the operation of your gas pedal or brake.
High-quality custom-fitted floor mats include features like tiny spikes on their base to prevent hazardous slips and strategic rubber grooves for optimal protection and catching mud, grit, and moisture before it can cause damage to your floor.
Some replacement Jeep floor mats are made from carpeting and others from more durable and waterproof rubber. Carpet can wear rapidly, stain easily, and rip.
Weatherproof rubber floor mats offer better protection for your Jeep floor, last longer, and are easier to keep clean.
Jeep Seat Covers
When someone approaches your Jeep and then climbs inside, your seats are the most visible part of your Jeep's interior. For someone standing just outside, they are usually the only thing in plain view.
That's why it's essential to ensure that your seats look good. If you have worn and stained seats, your whole interior looks shabby.
After years of off-road adventures, it's inevitable your Jeep's seats will look tatty and dated. Even the most thorough clean won't restore their original showroom appearance.
That's why you need to invest in replacement seat covers to make your Jeep's interior look as good as new.
Universal-fit seat covers are an option. They are affordable and come in a broad variety of styles and materials enabling you to choose the exact pattern and color you want.
However, they suffer from several major disadvantages. From a safety viewpoint, universal seat covers may interfere with the operation of your Jeep's side-airbags.
Also, because universal seat covers don't offer an exact fit, they can slip over time and may block levers or controls built into your seats.
Anti-slip rubber pads are often utilized to minimize slipping, but over time universal seat covers often do slip and wrinkle, which doesn't look great.
A better choice is a custom-fit Jeep seat cover designed especially for your Jeep's model and year. Although custom-fit seat covers are more expensive, they offer a superior fit that results in a more attractive interior.
Because custom-fit Jeep seat covers are manufactured to the exact specifications of your Jeep's seats, they will not slip and wrinkle. They are also compatible with any side-airbags and won't block built-in controls or levers.
Whether you choose universal-fit Jeep seat covers or custom-fit, a recognized seat cover brand is a better investment.
Better quality seat covers will utilize waterproof fabrics that will better protect the underlying seat and won't easily stain. Polyester and twill are affordable and popular seat cover fabrics, but neoprene is more durable.
Fabrics with color stabilizers and UV inhibitors will protect your seat covers from sunlight damage.
If you plan to sell your Jeep, you will benefit more from neutral colors and simple patterns. These will appeal to a broader range of potential buyers.
However, if you're simply pimping your ride, there is a broad range of patterns and colors to choose from, especially among universal-fit seat covers.
Notice:
OutsidePursuits.com is a participant in the Amazon Services LLC Associates Program, an affiliate advertising program. OutsidePursuits.com earns fees from products sold through qualifying purchases by linking to Amazon.com. Amazon offers a commission on products sold through their affiliate links.