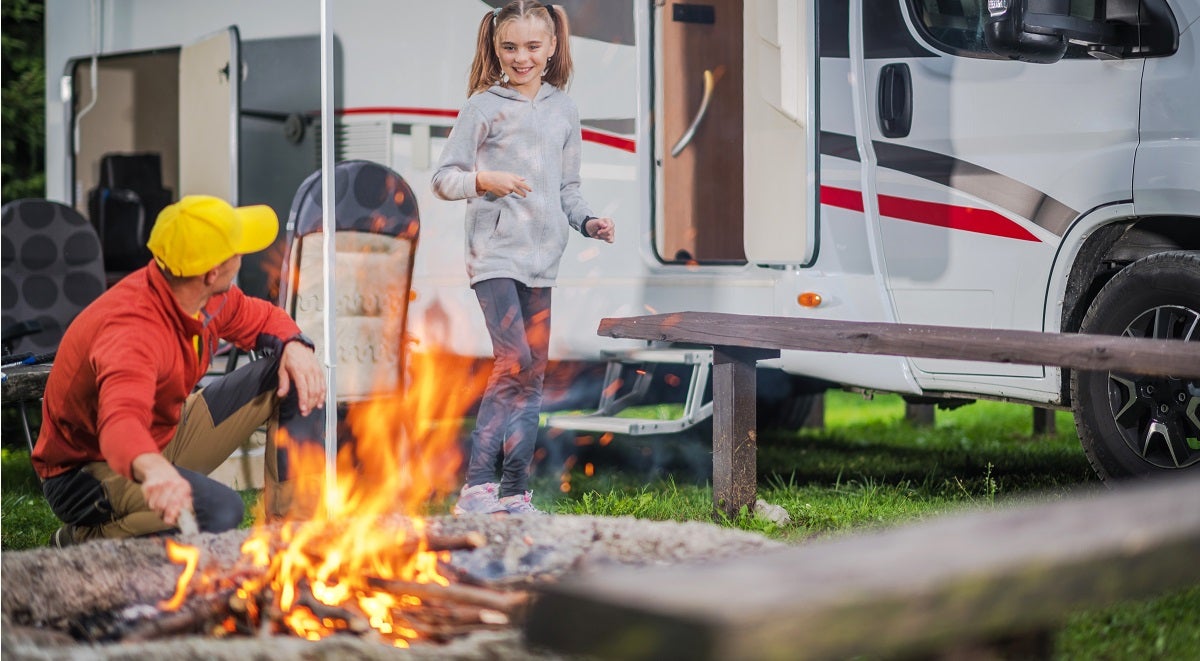 Our Editors independently research, test, and rate what we feel are the best products. We use affiliate links and may receive a small commission on purchases.
So, you've decided you're going to start camping in your RV. RV camping is the best of both worlds, as you get to venture outdoors while still benefiting from a bed, kitchen, and a sturdy indoor area to hang out and keep entertained during bad weather. However, there are 5 essential items for RV camping that we recommend you have if you really want to make the most of your adventures. Let's take a look at each one!
1. Portable Washing Machine
One of the biggest challenges for people who enjoy camping for longer periods of time is having clean clothes. Even packing clothes for a 2-week trip can be simply unrealistic for most as you'll be taking up quite a bit of the limited room you have inside an RV. So, what's the solution? Washing it in the river?
Definitely not – instead, get yourself a portable washing machine! Some people don't even know these exist, but they're rapidly rising in popularity. These washing machines vary in size and operation, with some manually operated by you pushing down with your hands to rotate the clothing and water around, while others operate like regular-sized washing machines.
They also range in capacity, as one will clean only one or two changes of clothes at a time while others can clean enough clothes to suit you for a week in just one load! They're small enough that they won't take up much room in your vehicle, and are lightweight and portable enough that it's easy to take on and off the RV or move it around whenever you need to.
2. RV Surge Protector
Surge protectors are always a good idea but are particularly essential when we're dealing with RV travel. As an RV is essentially a moving home, so it is almost always the case that you'll have expensive accessories and appliances connected to the power source.
Even if you do everything right, there are still ways that your RV can blow up. For example, while camping you may encounter lightning or a power surge that fries said expensive products. This could mean you're left without power, left without a refrigerator, air conditioning, and more.
Some even let you connect the surge protectors through Bluetooth connectivity to your smartphone or laptop to easily see its operating status. Additionally, there are surge protectors which are pretty basic while others like electrical management systems, which are more advanced technologically. EMS deices can check the incoming power for correct wiring, voltage, and can even turn the power completely off until power is restored.
3. RV GPS
Unfortunately, it seems like most of us these days are reliant to get from point A to point B by referring to the GPS on our smartphones. While there's nothing inherently wrong with that, it can make things a bit complicated when taking our RVs out camping when there is poor cell service or none at all.
That, among other reasons, is why we highly recommend obtaining an RV GPS. Another significant purpose of using these devices is to help ease passage. As the RV is longer than normal vehicles you're probably used to driving, you'll need to keep in mind clearance, how you turn, etc.
Most of the top GPS devices will cover North America, or solely the US. Just make sure where you're navigating is included in their maps. Most feature full-color, touch displays that are easy and intuitive to use – especially if you're already accustomed to using touchscreen devices.
4. RV Solar Panel Kit
Solar panel is definitely the future, in every situation. While solar panel is great to use on stationary homes, it makes even more sense to use during travel like with RV camping. While you're camping, you can simply set up solar panels on the top of your RV.
The solar panel kit will let you set it up easily, letting you charge your laptop, smartphone, and even more heavy-duty appliances like a refrigerator or portable washing machine if they are powerful enough.
Maintenance is practically nothing at all, and will benefit you much more than any price you have to pay. On top of that, you can expect it to last you for many years to come.
5. TV Antenna
Lastly, we bring you something that many people often forget when they go out camping: a TV antenna! Many times, when your cell service is failing or too weak to stream videos, a TV antenna will ensure it brings you your favorite TV shows and movies.
Not only that, but it delivers them right to the comfort of your RV will crisp and clear images that will make you wonder why you didn't do this earlier. Moreover, it's a great way of keeping in-tune with the weather and watching the news to see what's going on around you.
These antennas are incredibly easy to set up, and you should be ready to start watching in less than an hour, easily.
Summary
Now that you've read through the top 5 items that you need for RV camping, are you ready to get out into the wilderness? We know that with even one or two of the aforementioned devices, you'll feel much more eager to get out on longer and more comfortable trips while enjoying the fresh air and Mother Nature. Thanks for staying tuned, and we'll see you again soon. Have fun and remember to stay safe out there!
Notice:
OutsidePursuits.com is a participant in the Amazon Services LLC Associates Program, an affiliate advertising program. OutsidePursuits.com earns fees from products sold through qualifying purchases by linking to Amazon.com. Amazon offers a commission on products sold through their affiliate links.