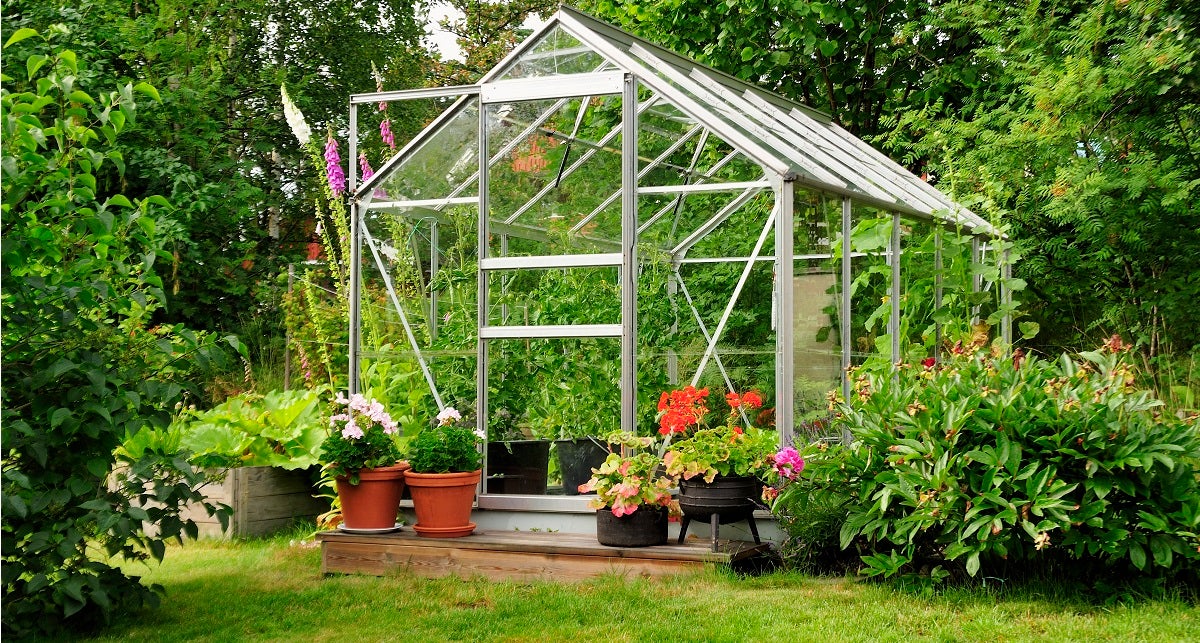 Our Editors independently research, test, and rate what we feel are the best products. We use affiliate links and may receive a small commission on purchases.
Are you someone who's just now decided to take up gardening? Or perhaps you used to love gardening but are just now getting back into the swing of things? No matter what your situation, we have the 5 essential items for gardening that you're sure to love as much as we do.
We've taken into consideration our own experiences along with professional recommendations to ensure that you start off on the right foot and with a green thumb. Let's get started because those plants aren't going to grow themselves!
1. Greenhouse
A greenhouse is one of the most exciting things you can add to your garden. Not only are they absolutely beautiful to look at, but they are a place you can really escape from the chaos of the outside world and revel in the beauty of your plants. You can see your plants grow and your flowers blossom, knowing that they're nice and safe.
There's a common misconception that you need to have a lot of free space in your backyard in order to have a greenhouse, but this is not the case at all. There are wonderful options in just about any size and material you can imagine, with some being portable and easy to move, while others are larger and more permanent fixtures.
It all comes down with the size and quantity of plants you have, along with the available space you will be able to dedicate to your greenhouse. If you live in an environment with extreme cold and/or heat, then we really feel that this is an essential tool to any gardener.
2. Rain Barrels
If you're worried about spending too much cash on your water bill due to keeping your plants well-hydrated, then there's no more need to fret. What you need is to maximize the resources around you, and a rain barrel can help you do exactly that!
These barrels, as you can probably deduce from the name, collect rainwater that you can then use to water your garden. As these barrels are made out of safe materials that are free from BPA and other harmful chemicals while also keeping out any possible pesticides, your plants will be nice and healthy.
You can even use them to water vegetables and consume them with confidence knowing that they're safe to eat.
They come in all sorts of styles and capacities, with most holding around 50 gallons or so of water. We really loved the barrels that have planters on the top, allowing you to grow beautiful flowers or veggies on the top of the barrel.
This not only maximizes production but offers a prettier appearance that will help blend in more naturally with the surrounding environment.
3. Garden Storage Shed
Storage sheds are an absolute must if you're a gardener. It's here, where you can easily and safely stow away your shovels, gloves, boots, power drills, a lawn mower, and just about anything else you may need when working outdoors.
The best sheds come with shelves and hooks for you to keep yourself organized and safe. While we do recommend placing your shed from a place where you can easily keep an eye on it from indoors, these often come with locks to keep potential thieves away.
These sheds are made of safe and durable materials to protect your gear from the elements. Not only that, but you don't have to worry about you or anyone else accidentally hurting yourself on metal or getting a sliver from wood sheds like you would have to be cautious around in the past.
Polyethylene is one of the most popular materials for modern-day sheds as they're resistant against UV rays yet are lightweight enough to set up with ease.
4. Compost Bins
Compost bins are one of the best tools you can have as a gardener. If you're looking to reduce waste, then this is also the perfect option. You can place the vast majority of your organic waste in these bins, where they will turn into compost over time. Alternatively, you can come up with a premeditated set of particular ingredients to add in all at one time.
These bins help to speed up the composting process, allowing you to mix it all around to maximize efficiency and see better results in a shorter amount of time. Not only that, but they help save water by helping the soil hold moisture and lower the amount of water runoff.
As compost is so rich in nutrients, you can use them as a soil conditioner, fertilizer, and even as a natural pesticide which is better for the land, plants, and animals.
5. Lawn Mower
Even if you aren't a gardener, having a cordless lawn mower should be an essential tool if you have a yard that you maintain.
These cordless or electric mowers are easy to operate, so just about anyone can keep the lawn properly neat and trim without too much effort. When you're all finished, you can simply place it in your gardening shed to keep it safe and out of the way of the rain or wind.
While they're not quite as powerful as some other models, they're much more quiet and eco-friendly as they don't require gas to run. For the ultimate in environmentally friendly a reel lawn mower is your best bet. They don't require any batteries or electricity to run!
Summary
Now that you've read all about the 5 essential items for gardening, do you have a better game plan with what you're going to use to keep your plants plentiful and happy? We hope that our guide has helped you to do exactly that. Even if you just pick one of the items from this guide, you'll see much better results and find gardening to be a much simpler and enjoyable process. Thanks for tuning in and we'll see you again shortly!
Notice:
OutsidePursuits.com is a participant in the Amazon Services LLC Associates Program, an affiliate advertising program. OutsidePursuits.com earns fees from products sold through qualifying purchases by linking to Amazon.com. Amazon offers a commission on products sold through their affiliate links.