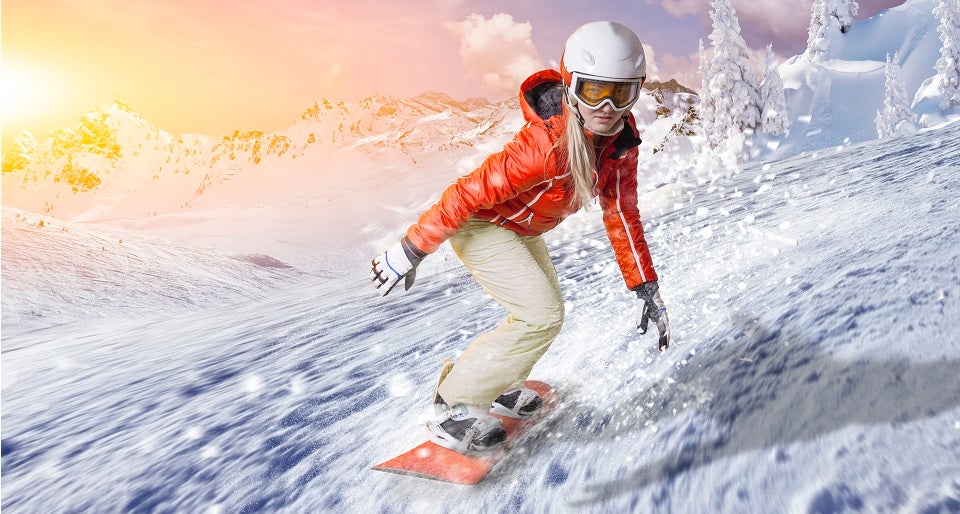 Our Editors independently research, test, and rate what we feel are the best products. We use affiliate links and may receive a small commission on purchases.
Once again we've made it full circle and, as the weather grows colder, we're all thinking about hitting the slopes.
Whether you're brand new or just looking for a new pair of women's snowboarding pants we're going to round up some of the best for you to check out so you can spend more time on the mountain and less time shopping.
We'll get right into it so I don't waste your time, but be sure to check out the "how to choose" section below for some tips on what to look for and what to avoid when you're shopping!
Best Women's Snowboarding Pants
For more of my snowboarding recommendations, have a look through these popular Outside Pursuits guide links: Women's Snowboard Jackets, Snowboard Gloves, Snowboard Complete Packages.
Quick Answer: The 7 Best Rated Women's Snowboarding Pants
Our reviews of the top rated women's snowboarding pants with our comparison table and buyers guide will help you choose the right one.
---
Women's Snowboard Pants Reviews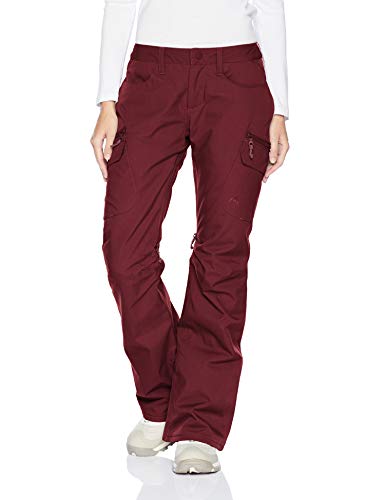 Burton Women's Gloria Insulated Snow Pant at a Glance
:
---
Shell: DRYRIDE
Insulation: Taffeta lining
Seams: Unspecified
Other: Thigh vents
Burton is always dropping some new gear and this time it looks like they checked all the boxes. Available in a wide combination of colors, patterns, and sizes there should be something here that appeals to most.
If you've read any of my articles on skiing and snowboarding, you probably already know how important thigh zips are for all-day comfort. I'm really glad to see Burton follow through with thigh vents on these pants and I think that adds a ton of value for temperature control.
While I didn't see any specifications for seam sealing on these pants, Burton is a good company and I'm sure they sealed the seams. Since the pants are advertised as "a waterproof wonder" we can only hope they sealed the seams.
Overall, I love the wide varieties of colors and sizes to choose from but be warned. Some users complain that the shape in the hips and waist is a bit "tube-shaped" in terms of fit.
There are plenty of pockets to go around and belt loops to keep everything held in place if you need it.

---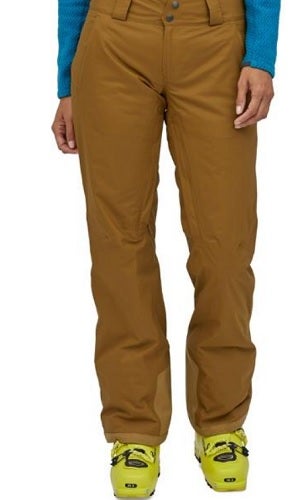 Patagonia Women's Insulated Snowbelle Pants at a Glance
:
---
Shell: H2No Polyester
Insulation: Polyester taffeta
Seams: Unspecified
Other: Thigh vents, RECCO
Patagonia very rarely makes a misstep when they set out to deliver some new high-performance outdoor gear. This time is no exception and I think the Snowbelle pants have a ton to offer.
If you haven't heard of it yet, RECCO reflectors are little signal mirrors for search and rescue radio frequencies. Patagonia integrated them inside this garment so they're always ready to go in case the worst should happen.
Again, while it remains unspecified, I'm sure Patagonia seam-sealed these pants. They feature the in-house breathable membrane H2No made by Patagonia to compete with Gore-Tex (which it does well). Additionally, you'll find thigh zips, velcro-adjustable waist, and reinforced boot cuffs.
I think Patagonia did a good job streamlining these pants. There are no easily visible outer pockets and the styling is modern, yet subdued. Overall I think these snowboarding pants are impossible to argue with.

View at REI
---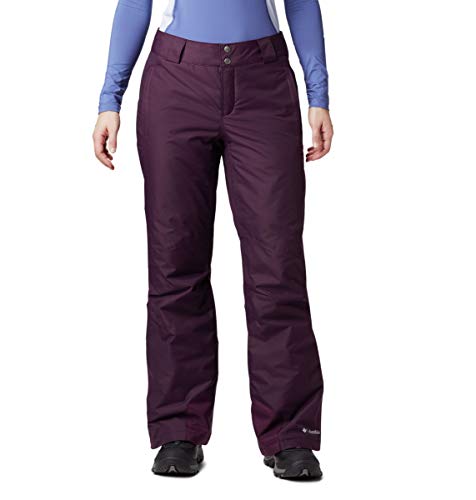 Columbia Women's Bugaboo Omni-Heat Pants at a Glance:
---
Shell: Waterproof nylon
Insulation: 60g Microtemp XF
Seams: Critically seam sealed
Other: Omni-heat reflective lining
Columbia always seems to figure out the best way to put together great equipment at a reasonable price. While the styling might not be next-generation, it's hard to say they're not a really good value.
At this point, Columbia has been doing the Omni-Heat thing long enough most people know about it. Inside the pants are little reflective dots designed to help return some infrared heat back to your body which improves overall warmth.
They did use waterproof nylon on the entire pants, but they only critically seam-sealed the pants. That means not every seam is sealed. What that does is help them manufacture the pants at a better price while still delivering pants that will keep you warm and dry in anything short of a spring rainstorm.
Maybe the only real drawback of these affordable snowboarding pants is that they lack thigh zips. Don't over-layer or you might have a hard time getting rid of excess heat.

---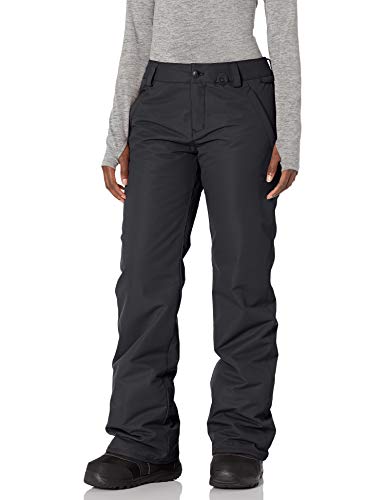 Volcom Women's Frochickie Snowboarding Pants at a Glance
:
---
Shell: Waterproof/breathable
Insulation: 60g taffeta
Seams: Critically seam sealed
Other: Handwarmer pockets
What says snowboarding like Volcom? If you're feeling more on the style side and willing to do what it takes to keep it looking good on the slopes, this might be where the buck stops.
These pants have the bones of good snowboarding gear. They're waterproof, insulated, rocking boot gaiters, and come loaded up with handwarmer pockets.
It seems, however, that Volcom is more worried about the Chino fit "street style" than performance characteristics. This isn't inherently bad, because everyone knows looking good is 90% of the hard work of being on the mountain.
That said, I would've liked to at least see some thigh zippers for temperatures control on pants at this price point. It's not entirely uncommon though so I'll give them a pass on it.
If you want some good-looking board pants and your technical needs aren't sky-high, check these out.

---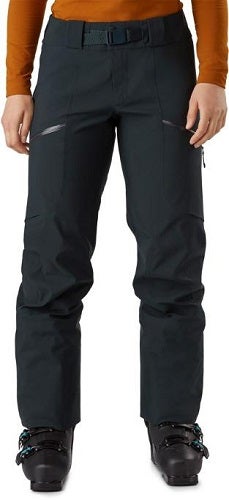 Arc'teryx Women's Sentinel AR Snow Pants at a Glance:
---
Shell: N70p 3-layer GORE-TEX®
Insulation: Flannel lined
Seams: Waterproof
Other: Side vent zips
Arc'teryx has a reputation for modern styling, high quality, and high prices. While they're some of the best snowboarding pants on the market, are they really worth the money? Let's find out.
As usual, Arc'teryx goes for the best in quality. These pants are layered up with Gore-Tex waterproof breathable fabric.
They're also reinforced with Cordura instep panels and cuffs. This helps increase garment life over time by warding off abrasion around the boot area.
While I don't mind that they moved the pockets away from the hips and towards the thighs, the leg vents might be another story.
Located on the outside of the thighs, these leg vents are almost certain to leave you with pants full of snow if you take a fall with them open. For seasoned pros who rarely, if ever, take a digger this might not be an issue.
Overall I think the build quality, look, and materials are probably among the best you can find. Whether or not the vents and pockets appeal to you is a different question.

View at REI
---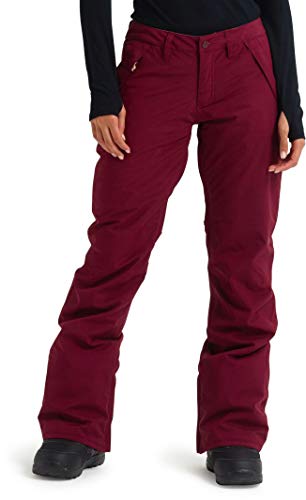 Burton Women's Society Pants at a Glance
:
---
Shell: DryRide
Insulation: 40g Thermolite
Seams: Fully seam taped
Other: Thigh vent zips
As you might expect, Burton shows up at the party again. It's impossible to ignore their great taste in style and reasonable pricing that appeals to almost everyone.
I have to say that among all the picks on our list, this one happens to be available in an impressive assortment of sizes. If you struggle to find the right size pants, check out these. Also, it's worth noting that they're also available in a ton of colors so if you just can't find the right color, stop here.
That said, technically speaking, they're pretty solid for the price too. Inside leg vents are always a must-have in my world and these deliver. Plus Burton's DryRide waterproof fabric has been used in a ton of their garments and is well proven at this point for reliability.
There is a bit of insulation, at 40g it's not much but that's good because you can layer (or un-layer) before hitting the slopes as the day's weather demands.

---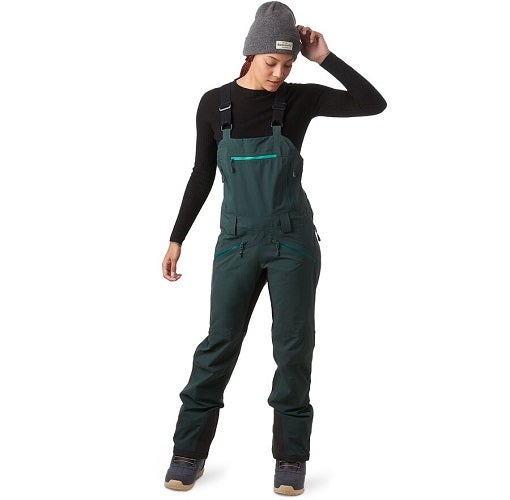 Outdoor Research Women's Hemispheres Bib at a Glance
:
---
Shell: Gore-Tex C-Knit
Insulation: Unspecified
Seams: Fully seam taped
Other: Thigh vent zips
Outdoor Research has long been one of my favorite outdoor garment manufacturers. They're always putting out some of the best innovation and quality, but don't expect to get out without paying the price. They're not always cheap!
As the only bibs on our list, I have to point out that bibs are great! They ride higher and stay in place so they do a much better job at keeping out snow and water than pants do. That said, they are bibs… so style beware.
With Gore-Tex C-Knit waterproof fabric and stretch panels built-in they do a lot to retain freedom of movement. Outdoor Research also built-in articulated knees so that you don't feel constrained by the bibs.
If I have one complaint, it's similar to the Arc'teryx pants – I wish they'd put the leg vents on the inside of the thigh.

View at BackCountry
---
Women's Snowboarding Pants Comparison Table
How to Choose the Best Women's Snowboarding Pants for You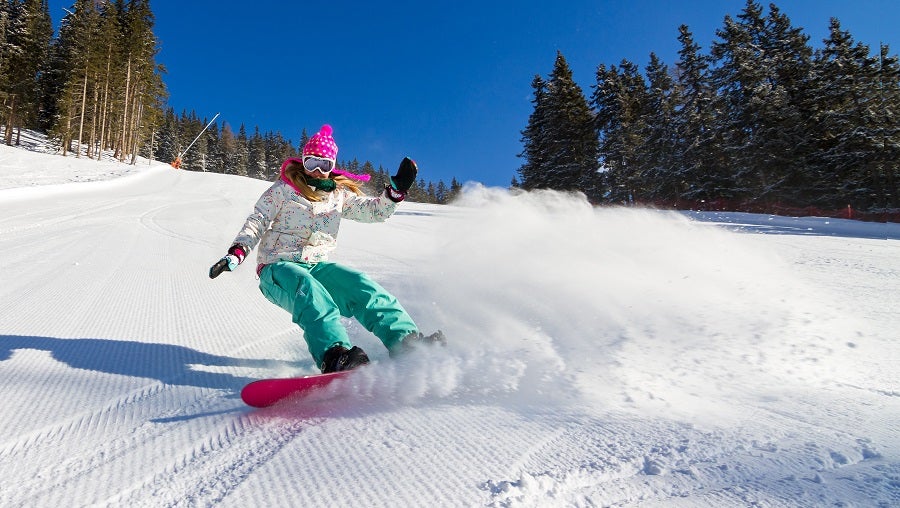 Snowboard Pants Shells
Shells refer to the outermost layer of material making up snowboard pants. This material's job is to provide abrasion and, typically, some level of wind and water resistance.
Shells are almost invariably made from either nylon or polyester. Both synthetic materials can be made to repel wind and water. Further, particularly with nylon, these materials are well known for the abrasion resistance. This helps them hold up over time and after a few hard falls.
While waterproof pants may only have shell materials, pants that are breathable will have several layers of other materials under the shell. In this case, the shell's most important job is to protect the underlying layers of breathable membrane material.
If you have waterproof breathable pants it's vital to keep your pants coated with DWR. Breathable pants will lose the ability to "breathe" or transpire water vapor if the outer layer gets wetted out. This can happen if the polyester or nylon gets saturated with water.
DWR spray-on or wash-in treatments are available widely and should be used any time your shells begin to show signs of wetting out.
Insulation
In modern snowboarding pants, you'll be hard-pressed to find anything other than synthetic insulation. That's a good thing because synthetic insulation does a few things really well:
Synthetic insulation is relatively cheap. Compared to things like down or merino wool, synthetic insulations are a very affordable and effective way to add warmth to garments. I like this!
Because of the properties of synthetics, this type of insulation is also great when wet. Compared to many other natural materials, synthetic insulation is capable of keeping the wearer relatively warm even if it gets wet. This is critical in case you happen to be in cold, wet conditions.
Additionally, many advanced modern synthetic insulations are getting better at wicking moisture. Hollow micro-structures and other advancements mean that some synthetics actually offer performance characteristics you won't find from natural materials.
When it comes to insulation quantity it's harder to nail things down. I usually advise people to go with minimally insulated, or shell-only, pants.
When it comes time for warm spring riding on the mountain you'll be glad you don't have insulated pants. During the cold months, you can layer up as much as you need to add warmth.
Buying heavily insulated pants may leave you locked into only being able to use them during the coldest days.
Seam Sealing
In the world of winter sports, seam sealing isn't quite as critical as other outdoor sports. Why? Because the overwhelming majority of precipitation you encounter will be solid, not liquid. Of course, surprise spring rainstorms or taking a digger in slushy conditions can change that quickly.
Seam sealing is the process by which manufacturers cover sewing seams with waterproof materials. When you sew waterproof fabric, all the needle holes become points for water to sneak in. That's why seam sealing is crucial to a good waterproof finished garment.
Of course, the more seams a garment has the more expensive and complicated it gets to seal them all. That's why you may see terms like "critically seam sealed". This indicated that not every single seam is sealed, but instead just the ones in critical spots like the seat of the pants, outside hips, etc.
Alternately, you might see a garment that says "fully seam sealed". This indicates that the manufacturer took the time to seal every seam. You'll pay more for this, usually, but if you feel it's necessary then you'll be happier with the final result on the hill.
Seam tape is almost always the first part of a waterproof garment to fail. I've yet to own a waterproof garment where the seam sealing doesn't start failing within a handful of seasons of use. Unfortunately, it's just the way of things sometimes.
Spending more money on a reputable brand will help this, however. Countless times I've seen cheaper waterproof gear fail at the seams within days of use. Reputable manufacturers will make gear that should last many seasons, but don't expect it to last forever without letting water in eventually.
Pockets
When it's time to hit the mountain you can't take your purse, and you might not have your backpack or bag. Guys, your snowboard pants might not have a pocket for your wallet in the usual place. All the ways you usually keep organized go out the window.
You'll still need to pay for your lift ticket, buy lunch, have some chapstick on hand, keep your car keys somewhere, etc.
Now, in an ideal world, you'd rent a storage locker at the lodge, dump your stuff there, and be done with it. However, lockers sell out fast on busy days.
Plus, literally hundreds of people every season forget their things and leave them behind in their storage lockers after they have a few slope-side beers and take the bus back to town.
Instead of counting on a locker, I like to be self-sufficient so I can operate on the mountain no matter what's happening. That's why I strongly recommend looking for snowboarding pants that have good pockets.
How many pockets, what kind, and where they're located are up to you. I find that the normal pocket setup (two in front, two in back) works just fine. Beware the cargo pockets, having stuff banging against your knees and thighs while you try to move is annoying at best on the mountain.
Too many ski and snowboard pants seem to skip the pockets and leave you in a pinch for storage on the mountain.
Belt Loops
Yeah, I know, it's dorky and not very stylish. Belt loops are kind of important, though.
I find that a belt is necessary to get a good, comfortable, all-day fit on the mountain. From day to day you may change how many layers you're wearing and that will make it hard to get a consistent waistline fit from your snowboard pants.
You might also eat a bit too much slope-side lunch and need to loosen up. Rocking a belt is a great way to make sure you can keep a good fit (or a consistent sag) no matter what your preferences are.
FAQs Women's Snowboarding Pants
Q: Is there a difference between snowboard and ski pants?
A: For all intents and purposes, there really isn't much of a difference. If you're really curious about tiny differences, then let's dive in and talk about it.
Possibly the biggest difference between ski and snowboard pants is style. For whatever reason, the two sports have always had slight variations in aesthetic and style. Of course, this makes no real difference on the mountain.
Maybe the only major difference in function between ski and snowboard pants is cuff reinforcement. Ski pants should have large heavy-duty reinforcements on the inside of each boot cuff.
Because sharp ski edges and ski boots often nick, bang, and scuff against each other during movement they can quickly destroy non-reinforced fabrics. I've had my ski edges cut straight through even reinforced fabric on my pants when I'm really laying the edges over.
On snowboards, your boots are locked in a set distance apart and your feet/legs won't really brush or rub together. For this reason, snowboard pants don't really need that extra reinforced cuff area.
Q: How are snowboarding pants supposed to fit?
A: How they're supposed to fit is to help your movements and comfort on the mountain. Snowboarding pants can fit however you want with just one exception – they shouldn't restrict your ability to move.
If you want tight pants or baggy pants it doesn't really matter. So long as you're still able to maintain a full range of motion appropriate for maintaining control over your board, everything else is just personal preference.
Personally, I like my pants to have a bit of room but not be sloppy and baggy. It's good to have room for some layers underneath when the temperature really drops and tight pants won't let you do this.
In general I would err on the side of bigger rather than tighter unless it's a style choice.
Q: Which is better snowboarding pants or bibs?
A: Of course, like anything, the answer to the "best" depends on what you want to use it for. In general, I think bibs perform better. That doesn't make them the best choice for every person or every situation, however.
Bibs are a bit more restrictive on your movement, they're heavier and bulkier. Plus they lack some serious fashion sense. That said, though, they keep you warm better, keep snow out of your clothes, and solve the problem of cold windy drafts sneaking in between layers. If you're boarding neck-deep powder in negative temperatures, bibs might be the solution.
Pants, on the other hand, are lighter, more fashionable (usually), and less restrictive. If you're hitting the terrain park on a warm spring day there's probably no need for bibs – pants can get the job done fine and maybe better.
Q: What do you wear under snowboard pants?
A: Again, the answer depends on several variables. On warm days when I'm pushing hard activity I may wear only underwear under the pants and leave the vents open for airflow. Alternatively, in the deep of winter when the mercury drops it's time for a layer or two of leggings and insulation.
Personally, I usually wear a mid-weight or lightweight pair of polyester leggings with a boot cut to keep them out of my boots. It's darn-near impossible to find boot cut thermal layers, however, so I order regular ones, cut them off above the boot line, and sew the hem over for a quick modification.
Rarely, if ever, have I felt I need more layers under my pants than that.
Conclusion
Snowboarding pants run the gamut from cheap to expensive. They can range from cutting edge to basic beginner pants. There is no one single choice that's right for every snowboarder.
If you choose a pair of snowboarding pants that won't restrict your movements, allows for temperature control with vents, and leaves room for layering underneath you'll be off to a very good start!
While looking good is half the battle, I encourage you to make your decisions based on when, where, and how you like to snowboard. You'll be happier with the pants you choose and you'll enjoy them for longer than if your decision is just made based on what "looks good".
No matter what you choose, enjoy the mountain, have fun, and stay safe out there!
How We Researched
To come up with the top women's snowboarding pants, we researched a variety of sources for reviews such as REI, Backcountry, Moosejaw, EVO along with our own personal experience.
We also consulted online magazines for product research and reviews to get as much unbiased information as we could. To help weed out fake reviews we used Fakespot.com to make sure we only looked at genuine reviews.
With so much quality gear available, we had to narrow it down based on what we felt were the best options were for the price. The author, Casey Fiedler was a full-time ski instructor for Park City and The Canyons in Utah.
To help narrow down the selection he used his personal experience along with recommendations from fellow ski instructors.
After extensive research, we came up with our list to help you choose the right pair for you.
Sources
Notice:
OutsidePursuits.com is a participant in the Amazon Services LLC Associates Program, an affiliate advertising program. OutsidePursuits.com earns fees from products sold through qualifying purchases by linking to Amazon.com. Amazon offers a commission on products sold through their affiliate links.