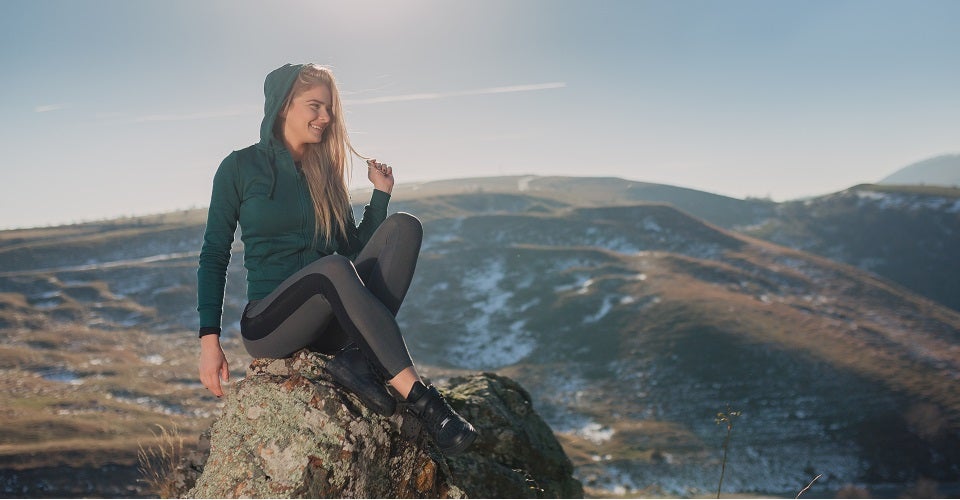 Our Editors independently research, test, and rate what we feel are the best products. We use affiliate links and may receive a small commission on purchases.
Whether you want something comfy, or are trying to find the perfect article of clothing for chilly weather, the hoodie is the go-to.
Hoodies vary quite a bit in style, material, and colors, so it's important to know for what occasion you're searching for.
We only want top-quality products for our readers, so we've done the research for you and come up with the top women's hoodies.
Keep on scrolling to check them out!
Best Hoodies For Women
| | Nike Pullover Club Fleece Hoodie | The North Face Thermoball Hoodie | St. Jubileens Hoodie Sweatshirt |
| --- | --- | --- | --- |
| | | | |
| | | | |
| Fabric: | Terry Fabric | Nylon | Blended Cotton |
| Pockets: | Kangaroo pouch | Two side pockets | Two side pockets |
| Zippered: | No | Yes | No |
| Colors: | 15 | 13 | 5 |
| | | | |
For more of my cold weather gear recommendations, have a look through these popular Outside Pursuits guide links: Women's Parkas, Women's Rain Boots, Women's Hiking Boots.
Quick Answer: The 7 Best Rated Women's Hoodies For 2021
Our reviews of the top rated women's hoodies with a comparison table and buyers guide below will help you choose a hoodie for you.
---
Women's Hoodie Reviews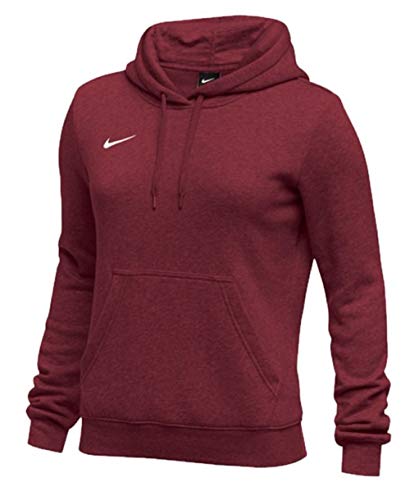 Nike Pullover Club Fleece Hoodie at a Glance
:
---
Fabric: Terry Fabric
Adjustability: Hood Drawcords
Zippered Front: No
Sizes: XS-XXL
Colors: 15
We couldn't write an article about the best women's hoodies and leave out Nike! Their Pullover Club Fleece Hoodie is a crowd favorite, and you're about to see why!
So, whether you're going out for a run or just a trip to the café, you'll feel as good as you look.
The US-made pullover comes in a wide array of colors: from Dark Green, to Orange, Light Blue, Brown, Grey, and many more so you can select the perfect addition to your wardrobe.
The French terry fabric that it's made out of is not only lightweight, but very warm and soft against the skin. It's a great additional layer to keep out wind, without making you feel hot and sweaty.
The hood is a bit tight, which is great for keeping your ears warm, but not so much in terms of style. The drawcord lets you adjust it to provide additional coverage if you need it.
A kangaroo pouch pocket has been added on the front so you can keep your hands free of windchill or store extra little items like a smartphone or your keys.
Soft elastic binding on the cuffs not only assists in keeping you warm, but adds a little something extra to the design to keep it looking top-notch.
The only real downside?
That it runs a size small! We highly recommend going a size up if you want this one to properly fit!

---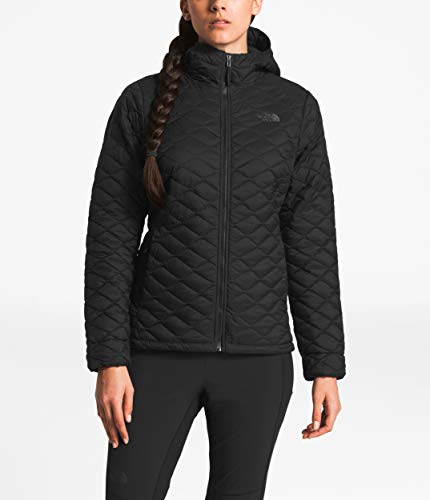 The North Face Thermoball Hoodie at a Glance
:
---
Fabric: Nylon
Adjustability: Two-Point Hood Adjustability, Waist Cinch
Zippered Front: Yes
Sizes: XS-XXL
Colors: 13
Synthetic puffies are not only in style, they'll also make you feel warm and cozy around the campfire, on your way to the gym, or pretty much any other situation in cool weather.
The North Face is undoubtedly one of the most well-respected outdoor clothing companies, and their Thermoball Hoodie, one of best women's hoodies on amazon.
The silky feeling of the nylon interior against the skin is one that will make you never want to take it off. While it isn't real, the Primaloft insulation is designed to operate like bundles of down.
It does an excellent job of keeping out the wind, although it does tend to absorb water well too, making it a poor selection in heavy rain. The hood is quite large, complete with adjustable tabs to ensure wind stays out.
There are also two high neck panels to keep the upper body warm, too, and elastic waist and cuff hems operate the same way.
What's one of the first parts of our bodies to get cold? Our hands, of course! Good pockets are essential if you're trying to stay toasty, and these pockets are huge. So large, in fact, that you can easily fit in a thermos, sandwich, and other necessities.
If the weather heats up?
Simply take off the hoodie, and stuff it into its own pocket!

---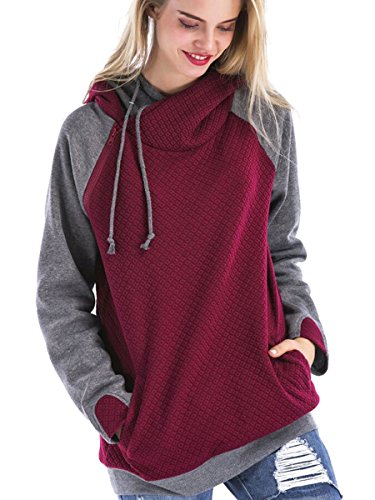 St. Jubileens Hoodie Sweatshirt at a Glance
:
---
Fabric: Blended Cotton
Adjustability: Adjustable Hood Cords
Zippered Front: No
Sizes: S-XXL
Colors: 5
The St. Jubileens Hoodie Sweatshirt has it all: warmth, comfort, trendy style, and versatility. All of that, offered at a super affordable price?
We couldn't pass it up. The unique spliced design features two colors each such as: Light Green/Heather Grey, Pink/Heather Grey & Maroon/Heather Grey.
The colors are sure to make you stand out from the rest of the crowd, as well as the diagonally-sewn hood which connects to a zipper over the shoulder.
This pullover is definitely for keeping warm, and we don't recommend it if you just want a light additional layer.
The double-layer hood and pockets make for a particularly warm and protective design that not only looks cool, but does well at keeping out wind. Pockets are nice and deep so you can really sink your hands in to keep them away from the chill.
The cotton blend, which the product is made out of feels soft and smooth against the skin, rather than scratchy or cheap. It's the perfect addition to t-shirts, leggings, jeans, or what have you.
The design is made to be a bit more billowy and oversized, so if you're sick of wearing tight garments, this will give you a relaxing break.

---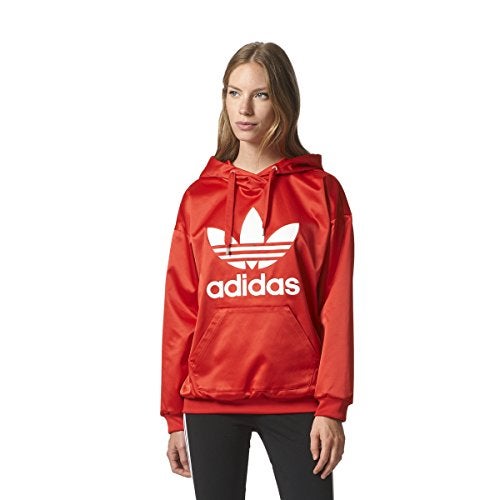 Adidas Originals Trefoil Hoodie at a Glance
:
---
Fabric: Cotton, Polyester
Adjustability: Cord Adjustable Hood
Zippered Front: No
Sizes: XXS-XL
Colors: 17
Adidas has been one of the world's top athletic brands for decades now, but it's recently exploded in popularity once again.
The Adidas Originals Trefoil Hoodie isn't just about looks, though. As with all of their products, it's just as much about feel and durability.
We, along with other countless consumers, love their unique colorways. Choose from 18 colors, you're sure to find something that suits your uniform, workout outfit, or personality with ease.
Rather than being a bit more fitted like so many other sports brands, it has a kind of baggy, billowy look that's on trend right now with other oversized clothing. However, if that's not your style, think of going down a size.
Lined with fleece, we would recommend it for those crisp autumn or spring days to heat you up.
It may be a bit too hot for anything over 70 degrees, but it is super soft and you can tell the material is strong enough to wear during physical activity.

---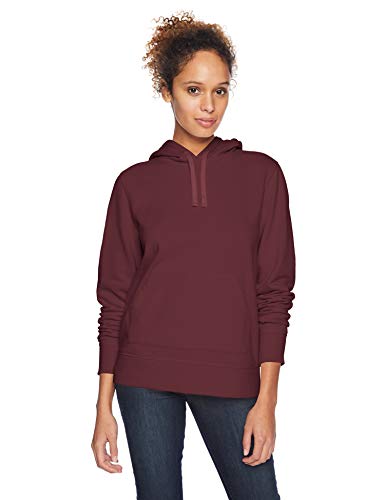 Amazon Essentials French Terry Fleece Pullover at a Glance
:
---
Fabric: Cotton, Polyester
Adjustability: Cord Adjustable Hood
Zippered Front: No
Sizes: XS-XXL
Colors: 9
Amazon Essentials usually never lets us down when we're on the hunt for a soft, comfortable, and high-quality piece of clothing.
Their French Terry Fleece Pullover Hoodie is no exception. If you're on a budget, but don't want to compromise quality, then check this one out.
Whether you're out running errands or at home relaxing, this loose-fitting top is the perfect compliment. The hoodie comes in 9 different colors/patterns: Burgundy, Light Grey Heather, Grey Camo, Black, and more.
Most are quite basic or "essential" colors, but that just means you can wear them with any other outfits!
You know that feeling when you finally get under the covers and let your body sink into the mattress after a long day? That's kind of what it feels like when you pull this one over your head. Made of 60% cotton and 40% polyester, it's incredibly soft and serene.
While there isn't any adjustability available to tighten the fit or lock out wind, this design isn't really made for that. It's more made for casual hang outs or completing a no-stress study outfit.

---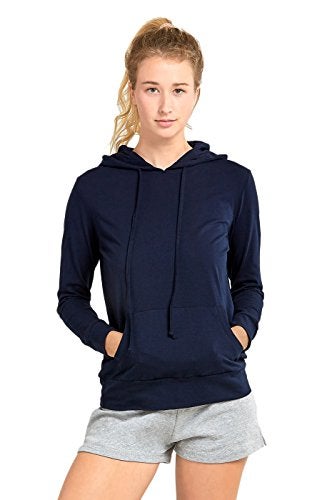 Sofra Thin Cotton Zip Up Hoodie Jacket at a Glance
:
---
Fabric: Cotton, Spandex
Adjustability: None
Zippered Front: No
Sizes: S-XL
Colors: 10
Wouldn't it be great to have a hoodie that can go from casual to dressed-up in seconds? With the Sofra Thin Cotton Zip Up, that can easily become a reality for you.
While most other hoodies in our guide are made more for colder weather, this one is so thin and light that you can wear it in the warmer months, too.
For those days you just want a bit of extra protection without the bulk, this is it. The color options available also go well with both colder and hotter months.
Choose from bright shades like Mint, Fuschia, or Coral which are perfect for summertime. Or, opt for an elegant Burgundy, Charcoal, or Black for any occasion.
The fabric consists of 95% cotton, a 5% spandex. This makes for a very relaxed, soft garment with just enough stretch to keep you snug and cozy. The full zip-up closure won't snag, and slides without catching on the teeth of the zipper or fabric.
Pockets aren't as big as many others, but they're great for keeping your keys or other small valuables. The fit is still relaxed, but is flattering and seems to accentuate the natural curves of a woman's body.
What's even better, is this garment is one of the most budget-friendly hoodies out there. If you're searching for something that looks good, is versatile, and comfortable while staying on a budget, then definitely don't skip over the Sofra.

---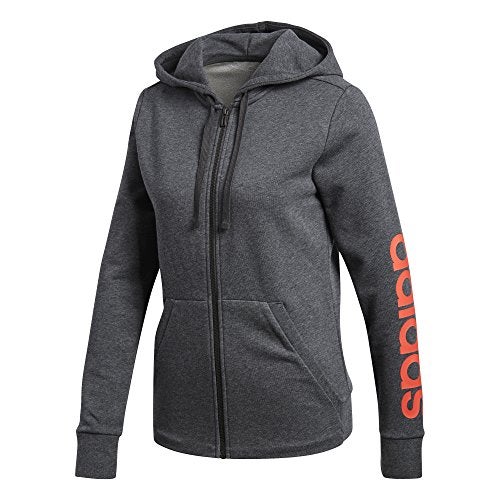 Adidas Essentials Linear Full Zip Fleece Hoodie at a Glance
:
---
Fabric: Cotton/Polyester
Adjustability: Hood Drawcords
Zippered Front: Yes
Sizes: XS-XL
Colors: 13
We're back again with another Adidas product; this time with their Essentials Linear Full Zip Fleece Hoodie. If you're looking for the best zip up hoodie for women, we can't recommend this one enough!
Made of a soft French terry cotton blend, you'll keep warm and comfy on those chilly days, while the full zip in front makes it easy to take off if you get too hot.
Coming in 13 different colors, you're sure to find a color that suites your style.
The difficult thing about working out on a cold day, is the struggle to find the balance between warm, but not too hot. With the Climalite fabric this model includes, it works to wick away sweat while ensuring it's rapidly evaporated to leave you dry and feeling your best.
The ribbed cuffs and hem add an extra layer of trendiness, while also working to give you a more streamlined look.
Kangaroo pockets are perfect for holding your small valuables, and are deep enough that you won't have to worry about them easily falling out.

---
Women's Hoodie Comparison Table
Considerations for Choosing a Women's Hoodie – Buying Guide

Hoodies are a favorite among many of us due to how easy they are to wear, the convenience, and comfort. However, not every one is made the same. We've decided to take it upon ourselves to write up a little buying guide to make sure you're selecting the perfect product for you. Let's get started.
Style
As you can see above, hoodies come in a couple different styles: pullover or zip-up. They each have their own benefits, but ultimately, it comes down to you.
Pullovers
Pullover hoodies are great if you want to avoid having to deal with a zipper. We know that zippers can obviously malfunction or get caught, and then it's rendered useless. Some people also just don't like the zip-up look and prefer an easy one-piece product to toss on. As there are some people who choose to wear hoodies without a shirt underneath, this eliminates the itchiness or cold metal against the skin.
Zip-Ups
The main advantage that us women think about when purchasing a zip-up, is that it won't mess up our hair or makeup. All it takes it a small neck on a hoodie to smear mascara everywhere and make our hair look messy or flat. Zip-ups are easier to take on and off, and are a nice addition over a t-shirt or long-sleeve shirt.
Fabric Material
There are typically three main materials that hoodies consist of: cotton, polyester, and spandex. Let's take a look at each one.
Cotton
Cotton is by far the most common fabric used with hoodies, due to its overall softness, ability to keep warmth in, and does great at letting the skin breathe so you stay dry.
Polyester
Polyester is traditionally a bit less soft than cotton, but often more durable. It doesn't stretch much, which means that your hoodies will last a bit longer and retain their original shape well. However, it isn't as breathable as cotton.
Nylon
Similar to polyester being a synthetic fabric but less soft than polyester but is much more durable and abrasion resistant. It is also very water resistant so if you want to wear it as a rain jacket it's a good choice.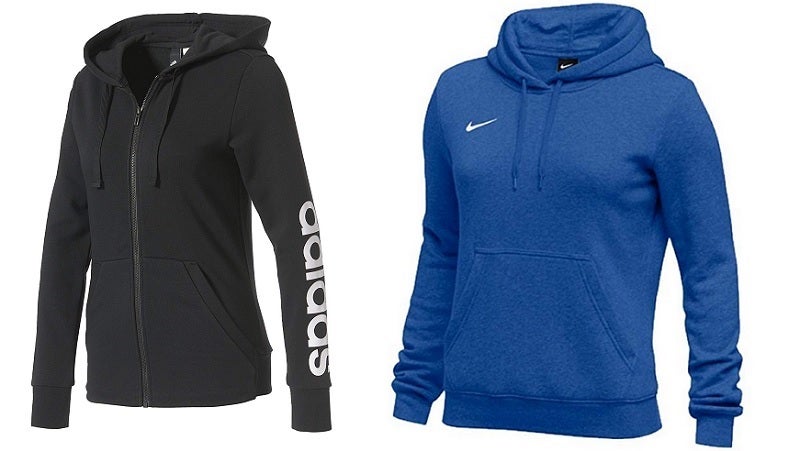 Spandex
This material is more often used in sports hoodies, as spandex is meant to give a bit of stretch to garments. Usually, you'll see spandex combined with cotton to create a soft and warm product that you can wear to games or to the gym.
Weight
The weight/thickness of the hoodie will all depend on your needs and preferences. Typically, they're going to weigh in anywhere from 6.5 ounces to 10 ounces.
There are a few products out there which are more bulky and provide more warmth, and are ideal for outerwear. If you are looking for a lightweight layer to wear without bulk, then look for one that includes polyester, as cotton can tend to be heavier.
Adjustability
One of our favorite things about hoodies, is that most give you the option to adjust it a little bit according to the weather and how you feel. The most common, is drawcords which let you loosen or tighten the hood.
The ability to tighten your hood around your head and face on a windy day is definitely not taken for granted, and will do well to keep the wind out and your ears warm. There are some, like the North Face, which let you tighten the waist too, to give you a more streamlined look and keep wind from blowing up your hoodie.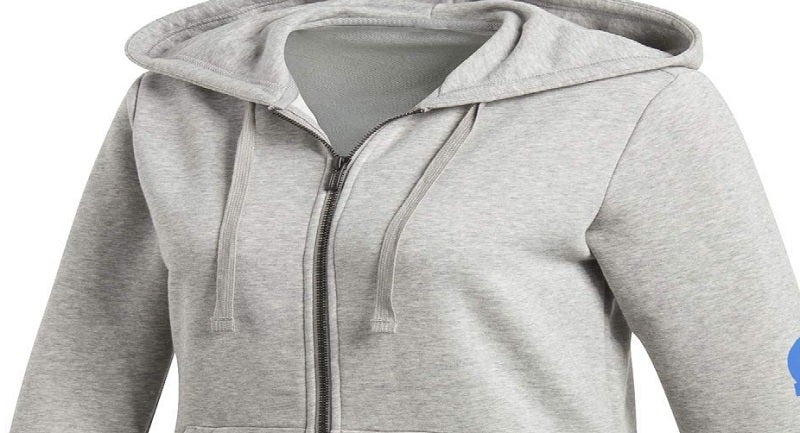 Moisture-Wicking
We have to admit, that it's not easy finding a good moisture-wicking hoodie, though there are a couple on our guide that we quite like. If you're going to be using your hoodie while working out or during a sports game, you'll definitely want to consider one made of fabric which moves sweat off of your skin. If not, all you're going to end up doing is fighting between staying warm and a sweaty mess.
Price
How much are you willing to spend on one of the women's hoodie? Think about this before you go shopping, and try not to go over the budget you've set for yourself. This is to try and avoid any buyer's remorse. In addition, we have hoodies from all price ranges, so you're sure to find something that you like and that keeps your wallet padded.
FAQs About Hoodies
Q: How do I know which size to buy?
Most of the products on our list are going to fit true-to-size. Nike is known for running a bit small, so you'll probably want to go a size up. However, if you have doubts, it's best to check out the manufacturer's sizing chart.
Q: How long will my hoodie last me?
This will vary from brand-to-brand, but also depends on how you treat it. While every item on our guide is machine-washable, washing and drying it this way reduces the life of your garment. Hand-washing and air-drying will prolong its lifespan. Polyester is also known for being more durable, so if yours is made of this material, count on it lasting years.
Q: What do I do if my zipper gets stuck?
If this happens, try finding a pair of tweezers to undo a snag if there is one. If it's just stiff, then try using a makeshift lubricant. Lotion works well, as well as coconut oil, but make sure you don't get it on the fabric.
Tips For Women's Hoodies
#1: If you want a more streamlined look, opt for a zip-up.
Of course, this isn't a rule, but generally-speaking, pullovers are going to be more billowy and loose-fitting. While the oversized look is definitely "in", it's up to you.
#2: For a quick upgrade, toss on a leather or denim jacket over the top.
Not only does this create a trendy streetwear look, but it adds extra warmth and usually pockets to an otherwise plain hoodie.
#3: If you want to get the most wear out of your hoodie, go for a timeless, versatile design.
This will get you the most wear out of it. Aim for a color that complements your already-existing wardrobe so you don't have to purchase other items just to make it look good.
Final Thoughts
Now that you know pretty much everything you could want to about hoodies, which one will be arriving on your doorstep? While all of these are some of the market's favorites (and ours), it's ultimately all up to you. We hope that our guide has helped you select the best female hoodie. Thanks for tuning in, and we'll see you again soon!
How We Researched
To come up with the top women's hoodies we researched a variety of sources for reviews such as REI, Bass Pro Shops, Cabelas and Backcountry along with our own personal experience.
We also consulted online magazines for product research and reviews to get as much unbiased information as we could. To help weed out fake reviews we used Fakespot.com to make sure we only looked at genuine reviews.
With so much quality gear available, we had to narrow it down based on what we felt were the best options for the price. The author, Casey Fiedler has been leading backpacking trips for over a decade in his native state of Michigan.
To help narrow down the selection he used his personal experience along with recommendations from fellow guides and outfitters.
After extensive research, we came up with our list to help you choose the right one for you.
Sources
---
Notice:
OutsidePursuits.com is a participant in the Amazon Services LLC Associates Program, an affiliate advertising program. OutsidePursuits.com earns fees from products sold through qualifying purchases by linking to Amazon.com. Amazon offers a commission on products sold through their affiliate links.