Our Editors independently research, test, and rate what we feel are the best products. We use affiliate links and may receive a small commission on purchases.
When you're welding, you need to make sure that you are properly protected. One of the first pieces of protective gear that you can put on for a welding job is a fire or flame-resistant welding shirt.
In this guide, we'll go over the top five best welding shirts available. We will also go over some tips for first-time or repeat buyers in How To Choose The Best Shirt For Welding and will answer some questions that are frequently asked when purchasing a welding shirt.
Best Shirts For Welding
| | Lincoln Electric Welding Shirt | Carhartt Flame-Resistant Welding Shirt | Bulwark Flame-Resistant Cotton Work Shirt |
| --- | --- | --- | --- |
| | | | |
| | | | |
| Material: | ASTM D6413 compliant 9oz. FR cotton | 88% Cotton, 12% Nylon | 100% cotton |
| Available Sizes: | Medium, Large, X-Large, XX-Large, XXX-Large | Small, Medium, Large, X-Large, XX-Large, 2X Tall | Small, Medium (M-Long), Large (L-Long), X-Large (XL-Long), XX-Large (2XL-Long), XXX-Large |
| Machine Washable: | Can be washed up to 50 commercial cycles | Yes | Yes |
| | | | |
Also see: Welding Shirts Comparison Table
---
Quick Answer: The 5 Best-Rated Welding Shirts – 2021 Reviews
---
Welding Shirts Reviews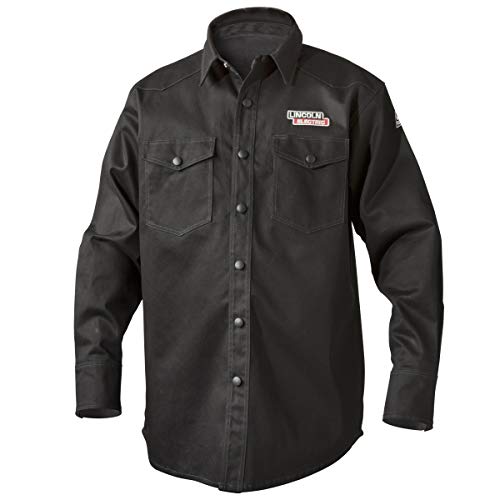 Lincoln Electric Welding Shirt At A Glance
:
---
Material: ASTM D6413 compliant 9oz. FR cotton
Available Sizes: Medium, Large, X-Large, XX-Large, XXX-Large
Machine Washable: Can be washed up to 50 commercial cycles
The Lincoln welding shirt is without a doubt one of the best welding shirts available. Lincoln Electric makes quality welding equipment no matter what you're looking for – from gloves and shirts to torches and helmets.
So it's no wonder that one of their shirt models made the top of our list.
Lincoln's protective welding shirt is made of high-quality, flame retardant cotton. The flame retardant layer of this shirt prevents and extinguishes fire and flames before they can spread and cause damage.
The shirt has been tested and is compliant with the ASTM D6413 safety standard.
The shoulders, cuffs, neck, and button column are double-layered for reinforced, guaranteed protection in these high-contact areas.
Additionally, each cuff has adjustable snaps so that you can tighten or loosen the fit as needed. The front of the shirt features two chest pockets for convenient storage of small tools, pencils, and other necessities.
This shirt is machine washable, to an extent. It will safely and reliably wash for up to fifty times, at which point the manufacturer suggests that it may lose some of its flame retardant properties.
To prolong the maximum potential lifespan of your shirt, hand washing is recommended, but again, not required.

---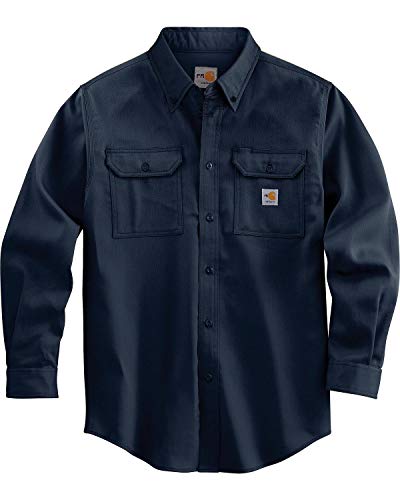 Carhartt Flame-Resistant Welding Shirt At A Glance
:
---
Material: 88% Cotton, 12% Nylon
Available Sizes: Small, Medium, Large, X-Large, XX-Large, 2X Tall
Machine Washable: Yes
The Carhartt Flame-Resistant Welding Shirt is a great welding work shirt that provides comfort as well as protection.
The combination of cotton and nylon makes this shirt particularly comfortable to wear, while also wicking away moisture during particularly tough jobs.
The Carhartt welding shirt can be easily washed either by machine or by hand. Where most fire-resistant clothing should be hand-washed more often than cleaned in a machine, this shirt was made specifically to be easily machine-washed. It resists the normal damages that can happen in a washing machine.
Between the comfortable combination of cotton and nylon and the ability the fabric has to wick away moisture, you're guaranteed to be comfortable while working. But what about any odors from sweat?
The fabric of this particular piece of welding clothing is treated specially with an anti-odor treatment. Under the heat and intensity of some welding jobs, this is great for keeping odors at bay.

---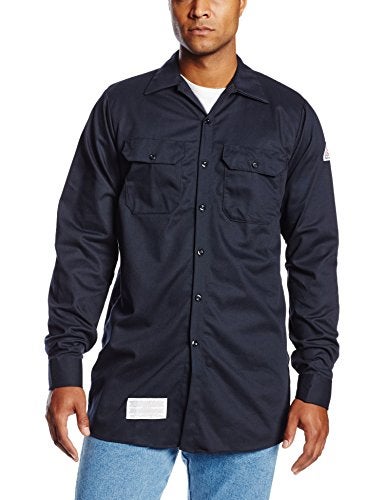 Bulwark Flame-Resistant Cotton Work Shirt At A Glance
:
---
Material: 100% cotton
Available Sizes: Small, Medium (M-Long), Large (L-Long), X-Large (XL-Long), XX-Large (2XL-Long), XXX-Large
Machine Washable: Yes
Bulwark is known for making fantastic, durable welding clothing. They continue to provide excellent quality with their flame-resistant cotton work shirt. This shirt meets and exceeds the standards of HRC1.
The 7 ounce cotton of this work shirt has been treated and tested for proper flame resistance. You can rest assured that despite how comfortable this shirt is, it is still one of the safest welding shirts you can find.
This shirt features a seven-button closure down the front, with a familiar, classic design. The collar is lined and reinforced for extra safety and comfort while working.
The pockets on the front of this shirt come equipped with buttons, keeping your small tools, pencils, and more safe on the job.
Being a 100 percent cotton shirt, this welding shirt can be washed safely in a machine. Make sure to wash it with similar, fire-resistant clothing items. Inspect the garment before and after washing, and use liquid detergents for the best results.

---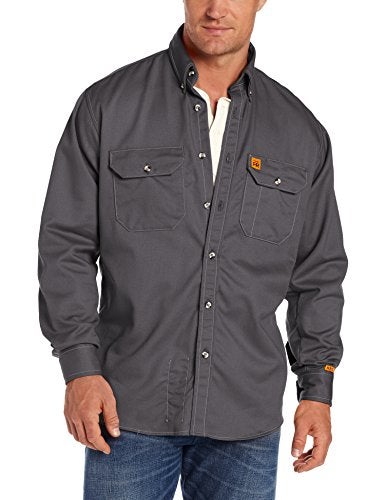 Wrangler Riggs Workwear Flame-Resistant Shirt At A Glance
:
---
Material: 100% Cotton
Available Sizes: Large, X-Large, XX-Large
Machine Washable: Yes
Wrangler is known for making fantastic, quality clothing of all kinds. The Wrangler welding shirts are no exception to that standard. That's why the Wrangler Riggs Flame-Resistant shirt has made our list.
This is a classic work shirt that is made with 100 percent cotton, treated for flame resistance. It has a comfortable, relaxed fit in the torso and arms that makes it easy to maneuver in.
This shirt is a perfect balance of comfort and protection.
Wrangler has designed this shirt to meet rigorous qualifications and requirements to be considered flame-resistant. If ignited, it is designed to self-extinguish between the tightly-woven, treated cotton threads.
Sometimes when you're welding, you need small tools or a pencil to mark your work. This shirt has two attractive pockets to keep small tools in.
It also features a pencil slot pocket, so that you can carry and easily access a pencil for work purposes.
This welding shirt can be machine washed without you having to worry about any shrinkage of the fabric. It doesn't require any specific detergent or softener, so wash as you normally would with any work shirt.

---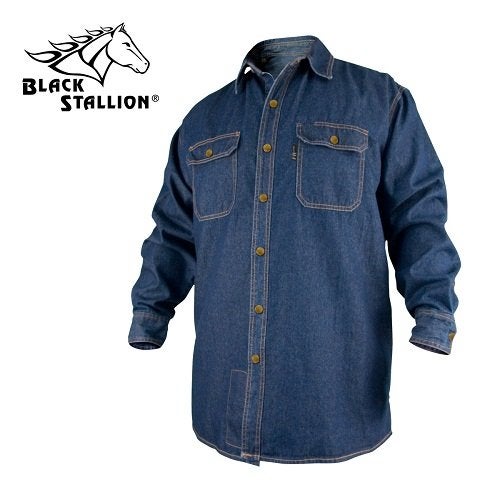 REVCO Black Stallion Flame-Resistant Denim Work Shirt At A Glance
:
---
Material: FR denim
Available Sizes: Medium, Large
Machine Washable: Yes, but limited
If you need a cheap welding shirt without sacrificing high quality, then you should consider buying the REVCO Black Stallion Flame-Resistant Denim Work Shirt.
This great welding apparel compares well to similar products, like the Miller welding shirts.
This welding shirt is not meant for heavy or intense welding duties. However, it is fantastic for lighter welding activities. It offers impressive protection at a low price point, fitting into nearly any budget range.
The thick, durable denim will protect you from burns and any welding splatters that may occur during your work activities.
It's also comparatively lightweight when compared alongside other welding shirts made of a similar material, so you will not experience fatigue from wearing the heavier material.
You can wash this garment using a washing machine, however, you should limit the amount of times that you do. Per ASTM 1506, this garment may lose some of its fire-retardant properties if it is over-washed in unfavorable conditions.
If you do choose to wash this shirt in a machine, you should also be aware that it may shrink slightly. For the best results, use cold water and hang-dry the garment rather than a dryer.
This shirt comes in different sizes, so you should be able to find the perfect fit. Even for the stiffer denim material, this shit has excellent mobility. Your movements will not be restricted, and you will still have excellent protection.
As far as welding protection goes, this shirt is great as secondary protection for heavy welding. It can absolutely protect you in low-intensity welding conditions.
As a bonus, it looks fantastic, and customers claim that it fits perfectly without needing to be broken in or intentionally shrunk.

---
Welding Shirts Comparison Table
| Shirts For Welding | | Material | Available Sizes | Machine Washable |
| --- | --- | --- | --- | --- |
| Lincoln Electric Welding Shirt | | ASTM D6413 compliant 9oz. FR cotton | Medium, Large, X-Large, XX-Large, XXX-Large | Can be washed up to 50 commercial cycles |
| Carhartt Flame-Resistant Welding Shirt | | 88% Cotton, 12% Nylon | Small, Medium, Large, X-Large, XX-Large, 2X Tall | Yes |
| Bulwark Flame-Resistant Cotton Work Shirt | | 100% cotton | Small, Medium (M-Long), Large (L-Long), X-Large (XL-Long), XX-Large (2XL-Long), XXX-Large | Yes |
| Wrangler Riggs Workwear Flame-Resistant Shirt | | 100% Cotton | Large, X-Large, XX-Large | Yes |
| REVCO Black Stallion Flame-Resistant Denim Work Shirt | | FR denim | Medium, Large | Yes, but limited |
---
How To Choose The Best Shirt For Welding
There are a lot of things you might need to consider when you decide to purchase something. This fact doesn't change when it comes to welding shirts or welding sweatshirts.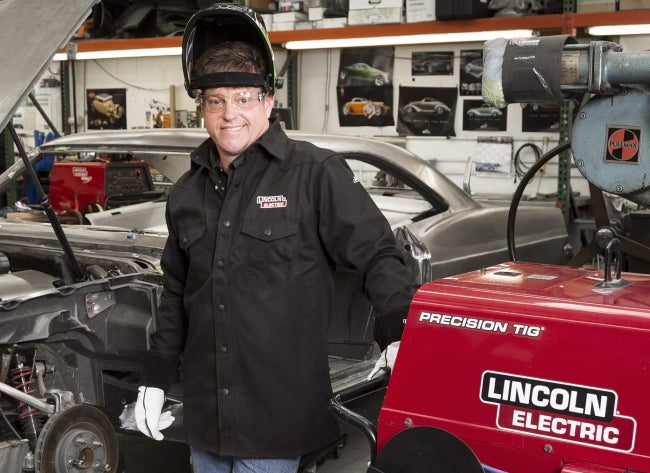 In fact, it might be even more important to consider different factors, since buying welding protective gear can help you avoid serious bodily harm. Here are some things to consider when you shop for your next welding shirt.
What Type of Welding Will You Use it For?
Welding shirts may be enough for some light, low-intensity welding. However, if you intend to perform larger, more demanding welding jobs in only a welding shirt, it won't usually be enough.
For most lightweight TIG or stick welding, the welding shirt alone should be fine. It will provide you with enough maneuverability, coverage, and protection to get you through most small projects without worry.
For MIG or other big welding projects at a higher intensity, you should always wear a welding shirt underneath a thick, durable welding jacket. This will provide the best coverage and protection for you during your welding activities.
Price
Most people don't think that buying any kind of shirt or sweatshirt will be a costly venture, at least under normal circumstances.
Due to the treatment of materials, specialized stitching, testing and other factors that go into the production of welding clothes, they tend to be more expensive.
Prices of welding shirts and sweatshirts generally range from about $35 to up to $200. Depending on your budget and what you're looking for to match your specific welding needs, it can be costly.
Make sure that whatever shirt you intend to buy meets your needs for heat, flame, or fire resistance or retardance.
Keep in mind you may want or need to buy multiple shirts, that way you don't have to do laundry every evening when you've finished welding for the day.
Fabric Material and Quality
The two most common materials used to make welding shirts are cotton and denim. You may also come across wool shirts, but those are a little more uncommon.
The cotton or sateen shirts are typically treated to enhance fire-resistance. Cotton has great flexibility and tends to be very comfortable. It also is good for wicking away moisture.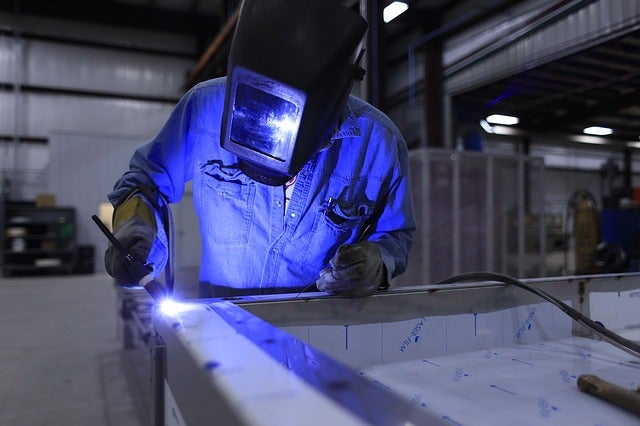 While some shirts are made of 100 percent cotton, others are mixed and woven with nylon for improved flame resistance, durability, and comfort.
Denim shirts are also regularly used. Denim is naturally thick and rugged material, which makes it great for protecting its wearer. It is heavier than cotton, though, so keep that in mind when making your decision.
Denim is particularly useful when you plan to weld at low intensities or volumes.
Knitting or Stitching
The knitting and stitching need to be strong. If they're incomplete, not properly done, or have any other defects or quality issues, your shirt will not last.
Ultimately, this means you will spend a lot of money replacing it repeatedly.
The stitching should, likewise, not be too stiff. If the stitching is too tight or stiff, it may make movement difficult, limiting the flexibility and range of motion of the shirt.
You want a balance of security and comfort in your welding shirt, so read reviews or try them on before buying.
Fit and Comfort
Along with the quality of stitching, the overall fit of your shirt or sweatshirt needs to be comfortable. It should go without saying that most welding shirts will have long sleeves to offer optimal protection.
The torso shouldn't be too tight or too loose to work in. You should not feel uncomfortably hot in your welding shirt under normal circumstances, because you will only feel that much hotter under working conditions.
Most welding shirts will fit like a regular button-up shirt, so you can buy the size that you usually wear and be just as comfortable as you would be in regular street clothes.
However, some shirts will run small or large, so check reviews ahead of time and if you aren't sure, order your shirt in multiple sizes.
Ordering your shirt in multiple sizes will let you see, for that brand, what size you should order in the future and if any adjustments need to be made.
Methods of Washing
Washing your welding shirt or sweatshirt by hand may seem like a bit of a hassle. But with some brands and makes of shirt, it's a necessity for prolonging the active, effective lifespan of your shirt.
Modern welding shirts are made to be a bit more accepting of machine washing, though. Every shirt on this list can be washed in a machine for your convenience, whether indefinitely or for a limited time to ensure optimum functionality.
It's up to you whether or not you opt for a shirt that's safe to wash in machines or if you want to hand-wash your welding shirts.
Note that you should only wash your welding shirts with other welding protective gear. This is to protect your welding clothes as well as your regular clothes.
Brand
As with any product, the brand can play a role in pricing and quality. Some brands are known to be high-quality, and the cost of those materials as well as the name backing them can make the cost go up.
Contrarily, some manufacturers prefer to put out cheap but effective gear.
Larger, more common brand names obviously carry a level of security. These brands often have a plethora of reviews for their products, great customer service representatives, and a solid return or replacement policy.
These are usually your best bet for quality products, especially if you're uncertain of what, specifically, you need at first.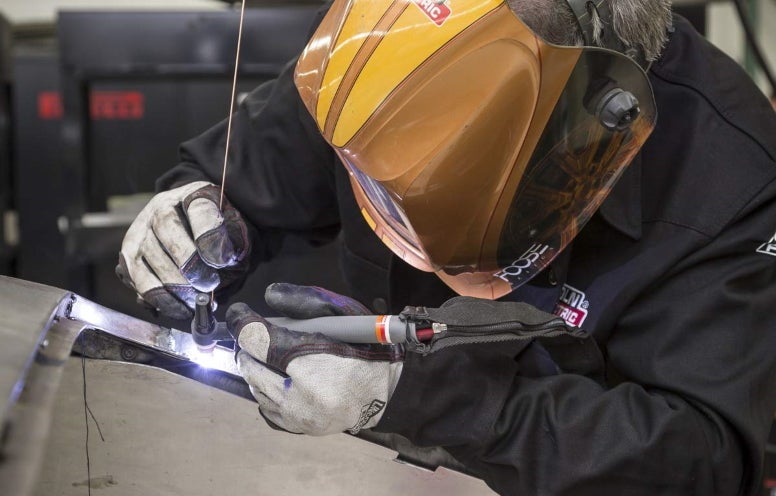 If you have a bit more experience and know the specifications of what you're looking for, though, feel free to branch out to lesser-known companies.
Infamy does not always equate to being the best, and some amateur or lesser-known manufacturers may surprise you with their products.
As always, use discretion and do your research on not only the product but the company producing and backing the product.
Check reviews, contact customer services, do what you need to. You want to make a purchase you feel good about and that you're certain will protect you on the job.
If you keep these factors in mind, you will be able to make an educated, accurate purchasing decision about your protective welding shirt.
Frequently Asked Questions About Shirts Used For Welding
Q: Does your welding shirt have to be flame or fire-resistant or retardant?
A: The short answer to this is yes. All protective welding gear should be fire-resistant or retardant. In welding, you will be working with live electrical currents, superheated metal, and severely increased temperatures.
Those conditions alongside potential accidents, such as loose livewires, slag splatter, and more make the work environment dangerous.
The less protection that you have, the more at-risk you are for serious injury. As such, your protective gear, including your welding shirt, must be flame-resistant.
Natural fibers and synthetic materials that have not been specifically treated for or designed for flame-resistance are hazardous in an environment with significant ignition risks.
If ignited, the flames are likely to spread at an increasing rate until all material is consumed or the flames are extinguished.
Different ratings are used in regards to flame resistance, so know what your contractor or employer requires. If you're buying for personal use, be sure to check the ratings and compare them to what you intend to wear the garment for.
Q: Should you order a size bigger than the shirt you usually wear?
A: In some instances, you will need to order or otherwise purchase a welding shirt that is a size larger than you regularly wear. Most manufacturers will suggest this before purchase if the sizes run small, however.
Alternatively, you can contact the customer support team to ask them for their recommendations, or consult a sizing chart for that particular brand.
However, most modern welding shirts and sweatshirts will run true to size. This simply means that if you typically wear a size medium shirt, you would get a size medium welding shirt as well.
Many companies feel that this eliminates a lot of the stress and confusion of shopping for protective gear.
As long as your welding shirt fits comfortably and permits you a consistent range of motion and mobility, it's fine.
The chest, shoulder, and sleeve of the shirt should not be too tight or too loose. You should feel comfortable, secure, and non-restricted while you work.
Q: What do the ratings mean in regards to flame resistance?
A: There are many different ratings you may come across while shopping for the proper protective welding gear. Many products will be advertised online only as FR, which means flame-resistant.
However, you may come across various hazard risk category levels, arc thermal protective values (ATPV), and energy of break-open threshold (EBT) ratings that are relevant as well.
Different ratings are attributed to different pieces of gear and equipment. Ask your employer what safety ratings need to be met by what pieces of protective gear that are related to your job.
This will erase a lot of the confusion you may have about what welding equipment to purchase.
Q: Can you wear welding shirts over t-shirts or other clothing?
A: Yes, you can wear your welding shirt over other clothing. The National Fire Prevention Association (NFPA) 70# Standard for Electrical Safety in the Workplace dictates what should or should not be worn under protective clothing.
The standard states that non-melting, flammable fiber undergarments may be used in conjunction with flame-resistant garments.
Flame-resistant t-shirts and base layer garments can provide the wearer with additional protection while they are in a hazardous work environment.
Q: Do you have to worry about shrinkage?
A: As with any shirt or other piece of clothing, there is a chance of shrinkage when you wash and dry your welding shirt.
Particularly, denim shirts can see some amounts of shrinkage very quickly if not properly washed and dried, but are less likely to shrink overall when compared to cotton.
To prevent shrinkage in these garments, you need to be sure to read the manufacturer's suggested washing and drying techniques and standards.
Note that most, if not all, manufacturers will suggest that you use cold water when washing your garment.
This is because, under normal circumstances, heat is the number one cause behind clothes shrinking in the wash. This is the same reason you should avoid putting your welding shirt in the dryer after washing.
The sudden, intense heat of your dryer will shrink the fibers of your welding garment. This is especially true of most cotton or cotton blends.
Your cotton and denim shirts can handle welding heat and resist it well. But, if they are soaked through after being cleaned and the heat is applied, they will shrink.
The heavier the fibers and the tighter the weave of the shirt, the less shrink will happen overall, even over time with repeated incorrect washing and drying methods.
The best way to prevent shrinkage in any shirt, regardless of fabric and tightness of the weave, is simple. Follow the manufacturer's instructions on the label of the garment.
Always air-dry your clothing when it has been washed.
If you can, hand washing your welding shirt is usually better than machine washing. It takes some extra time and effort, but it's worth it to prolong the lifespan of your shirts.
How We Researched
To come up with the top welding shirts, we researched a variety of sources for reviews such as Home Depot, Lowes, Target and AcmeTools along with our own personal experience.
We also consulted online magazines for product research and reviews to get as much unbiased information as we could. To help weed out fake reviews we used Fakespot.com to make sure we only looked at genuine reviews.
With so much quality gear available, we had to narrow it down based on what we felt were the best options were for the price. The staff authors have a wide and varied background in yard maintenance and home repairs.
The authors have decades of experience and are eager to share their knowledge with readers.
To help narrow down the selection we used personal experiences along with recommendations from landscapers, bloggers and contractors.
After extensive research, we came up with our list to help you choose the right one for you.
Sources
Notice:
OutsidePursuits.com is a participant in the Amazon Services LLC Associates Program, an affiliate advertising program. OutsidePursuits.com earns fees from products sold through qualifying purchases by linking to Amazon.com. Amazon offers a commission on products sold through their affiliate links.